You do care about your website performance and efficiency? In this Cloudways review, you will know everything about Cloudways.
Imagine that. Cloudways offers to host your website on five of the best LaaS cloud hosting platforms including AWS and Google Cloud Platform.
By the end of this Cloudways review, You will learn almost everything you need to know about Cloudways cloud hosting providers.
So, what is Cloudways?
Cloudways is a managed cloud hosting provider that provides reliable and great performance cloud hosting services.
Cloudways allows customers to host their websites on five of the cloud hosting leading companies.
These companies are Amazon Web Services, Google Cloud Platform, DigitalOcean, Vultr, and Linode.
These companies are un-managed cloud hosting. Cloudways makes the servers for you from them and then manages them through their platform.
So you will get managed web hosting with the same features that these companies provide and more from Cloudways.
Features like customer support 24 hours a day, hosting multiple websites on one server, and more.
Also, Cloudways will charge you more for managing the servers and providing support.
For instance, if you want to deploy a server on DigitalOcean it will cost $5/month.
The same server size on the same DigitalOcean platform costs $10/month on Cloudways.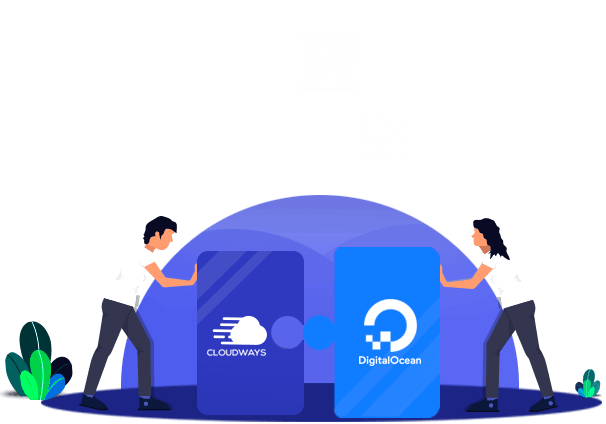 Cloudways has been found to help non-developers who want to create their websites on cloud web hosting.
For non-developers who neither want to hire a developer nor spend too much time learning web development.
Want to make a WordPress website on Cloudways? Click here.
Why Cloudways Is One Of The Best?
Here are some reasons why we think that Cloudways is one of the best cloud hosting providers if it's not the best?
Cloudways is a cloud service, which means your website always performing better, as your website will be stored on cloud servers.
Cloudways is a reliable web hosting service with flexible cloud hosting plans.
The performance and speed of Cloudways are great. It is reasonable because provides its servers from the best web hosting companies.
For a cloud hosting server and dedicated resources, Cloudways prices start at $10/month, which is far cheap than its alternatives like Kinst and WP Engine.
On Cloudways, you can host as many applications (websites) as you want. As many as your server can handle.
Cloudways save hours of server configurations and error fixing. You can focus on your website building while Cloudways do that for you.
That being said, let's dig deep into the Cloudways review to know more about Cloudways.
Cloudways Review: Pros & Cons
---
First Let's talk about the Cons of Cloudways hosting service.
No Domain Registration Option:
Cloudways offers no domains registration service, You will have to buy your domain name from a domain provider such as Namecheap.
You can use Domain Engines to help you pick one by generating domain names.
I personally don't consider it as a flaw, because many people prefer to use different domain hosting services for their domain names.
If you already have your own domain name registered on any domain name registrar, you need to point the IP of your server to your domain name.
To point your domain to your website you need to go to the DNS settings of your domain name and add an "A" record.

No cPanel/Plesk Control Panel:
Unlike other shared hosting providers, Cloudways doesn't provide the most famous websites control panel "cPanel".
Nevertheless, Cloudways provides its own unique built-in control panel.
From the Cloudways server control panel, you can manage your server, and from the Cloudways applications panel, you can manage your websites.
Also, you can use SSH or SFTP to access your server files.
Cloudways Ease Of Setup:
Launching your first server on Cloudways and deploying your WordPress website on Cloudways will just take a couple of minutes.
It is easy even if you are not a web developer.
Cloudways is very easy to set up and run the servers on it. You just need to go to the Cloudways platform and click on Start Free.
Choose to start my free trial which will give you a three-day free trial to test Cloudways service.
Cloudways Pricing: How Much Does Cloudways Cost?
Cloudways provides cloud hosting with separated resources for each one of your servers.
A DigitalOcean cloud provider with 1 GB RAM, 1 Core Possessor, 25 GB SSD storage, and 1 TB bandwidth, costs $10 per month.
All that with unlimited websites as much as your server resources can handle.
As managed cloud hosting Cloudways pricing is much lower than many of big names in the cloud hosting fields such as Kinsta and WP Engine.
| | Entry | Standard | Advanced | Pro |
| --- | --- | --- | --- | --- |
| Digital Ocean | $10 / month1GB RAM1 Core Processor25GB Storage1TB Bandwidth | $22 / month2GB RAM1 Core Processor50GB Storage2TB Bandwidth | $42 / month4GB RAM2 Core processor80GB Storage4TB Bandwidth | $80 / month8GB RAM4 Core processor160GB Storage5TB Bandwidth |
| Linode | $12 / month1GB RAM1 Core Processor25GB Storage1TB Bandwidth | $24 / month2GB RAM1 Core Processor50GB Storage2TB Bandwidth | $50 / month4GB RAM2 Core processor80GB Storage4TB Bandwidth | $90 / month8GB RAM4 Core processor160GB Storage5TB Bandwidth |
| Vultr | $11 / month1GB RAM1 Core Processor25GB Storage1TB Bandwidth | $23 / month2GB RAM1 Core Processor55GB Storage2TB Bandwidth | $44 / month4GB RAM2 Core Processor80GB Storage3TB Bandwidth | $84 / month8GB RAM4 Core Processor160GB Storage4TB Bandwidth |
| AWS | $35.51 / month1.75GB RAM1 vCPU20GB Storage2GB Bandwidth | $86.77 / month3.75GB RAM1 vCPU20GB Storage2GB Bandwidth | $176.26 / month8GB RAM2 vCPU20GB Storage2GB Bandwidth | $274.33 / month16GB RAM4 vCPU20GB Storage2GB Bandwidth |
| Google Cloud | $33.18 / month1.70GB RAM1 vCPU20GB Storage2GB Bandwidth | $73.50 / month3.75GB RAM1 vCPU20GB Storage2GB Bandwidth | $138.52 / month7.5GB RAM2 vCPU20GB Storage2GB Bandwidth | $225.93 / month15GB RAM4 vCPU20GB Storage2GB Bandwidth |
Cloudways Pricing
Cloudways Pay-as-you-go Plans:
Unlike many web hosting companies out there that charge you at least per year, Cloudways is a Pay-as-You-Go service, you only pay for the resources you consume.
Let's assume that you run 3 servers each one costs $10 per month, which means they all cost $30 per month.
On the 15th day, you changed your mind and decided to merge the 1st server and 2nd server into the 3rd server.
You will be invoiced $5 for the 1st server and $5 for the 2nd server and $10 for the 3rd server.
You will be invoiced for the services used in any given month at the start of the following month.
You may receive an invoice between the 1st and the 6th of every month for the total resources used in the previous month.
If you have funds available in your Cloudways accounts, such as affiliate commissions or rewards from Cloudways, the invoice will be paid using those funds.
If there are not enough funds available to pay for the entire invoice, the remaining amount will be billed to your registered credit card.
You can use Paypal as well, before the end of the month, and add funds to your account from PayPal if you do not have funds already.
You can easily estimate your upcoming invoice (as per your current usage levels) using the Real-Time Billing feature.
There are two types of paying your bills to Cloudways:
Credit card or Debit card (Visa, MasterCard, and American Express)
PayPal (only available to customers who have upgraded the account)
Please note that PayPal payments are not automated. thus, you need to manually pay your invoices using PayPal.
Cloudways Performance:
Website performance is considered one of the most important things you should think about when it comes to user experience and SEO.
Page speed is a measurement of how fast the content on your page loads and has a tremendous impact on visitors' satisfaction and your conversion.
Google has indicated site pages speed as a ranking factor.
When it comes to user experience, pages with a longer load time tend to have higher bounce rates and lower average time on pages.
When you're looking for managed hosting, there's only one thing you really want to know: "Which one will give you the best performance for the lowest price?
This is one of the reasons why I transferred my websites from my old web hosting providers to Cloudways.
Cloudways claims to load WordPress in less than 1 second. To be precise, Cloudways claims to load WordPress in 37 ms and WooCommerce website in 249 ms.
How Cloudways stacks up VS other managed cloud hosts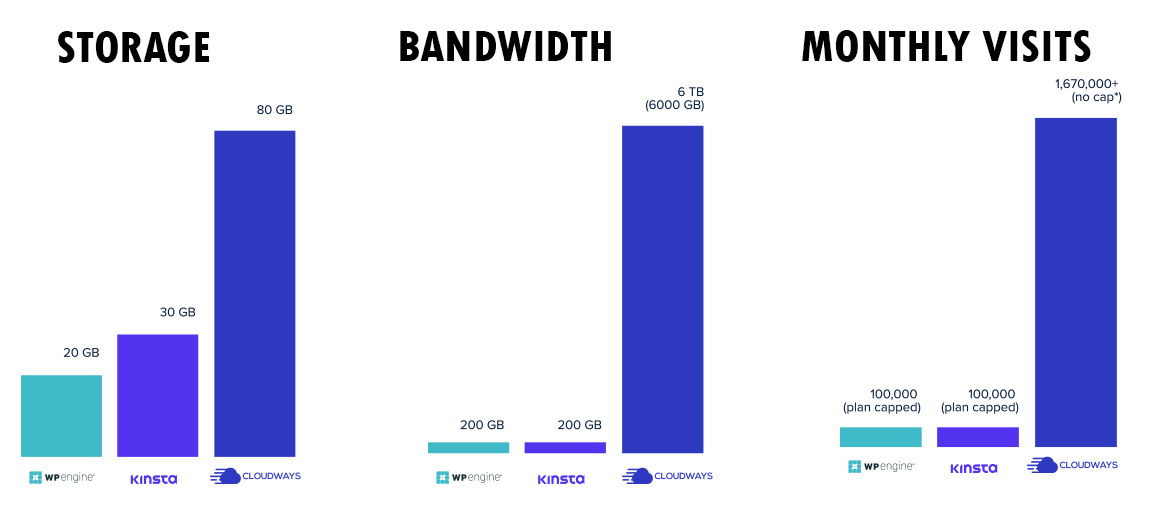 Dedicated Resources:
All servers launched on Cloudways have dedicated resources. Contrary to the limitations of shared hosting, Cloudways dedicated environment allows you to maximize server and app performance.
SSD-Based Hosting:
Cloudways host your WordPress website on SSD storage. SSD Disks are 3x faster, facilitating breathtaking performance and reduced page load times for your dynamic websites.
Hosting Engines website is hosted on Cloudways, look at the performance below, I used GTmetrix to do the test. It loads this website fully loading (largest Contentful Paint) in less than one second.
You can test it yourself to make sure, and try to repeat the test one or two times to get clear results.

Cloudways Integrations And Addons:
There are many Integrations that Cloudways provides, here are the most important ones.
CloudwaysBot Channels:
CloudwaysBot sends real-time notifications of different selected events via your favorite channels such as Slack, API, and HipChat.
Application Migration Add-on:
Cloudways migration experts migrate sites perfectly with minimal downtime, offering one free migration, guidance on infrastructure, and more. Read how to migrate WordPress to Cloudways.
SMTP Add-on:
A reliable and easy way to configure an external SMTP service to be used as a gateway to deliver emails from your server.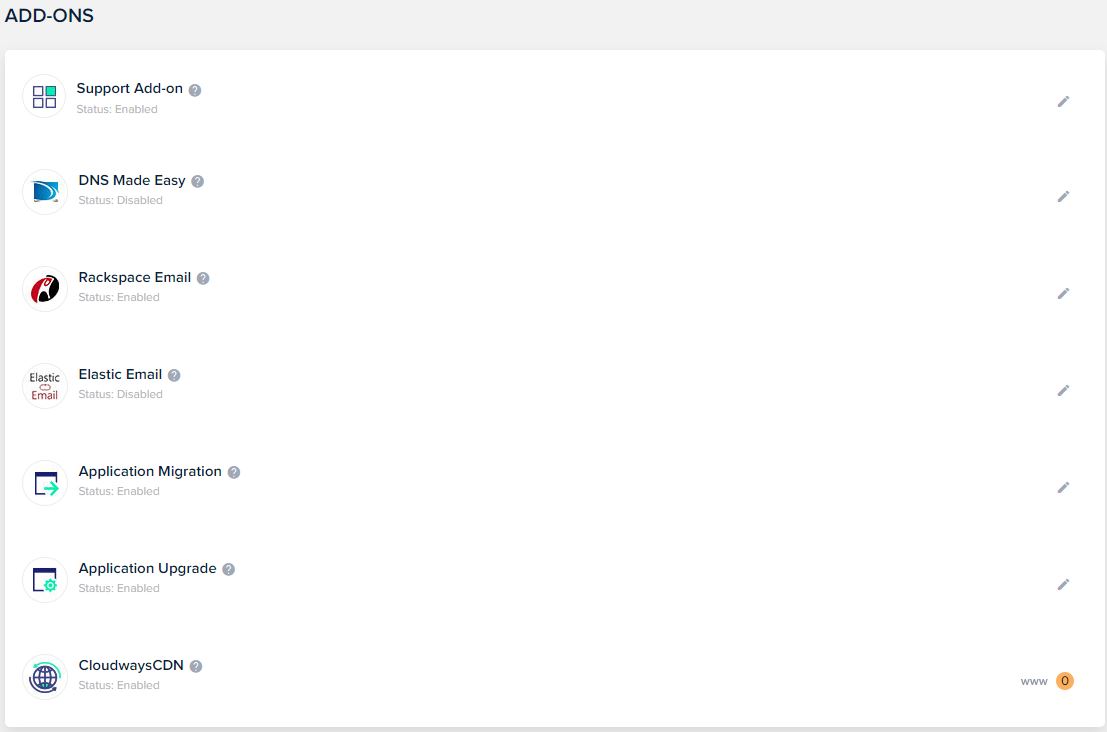 Rackspace Email Add-on:
Get cloud-based email inboxes powered by Rackspace for just $1 for guaranteed up-time, supreme protection, and around-the-clock support.
Application Upgrade Add-on:
Cloudways engineers observe the inner details of your apps and all tasks are performed in a staging area with virtually no downtime.
DNS Made Easy Add-on:
A premium DNS service so you never have to face DNS errors. If your site goes down all traffic is redirected to a preconfigured secondary IP.
24/7 Real-time Monitoring:
Your server is being monitored in real-time 24/7/365 and you get to see over 16 different metrics from the comfort of the console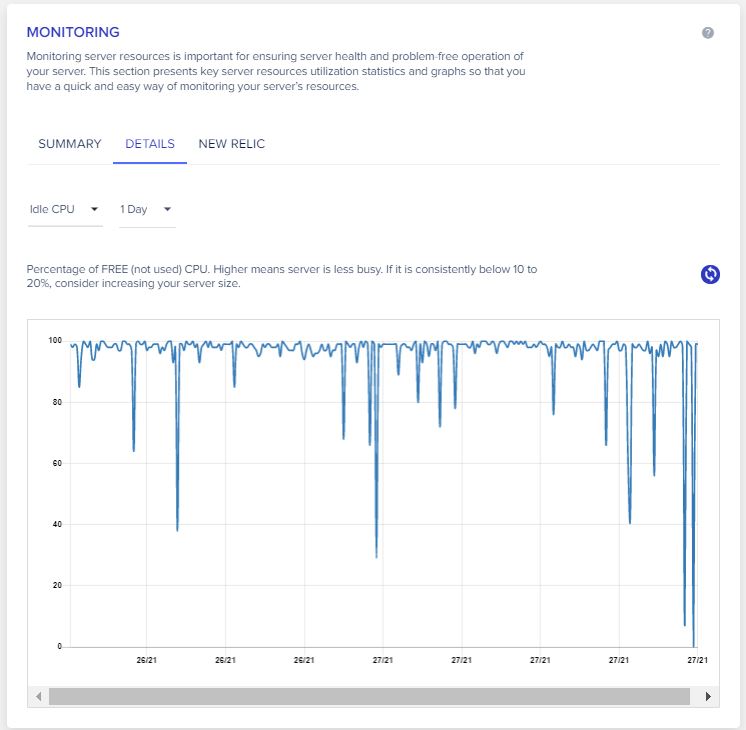 Cloudways Bot Notifications:
The AI-based smart assistant sends real-time performance insights to help optimize servers and apps and integrates with Slack, emails, etc.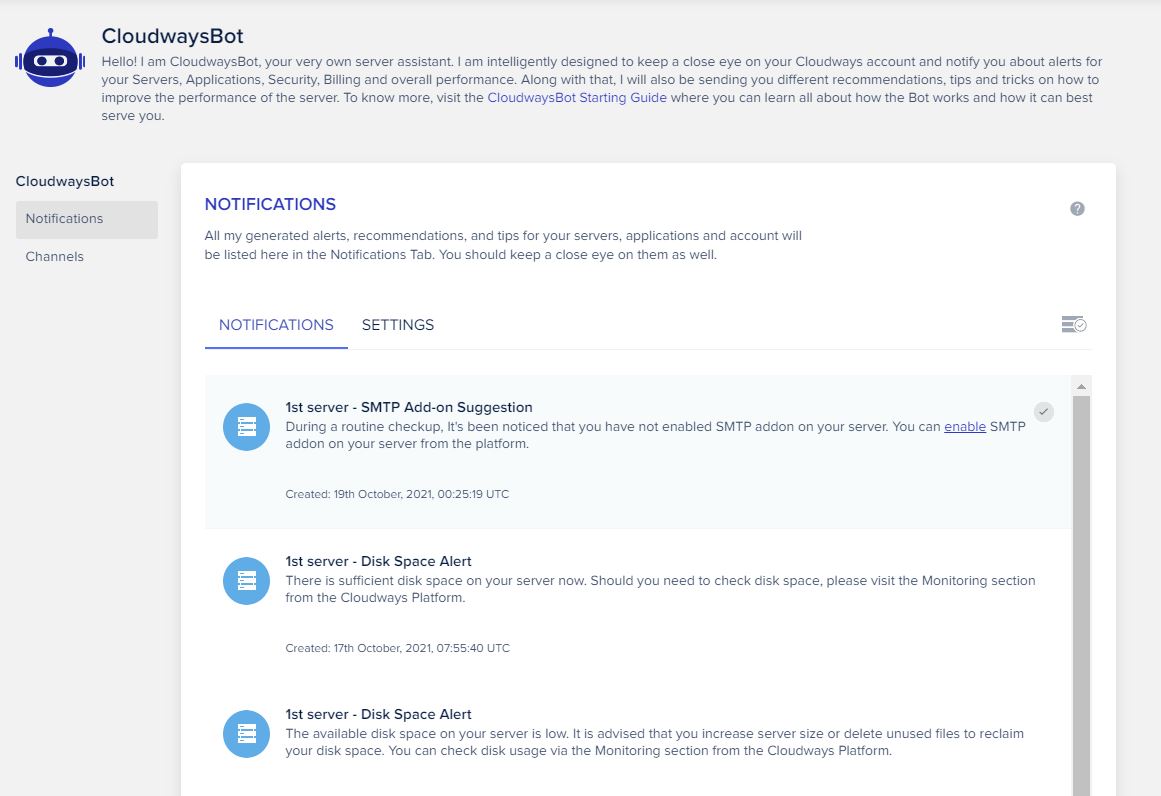 Read also: Cloudways features and addons.
Cloudways Free Trial:
If you want to test Cloudways by yourself before you upgrade your account to premium, you can start a 3-days-free trial (o credit card required) by clicking the Start Free button.
After the end of the 3-day free trial, you won't navigate to your server until you upgrade to premium.
With a free trial, you can create your first server with your unique IP. Also, you can migrate your own websites from their servers to Cloudways server for free and start testing and monitoring your website.
Note: This website is hosted on Cloudways.
Cloudways Review Support:
Support in web services is essential, especially if you are a beginner, you may face some issues you don't know how to fix. So let's have a look at Cloudways support.
From my own experience, all issues I've faced, Cloudways support fixed them. They give you a choice between fixing it yourself, or they fix it for you on your behalf.
24/7/365 Live Chat:
Cloudways offers 24 hours a day live chat, It's free and includes 24/7/365 access to Live Chat guidance through any operation on the Cloudways Platform.
Every request is routed to a specifically trained Support Team member.
We tested it and every time we call them through live chat, we got our issues solved.
Online Ticketing:
When customers have problems, they open support tickets.
Service representatives interact with customers by responding to support tickets. When the issue is resolved, the ticket is closed.
Phone Support:
This is a premium support method, You pay an extra fee for that.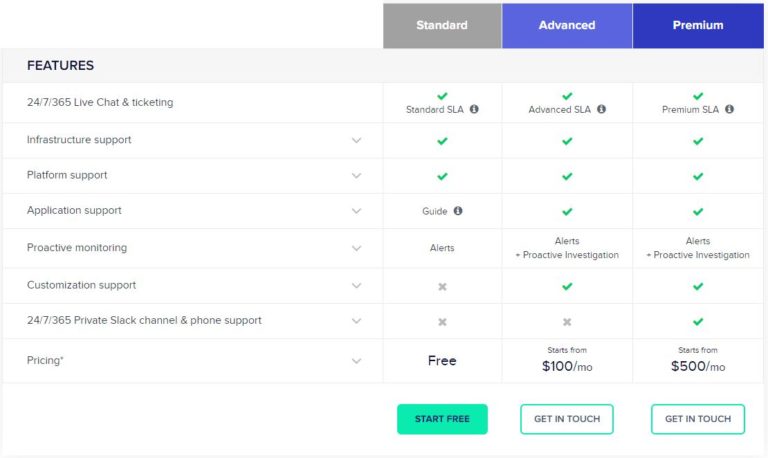 Cloudways Community:
Cloudways has a big community you can rely on, a community from the Cloudways team themselves and Cloudway clients who share their knowledge and answer your questions.
So if you are that type of person who doesn't like to ask direct questions and seek help but reading, it's the best choice for you.
How to contact Cloudways?
Cloudways offers all kinds of support like live chat support, phone call support, and emails. But you should first sign up or log in to the platform.
Once you logged into Cloudways, you will see a "Need a hand?" button sticked to the right side of the screen, from there you can chat with Cloudways agents or email them.
Host Multiple Websites On A Single Server:
In many hosting providers, hosting many websites can get very expensive.
In Cloudways you can set up your server with the number of resources that you want and host as many applications – application reefers to website– as your server resources can handle with multiple PHP applications including:
WordPress
Magento
Laravel
Drupal
Joomla
PrestaShop
OpenCart
Read also: How to host multiple sites on Cloudways?
Cloudways Hosting Providers:
Cloudways offers to host your website on five leading Cloud providers and manage it through their platform and provide support to solve your issues.
They do the hard work for you letting you enjoy the journey. Those five cloud providers are:
DigitalOcean is an American cloud hosting provider and it's the cheapest one among the five cloud hostings that Cloudways serves.
This means if you're looking for the most economical option, this is probably the best choice for you.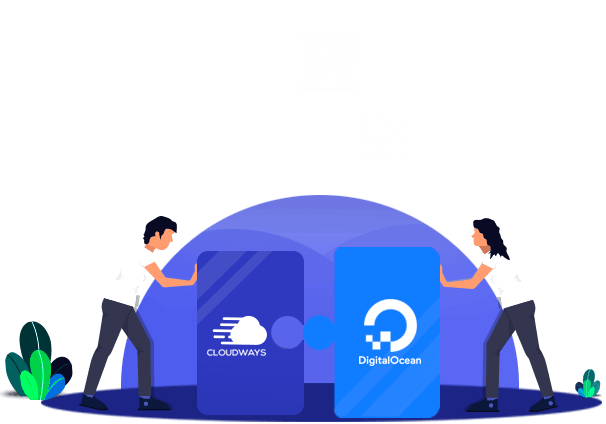 It's an American privately-owned cloud hosting company that provides virtual private servers and offers a bit better hardware when compared to DigitalOcean, at a few pennies per hour more.
In most situations though, you won't be able to notice a difference.
If you need security at a lower price point than the other two larger providers (mentioned below), Vultur offers this and is a bit more expensive than the first two because of it.
Amazon Web Services :
Amazon Elastic Compute Cloud forms a central part of Amazon.com's cloud-computing platform, Amazon Web Services, by allowing users to rent virtual computers on which to run their own computer applications.
Mission-critical applications that can never go down, for anything.
AWS is so massive, that it'll simply scale up to anything, and has so many redundancies, that it'll (probably) never go down.
You need to pay for bandwidth, which adds up. This is a premium, yet costly option that will (probably) never have any technical issues on its end (there's a reason so many Fortune 500 companies use it).
Google Cloud Platform:
Google Compute Engine is the Infrastructure as a Service component of Google Cloud Platform which is built on the global infrastructure that runs Google's search engine, Gmail, YouTube, and other services.
The Google Compute Engine enables users to launch virtual machines on demand.
This is the second-biggest provider, but compared to Amazon, it's much smaller. It's pretty expensive, and from what we've found, there's not much reason to use it.
Cloudways Applications:
Cloudways supports a variety of CMS, E-commerce, and other PHP web applications.
There are three main applications you can host on CLoudways available as 1-click installations including:
WordPress (including WooCommerce and WordPress Multisite)
Magento
PHP (including Laravel framework)
Besides these inbuilt 1-click install applications, you may install several other applications and frameworks on your Cloudways servers through the PHP stack. These are:
OpenCart
Drupal
Joomla!
PrestaShop
Yii
Yii 2
osCommerce
Symfony 3
Codeigniter
CakePHP
ProcessWire
Zen Cart
X-Cart
Is Cloudways Good For Beginners?
Cloud hosting in such companies has never been easy for beginners.
That's because Cloudways provides an easy-to-learn control panel and great support.
However, beginners always seek low-price hosting solutions. If you can afford $10 every month, you can make multiple websites on Cloudways with this amount of money.
Cloudways Review: Honest Opinion
We've tested many web hosting services shared and cloud hosting, many of them either have cheap plans pricing but bad performance or good performance but high prices.
With that being said, we found that Cloudways offers many features and great performance at reasonable prices considering that it's cloud hosting.
At the end of this Cloudways review, in my personal opinion, Cloudway is the best cloud hosting choice for beginners.
Read Also:
A2 Hosting Review
Bluehost Review
Cloudways Review FAQs
These are the frequently asked question about Cloudways managed hosting company.
How to get Cloudways free?
Cloudways is not a free service. However, you can get 3 day free trial to test their platform, and no credit card is required.
Can I host many websites on one server on Cloudways?
Yes, you can host as many websites and applications as you want on one server on Cloudways, as much as your server resources can handle, server resources such as storage space. Read how to do that.