With more than 2 million fully hosted websites ho its servers, BlueHost become one of the world's largest web hosting companies.
Starting at $2.75 a month, you can host your website on BlueHost servers with free domain name registration and many other free features.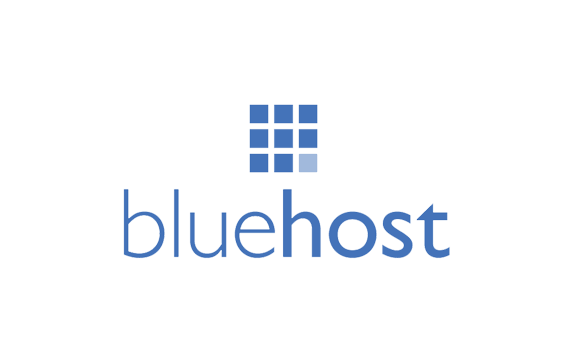 But, is this the reason behind its popularity, or it is good as a lot of marketers say so.
In this review, I will show you everything you need to know about BlueHost. So, by the end of it, you will be able to decide whether or not it's a great web hosting provider choice for your website.
BlueHost Story

BlueHost "founded in 2003" is a web hosting company that provides servers and website hosting platforms for all kinds of websites and people, especially for beginners who don't have much experience with the web hosting niche.
It has become so popular due to the fact that they provide a solid affiliate program, which simply when you refer someone through your links to BlueHost, they give you $65 for each referral, which is more than the majority of web hosting services offer in their affiliate program.
Hence, Bloggers and YouTubers started promoting BlueHost insanely, and BlueHost started growing rapidly.
That doesn't mean that BlueHost is a bad web hosting company, in fact, we recommend it to many sectors of website owners.
BlueHost Pros & Cons
The Pros:
BlueHost provides many free features that come with all plans, this includes a free domain name, free CDS, free SSL certificate, and more.
With a 99.98% uptime guarantee, you can make sure that the website will not stop running so often due to bad uptime.
The control panel that you use to do all the tasks is very handy and easy to learn.
You can test the BlueHost servers and create websites for 30 days, if you don't like them, you can request a refund within the first 30 days period.
The Cons:
One of Bluehost's bad sides is that it provides poor website speed, which is something important for good user experience and Google core web vitals
The Cloud hosting type is not one of the Bluehost web hosting products. They don't support it.
If you up to sign up for a short period of time, this is not an option on BlueHost shared hosting. You should at least pay for one year. But, you can request a refund.
What is BlueHost Best For?
As we don't recommend BlueHost for websites has a decent amount of traffic and for website owners who want to start big, we recommend it for beginners and new websites.
BlueHost is best for beginners who do not know much about web hosting. It's easy to start with and you can deploy your first website in minutes.
In addition, it's best for those who are on a budget, it's affordable. Also, for portfolios and small websites, BlueHost is a great web hosting solution.
BlueHost Plans and Pricing:
Four plans Bluehost brought to us, Shared Hosting, Virtual Private Server (VPS), Dedicated servers, and the WordPress Package. Each of them has its own sub-plans you would choose one of them according to the resources you need for your website.
The WordPress package contains managed WordPress hosting and online stores (woo-commerce) WordPress-based hosting.
We will discuss each of them, but our recommendation for you is to start with the shared hosting plan, and when you go big, you can easily migrate your website to a better hosting provider.
Shared Hosting:
The shared hosting solution allows multiple websites to utilize a single server, sharing the same resources.
That means, your website will be hosted with other people's websites on the same server. Usually, you'll have no idea who or what websites you're sharing the resources of a server with.
Bluehost offers 4 shared hosting plans, these are;
The BASIC plan:
When you need just one website. This plan costs $2.95 per month and allows you to host one website with 10 GB SSD storage and offers a free domain name, free CDN, free SSL certificate, and unmetered bandwidth.
The PLUS plan:
When you need more than one website. This plan costs $5.45 per month and allows you to host unlimited websites with 20 GB SSD storage space and offers a free domain name, free CDN, free SSL certificate, and unmetered bandwidth.
The CHOICE PLUS plan:
Multiple websites and more security. This plan costs $4.95 per month and allows you to host unlimited websites with 40 GB SSD disk space and offers a free domain name, free CDN, free SSL certificate, and unmetered bandwidth.
It also offers free domain privacy and free automated backups for one year. Eventually, you can make backups on the other shared plans. But for automated backups, you would have to pay for that.
The PRO plan:
All are in the Choice Plau plan, but more resources and dedicated IP. This plan costs $13.95 per month and allows you to host unlimited websites with 100 GB SSD disk space and offers a free domain name, free CDN, free SSL certificate, and unmetered bandwidth.
It also offers free domain privacy, free automated backups, and a free dedicated IP address.
The dedicated IP address means that you will have your own IP address that points from your domain name to your website, and you won't be sharing it with others.
Shared
Comparison
BASIC
PLUS
CHOICE PLUS
PRO
Websites
1 website
Unlimited
Unlimited
Unlimited
SSD storage
10 GB
20 GB
40 GB
100 GB
Bandwidth
Unmetered
Unmetered
Unmetered
Unmetered
Free SSL
Yes
Yes
Yes
Yes
Free CDN
Yes
Yes
Yes
Yes
Free Domain
Yes
Yes
Yes
Yes
Free Domain Privacy
No
No
Yes
Yes
Sub-Domains
25
Unlimited
Unlimited
Unlimited
Chat support
Yes
Yes
Yes
Yes
Phone Support
Yes
Yes
Yes
Yes
Backups
Yes
Yes
Yes
Yes
Automated Backups
No
No
Yes
Yes
Dedicated IP
No
No
No
Yes
First-term prices
$2.95/month
$5.45/month
$4.95/month
$13.95/month
Renewal price
$9.99/month
$13.99/month
$18.99/month
$26.99/month
WordPress Hosting:
Bluehost has WordPress-focused hosting plans optimized for WordPress sites. Its prices start at $19.95/month for the cheapest BUILD plan, $29.95/month for the GROW plan, and $49.95/month for the SCALE plan.
This plan does provide many features you can benefit from such as site analysis, daily automated backups, malware detection and removal, Bluehost SEO tools, and more.
If you want to build a business on WordPress such as a small online store, this is a good option for you. Otherwise, you can go with the shared hosting option and learn how to optimize your WordPress site yourself.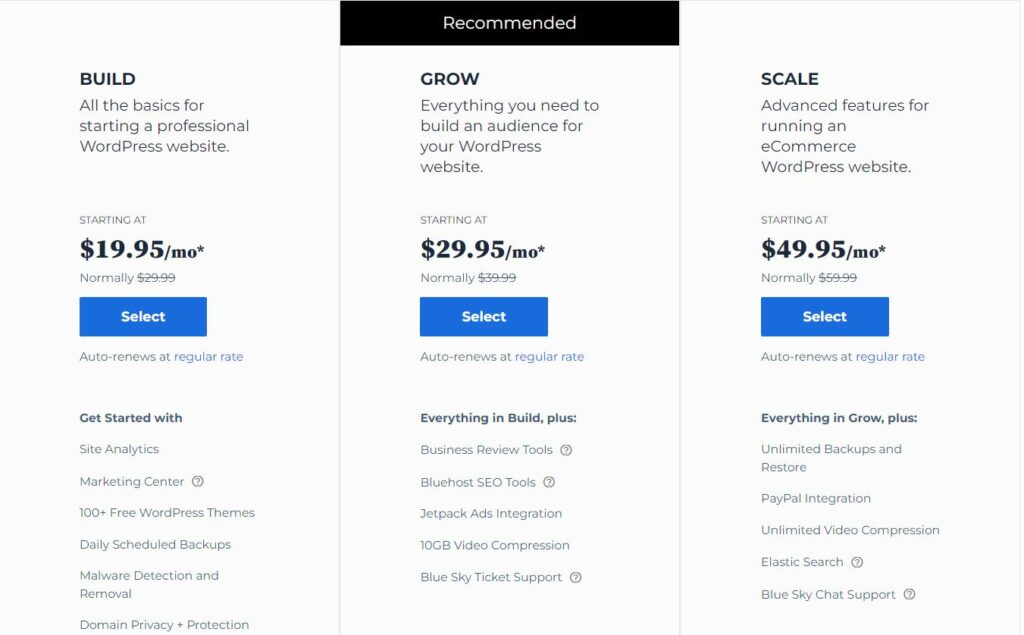 VPS Hosting:
VPS is short for Virtual Private Server, which is basically a physical server machine that has been divided into several virtual servers.
You'll share a server with other clients, but you will have your own dedicated resources such as RAM, CPU cores, storage space, and bandwidth.
This type of hosting is recommended for those who need a server for a big site that gains a lot of traffic or for those who need special server configurations like working with a particular application or a programming language.
This type of web hosting requires knowledge of how to configure servers and write codes. It's not recommended for beginners at all, as they will be overwhelmed with the stuff they need to go through.
If you are an absolute beginner and you need to go with the VPS option, you can either hire a developer or learn the process yourself.
The VPS BlurHost plan contains three sub plans, these plans are:
The Standard plan:
The standard plan comes with:
2 CPU cores.
30 GB SSD storage space.
2 GB RAM memory.
1 TB bandwidth.
1 IP address.
cPanel.
The Enhanced plan:
The enhanced plan comes with:
2 CPU cores.
60 GB SSD storage space.
4 GB RAM memory.
2 TB bandwidth.
2 IP addresses.
cPanel.
The Ultimate plan:
The ultimate plan comes with:
4 CPU cores.
120 GB SSD storage space.
8 GB RAM memory.
3 TB bandwidth.
2 IP addresses.
cPanel.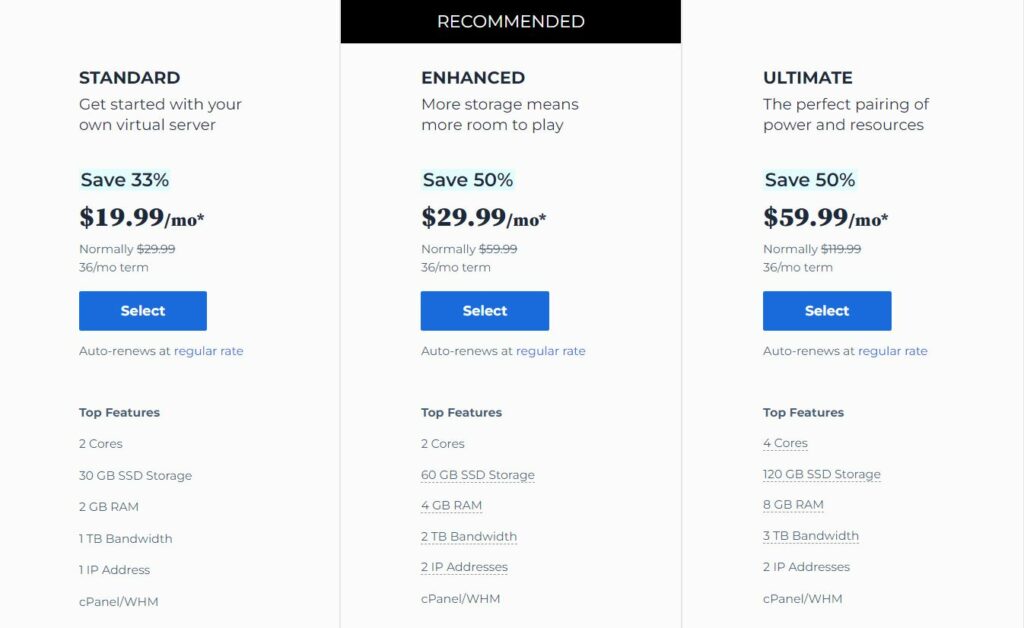 Dedicated Server Hosting:
The dedicated server hosting type is a physical server dedicated with its whole resources to a single business customer.
The customer has complete control over the machine, so they can customize it for their requirements, including performance and security. They are also responsible for its security and BlueHost is responsible for running it for them.
Dedicated servers are meant for those websites that generate tons of traffic or need a top-performing server such as big e-commerce websites and large companies.
Same as VPS, the dedicated servers come with three plans: the Standard plan for $79.99/mo, the Enhanced plan for $99.99/mo, and the Premium plan for $119.99/mo.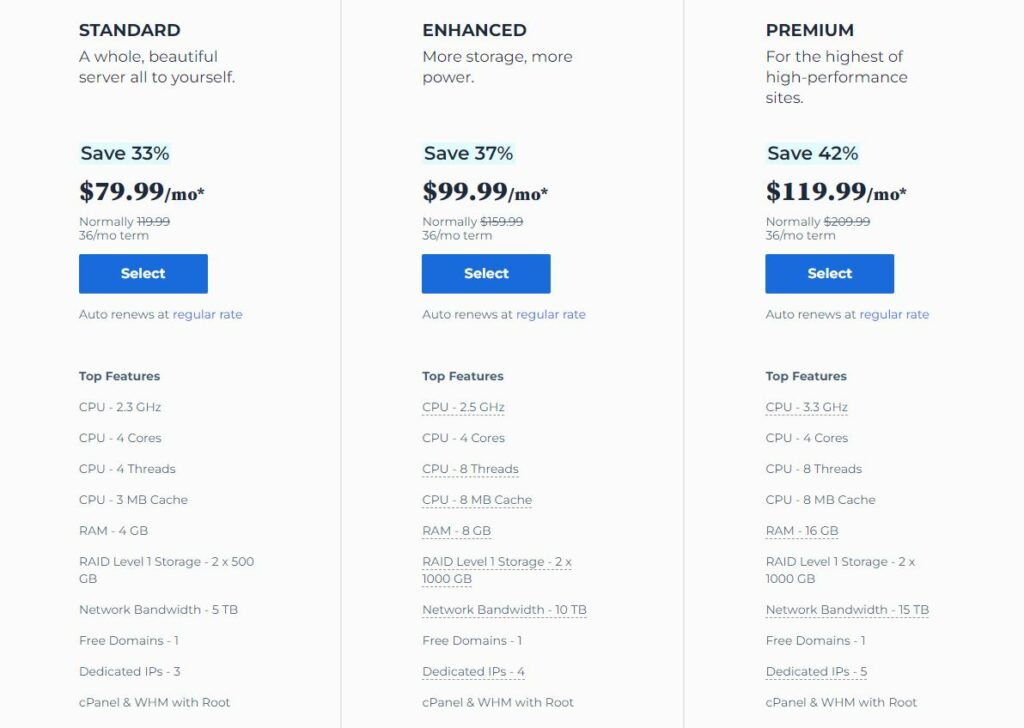 Pricing and Plans overall:
If you opt to use Bluehost services, we recommend going with the 1-year shared hosting plan, it's the cheapest and the best.
For other web hosting choices such as VPS and managed WordPress, we don't recommend Bluehost. There are great alternatives that provide better performance for less price we suggested in the Alternatives section.
BlueHost Performance
Performance is one of the main criteria that you should take when you looking for a web hosting provider, this includes the uptime of the server and the loading speed the server can deliver.
Uptime:
Uptime is crucial for user experience, bad uptime means that your website will go down while users are browsing your website. This will certainly leave a bad impression on the visitors of the site, and they may not visit your site again.
Also, Google finds it very difficult to crawl a website that has many downtimes.
Bluehost doesn't clearly mention their uptime guarantee, but from tests, we could say that Bluehost's uptime is 99.8% usually, which is great.
Loading speed:
Web page loading speed is essential for any website to deliver the best user experience and improve its search engine rankings. Google added the core web vitals as a ranking factor.
Bluehost's speed is not that good, it's great to start with because they provide many free and paid features at a low price.
But if you concern about website speed or you are that person who is obsessed with the loading speed, it's not your best choice. See the alternative section.
BlueHost Features:
Bluehost is known for its many free and paid features that will help you build a fully responsive and awesome website, and these are some of their features.
Website builder:
The Website Builder is a website creation tool that allows you to build a website with no coding or technical knowledge such as Elementor, Divi, and BlueHost website builder.
Users are able to visually click, drag and drop content to build a home page and additional pages of their website all while being able to access the full power, flexibility, and tools of WordPress.
Regardless of whether you're a newbie or a PRO, the Website Builder is an essential tool to use when creating a stunningly professional website on WordPress.
Free domain name:
When you register for a hosting plan on Bluehost, your hosting plan comes with a free domain name, a new domain name that you can register for free for one year.
After the end of the year, you will have to pay the registration fee for the specific domain name.
Honestly, many other shared hosting companies offer this feature on their plan, but many of them don't include it on their cheapest plan.
Free CDN:
CDN stands for content delivery network, it takes popular content to cache servers where it is accumulated, temporarily stored (cached), and given at future requests.
CDN is essential for your website's speed and performance, it will convey web pages and other web content to users based on their geographic locations, providing a high-speed experience.
This feature is provided by Bluehost as a free feature that comes with any shared hosting package even with the cheapest hosting plan.
Free SSL certificate:
An SSL (secure sockets layer) certificate is a small data file that provides an extra layer of security between a website and a browser.
The SSL certificate both serves to authenticate the website's identity, and to encrypt any information provided through the website.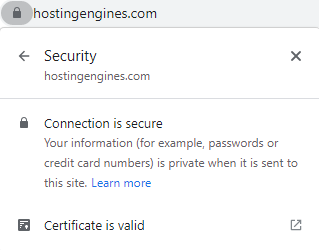 A web browser knows how to read the SSL certificate on the site in order to authenticate the website's identity, and SSL encryption ensures that any information shared between the server and browser is scrambled so that no third party can access it.
Bluehost provides a Let's Encrypt SSL certificate for free for all hosting plans including the basic plan.
30-Day money-back guarantee :
If you don't like BlueHost very much after using their services, you can cancel your hosting plan within the first 30 days for a full refund.
If you registered the free domain name offer through this plan, you will be charged for it, and issued the rest to you.
The refund guarantee does not apply to most add-on products, such as domains. Bluehost will deduct a non-refundable domain fee and the domain name will be yours.
Is Bluehost a Good Web Host?
In short, Bluehost is a great company to start with, it has many free features that can lower your web hosting costs. But it's not the best choice out there, There are alternatives such as Dreamhost, which is better and faster and it costs the same prices Bluehost costs. Read Dreamhost's review.
BlueHost Alternatives
If you felt that BlueHost is not what you are looking for after this review, there are great alternatives that might be a better choice for you.
If you want a low-price shared hosting service, but get a better performance for your website, Hostinger is the best match. You can start building your website with them for as cheap as $1.99/month.
Want a Cloud and managed VPS hosting for the best performance and create as many websites as you want, Cloudways beats them all.
For advanced web hosting that requires a little knowledge and for only $5/month for a whole dedicated VPS server, we recommend Vultr the most.
Read:
Best cheap web hosting under $3.
Best web hosting for developers.
How to Cancel BlueHost Subscription?
You can cancel your BlueHost account within the first 30 days of signing up, and before requesting cancellation make sure that you have made backups for your websites and emails.
To cancel your subscription first log in to your account, click on your profile icon and go to products. Next, click on the Renew button, then select Do not renew, select a reason and click Continue. Finally, click OK.
Bluehost Review: The Conclusion
Bluehost is a reliable web hosting service with multi add-on features to help you out on many cases you might face.
It's beginner-friendly and easy to work with, we recommend Bluehost for beginners who want to build their first websites or those who seek cheap prices for hosting their sites.
But if you are building a huge website such as e-commerce, we don't recommend Bluehost at all, see Bluehost alternatives. Read also:
Cloudways Review
A2 Hosting Review