Since Cloudways delivers the servers from other partners, the pricing of its servers varies from one partner to another.
Cloudways is a managed hosting provider that provides scalable, high-performance cloud hosting solutions with many hosting pricing modules.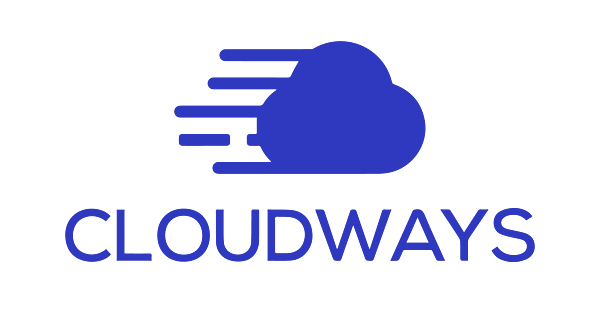 It offers you the freedom of managing your own server infrastructure while taking care of all the complexities involved in running and securing it. Read Cloudways review.
But to get a managed VPS server on the cloud, does that mean more money?
Today, I will show you the pricing plans that Cloudways offers and what's best for your next web application.
About Cloudways Pricing?
There is some information about Cloudways you should know before we proceed to show you it's pricing.
Cloudways provides servers from 5 third-party web hosting providers such as Linode and Vultr, so the prices vary from one provider to another.
Cloudways is a pay-as-you-go payment system, so you will only be charged for the resources you consumed.
The prices you will see are for the server creation, and on each server, you can create multiple websites, and no extra money is required.
You can create as many servers as you want in any of the five cloud hosting providers you want.
When you sign up for your first time, Cloudways will give you 3 days free trial to create a server and test how things are going with their platform.
If you didn't like Coudways, no need for asking for a refund as you have not been charged in the first place. Just don't create servers and services and that's it.
Cloudways is for more cheap compared with its competitors Kinsta and WP Engine. Check the small comparison we made at the end of this article.
Cloudwys pricing is flat and transparent, you will only pay for what you apply for. Check the features of their plans to see what they offer and what they don't offer.
That being said, let's break down the Cloudways pricing structure and see what's a suitable web hosting plan for you.
DigitalOcean Pricing on Cloudways
As on DigitalOcean, there are two options on Cloudways for the cloud VPS pricing plan, the Standard plans, and the Premium plans.
The two plan types provide the same amount of resources, but the Premium plans offer faster-performing Intel and AMD processors, and & faster NVMe SSDs, and of course extra %20 money.
For instance, the plan that costs $10 a month on the Standard plan will cost you $12 a month on the Premium plan.
The 1GB cheapest plan pricing on Cloudways by DigitalOcean costs $10 per month on the standard package and $12 per month on the premium package.
The 1 GB plan comes with resources of 1 GB RAM, 1 Core processor, 25 GB SSD storage space for the standard and 25 GB NVMe SSD storage space for the premium, and 1 TB Bandwidth.
Vultr Pricing on Cloudways
Same as DigitalOcean, Vultr has 2 options for pricing and servers in Cloudways, the Standard option, and the High-Frequency option.
The Standard and the High-Frequency options provide the same resources except the High-Frequency offers more storage space and an extra 20% cash.
Also, the Standard is powered by previous generation Intel CPUs and regular SSD while the High-Frequency is powered by 3GHz+ Intel Xeon CPUs and the faster NVMe SSD.
These differences are not a big deal for small websites and blogs, they are to concern those who need the power of the new CPUs generations such as video store websites or streamers.
The 1 GB cheapest plan pricing on Cloudways by Vultr costs $11 per month on the standard package and $13 per month on the high-frequency package.
The 1 GB plan comes with resources of 1 GB RAM, 1 Core processor, 25 GB SSD storage space for the standard and 32 GB NVMe SSD storage space for the high-frequency, and 1 TB Bandwidth.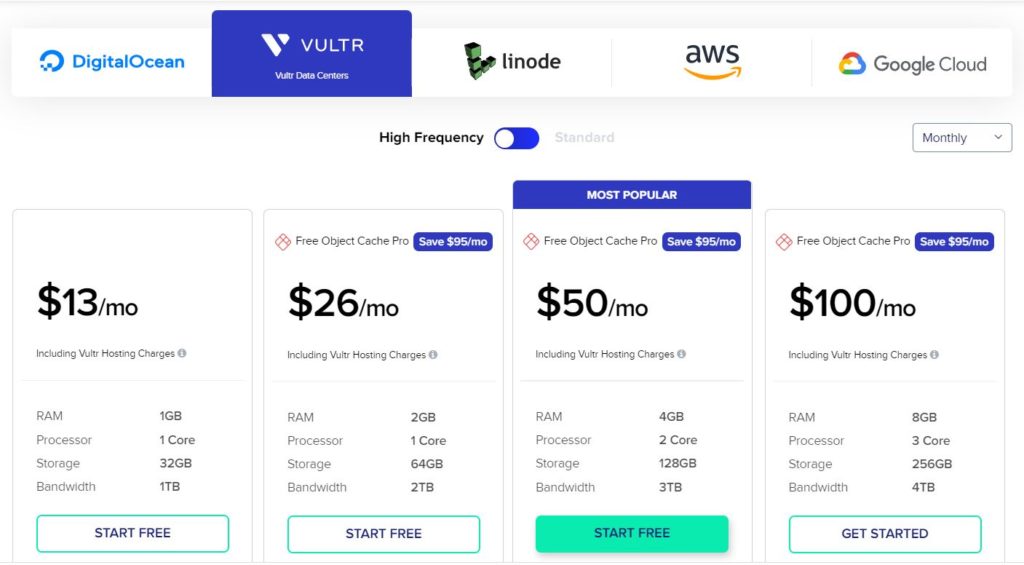 Linode Pricing on Cloudways
Linode offers almost the same pricing and plans that DigitalOcean offers on Cloudways. Except Linode has no premium package. Only the standard plans with the general SSD disk.
The plans and prices on lined are a little bit more than on DigitalOcean and Vultr. The cheapest 1 GB plan Linode server on Cloudways costs $12 per month.
And for this amount of money, you get a server with 1 GB RAM, 1 Core processor, 25 GB SSD storage space, and 1 TB Bandwidth. And more features you can discover when you visit Cloudways.
AWS Pricing on Cloudways
Amazon Web Services "AWS" is one of the most powerful web hosting networks in the world. Many big-name companies are trusting AWS to host their platforms with them.
In fact, the Cloudways backup system stores copies of the servers and applications on Amazon Web Services.
On the other hand, AWS is more expensive than the previous ones. Its prices on Cloudways start at $36.51 per month, and you get more RAM and CPU but less storage space and bandwidth.
The cheapest plan on AWS costs $36.51/month and offers 2 GB RAM, 2 vCPU processors, 20 GB storage space, and 2 GB bandwidth.
Google Cloud Pricing on Cloudways
The Google Cloud Platform "GCP" is also one of the most famous and most powerful hosting solutions, but it requires more knowledge to configure the servers on its platform.
So, if you are a beginner and you want to host your web application on the Google Cloud Platform, Cloudways made it easy for you to do so.
the Google Cloud Platform pricing on Cloudways is similar to the AWS pricing, but compared to what server resources they offer, GCP is the most expensive. Its prices start at $33.18 per month.
The cheapest plan on GCP costs $33.18/month and offers 1.70 GB RAM, 1 vCPU processor, 20 GB storage space, and 2 GB bandwidth.
DigitalOcean vs Kinsta vs WP Engine Prices
When you think that there is shared hosting that offers to host unlimited websites for only $5 every month for the first year, you would think that Cloudways is expensive.
But here is the catch, the shared hosting servers will not provide the flexibility, performance, speed, customization, server access, and features that the managed hosting offer.
Also, that $5 price will not last forever, you will be charged the full amount once your plan has expired and want to renew it. Read Cloudways review.
So, why not compare Cloudways with its competitors WP Engine and Kinsta in terms of pricing. Here is a comparison comparing the cheapest plan of the three hosting companies.
| | | | | |
| --- | --- | --- | --- | --- |
| | Comparison | Cloudways | WP Engine | Kinsta |
| | Cheapest plan | $10/mo | $25/mo | $35/mo |
| | Cheapest storage | 25 GB | 10 GB | 10 GB |
| | Cheapest Bandwidth | 1 TB | 50 GB | – |
| | Cheapest Visits | Unlimited | 25,000/mo | 25,000/mo |
| | Multisites | Free | Additional cost | Higher plans |
| | Unlimited websites | Yes | No | No |
| | Money-back guarantee | Pay as you go | 60 days | 30 days |
Cloudways vs WP Engine vs Kinsta
DigitalOcean vs Vultr vs Linode vs AWS vs GCP on Cloudways
I remember someday I hosted 9 different little to no traffic WordPress and PHP applications on the 1 GB plan on a DigitalOcean server and they functioned very well with no issue.
So, if you want to build your website from the beginning or you have a small website and want to migrate to Cloudways, and you are on a budget, starting with the cheapest plan on DigitalOcean, Vultr, or Linode is a better choice for you.
But if you already have a big website with decent traffic and you can afford it, going with more powerful plans can be a great choice for you.
Anyway, on Cloudways, you can start small and scale up when you grow big at any time by upgrading the server from the Server Management panel.
Read also:
Install WordPress on Cloudways.
Install PHP on Cloudways.