Trying to choose between Bluehost and Dreamhost to host your website can be a little exhausting, especially that they both claims to be the best web hosting provider.
There are big differences between both Performance and other aspects. And in this review, we will demonstrate honestly which is best for what and why.
About BlueHost
BlueHost founded in 2003 by Matt Heaton and Danny Ashworth in Provo, Utah, is one of the world's largest web hosting providers with over 2 million websites hosted on its servers.
They provide web hosting solutions for any type of website at a low price and provide many free and paid features.

About Dreamhost
DreamHost hosts over 1.5 million websites, blogs, and applications, and over 750k WordPress installations.
Since 1997, Dreamhost started providing reliable web hosting solutions for almost any type of web hosting at a low price as well.

Ease Of Use
Both DreamHost and BlueHost are easy to understand and navigate between the options of their control panels from the first time.
Managing your websites, WordPress sites, domain names, and account settings couldn't be easier than what you will see on their platforms.
So, if you are new to web hosting services, both Bluehost and Dreamhost will be easy for you to understand. However, Bluehost uses cPanel while Dreamhost uses its own built-in control panel.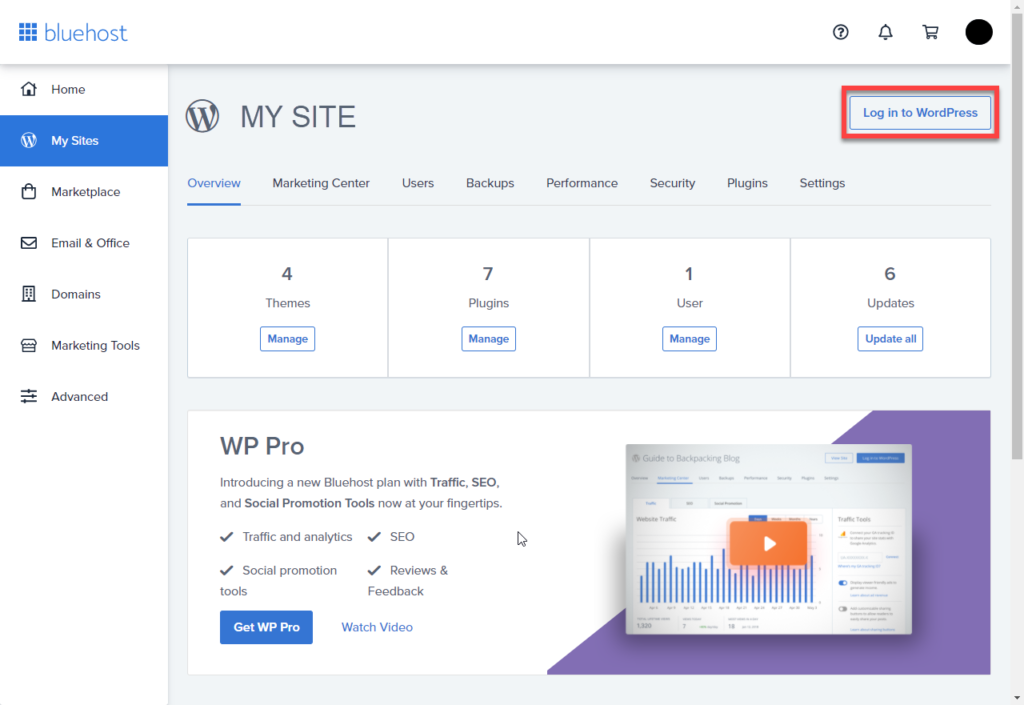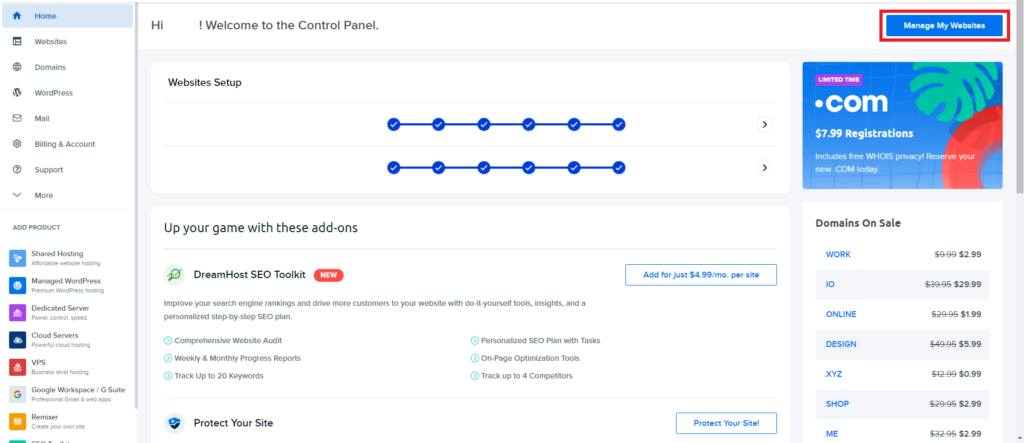 Plans and Pricing
Both BlueHost and DreamHost have many web hosting plans you can choose from according to your website's needs. Here we will look for the shared hosting plans as they are recommended for these types of web hosts.
Shared hosting allows multiple websites to utilize a single server, sharing the same resources. Each customer will usually have a limit on the total amount of server resources they can use.
BlueHost plans and pricing:
Bluehost offers four shared hosting plans, they are:
BASIC plan: Allows you to host one website for $2.99 per month.
PLUS plan: Allows you to host unlimited websites for $5.45 per month.
CHOICE PLUS plan: Host unlimited websites with more security for 4.95 per month.
PRO plan: More features and a dedicated IP address for $13.95 per month.
DreamHost plans and pricing:
Dreamhost shared hosting plan has two options.
Shared Starter starts at $2.59 per month when you sign up for 3 years and $2.95 per month when you sign up for 1 year.
Shared Unlimited starts at $3.95 per month when you sign up for 3 years and $2.95 per month when you sign up for 1 year.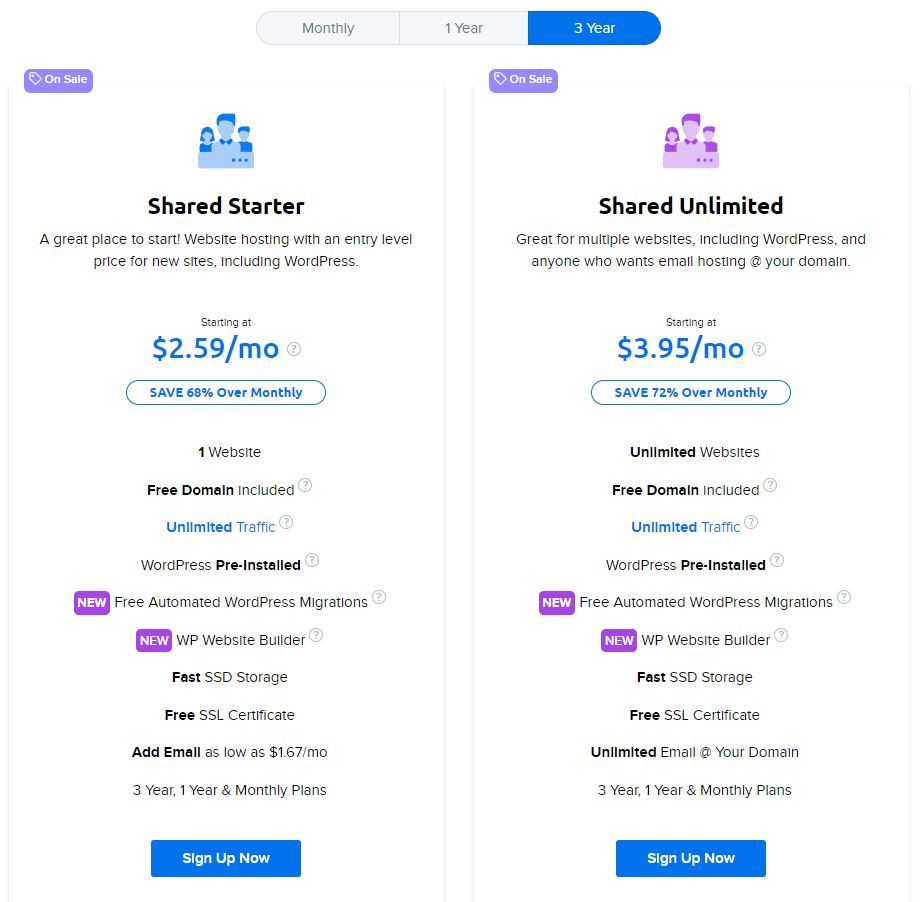 Cheapest DreamHost vs BlueHost plans comparison:
| Comparison | BlueHost | DreamHost |
| --- | --- | --- |
| 1 month | – | $4.95/mo |
| 12 months | $4.95/mo | $2.95/mo |
| 36 months | $2.95/mo | $2.59/mo |
| Free Domain | Included | Included |
| Free Domain Privacy | Extra cash | Included |
| Free SSL | Yes | Yes |
| Storage space | 10 GB | 50GB |
| Bandwidth | Unmetered | Unmetered |
| Phone Call Support | Yes | Extra cash |
| Automated Daily Backups | No | Yes |
Performance And Reliability
Website performance is all about making the website fast and functioning very well. It's essential to get a reliable web hosting service. This is what helps your website to rank high on search results.
So you should carefully choose the right web hosting for your website among all the many web hosting companies out there.
Uptime:
Uptime is important for user experience, bad uptime means that your website will go down while users are browsing your website, and this will certainly leave a bad impression on the visitors of the site, and they may not visit your site again.
Bluehost's uptime is great, it's 99.8% usually. However, Bluehost doesn't offer any uptime warranty, Which means if Bluehost failed to provide 100% uptime, you will not receive any credit due to the downtime your website had faced.
Dreamhost's actual uptime is %99.98 which is fantastic compared to other web hosting providers. However, DreamHost guarantees 100% uptime, this means if DreamHost failed to provide 100% uptime, you will receive credit equal to your current hosting for each hour or less.
Both Bluehost and Dreamhost are delivering great uptime, yet Dreamhost's uptime is better. Besides, Dreamhost compensates you for every downtime your website may suffer.
Loading speed:
If your website's speed is more than 3 seconds, it will be difficult for you to get it to appear on the first search page of google results. Therefore, speed is very important for any website to help it rank high on search results.
website speed is also important for user experience, slow loading sites make the users leave the site immediately. Hence, lower your conversion rate.
DreamHost's speed is exceptional compared to shared web hosting, it's one of the best hosts that deliver fast loading speed.
Bluehost on the other side delivers slower-loading pages. This is the main reason why we don't recommend BlueHost all the time.
Server location (Datacenters):
The closer your website hosting server is to your clients and visitors, the better the loading speed and performance of your website. Bluehost has six data centers in four different countries, they are:
Utah, USA Data Center
Orem, USA Data Center
London, UK/Europe Data Center
Mumbai, India Data Center via
China, Shanghai, Data Center
China, Hong Kong, City Data Center
On the other hand, DreamHost cloud services currently have only two data centers and they both are located in the United States. They are the Virginia data center and the California data center.
Features
You rather go with a web hosting server that offers a lot of features than one with none or a few. Cause you will eventually be needing some and end up paying for.
The more features available on your server, the easier it will be to manage your sites. The following comparison shows the features available on Both BlueHost and DreamHost.
Free domain name:
Both Bluehost and Dreamhost provide free domain name registration with their shared hosting plans.
When you sign up for any shared plan, they will give you a free domain registration or domain migration for free for one year.
Free domain privacy:
Domain privacy offers the option to replace your personal information in the domain's public WHOIS with anonymous information, thereby protecting your personal data.
The web hosting Proxy Protection replaces your contact information with their contact information.

DreamHost does offer free domain privacy for all shared plans. But BlueHost does not offer free domain privacy, rather, you will pay an extra $1.25/month for it.
Free site migration:
If what makes you decide to choose between Bluehost or Dreamhost is the lack of performance or support of your current web hosting provider. No worries about migrating your website to either DreamHost or BlueHost.
They both offer a free WordPress migration to their platforms.
However, BlueHost free migration is for the first 30 days after signup. Therefore, in order to be qualified for migrating your WordPress to their servers, you must request this within your first month of registering with Bluehost.
Otherwise, you will have to pay extra money or do it manually with the help of some plugins.
Automated backups:
Backup is the first thing website owners should not neglect. Without making backups to your website, you are seriously risking your website data and files.
The backup is the main guarantee that your site can be completely restored after any problems and crashes happen from your server-side or your side.
If you installed or updated a plugin, or someone hacked your website, you can restore everything to the point where you created the backup.
There are mainly two types of backups, manual backups where you make the backup yourself every time you feel a backup must be made. And automatic backup, where the server backs up your website in certain periods of time specified by the hosting server or allows you to specify them.
It's a good idea to have an automatic backup because you might forget to back up your website yourself. Accordingly, you may lose the work you accomplished on your site and worked on it for a long time.
With that being said, Bluehost offers to backup your website but doesn't offer automated backups for all shared plans, you will have to sign up for the CHOICE PLUS plan or the PRO plan to get an automated backup for free.
While on DreamHost, you can get free automated backup on all plans including the cheapest one.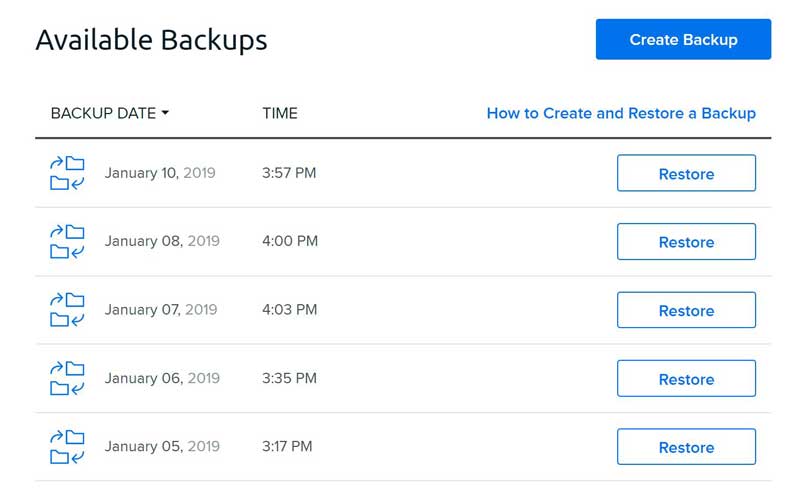 Free SSL certificate:
An SSL (secure sockets layer) certificate is a small data file that provides an extra layer of security between a website and a browser. It serves to authenticate the website's identity and encrypts any information provided through the website.
Anytime you view a website, the server that website lives on and the browser you use work together to display the web page you're on.
Both Bluehost and Dreamhost are offering free SSL certificates for all shared plans.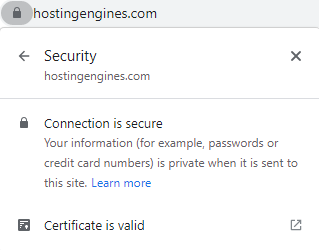 Bandwidth:
Bandwidth is the capacity of data that can be transferred between the website, its users, and the servers.
The amount of bandwidth you have determines how quickly your website can deliver content to your visitors. Higher bandwidths allow website owners to have more dynamic features and content on their websites which can be more appealing to their visitors.
Bandwidth on both providers is unlimited for shared hosting.
Support
Having a strong support system has many positive benefits. There are several situations that make it necessary to contact support, especially if you are a newbie.
If you get attacked by hackers or your website is crushed and you want to back it up, or simply you want to know about a specific service your web hosting provides and you don't know about, you may have to call their support.
DreamHost offers email and ticket-based support 24/7 and online chat beside the knowledge base. They also offer phone call support but you will pay extra dollars to get this service.
On the other hand, BlueHost offers all kinds of support, phone calls, chat, and tickets.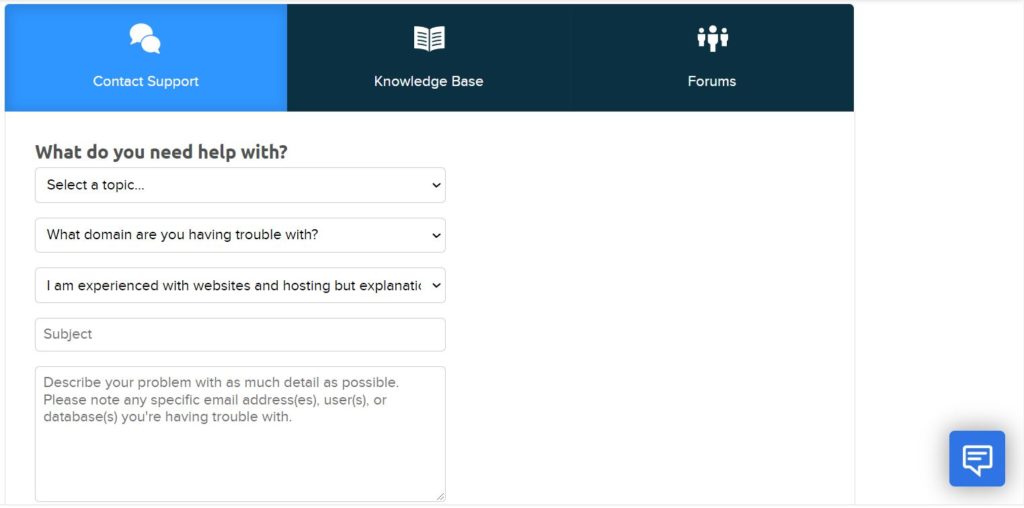 Cancellation: Money-Back Guarantee
On Bluehost, If you find that Bluehost is not the best choice after you purchase one of its plans, you can cancel your account within 30 days of signing up or set your plan to expire at the end of the term at any time for a full refund.
DreamHost offers a 97-day money-back guarantee for any credit card purchase on a shared web hosting plan. If you find DreamHost does not suit your needs, you can cancel within 97 days and receive a full refund.
Summary: Bluehost vs Dreamhost
BlueHost offers free phone call support and six server locations in four different countries.
DreamHost offers way more features such as better uptime, better loading time, lower price, free domain privacy, and a 97 money-back guarantee.
BlueHost is lack website speed which is something that cannot be ignored. Therefore, we recommend DreamHost.
| | | |
| --- | --- | --- |
| Comparison | Bluehost | Dreamhost |
| Ease of use | Yes | Yes |
| Uptime | 99.8% | 99.98% |
| Uptime guarantee | No | Yes |
| Loading speed | Not good | Great |
| Data centers | 6 | 2 |
| data centers locations | 4 Countries | 1 Country |
| Automated Backups | No | Yes |
| Prices start at | $2.95 | $2.59 |
| Chat Support | Yes | Yes |
| Phone call Support | Yes – Free | Yes – Not Free |
| Site migration | Yes | Yes |
| Free domain name | Yes | Yes |
| Free domain privacy | No | Yes |
| Free SSL certificate | Yes | Yes |
| Bandwidth | Unmetered | Unmetered |
| Money-back guarantee | 30 days | 97 days |
Bluehost or Dreamhost comparison