Hostinger is a web hosting company that has been providing affordable and reliable hosting services to customers around the world since 2004.
In this review, we will take a closer look at Hostinger's features, pricing, and performance to help you decide if it's the right web host for your website.
Key Takeaways:
Hostinger is one of the best-shared web hosting services.
Hostinger prices are pretty low, they start at $1.99/month.
The Hostinger loading speed and performance are hard to find in any shared hosting.
No web host can compete with Hostinger in terms of simplicity and clean design. It's user-friendly and easy to use.
Overall, Hostinger is a great choice for those who are looking for a budget-friendly user-friendly web host.
About Hostinger
Hostinger is a well-known employee-owned web hosting company that has been in the industry for nearly two decades.
It was first established in November of 2004 in Kaunas, Lithuania where a group of junior entrepreneurs began this small company and first named it hosting media. In 2007, hosting services were set in motion, and by 2011 Hostinger was embarked on.
Now Hostinger has an employee base of 1000 plus employees offering a vibe that supports personal development, hostinger acknowledges the importance of customer satisfaction and provides its customers with 24/7 support.
In addition, the company offers a wide range of hosting services including shared hosting, cloud hosting, and VPS hosting, making it an ideal choice for both personal and business websites.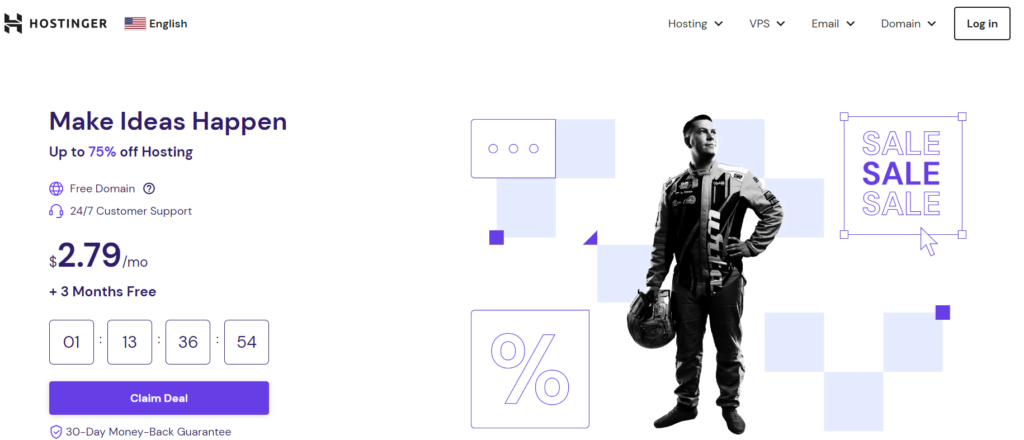 Who Is Hostinger Best For?
Hostinger is best used by individuals who do not have that much technical knowledge about website building and would require support during their journey.
It is also best for small businesses that do not have a huge employee base and require a website that operates well but is still on the cheaper side.
Therefore, if you are just beginning your small business, blogging site, or a small online store, and looking for something within a lower price range, great performance and reliability, and your technical background is not that strong, then Hostinger is the best match for you!
Pros and Cons of Hostinger
It's important to consider the Pros and Cons before making a decision. Let's take a closer look at the advantages and disadvantages of Hostinger.
The Pros:
24/7 Customer Support: Hostinger offers great live chat and email ticket customer support that is available 24/7/365. In addition, Hostinger provides step-by-step easy-to-follow detailed tutorials and blogs explaining how certain things are done so you won't face any difficulty.
Low pricing plans: Because Hostinger focuses on shared hosting it provides its clientele with cheap or low-cost prices that are affordable even for users that just want to try it out.
User friendly: Hostinger is extremely user-friendly and is easy to set up and manage for a user who has no technical knowledge or no background in web hosting. Everything can be done with just a few clicks and no complications.
Performance: Taking its pricing plans into account Hostinger's performance is considered exceptional with uptime that is 99.99% making it one of the most efficient web hosting providers.
Loading Speed: In addition to having good uptime Hostinger delivers a really good loading speed. So if you are considering Hostinger you can sleep knowing that your website's speed will be optimum.
Multiple data centers: With Hostinger owning many data centers around the world, you can easily install or change your server location to be near your customers.
30-day refund guarantee: Hostinger has a 30-day refund policy that gives you back your money within 30 days if you are dissatisfied with its hosting capabilities.
The Cons:
Lack of Daily backups: There are very few issues you might face with hostinger number one is that they do not have daily backups but rather only offer weekly backups, however, this is an issue that can be resolved by setting up your own personal backup plan.
Limitations, We have already figured out that Hostinger is affordable well the catch or the downside to it being affordable is that there are certain limitations with the basic and the entry plans. However, if your website grows you can change your plan to either cloud or VPS which will allow you to remove the limitations.
No phone support: Even though Hostinger offers 24/7 support, unfortunately, it does not offer phone call support where you could call their help center directly.
Hostinger Plans and Pricing
Hostinger offers several plans that meet several needs which ensure that whatever website you wish to host hostinger will provide.
1. Shared web hosting:
Hostinger offers shared web hosting that comes in three different plans, this type of hosting according to the company is suitable for small to medium websites.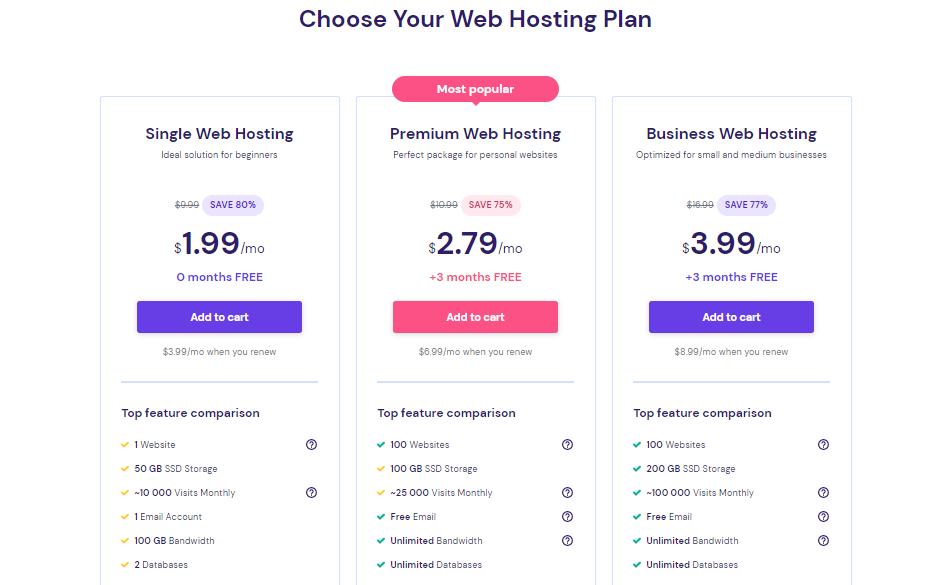 Single Web Hosting plan:
If you are just beginning this website journey and are looking into web hosting providers then single web hosting from Hostinger is the right answer starting at $1.99 per month this plan offers you 1 website, 50GB SSD storage, 10,000 visits monthly, one email account 100 GB bandwidth and 2 databases.
However, it doesn't come with a free domain, no WordPress staging gadget, no SSH access, and only 2 subdomains, 1 FTP account, and 2 Cronjobs.
A domain name may cost you anywhere between $6 to $15. So, if you haven't had a domain name registered anywhere, have a look at their next plan.
Single web hosting has several limitations that would not seem important for anyone who is just beginning and it offers one website, storage, bandwidth, and monthly visits which seems ideal for a start-up that is on a tighter budget.
Premium Web Hosting plan:
The premium web hosting plan is an upgrade from the single plan and is ideal for personal websites. Once you feel like your personal website is growing or want to make more than one website, then you should definitely upgrade to the premium plan.
Starting at 2.79 dollars per month and you get 3 months for free this plan includes 100 websites, 100GB SSD storage, 25,000 monthly visits, free email, and unlimited bandwidth and databases as compared to the single hosting that only offers 100GB bandwidth and 2 databases.
On top of this, with premium web hosting you are eligible for the free domain bonus you get SSH access, unlimited FTP accounts, and cronjobs.
The premium plan removes some of the limitations that were set in a single web hosting; it also increases your websites, storage, and bandwidth to better fit bigger websites' needs.
Business Web Hosting Plan:
Once your business starts booming you will require an online presence regardless of whether your business is small or medium, the Business Web Hosting plan will suit you.
The business web hosting starts at 3.99 dollars per month the business plan offers 100 websites, 200GB SSD storage, 100,000 visits monthly, free email, and unlimited bandwidth and databases.
With business web hosting you are subjected to no limitations but are rather introduced to greater storage and more monthly visits.
Hostinger Shared Hosting Comparison:
| Comparison | Single | Premium | Business |
| --- | --- | --- | --- |
| Free Domain | No | Yes | Yes |
| No. of Websites | 1Website | 100 Websites | 100 Websites |
| SSD Storage Space | 50 GB | 100 GB | 200 GB |
| Visits per Month | 10,000 visits | 25,000 visits | 100,000 visits |
| Bandwidth | 100 GB | Unlimited | Unlimited |
| Free SSL | Yes | Yes | Yes |
| WordPress Staging Tool | No | No | Yes |
Hostinger Shared Hosting Comparison
2. Cloud Hosting:
Cloud hosting is another type of hosting that works best for medium to large projects. Hostinger offers three plan options for Cloud hosting, they are Cloud Startup starts at $9.99/ month, Cloud Professional starts at $14.99 per month, and Cloud Enterprise starts at $29.99/ month.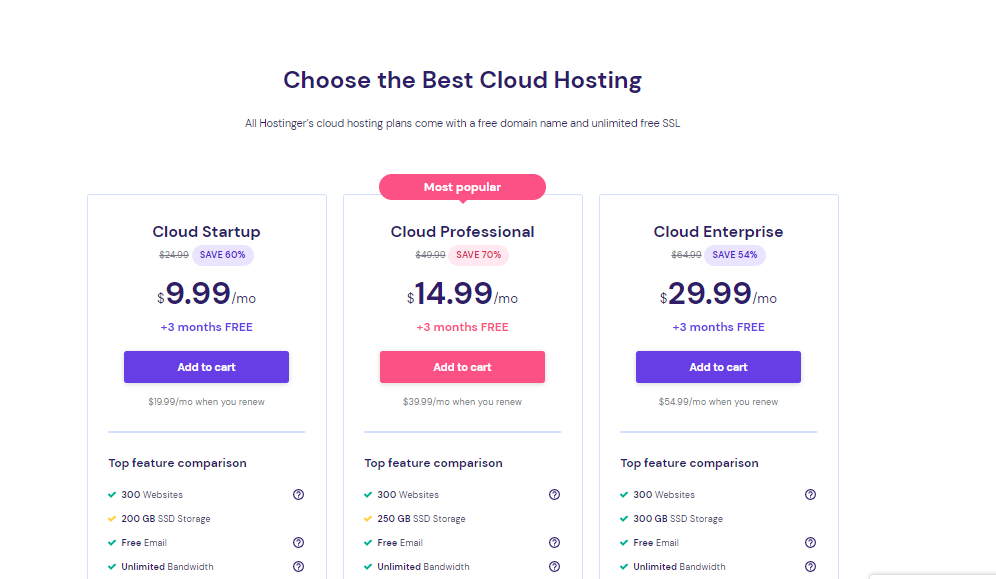 3. WordPress Hosting:
WordPress hosting is optimized for websites that use WordPress specifically, it offers four hosting plans; Single WordPress hosting for beginners, WordPress Starter for personalized websites, Business WordPress for mini-scale businesses, and finally WordPress Pro for small and medium-listed businesses.

4. VPS Hosting:
Virtual Private Server hosting is another option offered by hostinger and it has 8 different plan options starting at 1 Vcpu core and ending at 8 Vcpu cores for the eighth plan. VPS hosting is best for websites that have more traffic and require a dedicated virtual server.
Hostinger Performance
Hostinger is best known for its amazing performance compared to its low-price plans. Now, what exactly is a measure of this performance?
Uptime:
One of the most important aspects of a website is its uptime. Making sure that your website rarely crashes is very important. Well, Hostinger guarantees an uptime of 99.9% ensuring that your website is almost always accessible.
Loading time:
The speed of your website pages matters for both your customers and Google. Poor loading time can lead people to leave your website forever.
That being said, Hostinger is one of the fastest shared web hosting services on the entire internet.
Data centers:
Hostinger has seven servers located in most of the continents such as in the United States, United Kingdom, India, Singapore, Netherlands, Lithuania, and Brazil.
Depending on exactly what your plan is and where you receive the most traffic from you can pick the location of the server hostinger which allows you to pick the location of the data center after purchase and on top of that you can switch from one location to another for free.
Hostinger Features
Hostinger offers many features that will make your experience easier and more comfortable as well as ensure your website's security and smooth transition.
Hpanel:
Hostinger created its own custom-built panel in 2011 and named it hPanel. It is available in seventeen different languages and has a feature of WordPress migration to ensure fast smooth transitions.
Hpanel is extremely user-friendly and allows you to use the main functions within it such as email, and database management, and more so it's suitable for beginners who have no experience with panels and the background coding that takes place.
DDoS protection:
A DDoS or distributed denial of service is a vicious attack that interrupts the usual traffic of a specific server or network.
Hostinger has multiple veils of protection against DDoS assaults, the traffic is monitored and obstructed using Wanguard which creates firewall rules, and there are also other web software firewalls.
Bonuses:
Hostinger offers free features with each plan you purchase, and with free features for the more expensive plans such as a free SSL certificate, a free website builder, unlimited bandwidth, and free domain name registration.
Some of the more expensive plans even offer a WordPress staging tool!
Free SSL certificate:
It is known that an SSL certificate makes your website trustworthy, boosts your website's security, and slightly increases your Google rankings.
Hostinger offers a free SSL certificate with every plan you choose. This certificate applies 256-bit encryption which is the standard for defense against illegitimate users.
Free website migration:
If already have a WordPress website hosted elsewhere and you decided to migrate to Hostinger, Hostinger has a free website migration feature. All you need to do is submit a migration request and they will begin the process immediately.
Their migration process is extremely fast starting from a minimum of 6 hours for simple websites to a maximum of 48 hours. And regardless of the time taken your website remains active during the migration.
Security
Security is a very important part of any web hosting plan. You do not want your users to feel insecure when entering your website and you do not want to risk the chance of hacking, fortunately, security is a great strength that a hostinger has.
The servers within the data centers are under constant surveillance and equipped with crucial security aspects
All plans within hostinger are offered with a free SSL certificate that is just a few clicks away and extremely easy to set up. Let's not forget that SSL certificates slightly affect SEO.
On top of these protection features, Hostinger also has DDoS protection and two-factor authentication to add an extra layer of safety so that even if your password has been infiltrated whoever is trying to hack your site would still require to do another step of verification that will mostly be dependent on only you.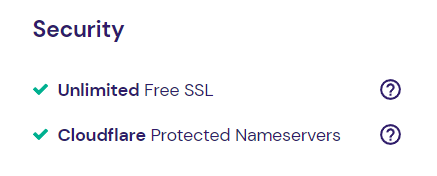 Customer Support
Hostinger offers live chat and email ticket systems with 24/7/365 customer support. Their team is smart and can help you in any aspect.
Also, their customer support is available in several languages if the purchase was made from your local area to make sure there is no language barrier during communication.
However, if you prefer phone call support, this might be a problem as they don't offer this service.
How to Start With Hostinger?
Starting with hostinger is extremely easy and if you keep reading this section we will give you the tiny details.
1. Choose a plan
Go to Hostinger.com and choose the plan that most works for you. Click on Add to Cart to choose your plan period from one month all the way to 48 months or 4 years.
2. Choose the plan period:
In this step, you would need to specify the time period you want your plan to last before it expires. From one month up to 48 months.
When choosing the period, bear attention to the price differences between the plans. The longer period you choose, the cheaper price will be.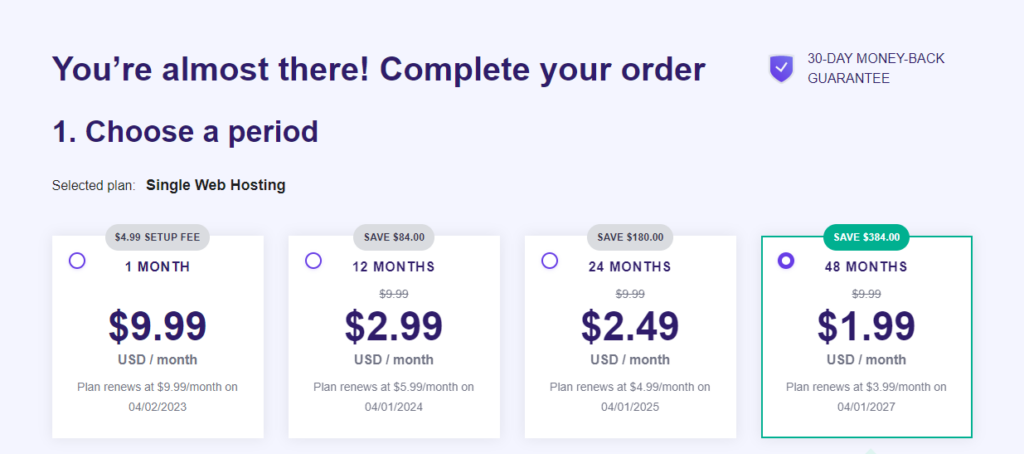 3. Create your account:
The third step you are required to do is create an account on Hostinger. Scroll down and choose either to enter your email address and verify it later or log in with either Google or Facebook.

4. Select payment method:
In this section would need to pick a payment method and then enter the details of the payment. After submitting the payment click on Submit Secure Payment and that's it.
Hostinger supports many payment options including Credit Card, PayPal, Google Pay, AliPay, and Coingate.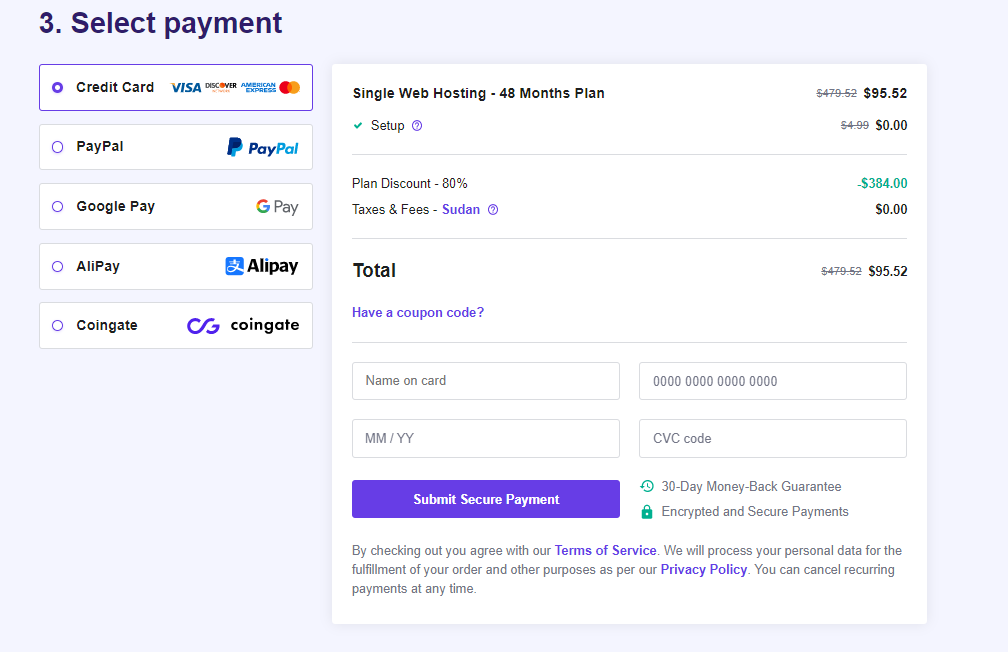 Conclusion
Hostinger is a reliable and affordable web hosting provider that offers a wide range of hosting services to meet the needs of different types of websites. The company's user-friendly interface and budget-friendly prices make it a great choice for beginners and experienced users alike.
The company's performance and uptime are also quite good which makes it a good choice for hosting a website and the customer support is also helpful and responsive.
Overall, Hostinger is a great option for those who are looking for an affordable, reliable, and user-friendly web host. It is a good balance of cost and quality.
Read also:
DreamHost Review.
Bluehost Review.
Cloudways Review.
A2 Hosting Review.