A2 Hosting is most known for its fast loading speed, they claim to provide up to 20X faster web hosting server speed.
That's because they use the expensive AMD EPYC CPU and the SSD NVMe drives instead of the regular SSD. Also, they offer LiteSpeed performance-enhanced technology on their servers.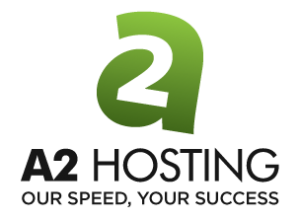 A2 Hosting started the journey in 2001 under Iniquinet name, two years later, they changed it to the present name. And now they serve thousands of websites and clients around the world.
Who Is A2 Hosting Best For?
A2 hosting is pretty much a better choice for anyone. whether you are a beginner or tech-savvy, you can find a corner for your website hosting.
If you are a beginner, using their dashboard is very easy, and their support team are experts.
If you are on a budget, they offer a plan that costs less than $2.
For resellers, they have a plan that specifically serves them.
Developers and web designers can literally host an unmanaged VPS server for $4.59.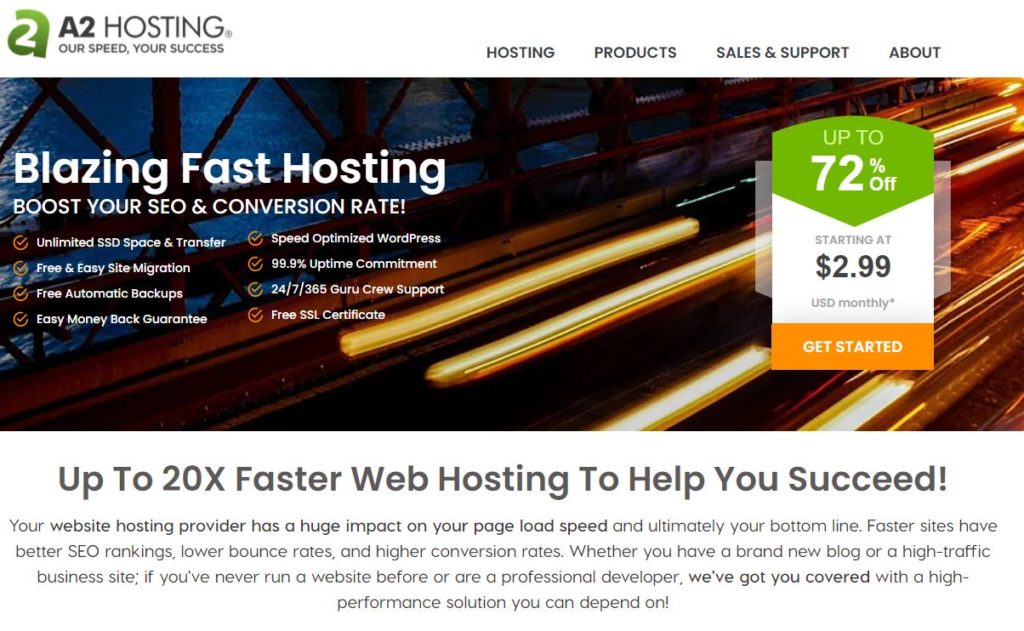 Pros and Cons
Pros:
High-speed load: The Turbo plans provide a great hosting speed because of their new technology that has not been introduced in most of the shared hosting providers.
Wide pricing options: They offer multiple packages that you can choose from, this will allow you to pick the plan that suits you best.
Reliable servers: A2 Hosting commits to 99.9% uptime so you can rest assured about the dependability of their servers.
Generous storage space: On their shared hosting, you get 100 GB storage space for the $1.99 plan, and unlimited for the rest.
Excellent customer service: 24/7/365 chat, emails, and phone calls with an expert technical assistance support team.
Hassle-free refund: You can cancel your account within your first 30 days for a full. Cancel within the 31st to 90th day you will receive a refund for the unused portion of your subscription.
Free account migration: Move your website from your previous web host to A2 hosting for free.
Cons:
Expensive short-term plans: If you are to sign up, for example for the month period example, you will be charged a high price.
Domain names are not free: Most shared hosting plans on other web hosts come with a free domain name, but this is not the case on A2 Hosting.
Plans and Pricing
A2 Hosting shared hosting service comes with four different hosting plans. They are:
Startup: $1.99/month, for one website.
Drive: $4.99/month, for more than one website.
Turbo Boost: $5.99/month, for more speed.
Turbo Max: $10.99/month, lots of resources.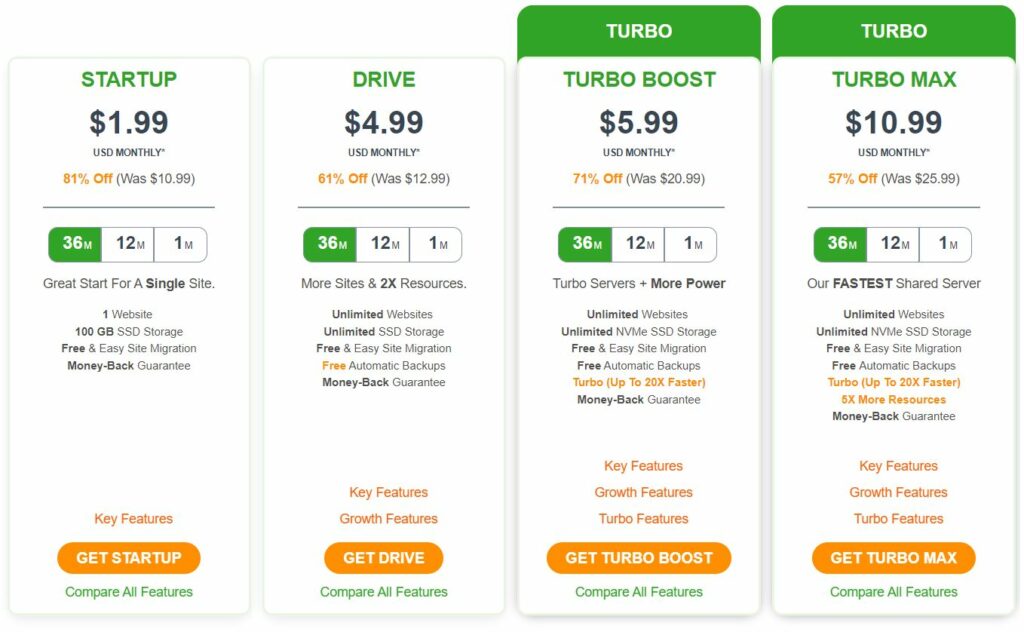 Shared hosting is more for small to medium websites. And if you just want to launch your brand new website, or you don't have a large number of visitors every day, go with the Startup plan.
| Comparisons | Startup | Drive | Turbo Boost | Turbo Max |
| --- | --- | --- | --- | --- |
| Allowed websites | 1 website | Unlimited | Unlimited | Unlimited |
| Storage | 100 GB | Unlimited | Unlimited | Unlimited |
| SSD/NVMe | SSD | SSD | NVMe | NVMe |
| Turbo Speed | No | No | Yes | Yes |
| Bandwidth | Unlimited | Unlimited | Unlimited | Unlimited |
| Free SSL | Yes | Yes | Yes | Yes |
| All support types | Yes | Yes | Yes | Yes |
| RAM | 1 GB | 1 GB | 2 GB | 4 GB |
| Automated backups | No | Yes | Yes | Yes |
| Site migration | Yes | Yes | Yes | Yes |
| Site staging | Yes | Yes | Yes | Yes |
| Prices | $1.99/month | $4.99/month | $5.99/month | $10.99/month |
A2 Hosting Shared Hosting Plans Comparisons
Pricing Summary
A2 Hosting has many web hosting services you can choose from which makes it easier for you to choose what is best for your business.
They have Shared, WordPress, VPS "managed and unmanaged", Dedicated managed and unmanaged", and Reseller plans.
| Plan | Price Range/month |
| --- | --- |
| Shared Hosting | $1.99 – $10.99 |
| Managed WordPress | $7.99 – $28.99 |
| Managed VPS Hosting | $23.99 – $59.99 |
| Unmanaged VPS Hosting | $4.59 – $51.99 |
| Managed Dedicated Servers | $99.99 – $329.99 |
| Unmanaged Dedicated Servers | $72.99 – $318.99 |
| Reseller Hosting | $11.99 – $27.99 |
| Turbo Reseller Hosting | $16.99 – $34.99 |
| Email Hosting | $1.59 – $2.59 |
Pricing Summary
Performance
Website performance is a major factor to consider when you want to pick a web hosting service. Bad hosting performance can lead to loss of traffic, bad user experience, and break your website SEO.
Uptime, website speed, and data center locations are crucial parts of any website's performance.

Uptime:
Website uptime is essential, you don't want your site to go down while your visitors are navigating your site. Also, search engines will be unpleased with that as they monitor your website all the time.
A2 hosting uptime is 99.99%. That means for every 30 days, A2 Hosting guarantees that your website will face no more than 4.32 minutes of downtime. Again, we would not expect more than this uptime.
Speed:
Website speed is important for user experience, and it's a Google ranking factor, it's crucial to have a fast web page loading speed.
With the Turbo "new CPUs and NVMe", A2 Hosting loading speed is considered one of the fastest web hosting services.
Server location "data center":
Established fact, the closer your website server is to your customers, the better performance.
A2 Hosting has four data centers in the USA, Europe, and Asia allowing you to choose which one you want to host your websites.
Features
A2 Hosting has many features that will surely help you when you decide to use their services. Here are some of them:
Free site migration:
A2 Hosting offers to move a single existing website to their servers without extra charge on all plans. They do that for you while you sit there and wait for the migration to be completed.
To take advantage of this feature, you need to reach out to their customer support department and give them your cPanel account credentials.
Support:
A2 Hosting provides support 24/7/365 via live chat, emails, tickets, and phone calls for all their hosting plans. Their support is fast and they are experts.
In addition, they have a big knowledge base if you are the type of person who prefers to read.
90 days money back guarantee:
Most web hosting companies offer a 30-day money-back guarantee, after 30 days you won't be able to get your money back.
However, A2 Hosting offers a full refund if you would cancel your account within the first 30 days, and if you exceed the 30 days until day 90, you will receive a prorated refund of unused service.
24/7 server monitoring and malware scanning:
The best way to keep your site safe is by preventing issues before they break out. But, extra scanning and firewalls can often slow a website down.
But A2 Hosting can still perform at the highest level while giving you many additional server monitoring and security features.
A2 Hosting servers are protected by "HackScan," a 24/7 monitoring service that scans for malware and other attacks.
Their data centers are also scalable, meaning you're protected if a denial of service attack (DDoS) breaks out. These attacks attempt to flood your servers with traffic and knock your site offline.
Compatible with CMS apps:
A2 Hosting works seamlessly with all major content management systems. You can install a WordPress, OpenCart, Drupal, Joomla, or Magento site with just a few clicks.
Generous resources:
For the lowest price plan that costs $1.99 a month, you get 100 GB storage space and 1 GB RAM. And for the rest plans, you get unlimited storage space whether you choose the normal SSD or the Turbo NVMe SSD.
Not just that, but also they support a free SSL certificate and provide free unlimited bandwidth transfer for all plans.
Site staging:
This feature allows you to test your website changes before you publish them on the internet. Basically, you clone your website, make the new changes and test them before you merge these changes into the original website.
A2 Hosting Compared To Its Alternatives
Let's put A2 Hosting into a small comparison between other well-known web hosting and see the differences between them:
| Comparison | A2 Hosting | Bluehost | HostGator | Dreamhost | Hostinger |
| --- | --- | --- | --- | --- | --- |
| Lowest Price | $1.99/mo | $2.95/mo | $2.75/mo | $2.59/mo | $1.99/mo |
| Free Domain | No | Yes | Yes | Yes | Yes |
| Refund | 90 days | 30 days | 30 days | 97 days | 30 days |
| Call support | Yes | Yes | Yes | Not free | No |

Read the best cheap web hosting services.
Final Thoughts
A2 hosting web hosting service is great no doubt, they are reliable, fast, and scalable. If you are looking to host your website on a great web hosting provider, This can be the best choice for you.
Read Also:
Cloudways Review
Bluehost Review