Cloudways and WP Engine are two of the best-managed hosting providers for WordPress websites.
Choosing one of them can be a tough decision, especially if you're not familiar with their respective features and offerings and want to make an informed decision about which one to go with.
In this article, we'll take an in-depth look at Cloudways and WP Engine, comparing them across a range of criteria to help you make an informed decision about which one is right for your website.
We'll compare their plans, pricing, performance, features, security, ease of use, customer support, and more, giving you a comprehensive overview of the strengths and weaknesses of each platform.
About Cloudways and WP Engine
Both Cloudways and WP Engine provide managed web hosting. Cloudways provides managed cloud hosting solutions, while WP Engine focuses more on producing managed WordPress hosting.
To fully understand what is Cloudways, what is WP Engine, and what they deliver, let's define some phrases and talk briefly about them.
What is managed cloud hosting?
Managed cloud hosting is a service that offers hosting solutions through the cloud. It is a type of web hosting in which the customer's websites and servers are hosted on remote servers, often in multiple data centers.
Managed cloud hosting offers several advantages over traditional hosting services, including scalability, high availability, security, and reliability.
The cloud infrastructure allows for quick and easy resource allocation, making it easy to scale up or down as your website's needs change. And this is what Cloudways offers.
What is managed WordPress hosting?
Managed WordPress hosting is a type of hosting that manages customers' WordPress sites and takes care of the technical aspects and provides a fully managed and optimized WordPress environment that is easy to use, hack-proof, and reliable.
So, the customer doesn't have to worry about the technicalities of managing their site. And that's what WP Engine is all about.
What is Cloudways?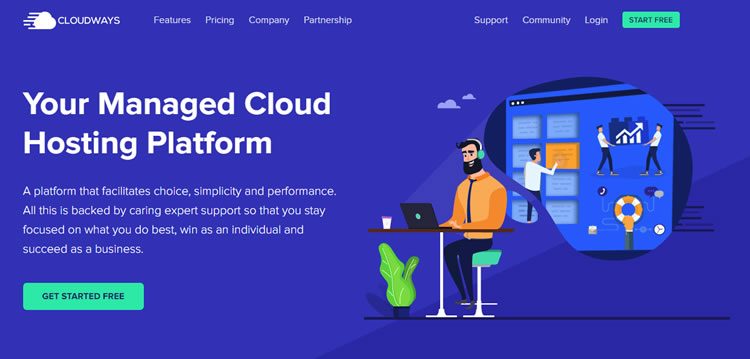 Cloudways is a cloud hosting service that offers customers the freedom to choose their preferred cloud hosting provider from 5 web hosting leading companies and the freedom to choose from a variety of data centers around the world.
These companies are DigitalOcean, Linode, Vultr, Amazon Web Services, and Google Cloud Platform.
Also, Cloudways provides its customers with a wide range of features and services to help them get started with their desired hosting environment. Along with this, they offer 24/7 customer support and an easy-to-use interface for managing your server.
What is WP Engine?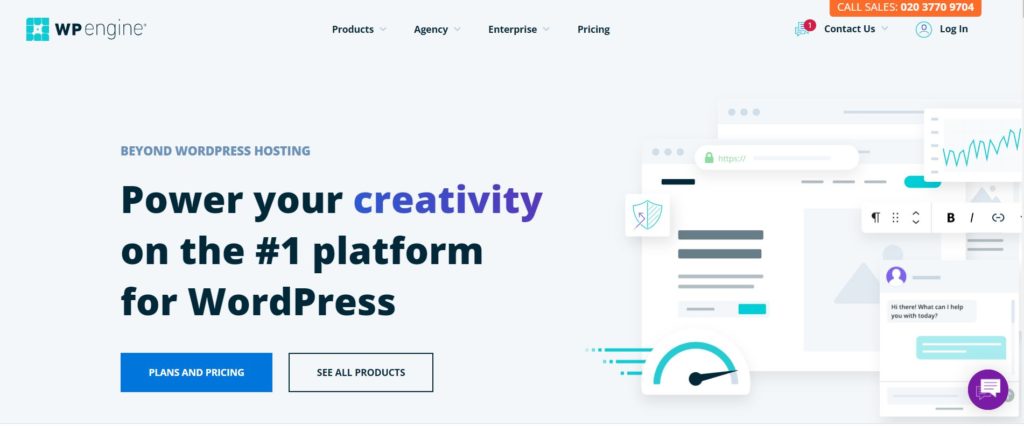 WP Engine is a web hosting company that provides managed WordPress hosting, it was originally designed to provide a solution for high-end WordPress clients.
They are known for its focus on security, speed, and customer experience, it offers enterprise-level security, performance, and customer support.
WP Engine offers different levels of hosting for the needs of different users with many features including 24/7 monitoring, automatic backups, high availability architecture, and security updates.
That being said, let's start our Cloudways vs WP Engine comparison by reviewing their plans and pricing.
Ease of Use (Beginner Friendly)
Both Cloudways and WP Engine are easy to use.
Cloudways built-in Control Panel is easy to understand and navigate from the first time. You get a Server Control Panel to control the whole server, and you get an Application Control Panel to control each website and application individually.
---
WP Engine has a clean and simple-looking Control Panel. It might seem a little bit overwhelming the first time, but it gets easier when you get used to it.
Plans and Pricing
The first thing that stands out about these two hosting providers is the variations in their plans and their pricing.
Cloudways offers flexible pricing so you can choose your plan depending on how much bandwidth, storage space, and the number of sites you need.
While WP Engine offers more traditional pricing plans with a fixed price per month. Let's see that in detail.
Cloudways Plans and Pricing:
Cloudways offers to create servers in five different LAAS hosting providers, so the prices vary from one to another. And you have full control of the servers you create on Cloudways.
A part of that is you can create multiple sites on one server in seconds with no additional fees, and you only pay the server costs. Let's take the cheapest plan for instance.
Also, Cloudways is a pay-as-you-go plan, which means you only pay when you use their services. If you created a server on their platform and then deleted it, you won't be charged after that.
The cheapest plan that Cloudways offers costs $10 per month.
With this plan, you get a dedicated resources server on DigitalOcean that you have full control and access to it, and you can create unlimited websites as long as your server resources can handle.
The resources you get on this plan are 1 CPU processor, 1 GB RAM, 25 GB SSD storage, and 1 TB bandwidth. Also, many other features will take about later on.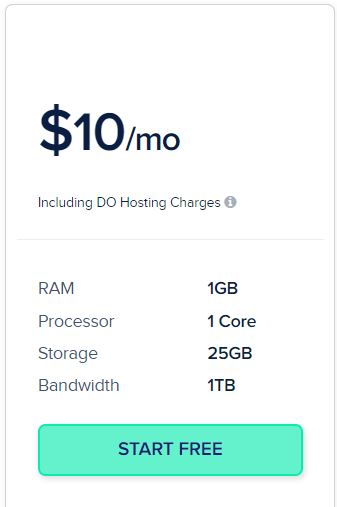 WP Engine Plans and Pricing:
WP Engine has three web hosting plans; Managed WordPress, eCommerce Solutions, and Advanced Solutions.
You can expand the Managed WordPress plan, and the eCommerce Solutions plan instantly if you want more resources for the solution you choose. This expansion comes at 5 sub-plans; Startup, Professional, Growth, Scale, and Dedicated.
WP Engine has some restrictions. Yes you get your own resources but you don't have full control of the server that hosts your solution, and if you want to add more than one site, you will have to pay extra money.
Since we took the cheapest plan as an example, let's see what's the cheapest plan on WP Engine costs and what size we will get from it.
The cheapest plan on WP Engine costs $25 per month.
With this plan, you get 1 site you can create, 25,000 visits per month, 10 GB of storage space, and 50 GB of bandwidth. Also, many other features will take about later on.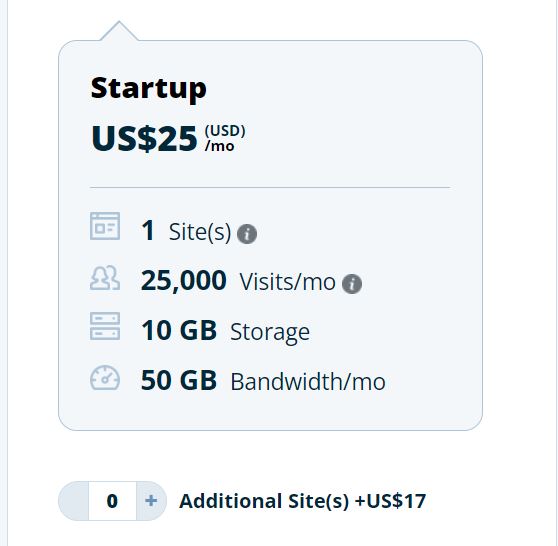 Cloudways vs WP Engine Pricing Comparison:
Cloudways is a budget-friendly hosting service for small and medium-sized businesses, while WP Engine is a more expensive hosting service for large enterprises. Let's set the table and see why is that.
In this table, we will compare the cheapest plan on Cloudways and WP Engine
| | | |
| --- | --- | --- |
| Comparison | Cloudways | WP Engines |
| Plan Name | 1 GB | Startup |
| Plan price | $10/month | $25/month |
| Storage | 25 GB | 10 GB |
| Bandwidth | 1000 GB/mo | 50 GB/mo |
| Monthly Visits | Unlimited | 25,000/mo |
Cloudways vs WP Engine Pricing Comparison
Performance
Website performance is important because it affects user experience. If a website takes too long to load, users will not be satisfied with their experience and will leave.
It is also important for business owners to consider website performance. A slow-loading website also has an impact on SEO as well because it can affect negatively the search engine ranking.
In this section, we will be discussing why website performance is important and what you should look at on a web host to determine if that web host is good or not.
Server Uptime:
Web hosting uptime is the amount of time your website is available to your visitors. It can be measured in hours, minutes, or even seconds.
The higher the percentage of uptime, the better it is for your site's reputation and ranking in search engine results pages (SERPs).
For your website, it is important that the web hosting uptime is as high as possible. You want your visitors to be able to access your site without any interruptions.
---
Cloudways is one of the most reliable hosting providers in the industry, it has a 99.99% uptime guarantee on all of its services which is incredible.
---
On the other hand, WP Engine guarantees 99.95% server uptime. You can further increase your uptime to 99.99% with enhanced SLA, but this feature is only for the Custom plan. Still not much of a difference from Cloudways uptime
Website Speed:
Website speed is a measure of how quickly a website responds to requests. The more quickly the site responds, the higher it's ranking on Google's search engine. Also, it can affect the conversion rate.
There are many factors that determine the loading time of a site, but the major reason behind the lack of website speed is web hosting. So, your web hosting should be optimized to load very fast.
---
Cloudways is one of the fastest cloud hosting platforms on the market today. It is built for speed, stability, and security. No wonder Cloudways hosts your websites on leading infrastructures.
Cloudways claims to load your WordPress website in 37 MS.
Here is the result of one of our websites hosted on Cloudways: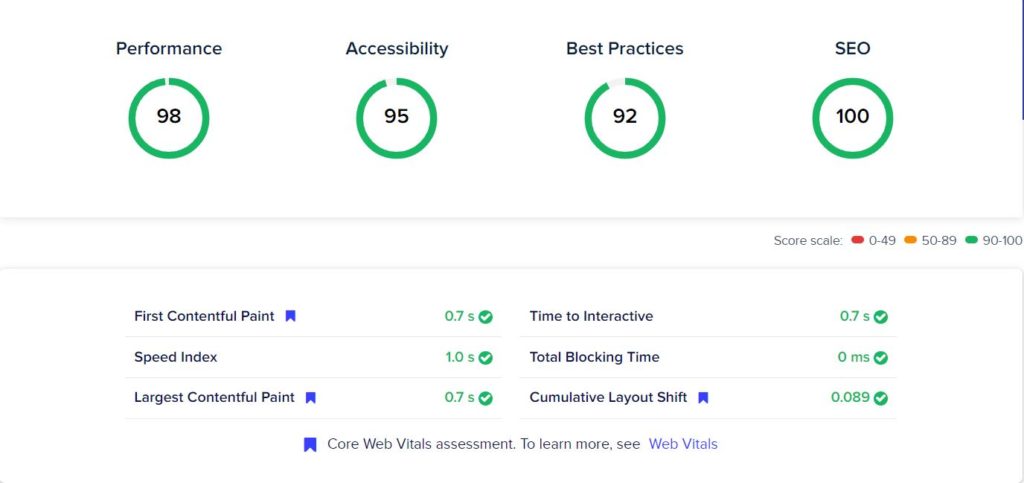 ---
WP Engine is a hosting company that is known for its fast loading speed, it's a hosting company that is known for its fast loading speed.
WP Engine has a global CDN that caches content on the edge of the network, reducing latency and increasing page load speed.
WP Engine has been the industry leader for the past few years when it comes to loading speed, it focuses on speed, security, and customer service.
Here is the result of one of our websites hosted on WP Engine: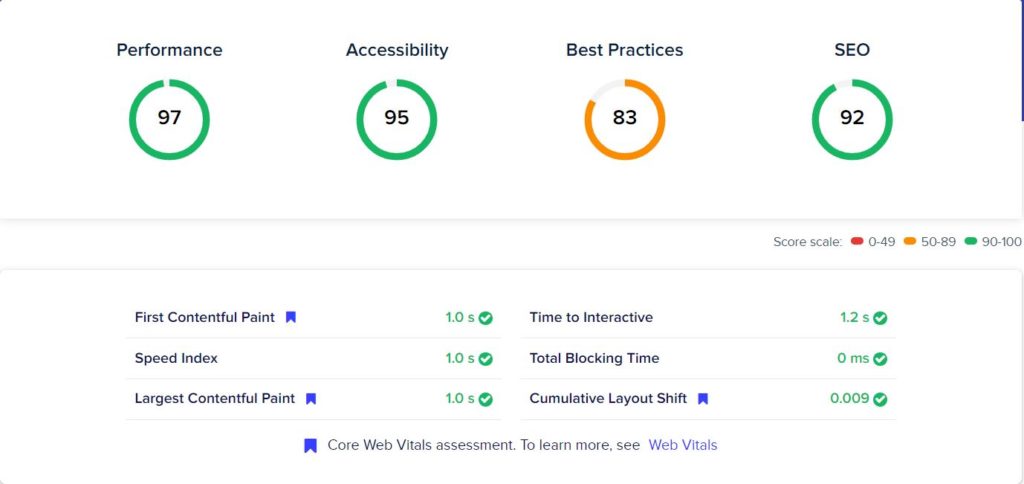 Server Locations "Datacenters":
When it comes to speed, there are many factors that can slow down a website. One of those factors is latency, which is what happens when the information takes too long to travel from one server to another.
The distance between the server and the user will affect how fast they can access your website. If a far server data center is too far away from your location, then you will experience high latency and slow loading times.
So, the more data centers the web host has the better. And the closer your website visitors to your server location, the faster your website will load to them.
---
Cloudways does not own or manage the data centers available on its Platform. These server locations are managed by its IaaS partners.
However, Cloudways provides 44 data centers around the world, which means you can host your website at any of the 44 locations that Cloudways offer.
---
On the other hand, WP Engine has 24 data centers in America, Europe, and Asia. Some of them are available for shared hosting and some of them are only available with upgraded pricing.
All shared hosting plans are created by default on Google Cloud servers in the region closest to your location at signup. However, you can request to migrate your website to another region from their customer support.
Features
The two great web hosting providers Cloudways and WP Engine are offering great services and features. In this section, we will see what features can you get from each one of them starting with the first one on our list:
Multiple Sites:
Cloudways offers its clients the ability to run unlimited websites on a single server for as much as the resources of that server can handle. This means that you will have more control over your website's performance and what it should be doing at any given time.
With the Cloudways Multisite feature, you can effortlessly host unlimited websites on the same server and manage them all from the Cloudways dashboard.
---
WP Engine allowed users to create and host limited multiple websites on every plan, but the additional websites come at extra costs.
If you want to make another website, you have to either upgrade to a bigger plan or add additional websites and an extra $17 for each.
Vertical Scaling:
Server vertical Scaling means adding more resources to the server such as Disk space, Bandwidth, RAMs, and CPUs.
On Cloudways, there are two types of upgrading servers on Cloudways, upgrading the whole server and scaling up the storage space "add block storage". And you can do both in seconds.
To scale up your server on Cloudways go to Server Management and click the Vertical Scaling tab. Once you do that, the Vertical Scaling window will appear.
Drag the slider bar to the right side to increase the server resources. Hover over the RAM size under the slider bar to know what resources you will get after you upgrade to a certain size.
To just increase the Block Storage select the Vertical Scaling from the left navigation bar (Server Management) then select the Block Storage tab instead of the Server Size.
Next, tick the Attach Block Storage. Next, either drag the slider bar or enter your desired Block Storage volume in GBs. Finally, click Attach Now.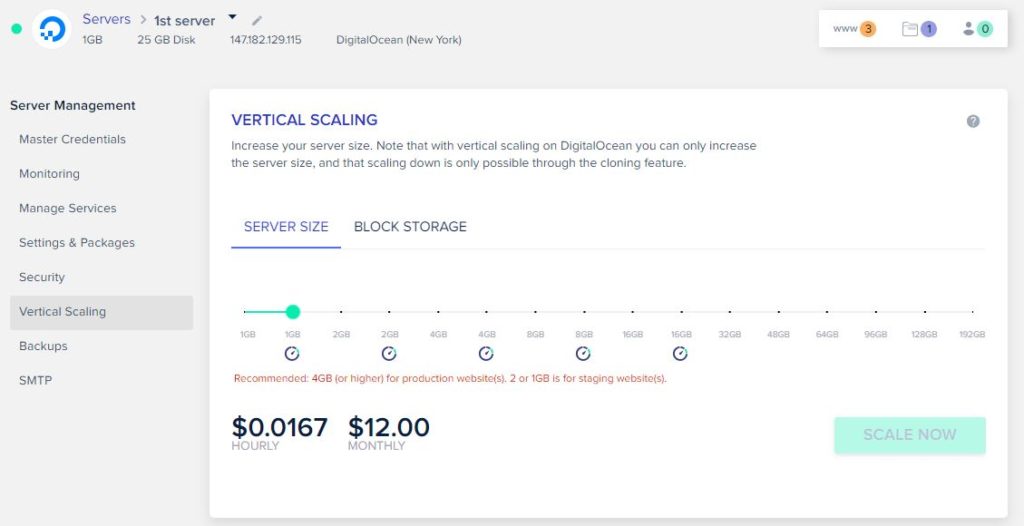 ---
This option on WP Engine is easy as well, you can change your plan tier from your User Portal.
All you need to do is to Login to the User Portal in your account and expand the Billing tab, and then click Modify plan.
When you do that, you will see all the plans including your current plan. To scale up your plan click Select this plan below a plan type you want.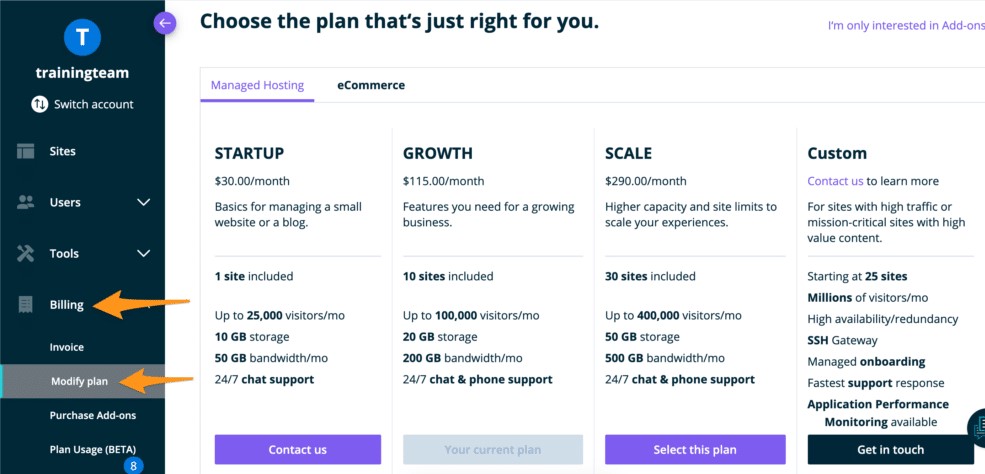 Money-back Guarantee:
On Cloudways you don't need the money-back guarantee option, because the Cloudways payment system is Pay as you go, you will not be charged unless you use their services.
If you use Cloudways services for one day, you will be charged for that specific day at the beginning of the new month.
---
WP Engine offers a 60-day money-back guarantee for new customers. This means that if you are not satisfied with their services, you can request a refund within 60 days of purchase.
Website Migration:
You might already have your own website on another shared hosting and if you want to migrate it to Cloudways or WP Engine, it's important to migrate your WordPress website with the minimum downtime possible.
---
Cloudways offers one-time free migration by their side, you can schedule website migration and give the information they want to migrate your website or contact customer support.
Also, you can use their free and simple WordPress website plugin to migrate your WordPress website to their platform.
The Cloudways WordPress migrator plugin is easy to use and you get all the instructions you want. But if you didn't know how to deal with it, you can use their tutorials on that or contact them to show you how to do it. Read Migrate WordPress website to Cloudways.
---
On the WP Engine Side, same as Cloudways, you can either contact WP Engine customer support to help you migrate your WordPress website to their platform.
Another option you can use is to use the WP Engine WordPress migrator plugin it's also easy to use and you get all the instructions you want. Also, you can use their tutorials on that or contact them to show you how to do it. Read Migrate WordPress website to WP Engine.
Domain Registration:
Both Cloudways and WP Engine have no domain registration option, which means you have to register your domain name in another domain name registrar platform such as NameCheap, and point it to your website.
Backups:
A backup is a copy of your website that you can use in case something happens to the original backup. This might happen because of a server failure, power outage, or any other reason.
A backup is important for any website owner because it allows them to restore their site as it was before the damage occurred.
---
Cloudways backup provides a secure and reliable means to store all your data in the cloud. It also allows you to recover data easily, even if the system crashes or the site is hacked.
On Cloudways you can either backup and restore the whole server, and/or backup and restore the applications individually.
In addition to the daily automated backup, Cloudways gives you the option to create an on-demand backup. This on-demand backup feature will take place when you enable it from the Local Backup toggle.
---
Same as Cloudways, WP Engine has both automated and manual backups for all WP Engine plans to ensure your data protection. These backups are stored offsite on Amazon S3 and are encrypted in transit and at rest.
Backups on WP Engine are automatically taken at a certain time of the day, but if you're planning to make changes to your site you will typically want to make a fresh backup checkpoint before proceeding, and that's what we call on-demand backup.
Free SSL Certificate:
The Secure Sockets Layer certificate "SSL" is a digital signature that confirms the identity of a website.
It enables encrypted communication between the web browser and the website, which prevents eavesdropping and data interception.
---
You can install the free Let's Encrypt SSL certificates in all applications you have on Cloudways with ease. Also, you can install your own SSL certificate if you want.
All you have to do is to point your domain name to your WordPress website on Cloudways and add your domain name to the Cloudways application.
Once you do that, go to the Application Management panel of your website, and select SSL Certificate. By default, you find that "Let's Encrypt" certificate.
Next, enter your email address and your domain name, and then click Install Certificate and that's it. Read in detail how to install a free SSL certificate on Cloudways.
---
The free SSL certificate installation on WP Engine is easy as well, but before adding the SSL to your website domain, make sure that the domain has been added to the User Portal and that your domain name is pointing to your website.
To install the free SSL certificate on WP Engine click the SSL tab and then click on Get free certificate at the bottom of the page.
Next, agree to the terms and conditions, and finally, click on Get free certificate once again. Give it a few minutes to propagate.
Staging:
A staging site is a website that replicates the pages of your live website in order to test new features or designs before they are implemented on the live website.
This can be done for many reasons, such as testing new functionality, implementing design changes, or testing security updates.
---
Cloudways doesn't support this feature in particular, but Cloudways has the option to clone the whole server or clone the applications "websites" individually.
So, you can use this feature as a staging site for testing major changes on your websites before they go live.
---
WP Engine offers the staging site feature, it's a great way to test your website before it goes live.
You can get this feature on WP Engine from your User portal panel. Go to Sites, then Add a site. Add a name to the site. After that, select a Staging environment and that's it.
Cloudways vs WP Engine Features Summary
To sum things up, here is a comparison table of the most wanted features of both Cloudways and WP Engine:
| | | | |
| --- | --- | --- | --- |
| | Comparison | Cloudways | WP Engine |
| | Ease of use | Yes | Yes |
| | Multisites | Free | Additional cost |
| | Unlimited websites | Yes | No |
| | Real-time monitoring | Yes | No |
| | Premium Themes | No | Yes |
| | Vertical scaling | Yes | Yes |
| | Automated migration | Yes | Yes |
| | Migration plugin | Yes | Yes |
| | Security | Excellent | Excellent |
| | Security features | Excellent | Very good |
| | Automated backups | Yes | Yes |
| | On-demand backups | Yes | Yes |
| | Domain Registration | No | No |
| | Staging | Yes | Yes |
| | Money-back guarantee | Pay as you go | 60 days |
| | SSL certificate | Yes | Yes |
| | CDN | Yes | Yes |
Cloudways vs WP Engine Features Comparison
Security
Web hosting security should be at the forefront of every website owner's mind. Security is important because it protects your site from hackers, malware, and other harmful intrusions.
Web hosting security also helps to protect your site from attacks that are more subtle and difficult to detect, such as spam and phishing attacks. it ensures that your website is safe and secure.
Cloudways Security:
---
When it comes to security, Cloudways has made it clear that "Security – First & Always" so they planned it very well and provide us with many security layers and features such as:
Cloudflare Enterprise add-on: The Cloudflare Enterprise add-on sits atop the Cloudways platform and offers advanced protection against hackers and threats at the edge.
DDoS attacks are mitigated in under 3 seconds via dedicated IP ranges, with prioritized routing and protection to ensure maximum speed and availability.
A Web Application Firewall (WAF) analyzes millions of sites and 32 million requests per second to intelligently identify & block attackers and emerging threats at the edge!
Firewalls: Every Cloudways server comes with a firewall that allows access only to specific ports that are required for applications to function and protect servers and applications from cyber-attacks.
Login Security: on Cloudways, you can control how and when your servers and applications can be accessed via SSH and SFTP, this is a simple yet effective method of dealing with brute-force login attacks.
Bot Protection: Bots are targeting websites to acquire possession of it, gather information, or cause some damage. Cloudways Bot Protection aims to identify and block malicious traffic and protect from attacks like Dictionary attacks, Web Scraping, XMLRPC attacks, and Brute Force attacks.
Database Security: By default, the database cannot be accessed remotely. However, users can whitelist IP addresses to set up secure database remote access.
Application Isolation: While the users can launch multiple applications on a single server, each application is isolated from the rest, thus preventing application-level issues to compromise the entire server.
Cloudways Bug Bounty Program: Server security is a team sport! For this, we have partnered with BugCrowd to crowdsource vulnerability discovery in the Cloudways Platform.
End-to-End Encryption: The Cloudways platform is fully protected with end-to-end encryption that ensures that all data in transit is protected and encrypted with HTTPS protocol, preventing access to data during transfer from one system to another.
Suspicious Device Login Control: Cloudways checks all devices that attempt to access your account. In case a device (or a login attempt) is flagged as 'Suspicious', you are notified by email, the login process is interrupted and appropriate actions are taken to verify your identity.
Two-Factor Authentication: Access to the Cloudways platform is protected with industry-standard Two-Factor Authentication (2FA) to strengthen platform security and minimize incidents of unauthorized access to user accounts.
WP Engine Security:
Yes, Cloudways has many top-notch security features, but that doesn't mean that WP Engine is lack behind. WP Engine has many great security features such as:
Disk Write Protection: WP Engine environment limits the processes that can write to disk. So even if you're using a theme or a plugin with a vulnerability, it is harder for them to be exploited.
Disk Write Limitations: All attempts to write to the disk are logged so that we can identify both malicious and non-malicious code.
Disallowed Plugins: Some plugins may expose a website to vulnerabilities. WP Engine system scanner searches for these plugins and automatically disables them.
Proprietary Firewall: WP Engine uses a proprietary firewall to automatically direct good, bad, and malicious traffic. There are a number of checks in place that allow the WP Engine system to determine which traffic should be allowed, such as real human traffic or search engine crawlers, and which traffic should not, such as malicious activity or scraping bots.
User Enumeration: Sometimes bots scrape posts for author ID information. WP Engine automatically blocks this type of request on your behalf
Multi-factor password authentication: WP Engine Two-Factor Authentication (2FA) is a method of security that requires you to enter a second factor beyond a password in order to gain access to your account. Verifying your account with two methods is an added layer of security that helps prevent unauthorized access.
Support
Customer support is an essential aspect. It is imperative that companies provide a level of customer service that will keep customers happy and coming back for more.
The quality of the customer support offered by web hosting companies has a direct correlation with the success and longevity of that company. Customers need to solve their problems quickly and perfectly.
Both Cloudways and WP Engine offer live chat support.
Both Cloudways and WP Engine offer ticket system support.
Both Cloudways and WP Engine offer phone call support.
Both Cloudways and WP Engine human support have great knowledge.
Both Cloudways and WP Engine have a big knowledge base.
Both Cloudways and WP Engine have a big community.
Cloudways offers phone call support only for premium, while WP Engine offers phone call support for all plans except the startup plans.
Cloudways support is great, fast, and reliable. But WP Engine support is a little bit better and is very actionable, they respond very quickly and try to fix your issues immediately.
Cloudways vs WP Engine Conclusion: Which Web Hosting is Best for you?
The results of the Cloudways vs. WP Engine comparison shocked me. For some time I used to say that WP Engine is better when it comes to WordPress hosting. Now, I know that Cloudways has the potential to be the best-managed hosting provider if it's not already.
In the end, I recommend Cloudways for all users beginners and developers.
Cloudways is the best option for you if you are looking for a hosting company that is reliable, fast, and offers affordable plans with all the necessary features
Here's the last table that gathers all the comparison features of WP Engine and Cloudways:
| | | | |
| --- | --- | --- | --- |
| | Comparison | Cloudways | WP Engine |
| | Ease of use | Yes | Yes |
| | Cheapest plan | $10/mo | $25/mo |
| | Cheapest storage | 25 GB | 10 GB |
| | Cheapest Bandwidth | 1 TB | 50 GB |
| | Cheapest Visits | Unlimited | 25,000/mo |
| | Multisites | Free | Additional cost |
| | Unlimited websites | Yes | No |
| | Real-time monitoring | Yes | No |
| | Premium Themes | No | Yes |
| | Uptime | 99.99% | 99.90% |
| | Premium Uptime | – | 99.95% |
| | Speed | Fast | Fast |
| | Data centers | 44 | 24 |
| | Support | Good | Better |
| | Chat support | Yes | Yes |
| | Ticket support | Yes | Yes |
| | Phone call support | Additional cost | When Upgrade |
| | Vertical scaling | Yes | Yes |
| | Automated migration | Yes | Yes |
| | Migration plugin | Yes | Yes |
| | Security | Excellent | Excellent |
| | Security features | Excellent | Very good |
| | Automated backups | Yes | Yes |
| | On-demand backups | Yes | Yes |
| | Domain Registration | No | No |
| | Staging | Yes | Yes |
| | Money-back guarantee | Pay as you go | 60 days |
| | SSL certificate | Yes | Yes |
| | CDN | Yes | Yes |
| | Overall rate | 90% | 80% |
Cloudways vs WP Engine Features Comparison