DigitalOcean is a leading American company that provides reliable unmanaged web hosting services with data centers all over the world.
They have many products for cloud hosting solutions, and every product comes with a package of plans pricing. One of these is the VPS servers Droplets starting at $4/month.
DigitalOcean Droplets Pricing
DigitalOcean droplets (Cloud VPS) or virtual machines (VMs) are Linux-oriented and operate using optimum simulated hardware. When you add a droplet you are creating a new virtual server that you can employ.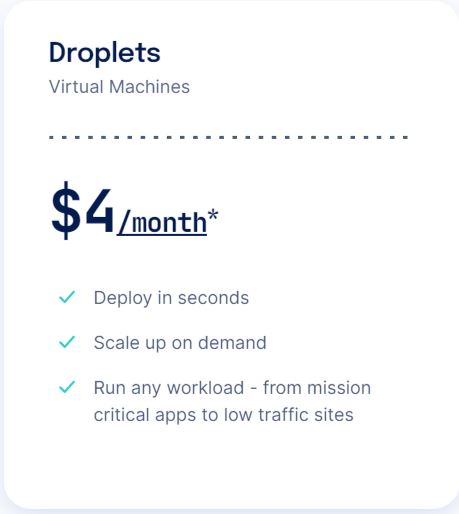 In other words, the DigitalOcean droplets are Cloud VPS that shares the physical CPU but with dedicated resources such as Cores, RANs, Bandwidth, and so on.
These droplets are the best match for low – medium websites such as blogs, small-to-medium businesses, small online stores, CMS apps, and PHP.
There are three types of droplets DigitalOcean introduces, these are Regular Droplets, Premium Intel, and Premium AMD.
Regular basic droplet pricing:
Regular basic droplets are the cheapest starting at 4$/ Month, and you get 1 vCPU core, 512 MiP RAM which is the amount of storage, 500 GiB transfer bandwidth, and 10 GiB SSD SSD storage space.
Regular droplets can offer more virtual CPUs up to 8 vCPU cores with 16 GiB RAM, a 6 TiB transfer rate, and 320 GiB for only 96$/ Month.
And for the 1 GB RAM plan, you get 1 core CPU, 1 TiB Bandwidth, and 25 GiB SSD disk. This plan costs $6/month.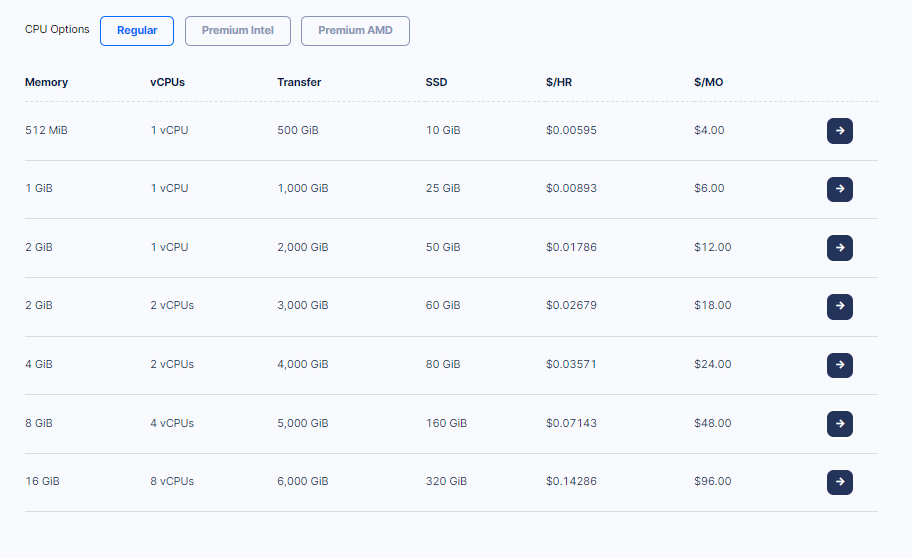 Premium Intel droplet pricing:
If you want more powerful Intel CPUs with advanced NVMe SSD technology, there are premium Intel servers.
DigitalOcean has recently updated its Intel pricing structure. While there has been a slight increase in cost, this adjustment comes with the benefit of additional storage space.
Moreover, they have introduced an API/CLI-only option with the old Intel pricing for users who prefer to manage their services programmatically.
But API/CLI-only is not a beginner-friendly option, If you want to create a Premium Intel VPS server from their dashboard, it's necessary to first familiarize yourself with the updated pricing structure and apply for it accordingly.
DigitalOcean premium Intel droplets pricing starts at $8/month and offers 1GB RAM, 1 vCPU, 1 TiB transfer bandwidth, and 35 GiB NVMe SSD storage.
This package can offer up to 8 vCPUs with 32 GiB memory, 10 TiB transfer rate, and 640 GiB SSD storage all for $192 per month.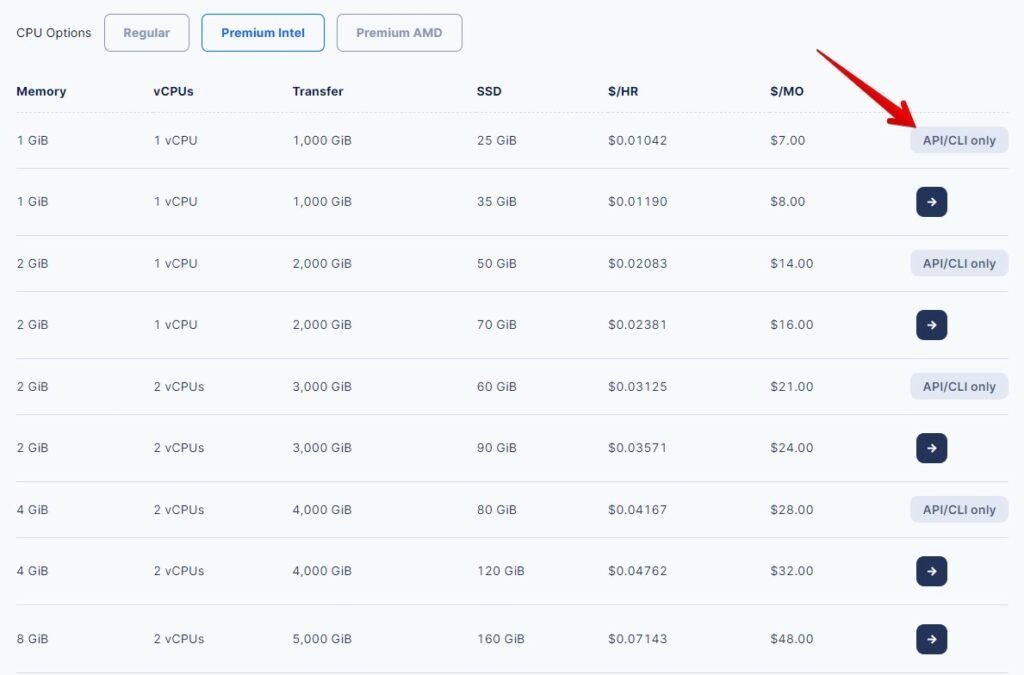 Premium AMD droplet pricing:
This package offers to host your application with an advanced AMD CPU on an advanced NVMe SSD storage space.
It offers the same plan as the premium Intel droplets but with AMD processor technology. Therefore both premium plans differ only in the processor.
The 1 GiB RAM plan on the AMD costs $7 per month and comes with 1 vCPU, 1 TiB bandwidth, and 25 GiB NVMe SSD storage space.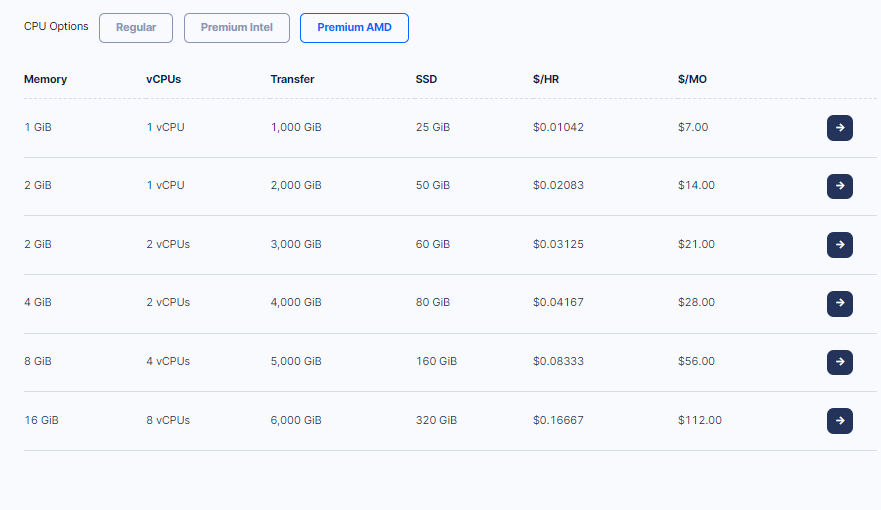 Regular vs Intel and AMD Premium
The Regular droplets come with a mix of first-generation or older Xeon Scalable processors and AMD EPYC processors. And the standard SSD storage disk.
While the Premium Intel droplets come with either second or third-generation Intel Xeon Scalable processors. And the fast NVMe SSD storage disk.
And the Premium AMD droplets come with either second or third-generation AMD EPYC processors. And the fast NVMe SSD storage disk.

The main differences are in the CPU and the storage drive, the premium servers deliver more performance and loading speed, especially for applications with certain needs. But for small blogs and websites, there will be a slight difference.
| Comparison | Regular | AMD | Intel | Intel (API/CLI only) |
| --- | --- | --- | --- | --- |
| Processor | Intel/AMD | AMD | Intel | Intel |
| Processor type | 1st or 2nd gen. | 2nd or 3rd gen. | 2nd or 3rd gen. | 2nd or 3rd gen. |
| Storage drive | SSD | NVMe SSD | NVMe SSD | NVMe SSD |
| 1 GiB Plan | $6/mo | $7/mo | $7/mo | $7/mo |
| Cheapest plan | $4/mo | $7/mo | $8/mo | $7/mo |
| Most expensive plan | $96/mo | $168/mo | $192/mo | $112/mo |
Regular vs Intel and AMD Premium
Conclusion: Which Is Best For you
DigitalOcean is one of the best cloud hosting providers with a phenomenal reputation all over the internet.
If you are on a budget or want to create a simple website or blog, you can go with the regular plan. It's quite enough to start with.
But if you want a more powerful server with the latest technology, you can go with the Premium Intel or AMD droplets.
Read also:
Install WordPress on DigitalOcean.
DigitalOcean vs Vultr vs Linode.