You may not have heard much about Dreamhost. Yet, Dreamhost hosts over 1.5 million websites, blogs, and applications. And over 750k WordPress installations.
Since Dreamhost was founded in 1997, it started providing reliable web hosting services. It's one of the best-shared web hosting solutions on the market with a fast loading speed and great uptime at a low price.
In this Dreamhost review, we will cover everything you need to know about the Dreamhost web hosting service to help you know more about it and make the right decision for web hosting.

What Makes DreamHost Stand Out?
There are many things that DreamHost is good at that make it stand out, and here are some of them:
DreamHost offers one of the fastest and most reliable shared hosting services.
Super easy to use and clean interface, and handy customer support.
Many features and integrations and web hosting at a low price.
Month-to-month options pricing. You can get hosting without committing to annual payments for them.

Who is DreamHost Best For?
We have a good experience with Dreamhost, we host many websites with them, big ones and small ones. All their web hosting solutions are good, but we recommend their shared and WordPress hosting the most. So, DreamHost is best for:
Brand new and portfolio websites.
For those who are on a budget and can't afford to pay much money from the beginning.
Small to medium blog websites looking for reliable web hosting.
Small to medium businesses.
You can always start small and scale up your website performance and resources while you gain more authority and traffic.
Nevertheless, larger business websites could find a good partner with DreamHost's VPS web hosting services too. But, if your website is a really big business with a lot of traffic, we would recommend Cloud hosting provider such as Cloudways.
Pros and Cons
DreamHost Pros:
DreamHost has gained a lot of trusts because users are satisfied with their services after they sign up because of what they deliver.
97-day money-back guarantee: DreamHost offers a 97-day money-back guarantee for any purchase on a shared web hosting plan. If you find DreamHost does not suit your needs, you can cancel within the first 97 days and receive a refund.
3 Year, 1 Year & monthly plans: Unlike many web-hosting providers, Dreamhost offers monthly price plans where you can sign up for a hosting plan and pay month by month.
24/7/365 customer support: Email and ticket-based support 24/7 and online chat.
Unlimited bandwidth: They offer unlimited bandwidth and Monthly Visits.
1-click WordPress install: The one-click installation feature in Dreamhost allows you to quickly set up new WordPress installations in the DreamHost panel with minimal input.
Free services: Dreamhost offers free domain name registration, domain privacy, and a free SSL certificate.
Free automated WordPress migration: You can ask the DreamHost support team to migrate your WordPress website to their servers for free.
Automated daily backups: DreamHost automatically creates a daily backup of your site, and you can also create additional manual backups once per day.
DreamHost Cons:
Servers are only located in the United States: The closer your website hosting server is to your clients and visitors, the better the load speed and performance. DreamHost servers are currently located in the United States.
Phone call support at extra cost: Dreamhost does not offer any free phone call support. However, you can pay extra money to let Dreamhost call you back.
Plans and Pricing
Dreamhost provides many types of web hosting plans to host your websites. Depending on your budget and the type of website you will have to choose the right hosting plan.
It offers Shared hosting, WordPress hosting, DreamPress hosting, Cloud hosting, as well as VPS and dedicated servers.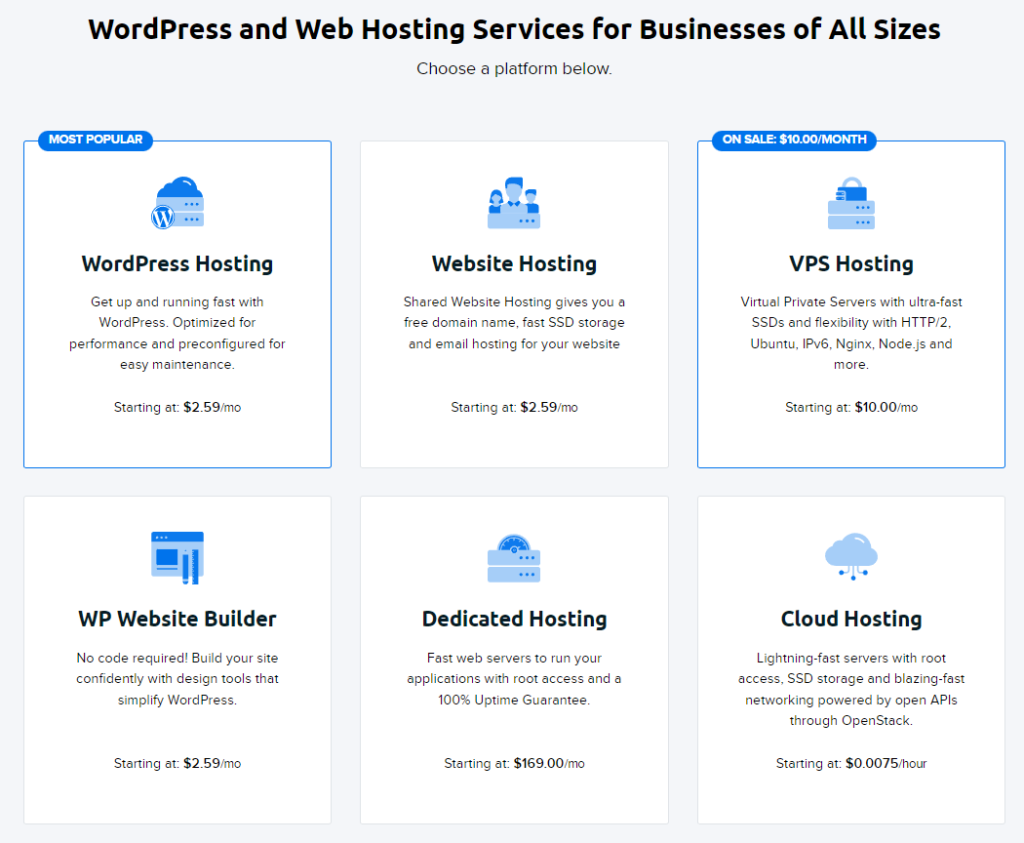 Shared hosting overview:
The DreamHost shared hosting plan has two options, the Shared Starter starts at $2.59 per month when you sign up for 3 years and $2.95 per month when you sign up for 1 year.
The other one is the Shared Unlimited starts at $3.95 per month when you sign up for 3 years and $2.95 per month when you sign up for 1 year.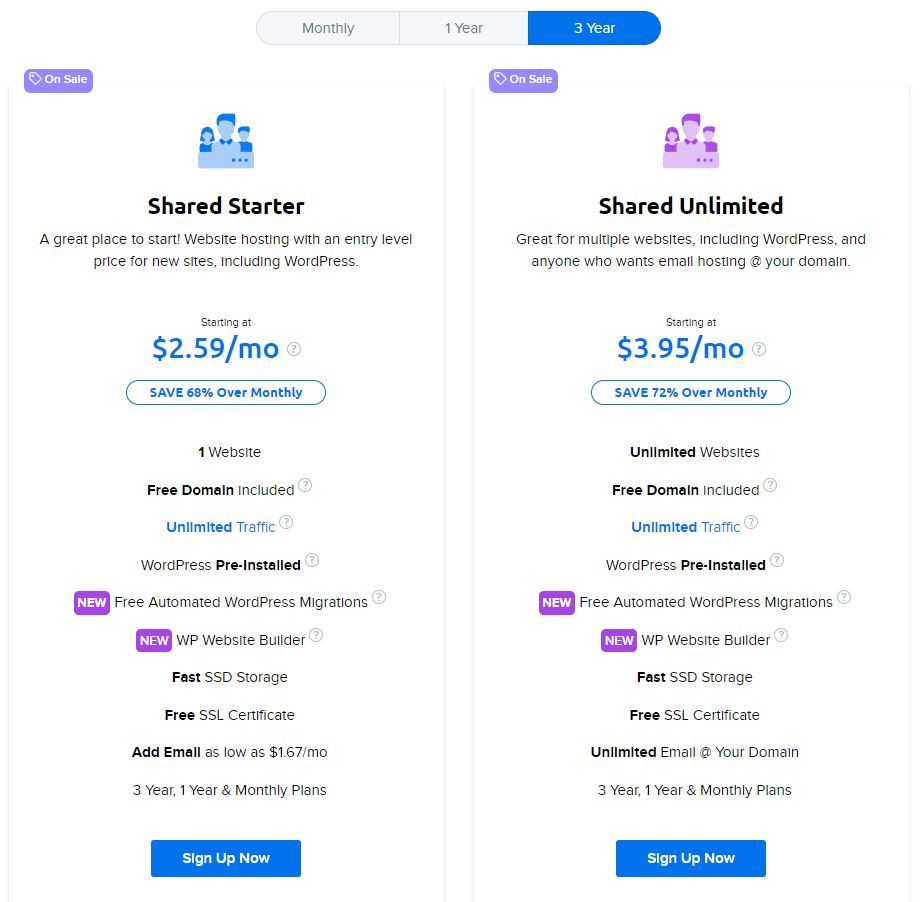 Shared starter and unlimited comparison:
| Comparison | Starter | Unlimited |
| --- | --- | --- |
| Websites | 1 | Unlimited |
| Free Domain | Yes | Yes |
| Free domain privacy | Yes | Yes |
| Bandwidth | Unmetered | Unmetered |
| Visits Per Month | Unmetered | Unmetered |
| Storage space | 50GB | Unlimited |
| Business emails | Extra $1.67/mo | Included |
| Email and chat support | Yes | Yes |
| Phone call support | Extra money | Extra money |
| Free SSL | Included | Included |
| Daily backups | Yes | Yes |
| Free site migration | Yes | Yes |
| Monthly pricing | $4.95 a month | $8.95 a month |
| Annual price | $2.95 a month | $2.95 a month |
| 3-year deals | $2.59 a month | $3.95 a month |
Shared starter and unlimited comparison
Performance
The performance of any web hosting provider should be a very important indicator for you when you decide to signup for web hosting. It is what makes or breaks websites in Google and users' eyes.
Search engines love the website that provides the best experience for their visitors, fast web page loading, optimized website, great uptime, and more. So keep an eye on your website performance all the time.
Read What to Look For in a Web Hosting Service?
Uptime:
Website uptime is vital for your website experience. If your site goes down, clients and customers will be unable to find you or access your products or services.
As an online business, you do not want to lose your website visitors and then revenue because of website downtime.
Consider the fact that when Amazon experienced one hour of downtime in July 2018, it cost them an estimated $99 million.
DreamHost guarantees 100% uptime. And if it failed to deliver 100% uptime, you will receive credit equal to your current hosting for each hour or less downtime.
With that being said, DreamHost's actual uptime is %99.98 which is fascinating compared to other shared web hosting providers.
Loading Speed:
Google says that if a website's speed is more than 3 seconds, it is difficult for it to appear on its first search page. Therefore, your website speed matters.
Of course, optimizing a website can affect your loading speed, such as optimizing images, fonts, plugins, and themes. But the web hosting that hosts the website plays the main role.
We put DreamHost on tests, and every time it shows a solid website speed. We found that DreamHost's speed is exceptional compared to shared web hosting.
DreamHost Alternatives
Dreamhost is one of the best-shared hosting providers out there, but if you are not fond of it, there are alternatives to DreamHost which is also considered as one of the best.
Hostinger: The best alternative shared hosting for DreamHost. It provides similar features at a lower price.
A2 Hosting: Fast web hosting server and one of the best. Its prices start at $1.99/month. Read A2 Hosting review.
Cloudways: Fast and reliable cloud-managed VPS web hosting provider. For $10/month, you can host unlimited websites. Read Cloudways review.
Conclusion
If you plan to make a website and host it on a shared hosting provider, Dreamhost is one of the best choices you should consider.
It is well known for its reliable services and excellent uptime. It's one of the best web hosting solutions with over one million websites hosted on its platform.
Frequently Asked Questions
Do I need an active hosting plan to host email at DreamHost?
No, DreamHost offers paid email-only hosting plans. You can also have your domain name registered at Dreamhost, then point your DNS to another hosting company to use their email service.
What operating systems can I install on DreamCompute (VPS Hosting)?
DreamHost offers several Linux distributions for you to install. These include CentOS, Debian, Fedora, and Ubuntu.
Can I install Windows on DreamCompute (VPS Hosting)?
Only Linux distributions are available when creating a DreamCompute instance.