Linode "recently owned by Akamai" is a leading provider of cloud web hosting services, offering a range of powerful and reliable solutions for businesses and individuals alike.
With a focus on flexibility, scalability, and performance, Linode's hosting plans are designed to meet the needs of even the most demanding users.
Whether you're a small business owner, a blogger, or a developer, this review is an essential resource for anyone considering using Linode for their hosting needs. we will see what's Linode's plans and pricing, pros and cons, features, and performance.
Linode is an American web hosting company that was founded in 2003 by Christopher Aker and has its headquarters in Galloway, New Jersey.
It offers a variety of products and hosting plans that are designed to meet the needs of different types of users, from small businesses to large enterprises.
The company offers a wide range of Linux-based operating systems, including Debian, Ubuntu, CentOS, and Fedora. It also provides access to the latest releases of Red Hat Enterprise Linux and SUSE Linux Enterprise Server.
Linode's services are available on a monthly subscription basis with dedicated resources for web hosting and data storage. Its plans are priced according to the number of CPU cores allocated to each server. That means you pay as you go, with no front payment.
Also, Linode is considered a cost-effective and reliable option for web hosting and its flexibility in hosting options and add-ons makes it a popular choice for developers and businesses.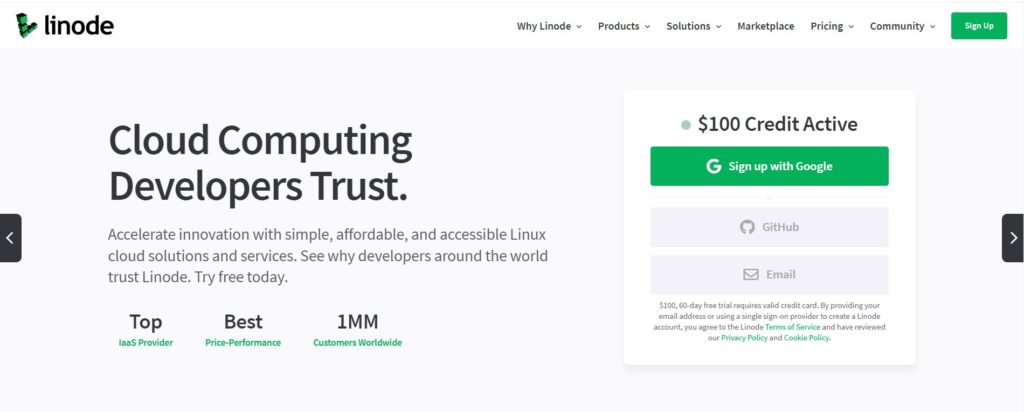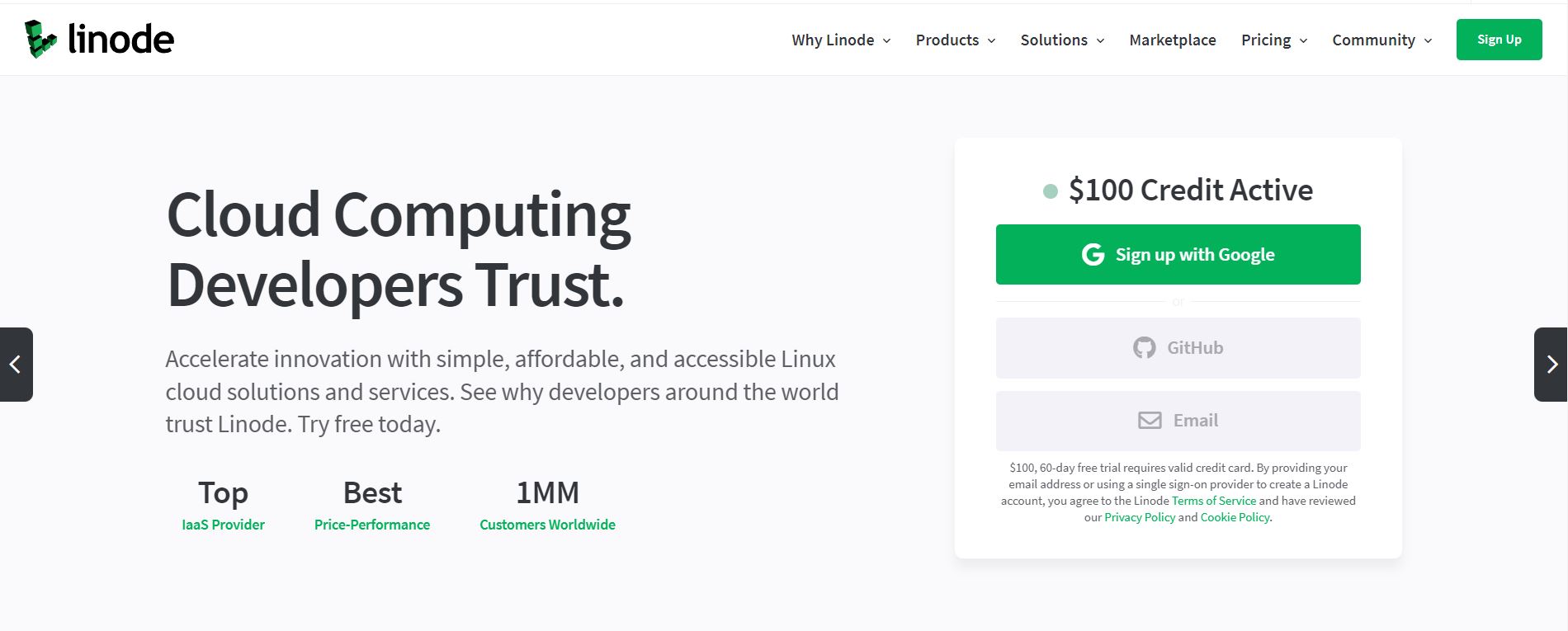 What is a Virtual Private Server?
A Virtual Private Server (VPS) is a type of hosting service that allows users to have their own virtualized environment on a shared physical server. This means that each VPS is like a separate, isolated server, with its own operating system, resources, and software.
This is in contrast to shared hosting, where multiple websites are hosted on a single server and share their resources.
A VPS is a great option for those who need more control and flexibility than traditional shared hosting can provide, but don't want the expense and complexity of a dedicated server.
With a VPS, you have root access to your own virtualized environment, which means you can install any software or make any configurations you need.
And Cloud hosting makes several copies of your VPS server and website. If your website goes down for any purpose, another copy of your website will do the job.
Pros and Cons
Linode offers various features that make it one of the best choices for web hosting services in the market today. However, there are some downsides as well. Here are Linode's pros and cons so you can make an informed decision.
Linode Pros:
Low cost ($5/month): Linode offers affordable pricing for its services, starting from as low as $5 per month. This makes it an attractive option for startups, small businesses, and individuals who are looking for affordable solutions to host their websites or applications.
Reliable and high-performance: Linode has been providing quality service to customers for over a decade. It provides high-availability services for enterprise-level customers with a 99.99% uptime guarantee, so you can be sure that it won't slow down or crash. Along with being fast, it also provides a reliable service.
Great for beginners and advanced users: Linode is great for beginners because it has an easy-to-use dashboard and you can get started with just a few clicks. Also, advanced users will love Linode because it offers customizable settings, automation, and more power depending on the plan you choose.
Pay-as-you-go payment system: Linode's pay-as-you-go model allows customers to only pay for what they use, which makes it affordable and competitive with other providers in the market. Customers can use their Linodes for as little as five minutes and they will only be charged for the 5 minutes.
Worldwide data centers: Linode offers to host your website on 11 data centers in different parts of the world based on their location, latency, and other factors.
No contracts or setup fees: Linode offers no contracts or setup fees. This means that you only pay for the time when your VPS is running. You can also choose to stop your VPS at any time, but it will be charged until you destroy it.
Linode Cons:
No domain registration services: Linode has No domain registration services. You can purchase domains from another provider such as NameCheap and point them to Linode's IP address.
No live chat support: Linode's major disadvantage is the lack of live chat support, which can be frustrating when you need help. However, you can use their ticketing support system.
Plans and Pricing
Linode offers a variety of plans from basic to pro, which is designed to meet the different needs and budgets of users.
They provide the Compute, which is basically the servers, they also provide Storage, Databases, Services, and Tools. Since we need to know how to set up and run a server, let's see its plans and prices. So:
How much does Linode cost?
Linode offers different types of VPS packages, which are categorized by the number of CPU cores, RAM, Bandwidth, and storage, and the pricing starts at $5 per month for the smallest Linode package the 1GB package.
Shared CPU Plans and Pricing:
This is the most used plan on Linode. In this plan, you can choose from three different sizes: 1GB RAM, 2GB RAM, and 4GB RAM.
The Linode Shared CPU Plan is perfect for those looking for an affordable cloud hosting solution that doesn't require a lot of RAM and Processing power such as blogs, small businesses, and small eCommerce websites.
Linode Shared CPU Plan is a good choice for small-to-medium websites and databases. It gives the flexibility to allocate a percentage of the server's resources to your website or database.
For the cheapest plan which costs $5 a month, you get 1 CPU processor, 1 GB RAM memory, 25 GB SSD storage space, and 1 TB Bandwidth transfer.
How to select the right plan and pricing tier?
Linode offers four main types of plans: Shared CPU, Dedicated CPU, High Memory, and GPU Plans. The Basic plan is the most affordable option, but it also comes with lower specifications.
To select the right Linode plan for your website or application you need to determine what's the type of application you want to build, and what is the amount of traffic you will receive.
For small websites, blogs, small to medium businesses, and personal sites, the shared CPU plan is quite enough and you can start with the cheapest plan and scale up your plan later with ease.
For really big sites that have a massive amount of traffic such as eCommerce, and large-scale businesses, you better go with the Dedicated server plan, as it is more powerful.
If you want to dig deep into how to choose the right plan, read how to Choose a Web Host.
Performance
Web hosting performance is a major metric that measures how quickly a web server responds to requests. It's important for any business that wants to have a fast, responsive, and reliable website.
A web hosting company that offers good web hosting performance will be able to offer better services and provide more features.
Linode focuses on performance. This has helped them to stay at the top of the game in this competitive industry.
The three most common web hosting performance metrics are server uptime, page load time, and server Location.
Uptime:
Linode is a highly reliable virtual private server provider, it offers a 99.99% uptime guarantee on all Linode hardware, and on network connectivity.
This means for every 30 days, your website may face downtime for less than 5 minutes. And if your server on Linode is down for more than 0.01%, you may request a credit for the downtime you faced.
Loading Speed:
Website speed is a factor that has been shown to have a great influence on conversion rates as well as ranking on search engines. A slow website can lead to people abandoning the website and going elsewhere.
In fact, a recent study by Akamai revealed that "a 1-second delay in page response can result in a 7% reduction in conversions". Also, they say that "40% of visitors will abandon a website that takes longer than 3 seconds to load".
That is why we run our own tests on Linode VPS to exactly how fast it is. We did create a $5 server and installed WordPress on top of it. Here are the results:
Linode Speed on PageSpeed Insights:


This result shows that the Last Contentful Paint (fully loading the site) loads in 1.1 seconds, which is incredible, without even optimizing the website.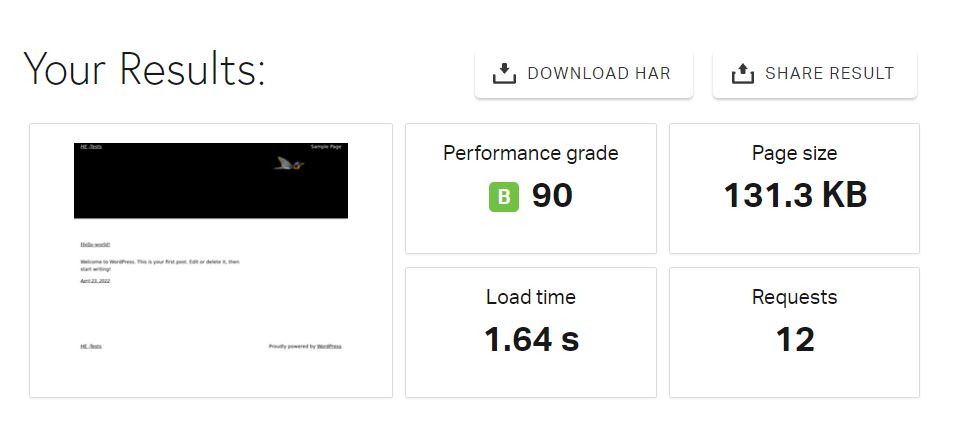 Server Locations "Datacenters":
The location of the server has an impact on the speed of the website. The closer your server is to your customers, the faster your site will load. This is because it takes less time for data to travel from the server to the customer.
Linode has 11 data centers located in the US, Europe, and Asia you can choose from. that makes it easier for you to choose the nearest location to your website's visitors.
Linode Features
Linode offers a variety of features to its customers that make it a top choice for many businesses. These features include the ability to create and use your own custom image for your server, and the ability to use Linode's API for automation.
Some of these features include:
Low cost (Affordable).
Beginner-friendly.
High performance and reliability.
One-click install applications.
Scalable.
DDoS Protection.
High-speed network
Generous bandwidth on all plans.
API Tool.
Incident Response.
Full root access on all servers.
99.9% uptime guarantee.
Pay as you go.

11 data centers around the world.

CLI Access
How to Deploy and Configure a Linode Server?
Linode made it simple for all developers and non-developers to work with. There are a few simple steps you need to take in order to deploy your first server on Linode.
You can read how to deploy a server and install WordPress on Linode. Alternatively, here is a brief of how to do so:
1- Sign up for Linode:
To sign up for Linode got Linode.com and then click sign up to create your account.
Once you confirm your account, you will be redirected to the billing page where you will have to enter your personal billing information and payment information.
Next, click Create Account.
2- Create Linode Server:
On the Linodes tab on the left sidebar, click Create Linode. the new server settings will appear to choose the server, plan, app, and more from it.
First, you need to choose the Image (operating system) and the Application of your server. Then create the database and application passwords, and more options like your domain name.
Next, select your Linode server location. And then select your Linode server plan.
After that, you need to enter some server details like naming your server, then creating the server root password. At last, the server backup and some add-ons.
Finally, click Create Linode
3- Point your domain to the server:
After you create the server and installed WordPress on it automatically, now it's time to point your domain name to the IP address of your new server, so that the server can be accessed via your domain name.
To point a domain name you need to add an "A" record to the DNS settings of that domain name.
First, copy the IP address of the server you created and then go to the DNS settings of your domain name.
Next, click add a record, select "A" record then paste the IP address and click save.
4- Install free SSL certificate:
Free SSL is an important feature for your website, it encrypts the connection between your website and the visitors, so they trust your website.
In order to configure and install the free SSL certificate on Linode, you need to access your server via SSH using the username and password of the server that you created along with the server. You can use Linode Console, or use another terminal such as Putty.
Marketplace
From 91 applications that Linode offers for customers, you can install and host any application you want including WordPress with a simple one-click install.
That makes it easier for users to deploy their servers, images, and applications fast. and you can run your apps the way you want.
Also, if the default configuration doesn't meet your needs, you can customize the app's resources, location, metadata, and more during creation.
Support
Customer support is important because it provides a way for customers to connect with the company and get help when they need it.
Like other unmanaged cloud hosting providers, Linode doesn't offer chat support. You can only contact humans on Linode support via the ticket system.
However, they do have a huge guide tutorial covering everything related to their services. Also, they have a big community you can rely on when you need help.
Linode Review: The Conclusion
After what we saw we can't say but Linode is one of the best hosting providers in the market, it's fast, simple to work with, and provides a great performance.
It is a highly reputable and reliable cloud web hosting service that offers a wide range of features to meet the needs of both small and large businesses. Therefore, we recommend Linode for both beginners and developers.
Linode offers the best value in cloud hosting. Get the fastest SSD-cached servers, generous bandwidth, and all of your favorite operating systems with 24/7 reliability for just $5 a month.
If you want to start with Linode use this link to get a $100 free credit for 60 days to test their services. Read also:
Install WordPress on Linode.
DigitalOcean review.
Vultr review.
DigitalOcean vs Vultr vs Linode.
FAQs
Here are the most asked questions about Linode VPS:
What is Linode?
Linode is a cloud hosting service that provides users with the ability to run their own virtual servers with the application they choose in the locations they select in the time they need.
Where are Linode data centers?
Linode has 11 data centers in these data centers are in New York in the United States, Atlanta in the United States, Dallas in the United States, Fremont in the United States, Toronto in Canada, London in the United Kingdom, Sydney in Australia, Frankfurt in Germany, in Singapore, Tokyo in Japan, and Mumbai in India.
Which is better Linode, Vultr, or DigitalOcean?
It is difficult to answer this question without looking at the features of each service, for every one of them seems similar enough to get you confused, but we did break it into a deep DigitalOcean vs Vultr vs Linode comparison.
Can I use Linode for free?
Yes, you can use Linode for free, but for 60 days, with the amount of $100 free credit will be applied to your account when you first sign up.
Does Linode accept PayPal?
Yes, Linode accepts PayPal as a recurring payment method. You can pay for your Linode account with PayPal by going to the Linode billing page and selecting PayPal as your payment method. However, for the first users, Linode requires registering via Credit or Debit card.