Spaceship is a child brand of NameCheap that offers low-pricing domains, cloud-based shared hosting, and business email services.
In this review, I'll show you Spaceship hosting pricing, its pros and cons, loading speed, performance, how to one-click WordPress install, features, support, and more.
What is Spaceship?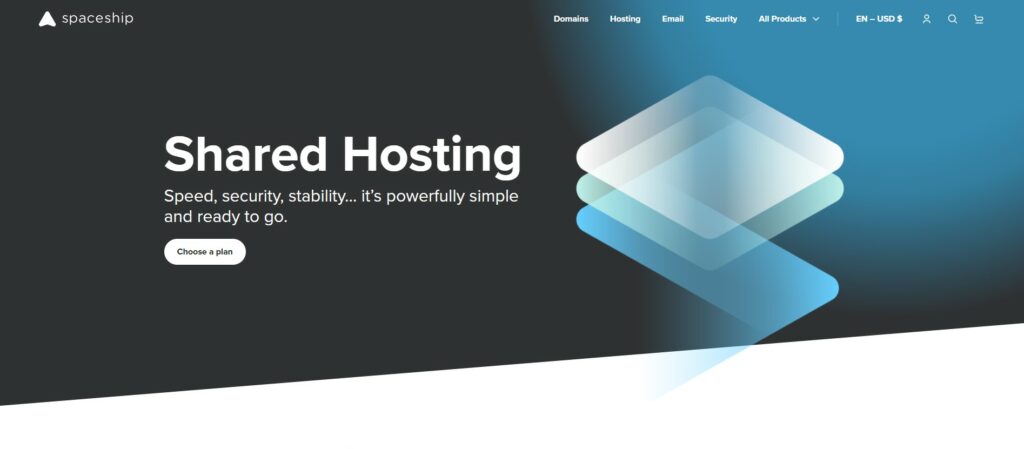 Spaceship is a new web hosting platform built by NameCheap. It provides affordable domain registration, shared hosting, and emailboxes services.
It features a user-friendly interface where users can host and manage their hosting services.
Their hosting packages offer features like SSD storage, dedicated CPU processors, and a one-click WordPress install, although certain services like auto-backups come at an additional cost.
User Experience and Interface
When you first navigate to the Spaceship home page, you get an immediate good feeling with the design and graphics. But, as we all know, looks aren't everything.
The spaceship interface is outstanding. It's one of the best dashboards you could see. There is the main dashboard, named (Launchpad) and there is a dashboard for each service with intuitive controls.
In the main dashboard, you find all the services that Spaceship offers such as domain tools, hosting management, email, and security tools. you can also manage your account and more.
What's nice about this admin interface is that you can manage, add, and remove the icons and features, so you set the features you need and want to see every time you access it.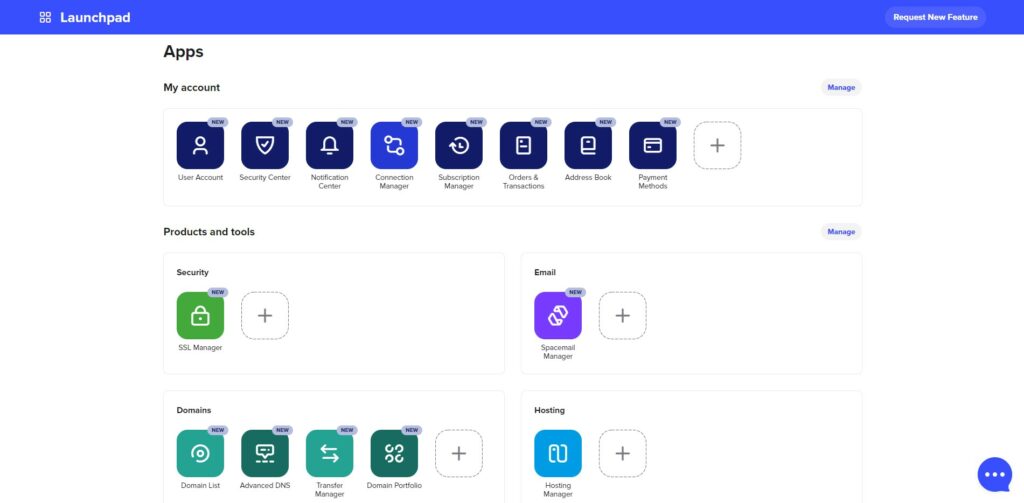 Pros and Cons of Spaceship Hosting
The Pros:
The pricing is very low and affordable. You can start building websites on Spaceship for as low as $1.21 per month.
Their plans offer Unlimited websites. When choosing any of their shared hosting plans, you can create as many websites as you want, as long as the plan resources "such as storage space" are not consumed.
Spaceship uptime is a 99.99%. They claim to deliver 100% uptime, which is impossible, but they guarantee 99.99% monthly covers all Shared hosting plans. Which is great.
Very generous when it comes to storage space. Their cheapest plan offers 20 GB SSD Cloud storage, and others offer Unmetered SSD Cloud storage.
Spaceship offers SSD-based disk space. The SSD makes your website faster 4 times than the standard HDD.
You get a dedicated CPU. When choosing any of the plans the Spaceship offers, you get a dedicated CPU processor on a shared Physical computer. This is somehow similar to VPS hosting.
Free 1 year mailbox per domain. This feature is powered by Spacemail allows you to send a receive emails using your professional email. For example: "[email protected]".
Their domain search tool is powerful. In fact, this is powered by the NameCheap domain search tool which is well known and established domain registrar.
Litespeed Web Server. Spaceship uses the Litespeed Web Server, which makes your websites load faster.
Spaceship Shared Hosting cloud-based. Which means better performance and reliability, better security, and distributed storage.
The Cons:
Auto backups are not included in their plans. If you want the auto backup feature, you will have to pay more for it, as it's not included in their hosting plans.
They limit the files that you can upload to your website and server. For example, their cheapest "Essential" plan offers store to a maximum of 300,000 files. If you want to upload more files such as images, videos, etc, you'll have to upgrade your plan.
The mailbox feature is only available for the first year on all plans. When the first year ends, you will want to buy the service, starting at $0.45/month/mailbox.
Only one data center and located in the United States. If your customers are on the other side of the planet, they may face a slight loading delay due to the fact that the server location is far away from them.
Their SSL certificate is not free forever. After the first year of signing up for their hosting plan, you will be charged money for installing SSL certificates on your sites.
All hosting plans don't include free domain registration. You either use your already registered domain or register a new domain name from Spaceship.
SSL may take up to 48 hours to appear. One of the things that I didn't like is that the external domain names take a long time to propagate. In my case, the domain name started to point to the website in no time. But for the SSL to be installed, it took about 24 hours.
Spaceship Hosting Package and Pricing
Spaceship offers 3 main products, domain names, and shared web hosting. let's have a look at each and their pricing
Shared Hosting Plans and Pricing:
Spaceship offers one hosting type, which is Shared hosting. many users share the same resources on the server and split the cost. That's why this type of web hosting is cheap.
this plan offers three main options, they are Essential, Pro, and Supreme. Each cost is different and offers different resources.
If you want to start a new or small website, the Essential plan may be a good solution for you. But if you want a hosting plan with better resources, you can pick a more powerful plan such as Pro or Supreme
Essential plan: This plan's pricing starts as low as $1.21 per month when you want to stick with the 2-year plan. It offers unlimited websites, 1 CPU processor, 1 RAM, 20 GB SSD storage space, and free SSL and Mailbox for one year.
Pro plan: This plan's pricing starts as low as $2.04 per month when you want to stick with the 2-year plan. It offers unlimited websites, 2 CPU processors, 2 RAM, 50 GB SSD storage space, and free SSL and Mailbox for one year.
Supreme plan: This plan's pricing starts as low as $2.87 per month when you want to stick with the 2-year plan. It offers unlimited websites, 4 CPU processors, 4 RAM, Unlimited GB SSD storage space, and free SSL and Mailbox for one year.
| Plan | Essential | Pro | Supreme |
| --- | --- | --- | --- |
| Monthly Pricing | $3.88/month | $4.88/month | $6.88/month |
| Annual Pricing | $1.66/month | $2.41/month | $3.24/month |
| 2 Years Pricing | $1.21/month | $2.04/month | $2.87/month |
| Number of Websites | Unlimited websites | Unlimited websites | Unlimited websites |
| CPU Count | 1x CPU | 2x CPU | 4x CPU |
| Number of RAMs | 1 GB | 2 GB | 4 GB |
| Storage Space | 20 GB SSD | 50 GB SSD | Unlimited |
| Bandwidth | Unmetered | Unmetered | Unmetered |
| SSL Certificate | Free for the first year | Free for the first year | Free for the first year |
| Domains and Sub-domains | 5 hosted domains | Unlimited domains | Unlimited domains |
| Mailboxes | 5 mailboxes free for the first year | Unlimited mailboxes free for the first year | Unlimited mailboxes free for the first year |
| AutoBackup | Extra fees | Extra fees | Extra fees |
The Essential plan offers support for unlimited websites. However, it limits users to 5 domains and subdomains. This technically allows only 5 websites not unlimited.
Domains Pricing:
Spaceship ranks No. 1 on TLD-List, a compare prices for of all top-level domain platform from over 50 domain registrars.
Spaceship promo codes work and they sell domains at a very cheap price. A ".com" with the code "COM67" can get as low as $5.88 for the first year.
However, customers who use their coupons are always complaining about their accounts being shut down and their domain names being removed.
If you want to sell a domain name from them, don't use their coupon codes, at least now until they figure it out. Instead, their regular prices are pretty decent.
| TLD | First Year Pricing | Promo Code Pricing | Renewal Pricing | Transfer Pricing |
| --- | --- | --- | --- | --- |
| .com | $8.48/yr | "COM67" $5.88/yr | $9.55/yr | $7.80 /yr |
| .com | | | | |
| .net | $9.80/yr | – | $9.80/yr | $9.50 /yr |
| .org | $7.15/yr | – | $9.80/yr | $9.50 /yr |
The good about Spaceship domains service is that they offer all types of TLDs. Also, their domain search tool is amazing, it's powered by the NameCheap domains tool.
Spaceship Performance and Speed Tests
Performance in web hosting is essential because it directly impacts user experience and SEO. Faster load times lead to higher user and search engine satisfaction.
Uptime:
Uptime refers to the amount of time a website is available and operational. It's a critical metric in web hosting for delivering a consistent user experience and maximizing online visibility.
High uptime ensures that users can access the website whenever they want, promoting trust and reliability. Downtime and regular outages, on the other hand, can lead to lost revenue, damage a brand's reputation, and reduce search engine rankings.
Spaceship claims to deliver 100% uptime which is insane. However, they guarantee a 99.99% uptime percentage.
99.99% uptime is great, that's why I put the website I created on their platform for uptime test using UptimeRobot. Until now, I see 100% uptime, but this test is still ongoing
Loading Speed:
We created a WordPress website on Spaceship and put it into a series of tests using PageSpeed Insights and the WPPerformanceTester plugin.
We first tested it with an empty WordPress site using the Twenty Twenty-Three theme with no content and then tested it with a fully loaded website with lots of text and high-resolution images using the Kadence theme.
Also, these tests were done without making any website optimization such as CDN, Image compression, Lazy Loading, Cache plugins, etc. If I made some optimizations, it would perform better.
From the speed tests I conducted, I see Spaceship speed is pretty decent compared to Shared Hosting. Also, I see that the overall score on Mobile is a bit better than Desktop.
1. Page Speed Insights test results:
| Website Status | FCP | LCP | Speed Index | Overall Score |
| --- | --- | --- | --- | --- |
| Empty Site/Mobile | 1.5 s | 1.5 s | 2.0 s | 99% |
| Empty Site/Desktop | 0.8 s | 0.8 s | 1.0 s | 99% |
| Fully Loaded Site/Mobile | 3.9 s | 5.0 s | 4.2 s | 72% |
| Fully Loaded Site/Desktop | 2.5 s | 3.7 s | 2.6 s | 65% |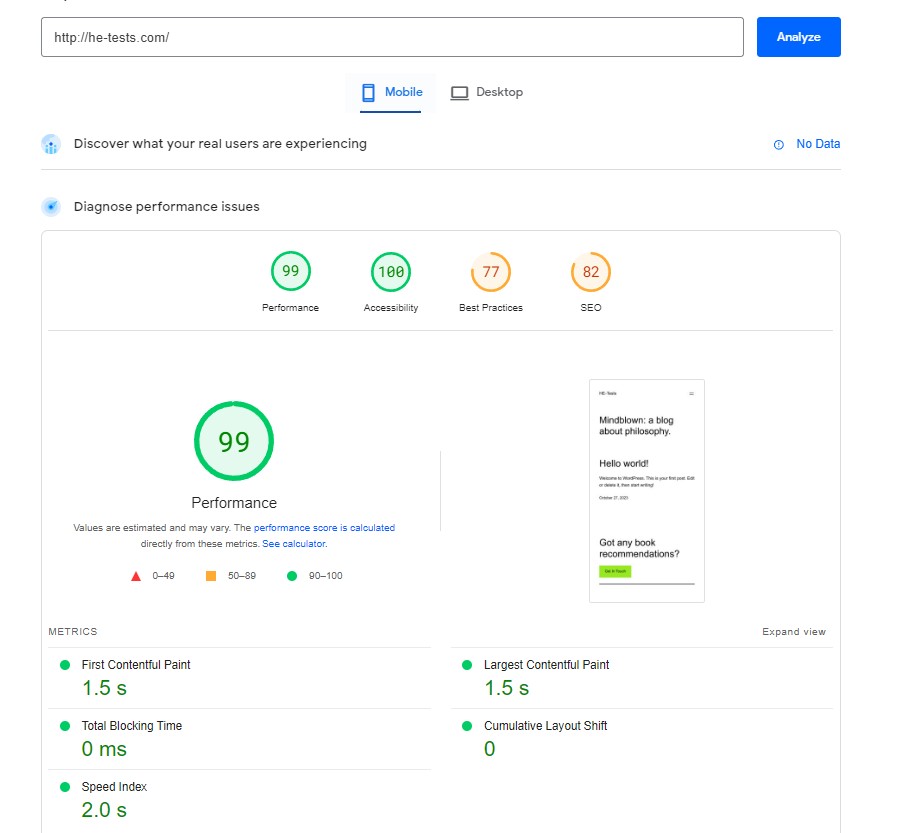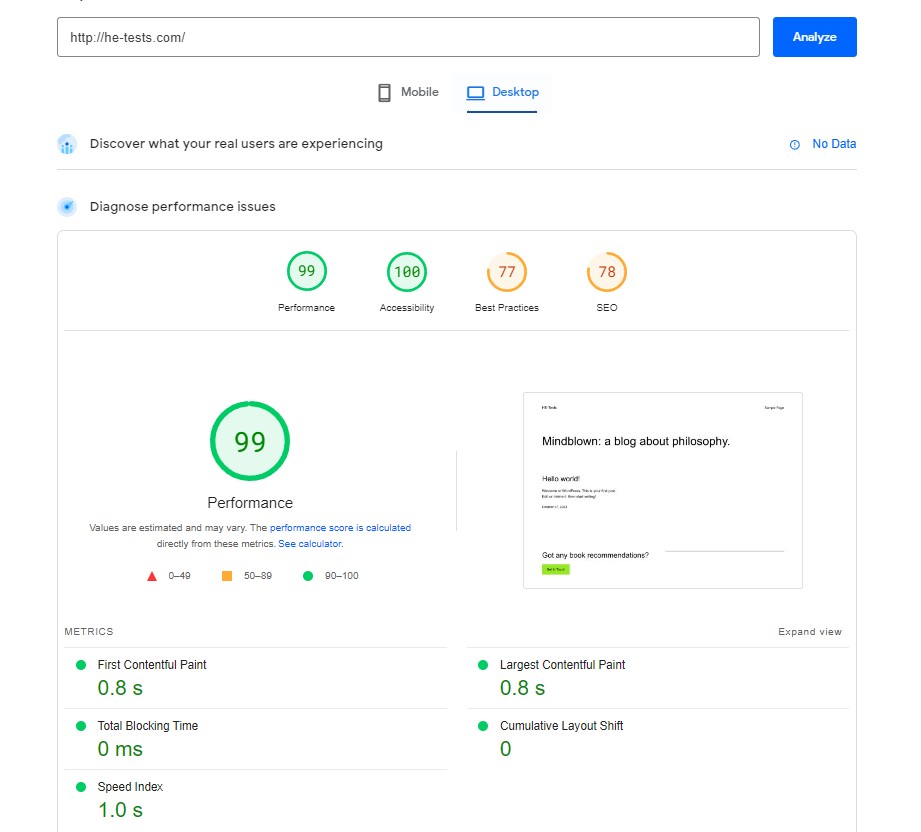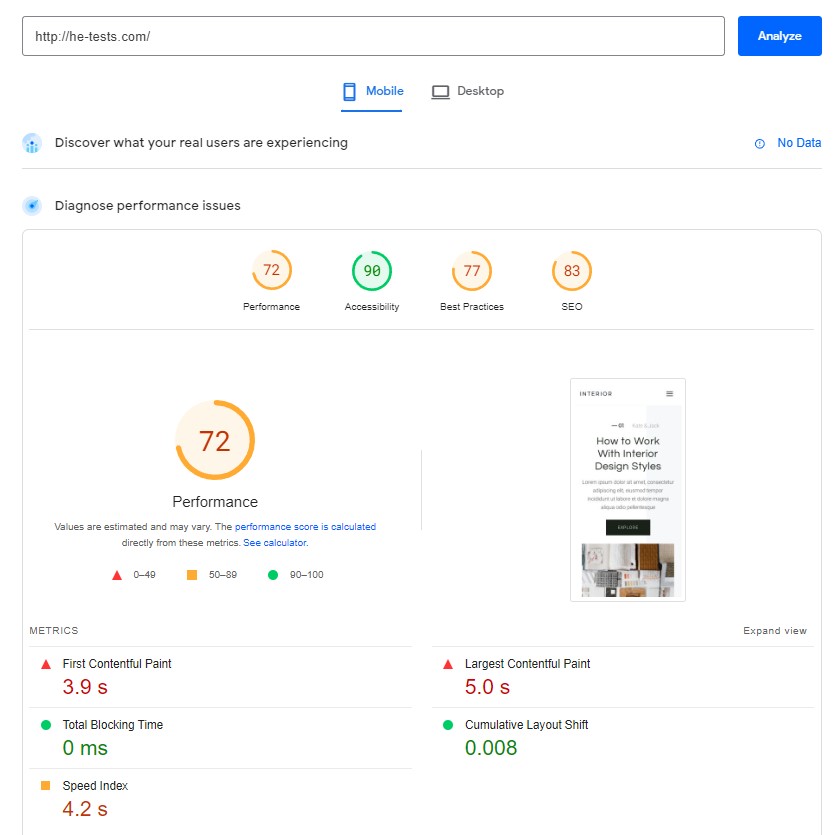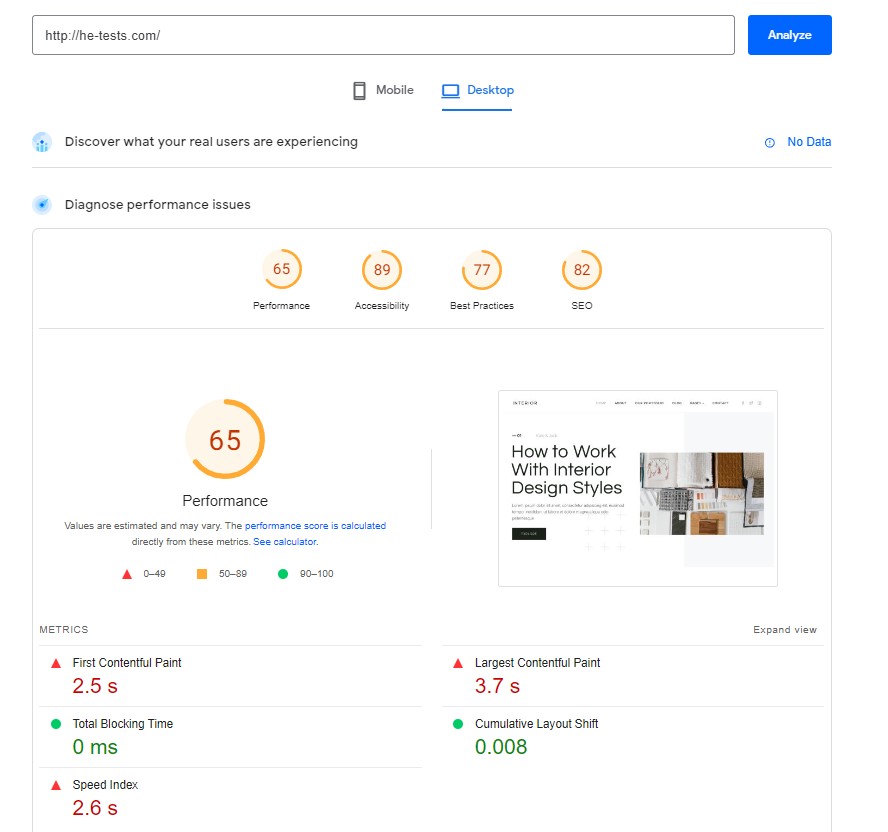 2. WPPerformanceTester test results:
| Speed Test | Average Speed Result | Spaceship Speed Result |
| --- | --- | --- |
| Empty Site | 3.174 seconds | 1.103 seconds |
| Fully Loaded Site | 3.174 seconds | 1.148 seconds |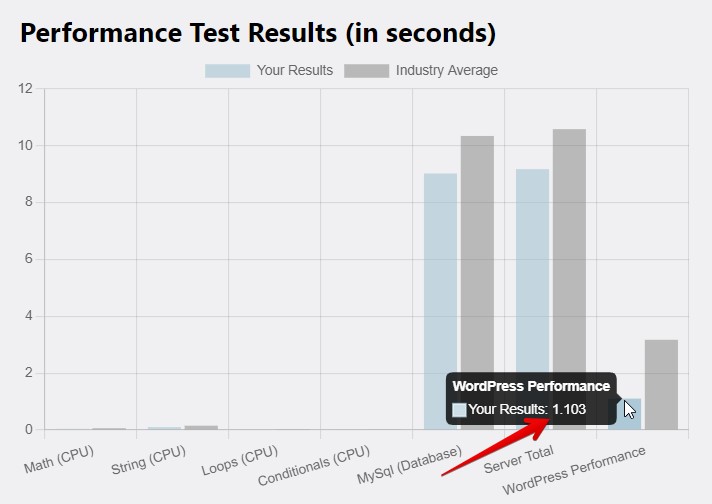 Spaceship Server Locations:
Spaceship currently has only one data center and is located in the United States, Arizona.
If your targeted audience or customers are live in the US or near places to it, this will be a great server location for your website. If not, your website visitors might face a slight loading delay. Usually milliseconds.
Read how server location affects website performance.
Spaceship Features
Clean and user-friendly dashboard: Spaceship offers one of the best and most intuitive shared hosting control panels.
Cloud-based shared hosting: This makes it more reliable, better performance, and better security.
1-click WordPress install: With simple steps as I explained below, you can get your WordPress site up and running.
Spacemail: Powerful mailbox and professional emails with a simple and easy-to-use dashboard.
Hosting usage panel: This shows the usage of storage space, number of files, number of databases, and number of FTP accounts.
Customizable php.ini: No need to access your server via SSH or SFTP to manage your website PHP settings. This can be done easily from your dashboard.
LiteSpeed web server: Faster server speed leads to better web page loading time.
Unmetered bandwidth: All hosting plans can handle any visits, downloading, and uploading data size.
AWStats Tool: Provides precise hourly, daily, and monthly analytics on website traffic.
Many security features: This includes Traffic Firewall, Virus Protection, Web Application Firewall, Website Brute Force Protection, and more.
How to Get Started with Spaceship
To get started with Spaceship hosting go to spaceship.com, then go to Hosting on the header. Under Shared Hosting click on Choose a Plan to take you down to the plan's options.
Choose the plan that suits your website's needs and the hosting duration time, and enable the AutoBackup feature if you want. The auto-backup will add an extra fee to the total.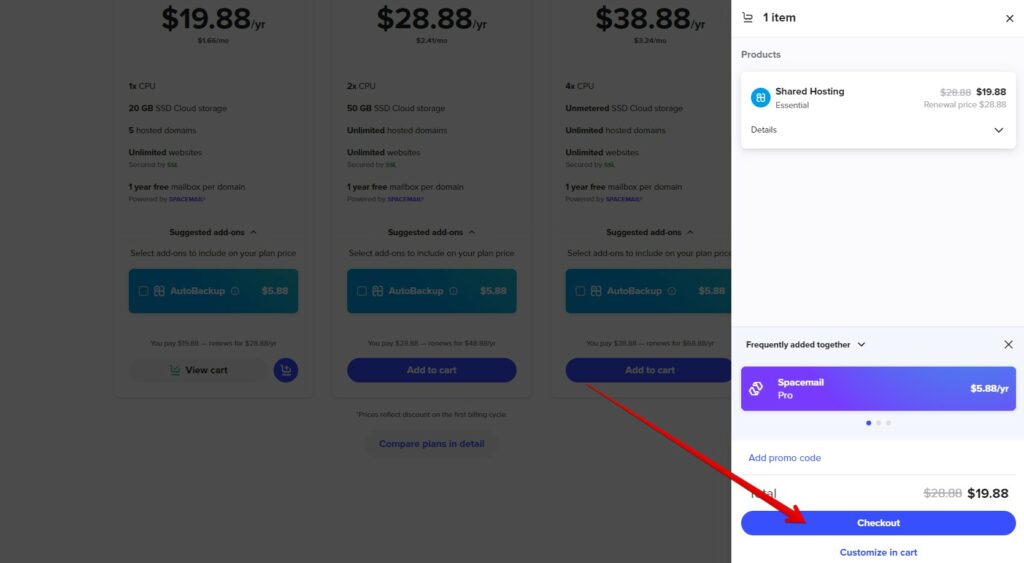 Next, click on Add to cart and then click on View cart. On the right panel that appeared, click on Checkout.
On the popup sign-in window, click on Signup to create an account. Enter the required details and click on Sign Up. Finally, confirm your email address from your mailbox.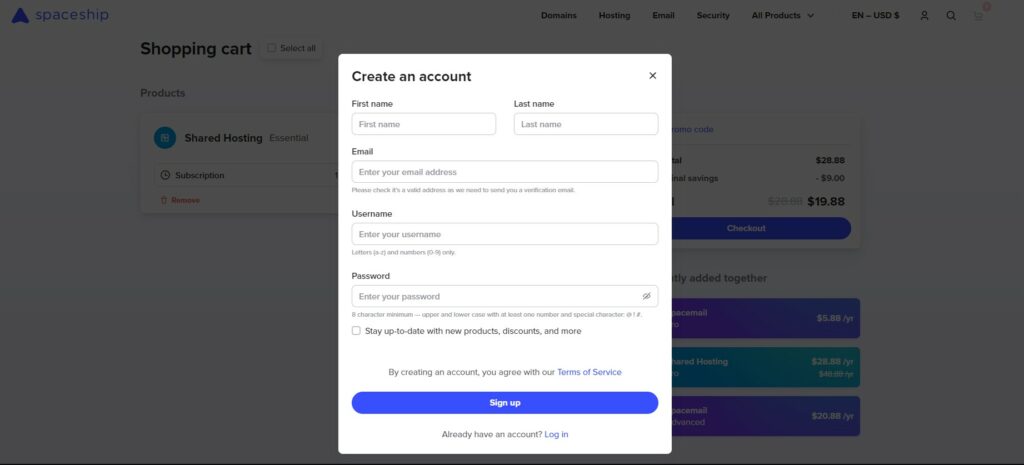 After you sign up, choose the payment method that you prefer. Credit cards, Paypal, BTCPAY, bitpay, and other payment options are available.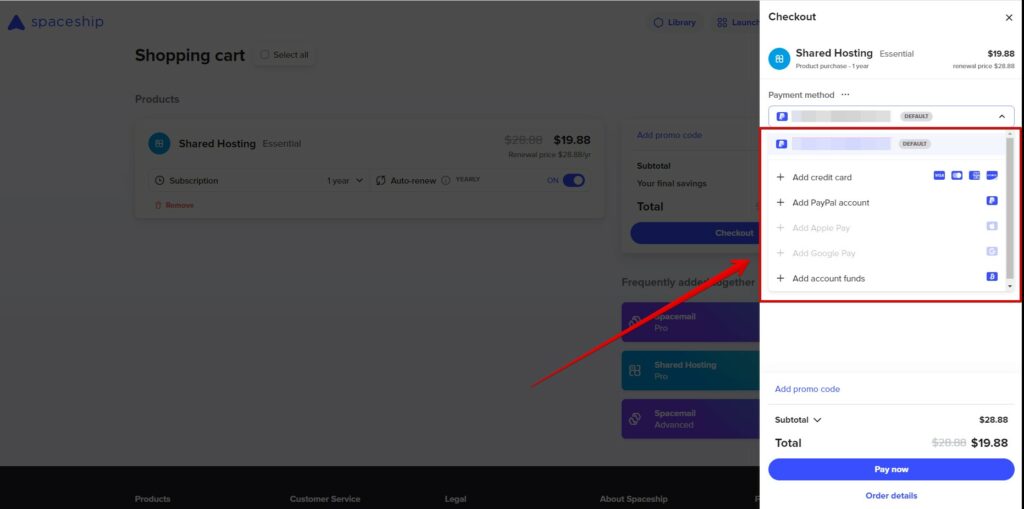 Next, enter your billing info, set the payment as default, and click Save. Finally, click on Pay Now.
When the payment is successfully processed, you will be met with your order; what you will get with this order, and its features.
Install WordPress on Spaceship
Here are the steps to create a WordPress website after you purchase a plan.
1. Access the Hosting Manager:
Go to the main dashboard (Launchpad), scroll down to the hosting section, and click on Hosting Manager.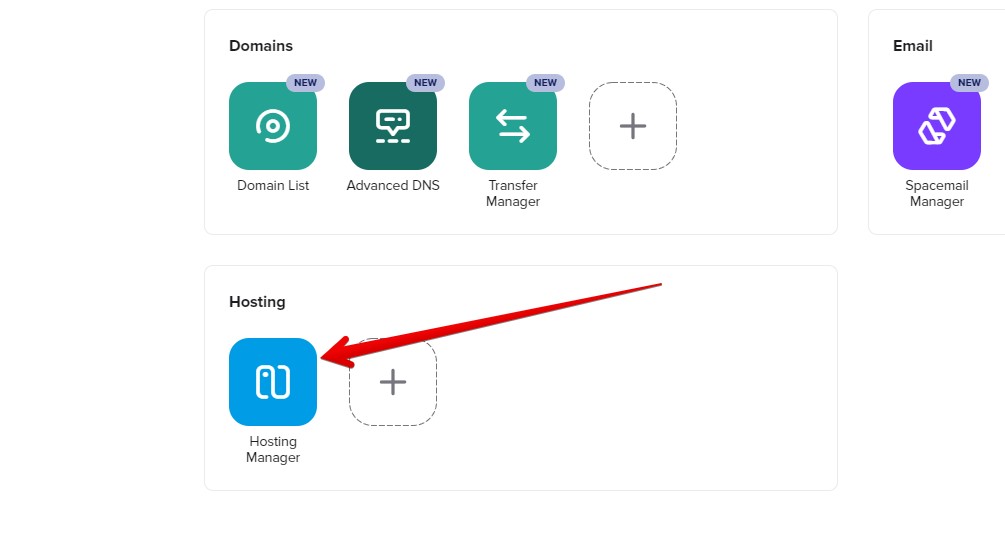 From the Hosting Manager, you can manage everything connected to your hosting subscription such as launching your website, upgrading or downgrading your plan, checking resources, and adding domains, SSL certificates, and mailboxes to your hosting account.
2. Unbox the Hosting Plan:
On the hosting plan you just purchased, click on Unbox, then click Start.
On the domain selection tab, enter the domain name you already registered and click Connet. Or search for a new domain name and then click Buy and click on Continue.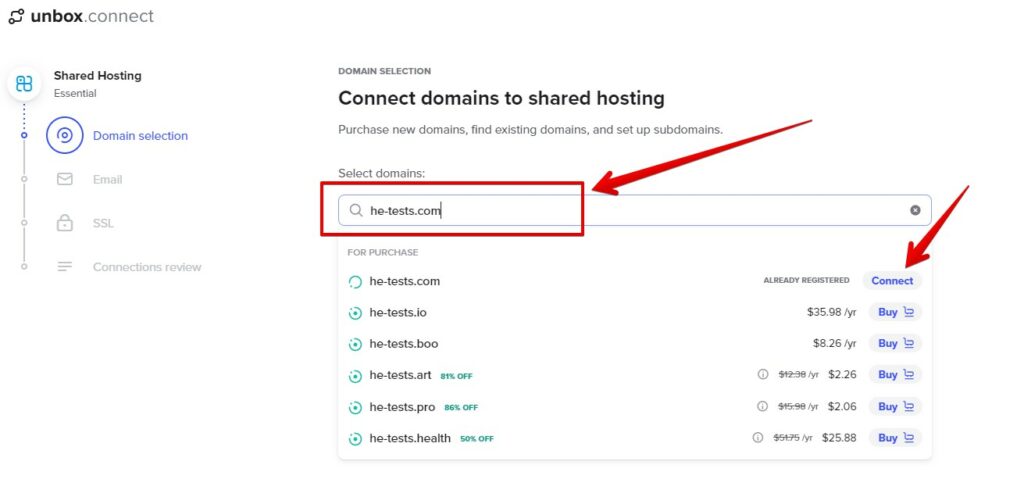 On the email tab, click on Apply to All, and click on Continue.
On the SSL tab, click on Apply to All, and click on Continue.
On the Connection Review tab, click on Connect. Wait a few seconds until all products are connected. click on Skip two times and go back to the Hosting Manager.
3. Configure your domain DNS Settings:
Every external domain name that is not registered on Spaceship needs to be configured using one of the two methods below:
Switch to Spaceship nameservers: Change your domain nameservers to Spaceship's nameservers.
Connecting with DNS records: Change the DNS records of your domain name and add extra records for the hosting and mailboxes such as A, MX, and CNAME records.
The third method "Verify domain ownership" which is adding a TXT DNS record to verify that this domain is yours, will allow you to set up your website, but your website will not function until you setup one of the two methods above.
Keep in mind that on Spaceship, the domain name will point to your website instantly, but, it may take up to 48 hours to fully propagate and to the SSL appears on your site.
Method 1: Switch to Spaceship nameservers:
If you registered your domain name on NameCheap for example, and want to manage it directly on Spaceship, you can just change the nameservers of the domain on NameCheap to Spaceship nameservers.
Go to your domain registrar and change the name servers to the following:
launch1.spaceship.net
launch2.spaceship.net

Method 2:Connecting with DNS records:
But if you want to manage it with Cloudflare, you need to change its nameservers on NameCheap to Cloudflare nameservers, and then add the required records on Cloudflare. Go to your domain DNS records and add/change the following records:
For web hosting add/change the following 3 records:
| Host | Type | Value | TTL |
| --- | --- | --- | --- |
| @ | A | 66.29.148.6 | 20 min |
| ftp | A | 66.29.148.6 | 20 min |
| webdisk | A | 66.29.148.6 | 20 min |
| www | CNAME | he-tests.com | 20 min |
| @ | TXT | v=spf1 include:spf.shared.spaceship.host ~all | 20 min |
For mailboxes (Spacemail) add/change the following 3 records:
| Host | Type | Value | TTL |
| --- | --- | --- | --- |
| @ | MX | mx1.spacemail.com0 | 20 min |
| @ | MX | mx2.spacemail.com0 | 20 min |
| @ | TXT | v=spf1 include:spf.spacemail.com ~all | 20 min |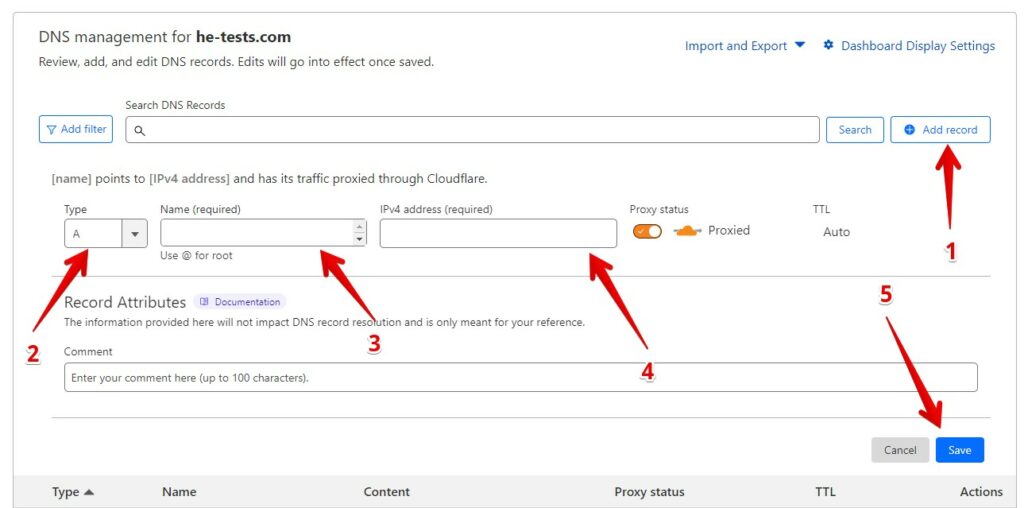 4. Create the Website:
To create a website on Spaecship, on the Hosting Manager, click on Create website.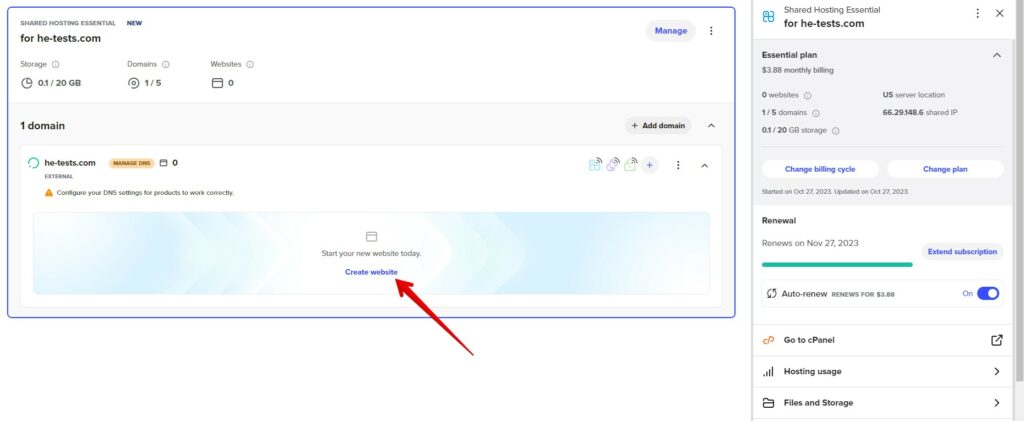 Next, choose the website type. You can choose WordPress, a custom website. or click on More Options to see other website types such as Joomla, OpenCart, and Drupal.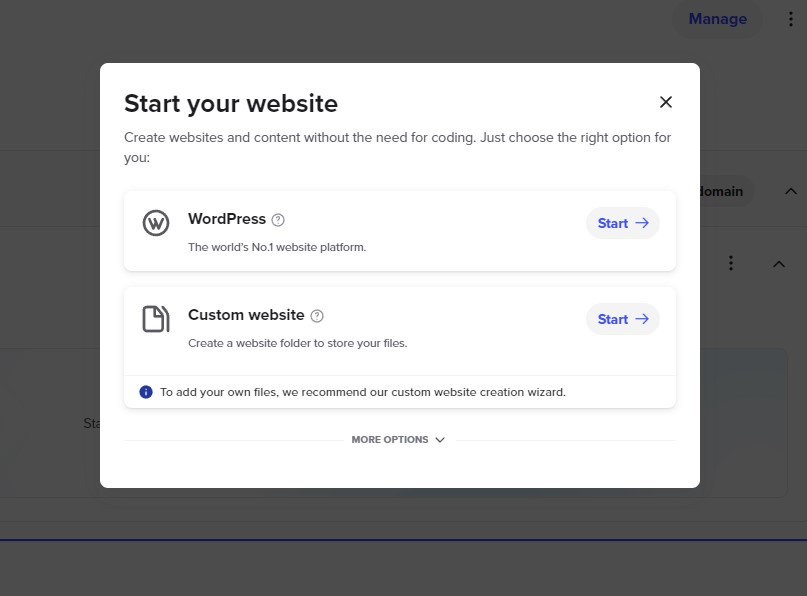 In this example, I'll go with WordPress. So, I'll click on Start to proceed.
In the next window, add your WordPress website name and credentials:
Website Name: It can be changed later.
Admin Email: The email that you will need to reset your WordPress password.
Admin Username: the email that you will need to access your WordPress admin panel.
Admin Password: The password that you will need to access your WordPress admin panel.
Install folder: Leave it empty if you want to install WordPress on the root file, or add a folder if you want to set it as a subfolder. For example, (he-test.com/blog).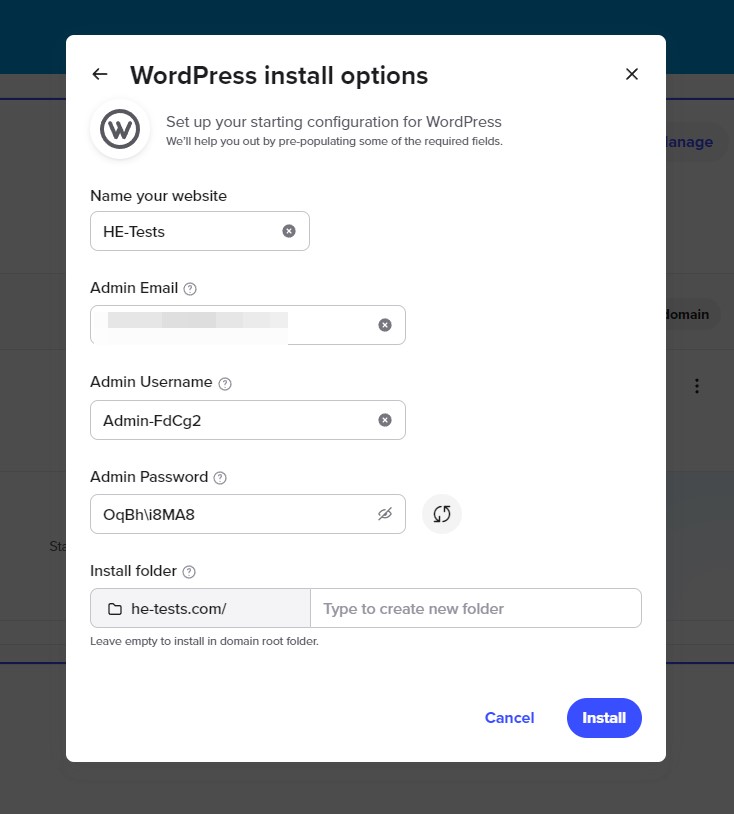 Once you are done with all that, click on Install. Wait for a few seconds and that's it. Your website is now ready and you can access it through your domain name or from the WordPress button on the Hosting Manager dashboard.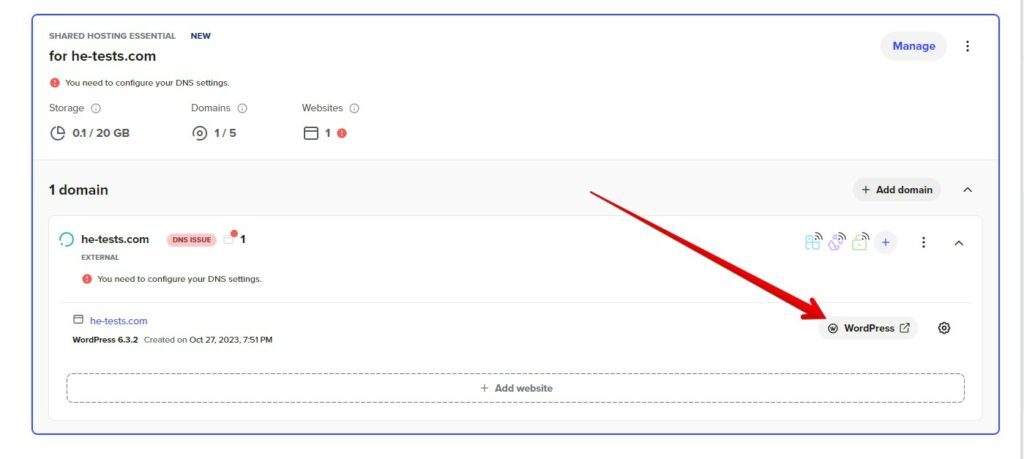 Spaceship Security
Spaceship primarily offers 7 security features, they are:
Free domain privacy when the domain name is bought from them.
Free SSL certificate for the first year.
Their Spacemail is protected by AI-powered spam filtering.
Scan files while you upload them to your server from viruses.
Uses Website Brute Force protection.
Web Application Firewall by monitoring server requests.
Deploy firewall against unwanted traffic and threats.
Also, Spaceship uses Cloud-based hosting solutions, which introduces a great security layer for more protection.
Additionally, if you are using WordPress, they install some plugins with the WordPress installation to protect your site, which is something that you can do on your own. they are Akismet Anti-spam and Loginizer.
Spaceship Customer Support
Spaceship offers support via Live chat and Email tickets. They don't offer support via phone calls at the time. However, live chat should be enough to solve urgent matters.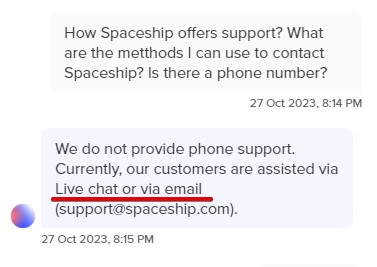 My experience with their customer support is not bad, but still, is not that great. I contacted them using their live chat support at 5:00 GMT+0. They respond instantly to the first message, but for the rest of the conversation, their agent took between 1 to 4 minutes to respond.
Conclusion
Spaceship, an offspring of the well-established NameCheap, offers an affordable web hosting solution packed with features.
With pricing as low as $1.21/month, users get a user-friendly dashboard, SSD storage, one-click WordPress installs, and a commendable 99.99% uptime.
Setting up is straightforward, from choosing a plan to launching a WordPress website and their security measures are pretty good, ensuring a safe environment for your site.
Overall, Spaceship seems like a solid choice for those on a budget but still wanting quality web hosting. If you're considering a new hosting platform, Spaceship is definitely worth a look!
Read also: