Linode is an American web cloud hosting provider founded in 2003 and obtained by Akamai Technologies on March 21, 2022. Its main focus is on providing virtual machines that are run by Linux to endorse an assortment of applications.
Regardless of whether you are doing a personal initiative such as a project or working within an enterprise, Linode will provide you with great support at great prices.
Linode promotes origination with its effortless, inexpensive, and simple Linux hosting facilities and solutions with prices starting at only $5/month for shared CPU plans and pay as you go payment method.
Linode Compute can be used to develop and build websites using physical and virtual machines and tools offering a wide range of products that suit every business size such as dedicated CPU, shared CPU, High Memory, GPU, and Kubernetes.
Read how to create a WordPress website on shared CPU VPS on Linode.
Shared CPU (VPS) Plans and Pricing
The shared CPU Plan provides its users with shared virtual machines that will give you somewhat stable power and stable functioning.
If you are just starting out or want to build a small business website such as CMS, SAAS, or blog, Linode shared CPU is a great tool to start with.
The cheapest Linode plan starts at $5/month, this plan gives you the bare minimum for a small business application which is 1GB of memory RAM, 1 CPU processor, 25GB of Storage space, and 1TB Transfer rate bandwidth.
If you need an upgrade later when you scale up your business, it offers ten different options reaching a maximum of 192 GB of RAM, 32 CPUs, 3840GB Storage, and a 20 TB Transfer rate.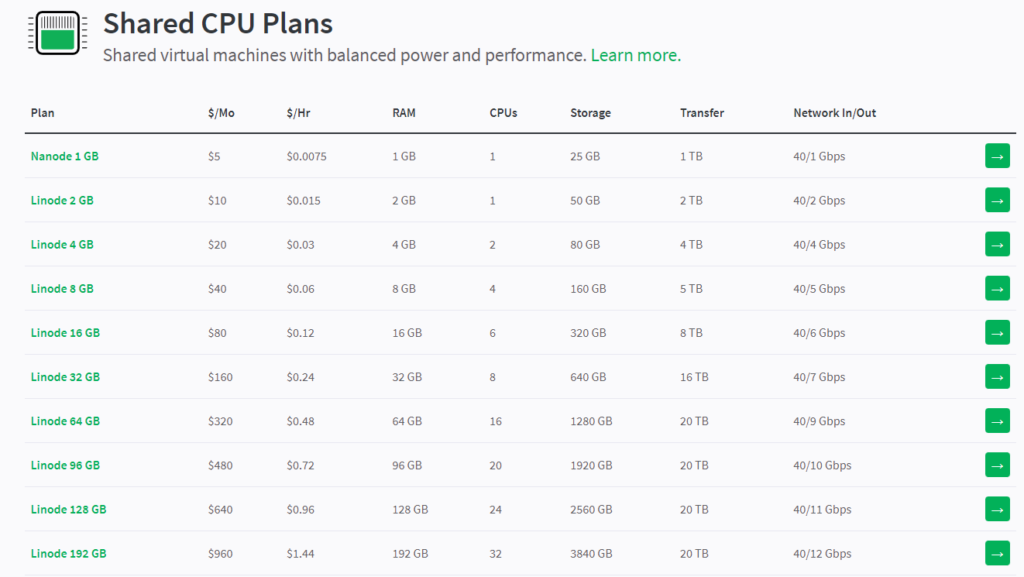 Dedicated CPU Plans and Pricing
The Dedicated CPU Plan as the name implies offers dedicated servers for applications that are CPU intensive. They are more for big websites and eCommerce businesses.
Starting at $30/month, you can get a fully dedicated CPU server with resources of 4 GB RAM, 2 CPUs, 80GB Storage, and 4 TB Bandwidth making it one of the cheapest dedicated plans on the internet.
If you want to scale up later, you got nine different variation plans up to 512GB RAM, 64 CPUs, 7200 GB storage, 12TB transfer rate, and $3,840 per month. Which are huge resources.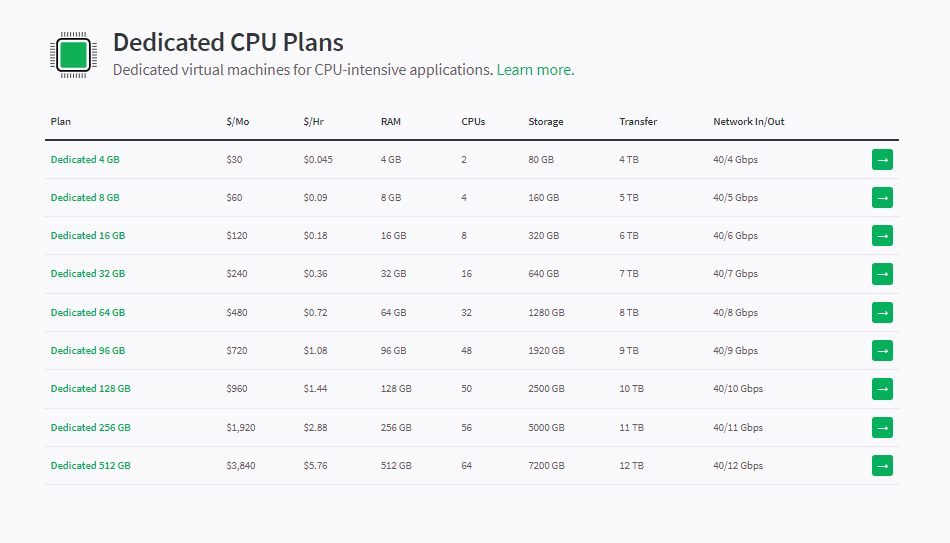 High Memory Plans and Pricing
One of the compute options that Linode offers is high memory plans with virtual machines enhanced with devoted cores that are best for applications requiring demanding memory.
If you want to build a website that requires more RAM such as a video hosting platform, this plan might be the savior from paying more for a high price plan that has the same amount of RAM.
The High Memory product cheapest plan starts at $60/month and acquires you 24 GB of RAM, 2 CPUs, 20GB Storage, a 5TB Transfer rate, and a 40/5 Gbps Network in/out.
It has four other different plans with 48GB, 90GB, 150GB, and a maximum of 300GB memory at a rate of 1.44 dollars per hour adding up to a total of 960 dollars per month.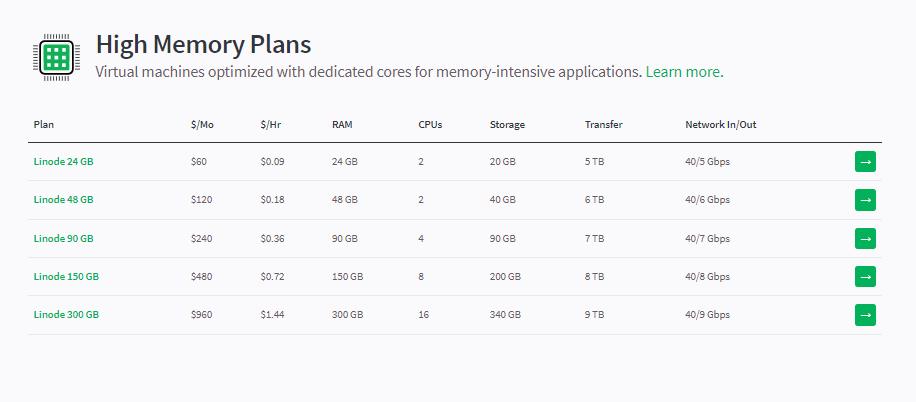 GPU Plans and Pricing
The Linode Graphic Processing Unit (GPU) plan is an enhanced Virtual machine sped up by RTX 6000 GPUs to help applicants that need to perform complicated processing which means on top of CPUs, the user also gets GPUs.
This is a very expensive plan beginning at a whopping 1000 dollars and you get 32 GB of RAM, 8 CPUs, 640 GB Storage, 16 TB Transfer rate, and with 1 GPU.
This plan has four different options starting from one GPU to four GPUs that cost 4,000 dollars per month and give you more RAM, more CPUs, and more storage.

Linode Kubernetes Engine (LKE) Plans
The Linode Kubernetes Engine Plan or LKE is a fully-managed K8s container for deploying and managing containerized applications and workloads. You get an API to access and control the Engine.
It's the best choice when building a cluster of servers and it does not charge you any extra fees for the cluster's master services.
LKE Plans are different for Dedicated CPUs, shared CPUs, and High memory.
Shared LKE Plans:
The shared CPU LKE plan offers 9 options with a constant amount of 3 nodes for all options. However, the first option starts at 30$/ Month and gives you 3 CPUs, 6GB RAM, 150 GB storage, and a 6TB transfer rate Bandwidth.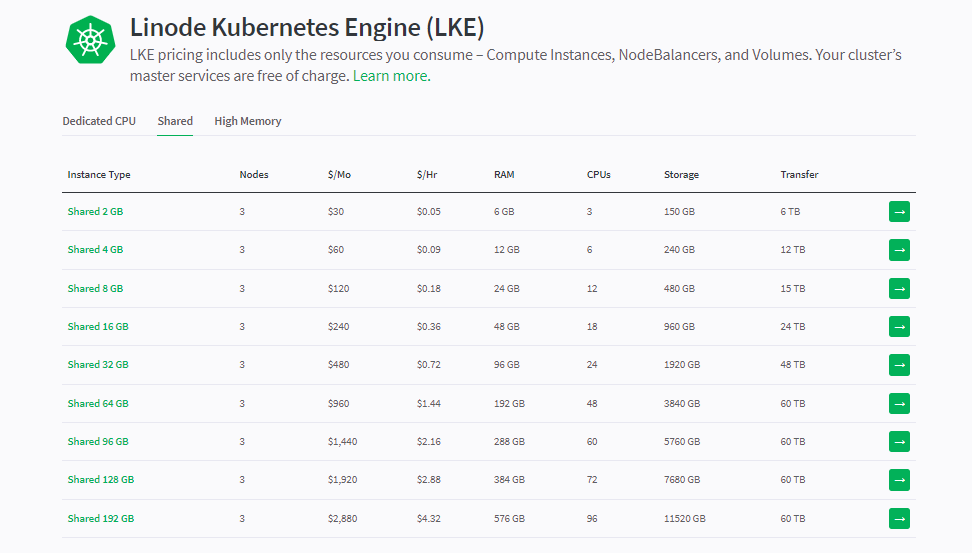 Dedicated LKE Plans:
The dedicated CPU has also 9 options with a constant amount of also 3 nodes for all plans, and the first plan starts at $90/month and gives you 6 CPUs, 12GB RAM, 240GB storage, and a 12TB transfer rate.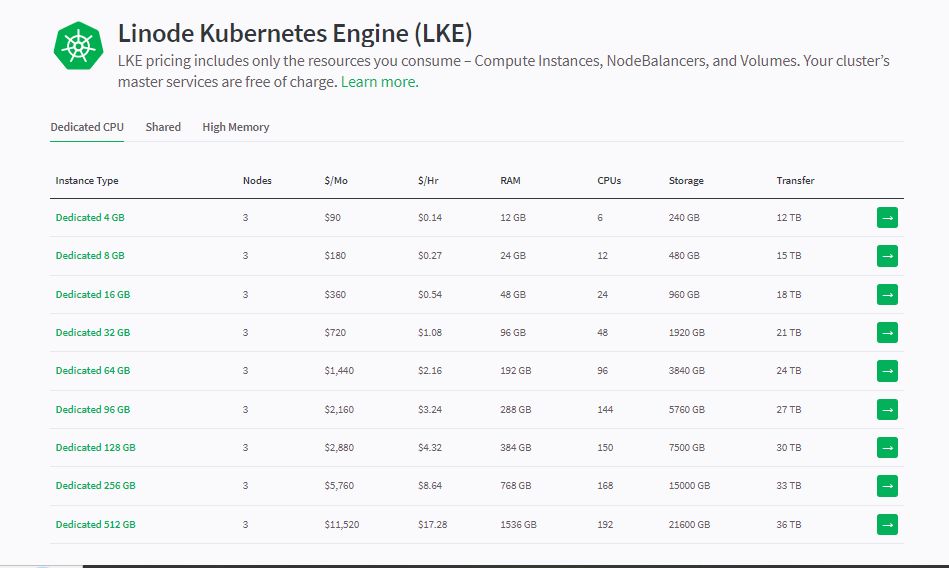 Dedicated LKE Plans:
The last option is the high memory option which has only 5 plans with a constant amount of also 3 nodes for all plans.
The first plan starts at $180/month and offers 6 CPUs, 72GB RAM, 60GB storage, and 15 TB bandwidth resources.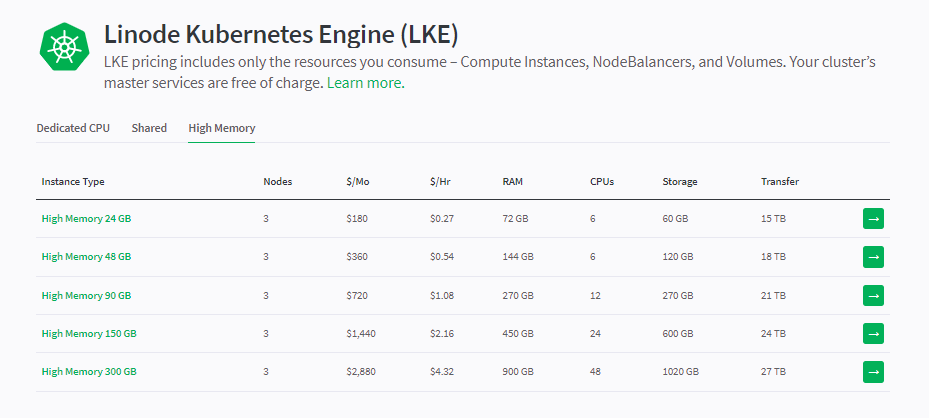 Conclusion: Which is Best For You
Linode has various computing product options that can be applied by anyone regardless of their needs.
The shared cloud VPS plans suit small to medium applications and website businesses that do not require that much memory or CPUs.
The dedicated CPU plans are best for CPU-intensive projects or applications.
The High memory plans are the best choice for memory-intensive applications that require a decent amount of RAM.
The GPU plans are more for complex applications that require more GPU resources such as online render engines.
and finally, the Linode Kubernetes Engine plan LKE that acquires you with quick easy Kubernetes cluster placement. For running multiple nodes and managing it through one API.
Read also DigitalOcean vs Vultr vs Linode comparison.