You may not have known that both BlueHost and HostGator are owned by the same company, Endurance International Group (EIG). Still, there are major differences between them.
If you are confused about which web host to choose Bluehost or Hostagter web hosting providers, in this in-depth comparison, you will not be confused anymore and you will figure out which one is best for you.
About Bluehost and HostGator
Bluehost was founded in 2003, it's one of the world's largest -if not the largest- web hosting providers with over 2 million websites hosted on its servers. Read BlueHost review.

HostGator is one of the well-known web hosting providers among small and medium businesses, it provides reliable web hosting for shared hosting.
Ease of Use
Bluehost's dashboard is simple and clean, no need to learn how to deal with it. Even if it's your first time using Bluehost, you can go through the process of managing your websites and domain names with ease. In general, BlueHost is a user-friendly platform.
HostGator, on the other hand, is also an easy-to-use platform. Its design is not as clean as Bluehost however, any beginner can go through its platform and manage his services with them. Once you go through the first Sign up process, you are good to go.
Web Hosting Plans
Both BlueHost and HostGator offer the same plans, they are Shared plans, WordPress plans, VPS plans, Reseller plans, and Dedicated servers.
It's worth mentioning that Bluehost shared hosting offers only 1-year and 3 years tiers. While on HostGator, you can sign up for 1 month and 6 months, in addition to the 1 and 3 years choices.
Since these web hosting providers are good at providing shared plans, we only recommend going with their shared hosting plans.
Shared Hosting Pricing
From first looking at their shared hosting prices, you might think that HostGator is a little cheaper than Bluehost. But, this is not the case.
The prices Bluehost displays are for the 1-year subscription, and HostGator displays the 3 years subscription.
HostGator's 12 months is a little expensive, but you can't see it unless you click on Buy now to see the 12 months tier pricing.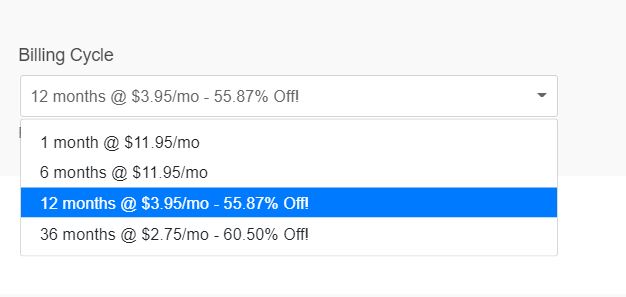 Let's break it down.
In this pricing example, we took the lowest-pricing shared hosting plans, BASIC on Bluehost and Hatchling on HostGator.
| | | |
| --- | --- | --- |
| Plan Tier | BlueHost Pricing | HostGator Pricing |
| 1 month | – | $11.95/mo |
| 6 months | – | $11.95/mo |
| 12 months | $2.95/mo | $3.95/mo |
| 36 months | $4.95/mo | $2.75/mo |
From the table above, you can see that the best deal in terms of pricing is provided by HostGator. Which is 36 months subscription for $2.75 per month. That's
But if you want to go with an annual subscription, BlueHost has the best deal which costs $2.95 each month.
Features
We see many free features introduced by shared hosting companies that are not in other web hosting providers specified to be providing other types of web hosting.
HostGator and BlueHost do provide a bunch of free and paid features to their customers. Let's see the features that they provide on their shared hosting plans.
| | | |
| --- | --- | --- |
| Performance | BlueHost | HostGator |
| Free Domain | Yes | Yes |
| Free SSL | Yes | Yes |
| Free CDN | Yes | Yes |
| Unmetered Bandwidth | Yes | Yes |
| Unmetered Disk Space | No | Yes |
| Free Business Email | No | Yes |
| 1-Click WordPress Installation | Yes | Yes |
| Free WordPress Migration | Yes | Yes |
| Website Builder | Yes | Yes |
From the table above, we see that both hosting providers offer great free features. But when it comes to the best, HostGator is winning here.
Performance
Web hosting performance is a key factor in determining the success of an online business, it is one of the most important factors for any website. The web hosting service should be able to provide high-quality performance and connection between the server and the user.
The performance is not only limited to the speed of your website loading, but also includes a range of other factors like uptime, security, and more. A good web hosting company will offer you all these benefits and more as part of their package.
Uptime:
Web hosting uptime is the percentage of time a web server is running. It's important for your website to have a high web hosting uptime because it tells your visitors that you are reliable, and it will encourage them to visit your site more often. It's also a crucial part of SEO as it leads Google to rank your website higher or lower.
Bluehost does not mention its uptime clearly, but on tests, it performs 99.8% uptime. While HostGator has a 99.9% uptime.
Loading speed:
A website's loading speed has a significant impact on how much time a visitor spends on the site. A slow loading speed will result in fewer page views and conversion rates. As well as a significant decrease in how many Googlebots will likely visit and crawl your website.
Bluehost always lacks behind HostGator in terms of web page loading speed. This is considered the biggest con of BlueHost and they need t fix it soon.
Security:
Security is a major concern for any website. Web hosting providers need to be extremely careful about how they store data, and how they protect it.
Both web hosts run malware scans and distributed denial-of-service (DDoS) in addition to the SSL certificate.
Data centers:
Web hosting Data centers are the backbone of a website. They are responsible for storing, processing, and delivering content to the end user.
The closer your website hosting server is to your clients and visitors, the better the loading speed and performance of your website.
Bluehost has six data centers in four different countries, they are:
Utah, USA Data Center
Orem, USA Data Center
London, UK/Europe Data Center
Mumbai, India Data Center via
China, Shanghai, Data Center
China, Hong Kong, City Data Center
While HostGator has two data centers, both of them are in the united states, they are:
Utah, USA Data Center
Houston, Texas
Other locations but they didn't mention it clearly. So, we will not consider them.
| | | |
| --- | --- | --- |
| Performance | BlueHost | HostGator |
| Uptime | 99.8% | 99.9% |
| Loading speed | Slow | Fast |
| Data centers | 6 | 2 |
| 36 months | $4.95/mo | $2.75/mo |
WordPress Integration
Both Bluehost and HostGator integrate with WordPress websites smoothly, they have the 1-click WordPress installation on their dashboard so you don't have to worry about installing WordPress by yourself.
Setup WordPress in Bluehost is very easy and fast, once you enter your account in Bluehost, navigate to (my sites), then add a site, choose WordPress and you are good to go.
In HostGator, it's a little bit different, you will need to enter your cPanel dashboard. However, you only do it once for any site, once you make your website it'll be easy to access your WordPress site at any time.
Support
Bluehost and HostGator provide 24/7 support via live chat, calls, and email. They are both good at that if you are a beginner and you think that you will need some assistance.
So, it's a win-win for both.
Backups
The backups are what guarantee that if you lost your website data, you can cover it easily. Without the backup of your website files, if you lose your files for any reason you won't be able to get your website back.
With that being said, Bluehost offers to back up your website but doesn't offer it for all shared plans, you will have to sign up for the CHOICE PLUS plan or the PRO plan to get an automated backup for free.
HostGator's automatic backup service runs once a week on a random day, and each run overwrites any previous backups. Only one week of backups is kept at a time.
Cancellation: Money-Back Guarantee
Both HostGator and Bluehost offer a 30-day money-back guarantee. If you find that any of them is not a good choice for you, you can cancel your account subscription within 30 days of signing up.
If you buy other things like domain names, you will be charged the money they cost from the refund cash.
Conclusion
Bluehost and HostGator are web hosting services owned by one company but under 2 different names.
Both hosts are great for beginners to medium websites and businesses. But, if you are to choose one, we recommend HostGator. See the table below.
| | | |
| --- | --- | --- |
| Comparison term | Bluehost | HostGator |
| Ease of use | Easy | Easy |
| 12 months of shared hosting | $2.95/mo | $3.95/mo |
| 36 months of shared hosting | $4.95/mo | $2.75/mo |
| Free domain, SSL, CDN | Yes | Yes |
| Free site migration | Yes | Yes |
| Free Business Email | No | Yes |
| Uptime | 99.8% | 99.9% |
| Speed | Slow | Fast |
| Number of data centers (servers) | 6 | 2 |
| Automated Backups | Not all plans | Yes |
| Chat, phone call Support | Yes | Yes |
| Unlimited bandwidth | Yes | Yes |
| Money-back guarantee "refund" | 30 days | 30 days |
Bluehost or Dreamhost comparison table
Read also: Bluehost vs Dreamhost