Are you looking for a cloud web host that is reliable, fast, and cheap? In this Vultr review, I'll show you exactly how Vultr can meet your demands.
Vultr is a popular cloud hosting provider that offers a wide range of services, including virtual private servers (VPS), dedicated servers, storage, and more.
With its global network of data centers (28 server locations), Vultr promises fast, reliable performance, and easy scalability. But how does it stack up against the competition?
In this review article, we'll take a closer look at Vultr's features, pricing, and performance to see if it's the right choice for your hosting needs.
Vultr is an American global cloud hosting service that provides reliable and high-performance cloud hosting solutions. It's an affordable and scalable hosting provider, it provides many cloud hosting products and a large variety of applications including WordPress.
Vultr started its journey in 2014 with a mission to authorize developers with seamless cloud infrastructure. From the time it was launched till 2021, it deployed over 45 million "instances" cloud servers.
With prices starting at $2.50 per month, you can host your online businesses on Vultr servers and monitor their performance and security.
What is Vultr Best For?
Vultr is best for developers who want to build their apps on a strong and reliable web hosting platform to make sure that their apps are running smoothly and stably.
It is best for web applications resellers "freelancers" who want to build multiple websites on a platform that makes deploying servers and apps an easy task to do, at the same time at affordable prices.
Vultr is also best for website owners who grew their website traffic tremendously and want to upgrade their website hosting type from shared to cloud hosting so that their websites can handle the traffic they get every month.
It's also best for website owners that want cloud hosting that is cheaper than other managed hosting.
Vultr is best for beginners who are willing to learn how to host and install WordPress on a cloud computing service in order to get the best results for their websites from the beginning. Read how to install WordPress on Vultr?
What Makes Vultr Stand Out?
There are many things to review and consider about Vultr that makes it stand out from the crowd. These things make Vultr a more adorable cloud computing option for a lot of developers and users. Mentioning some:
Vultr is a cloud hosting solution, which means your servers are always well-protected and covered. Also, the performance of the servers is great.
Pay-as-you-go payment system, which means you pay only for the resources you consume. If you launched a server for one day, you will be charged for that particular day.
Vultr has 28 data centers around the world, you can choose to host your website in any of the 28 locations you want.
Has many web hosting products, from cloud-shared CPUs to optimized cloud CPUs to dedicated servers and more. You can choose the best suits your needs.
Clean and easy-to-navigate admin dashboard, that helps beginners to work with Vultr without much knowledge.
With one click install method, you can install every application you want on Vultr instances on a wide variety of operating systems. This includes CentOS, CoreOS, Debian, Fedora, FreeBSD, OpenBSD, Ubuntu, and Windows.
While you can use Vultr's SO "operating systems", Vultr also lets you upload and manage your own custom ISO on its servers.
Vultr is always growing, from time to time you find that it has added a new product, a new web hosting plan, or a new data center.
Pros and Cons
Here are the most important Pros and Cons that you might need to know before you dive into the Vultr review:
Cloud Compute Plans and Pricing
Vultr provides many products on its platform from web hosting to storage and volumes that will help Vultr users to scale up their businesses. One of these products are Vultr Cloud Compute (Cloud VPSs).

What Is Vultr Cloud Compute:
The Vultr Cloud Compute is a Virtual Machine that runs on top of shared CPUs. This is the most used product among all products that Vultr provides.
On Vultr Cloud Compute you get dedicated resources such as RAM, Processor, and Bandwidth on a shared hardware CPU.
This product is cheap and affordable, it has three cloud hosting plans you can choose from these plans are:
Vultr Cloud Compute is best for running blog websites, small and medium-sized business websites, CMS applications, personal websites, and more.

Vultr Cloud Compute has four main plans, they are Regular Performance, Intel and AMD High Performance, and High Frequency.
First: Regular Performance:
In this plan, you get dedicated resources on Intel CPUs and a regular SSD. This plan's prices start at $2.50/month, and for that amount of money you get a server with 1 CPU, 500 MB RAM, 500 GB Bandwidth, and 10 GB SSD Storage.
The resources you get on this plan are quite enough for a new or small website. But the thing is with this plan, you don't get a public IP address "iPv4" you only get an "iPv6" IP address.
Also, you are not offered the 1-click application installation including WordPress on this small server, only the plan starts at $5.00/month and above. So, it's not recommended to deploy the cheapest one.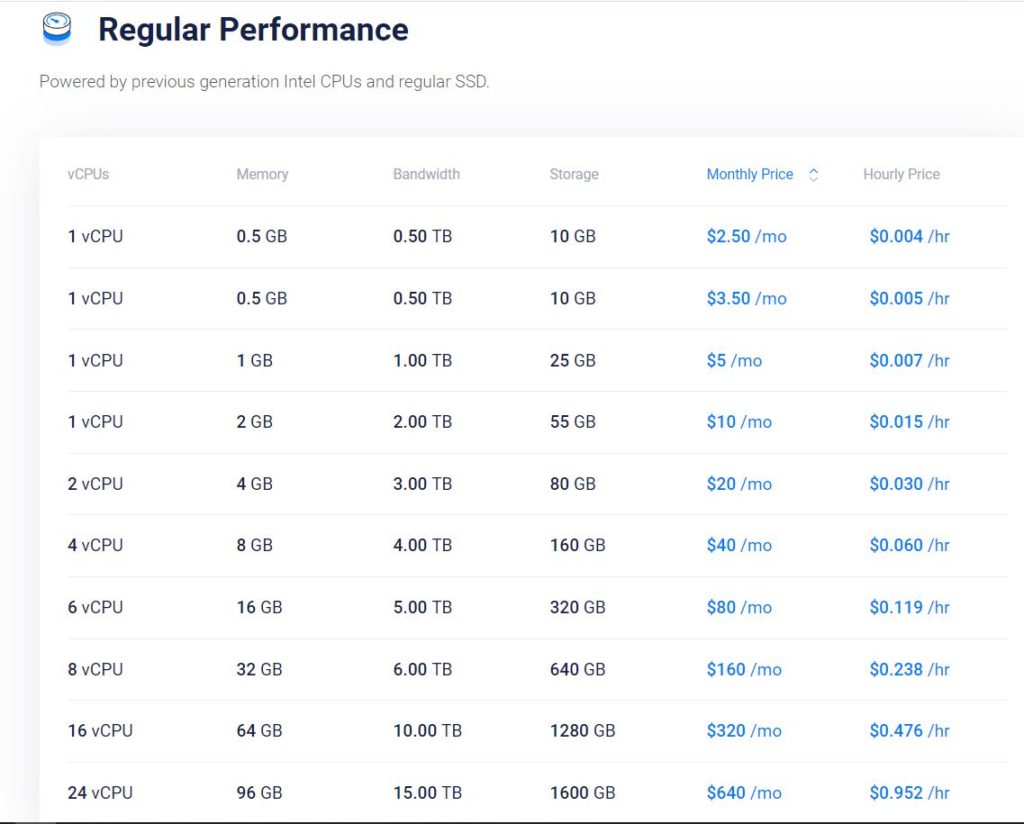 Second: High Frequency:
This plan is more powerful than the regular plan. It is powered by the new 3GHz+ Intel Xeon CPUs and the fast NVMe SSD.
This Vultr High Frequency cost 20% more than the regular plan. For a server size of 1 CPU, 1 GB RAM, 1 TB Bandwidth, and 32 NVMe SSD storage space, it costs $6/month.
Although the difference between the regular SSD and the NVMe, in reality, is part of a second, If you really want the best results for your application consider using the High Frequency.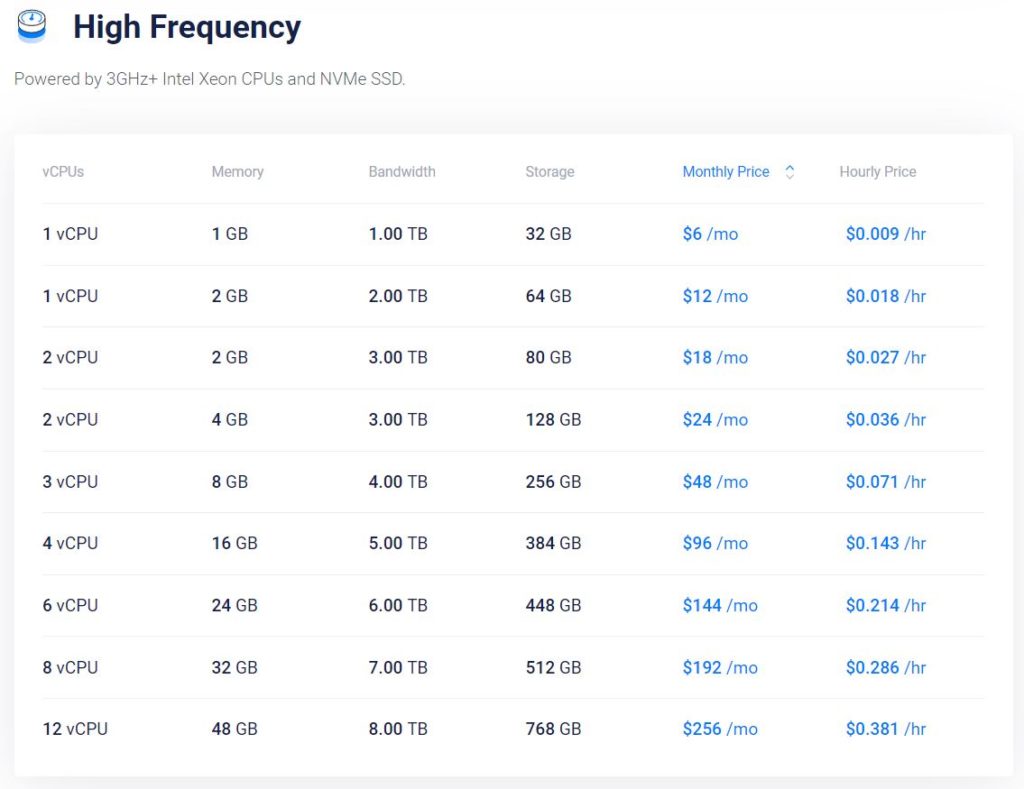 Third: High Performance:
The Vultr High-Performance plans are a bit different from the Vultr High-Frequency plans. In the High-Performance solution, you get to choose the vCPU you want, either AMD EPYC or Intel Xeon CPUs.
This plan is powered by new generations of AMD EPYC or Intel Xeon CPUs and NVMe SSD. This plan's pricing starts at $6/month, and for that, you get 1 CPU (either AMD or Intel), 1 GB Memory, 2 TB bandwidth, and 25 GB NVMe SSD disk space.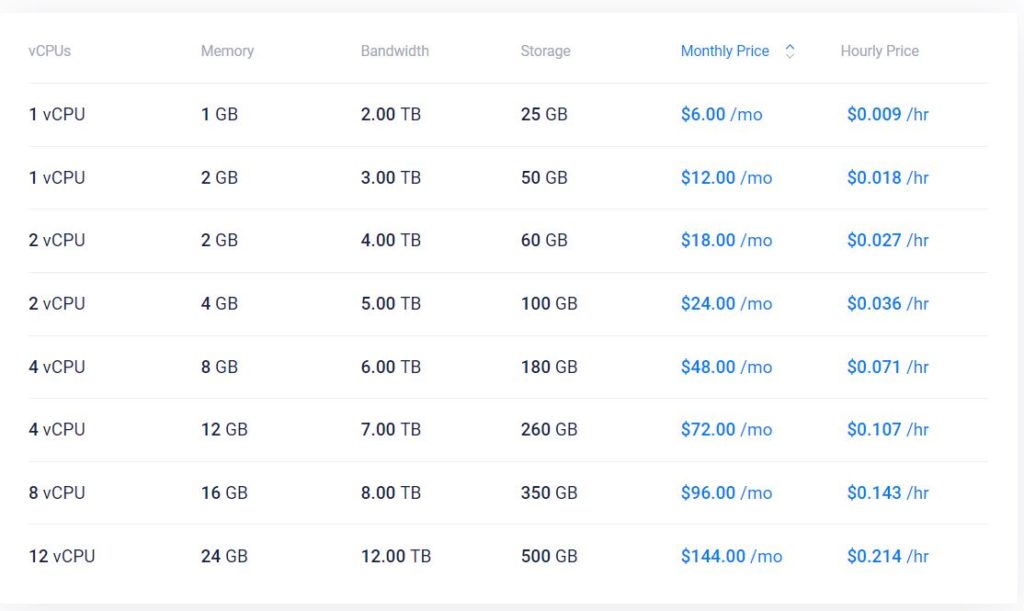 How to Get Started with Vultr?
First, signup for Vultr. Go to Vultr.com and create an account, add your payment method then verify your account.
Next, deploy the server you want. From four different types of servers, you can choose what suits you best and then select the region from different 24 regions.
Next, choose the server operating system then select the server plan and size. Lastly, add additional information to the server and click deploy.
Finally, you need to configure the server you create.
Read how to:
Install WordPress on Vultr.
Install PHP on Vultr.
Performance
An extra half a second in page load time can lead to as much as a 20% drop in traffic. And now website performance is one of the factors that may or may not move up your website ranking.
A well-optimized website has a bigger chance to rank higher on search results than the ones with bad performance and optimization.
Therefore, the Web host's performance should be great in order to deliver a great website performance.
Vultr loading speed:
The website loading speed is one of Google's criteria that determines if your website should rank or move down. Also, no one is willing to wait a long time to get the information you provide while there are others providing the same answers. So, no customers no money.
For making this Vultr review happen, we deployed a server and installed WordPress on the $6 plan High Frequency, installed the Blocksy theme.
Also, we imported a heavy starter website with many high-quality images and with no CDN setup or WordPress optimization and ran speed tests.
From the speed tests shown below, it has been confirmed to us that Vultr is delivering very fast servers.
Google Speed Insights desktop result: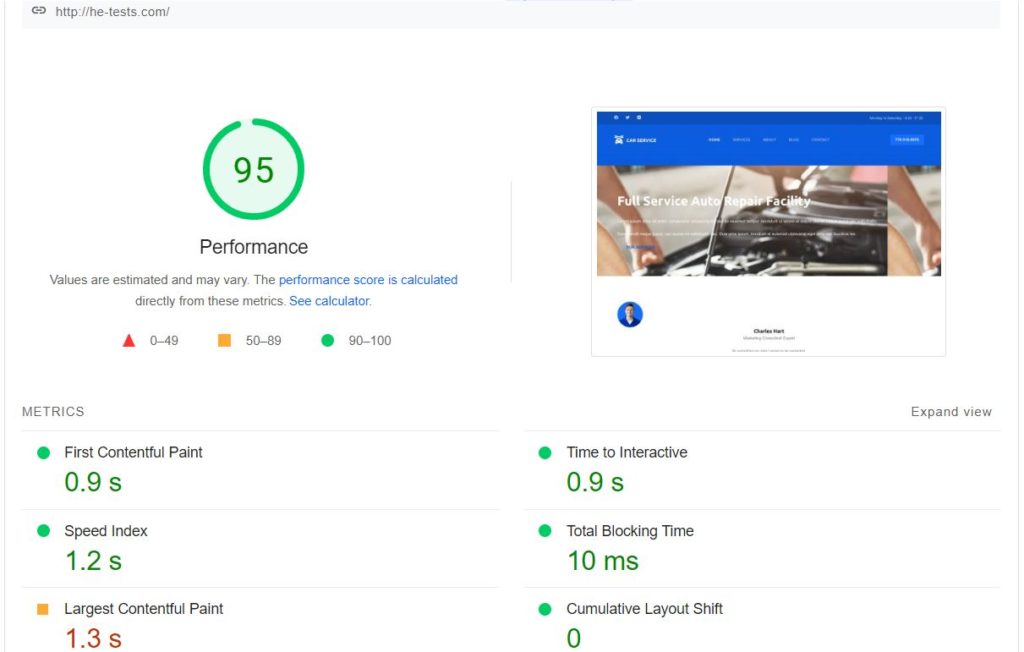 GTmetrix speed result: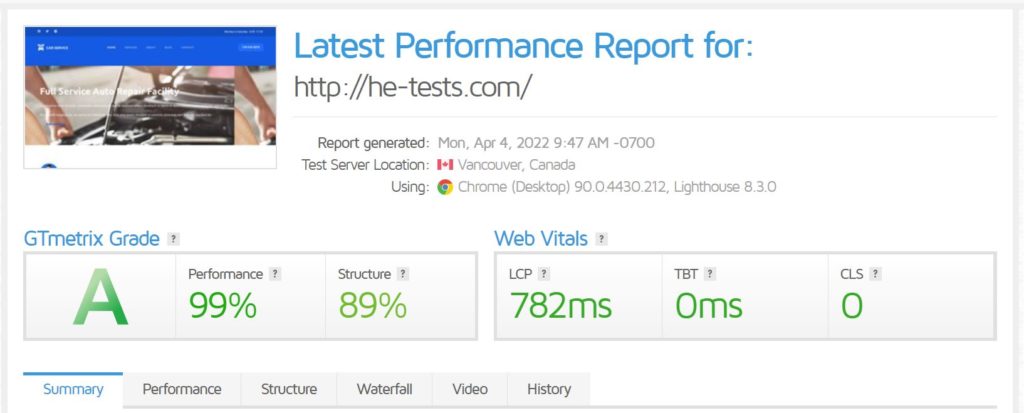 Pingdom Speed result: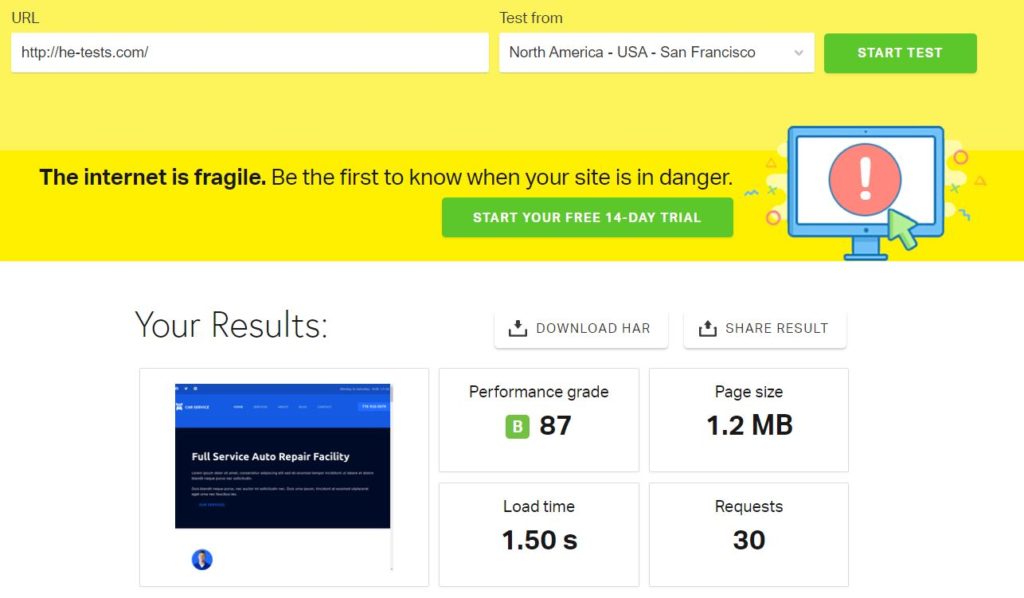 Vultr uptime:
A 100% means that the website has never gone down. The uptime of a website is the time that website is up and running. So, the uptime of a website is very important.
Vultr offers a 100% uptime guarantee on network and host node availability (servers). If Vultr fails to deliver a 100% uptime guarantee, your account will be eligible for credits based on any affected instances.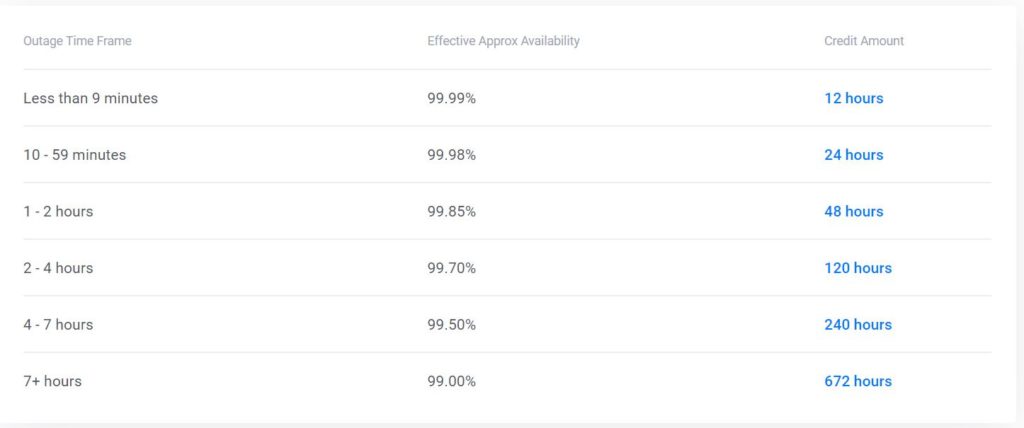 Data Centers (Server Location):
Data centers play a crucial role in determining the latency of a cloud hosting provider. Latency refers to the amount of time it takes for data to travel from the user's device to the server and back. The closer a data center is to the user, the lower the latency will be.
Vultr cloud computing has 28 data centers in 17 different countries around the world and this number is increasing.
That means you get a better chance with them to have the closest datacenter to your customers.
Marketplace
The Marketplace provides a collection of popular applications, software stacks, and operating systems that you can deploy to your servers such as WordPress.
Vultr marketplace has almost every app you might need in their marketplace. All you want to do to use their apps is to deploy the server and choose the marketplace to install it on top of the operating system of the server.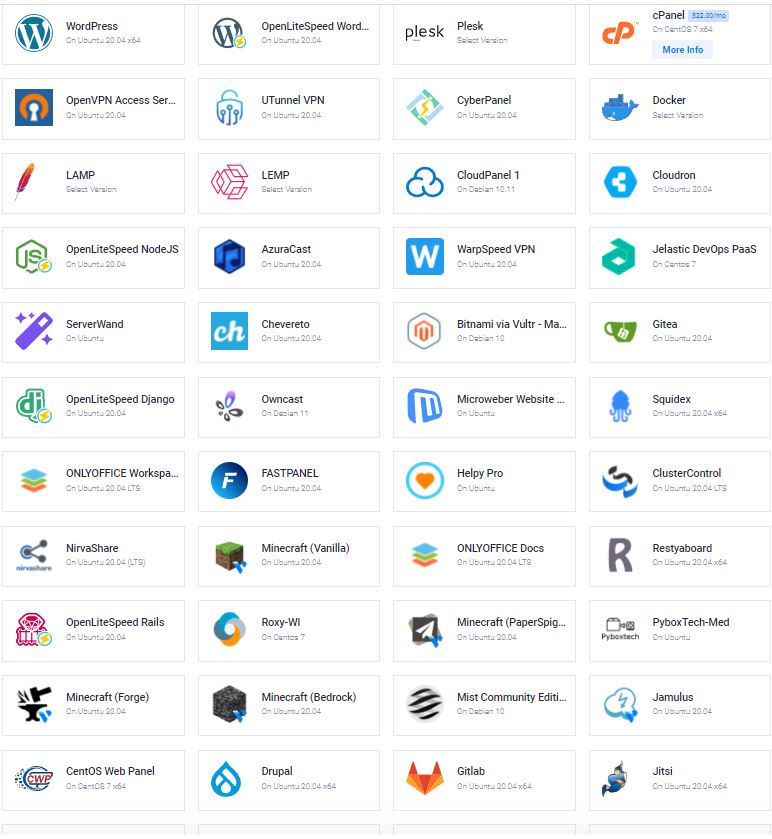 Support
Regardless of the Docs, and Vultr community, the only way to contact Vultr customer support is by email. That's why we call it an unmanaged cloud host.
Yes, Vultr has huge community FAQs, and documents, if that doesn't help you, then the only way to contact Vultr is to submit an email ticket.
Vultr Alternatives
Vultr has got 2 more competitors trying to deliver the same instances and services head to head with it. They are in the race to beat each other.
DigitalOcean is a leading cloud service provider that provides reliable and high-performance cloud infrastructure. Read DigitalOcean review.
Linode is a cloud hosting company based in the United States that provides virtual private servers. Read Linode review.
Read the DigitalOcean vs Vultr vs Linode comparison.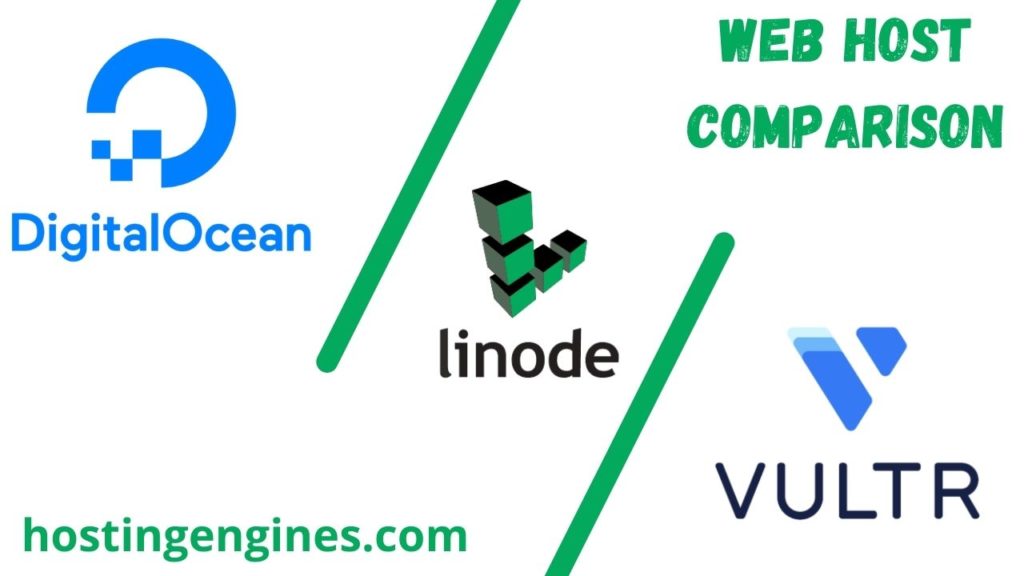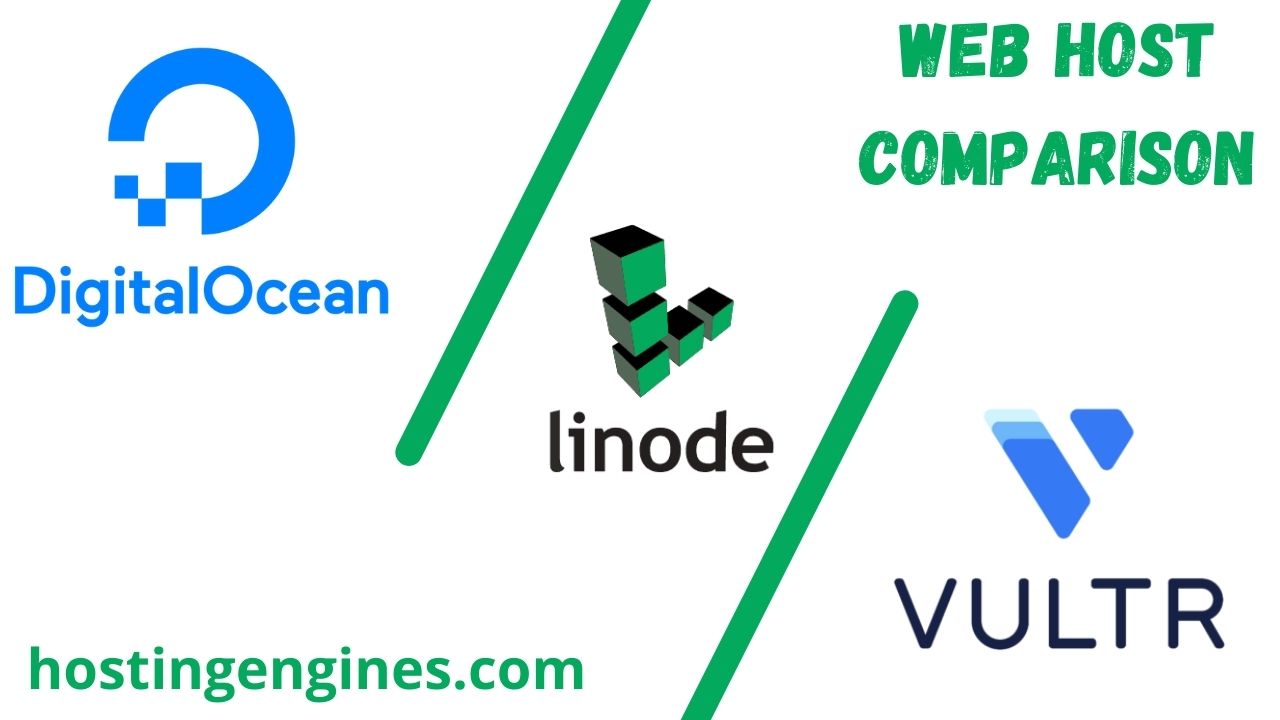 Vultr Review: The Conclusion
Vultr is a solid choice for those in need of cloud hosting services. Its global network of data centers offers low latency and fast performance, making it a great option for businesses that rely on fast-loading websites or mobile apps.
The company also offers a wide range of services, including virtual private servers, dedicated servers, and storage, which allows for easy scalability. The pricing is also competitive, with flexible options to suit different budgets.
However, it is important to note that Vultr's support may not be as extensive as some shared hosting providers.
Overall, Vultr is a reliable and affordable cloud hosting provider that is worth considering for your hosting needs. We recommend Vultr for developers and passionate beginners who want the best for their websites.
Read how to install WordPress on Vultr?
Frequently Asked Questions
The following questions are the most asked questions about Vultr.
Is it easy to install WordPress on Vultr?
Yes, it's easy to host and install a WordPress website on Vultr's servers. All you need to do is to sign up for Vultr, next deploy a server, and choose the WordPress application from the marketplace while you are configuring the server.
Use this guide to know how to install WordPress on Vultr VPS.
What payment methods does Vultr accept?
Vultr accepts Visa, Mastercard, American Express, Discover, JCB, BitPay (BTC, BCH, ETH, DOGE, PAX, BUSD, LTC, USDC, GUSD), Alipay, UnionPay, and PayPal. Depending on your geographic region, Paypal supports additional payment networks, including Giropay and bank transfers.
How much does it cost to enable automatic backups on Vultr?
The backups on Vultr costs 20% of a server plan. If you deployed a $10/month cloud server, you will be charged $2/month on top of the server cost, and that would be $12/month.
Can I upload my own operating system ISO to Vultr?
Yes, with the Upload ISO feature, you can upload your own bootable operating system image, mount it onto your instances and run through the setup process.
Does Vultr offer managed hosting?
No, your instances grant you full root access and are entirely self-managed. You do all the configuration by yourself. However, if you like Vultr that much, you can sign up for Cloudways and get a managed cloud server on Vutlr from their platform.
how much does Vultr Block Storage Cost?
Vultr Block Storage costs $0.1/month for every 1 GB SSD. 40 GB block storage will cost you $4 per month.