Vultr cloud host offers a $2.50 plan on its Cloud Compute product. An entire server with dedicated resources you can setup and use to host your application or website.

Sounds weird and frugal to get an entire server for just $2.50 a month? that's why we tested it out to see if it's legit or if it's just a way to get you to sign up for Vultr.
Speaking of signing up for Vultr, you can use our link to get $100 free credit on Vultr.
By the end of this review, you will know everything "Pros and Cons" about the Vultr $2.50 plan, also you will learn how to setup and run a server on this plan. Here's what will discuss in this review
About Vultr
Vultr web hosting provider is one of the leading cloud computing companies. Vultr cloud host offers a variety of services and products and provides reliable web hosting services.
By now, Vultr has 25 data centers in 15 different countries around the world and this number is constantly increasing.
Not just that, Vultr promised to deliver a 100% uptime guarantee which is incredible. Read Vultr Review.
Now let's see what the $2.50 Vultr plan is all about.
About the Vultr $2.50 plan
The Vultr $2.50 plan is one of the plans that Vultr offers on its Cloud Compute Plan. The Cloud Compute plan offers a dedicated resources server on a shared environment(CPU).
This is the cheapest cloud web hosting you can find.
This plan provides a server with resources of 1 CPU Processor, 500 MB RAM, 500 GB Bandwidth, and 10 GB storage space. This server size is more than enough for hosting 1 new website with a few visits every month.
But, is this the whole story?

How to deploy a server on the Vultr $2.50 plan
To deploy a server on the Vultr $2.50 plan head to the Vultr.com and sign in.
Next, click Deploy New Server, choose the Cloud Compute product, and then choose the Regular Performance plan.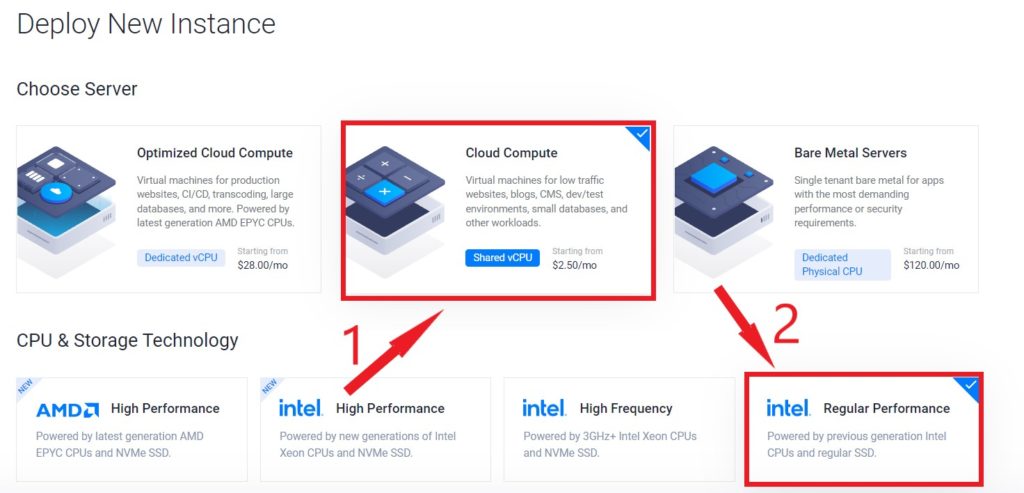 Next, choose the Server Location. Keep in mind that the Vultr $2.50 plan is not available in all locations. It's only available in the Atlanta-United States and New York (NJ) data centers. And sometimes in the Miami data location.
Choose one of the available locations, the one that is closer to your target audience, and move on to the next step.
Next step, choose the Server Image " the operating system of your server".
Unfortunately, you are not allowed to install any of the Vultr applications on this plan, you have to do it manually.
Lastly, complete the server setup and click Deploy Now. Read how to deploy a server and create a WordPress website on Vultr step by step.
The Pros and Cons of the Vultr $2.50 plan
All that you have read above explains the Vultr $2.50 plan and its mechanism only. Now let's see and determine if you may or may not want to use this plan. This the Pros and the Cons of this plan.
The Pros
It is cheap. It provides you with a server that has everything you need when it comes to resources.
Enough server resources for one application. With this plan, you get a decent server size that you may not find in other web hosting providers.
The Cons
Available only in four data centers. This 2.50-dollar plan is not available in all of the 25 data centers that Vultr has. Currently, it is only available in the Atlanta-United States and New York (NJ) data centers. And this may change in the future.
1-click install WordPress is not Allowed. The WordPress one-click install is not an option on this plan, in fact, when you choose any of the applications that Vultr Provides, the Vutlr $2.50 plan will not be applicable.
This plan provides only IPv6 instead of the common IPv4. The IP address is the numerical label assigned to your server to identify your server. Without an IP address, it's difficult for users to find your application and website.
IPv4 is an IP version widely used to identify devices on a network using an addressing system.
With the IPv6 protocol, you will only be able to remotely connect to your server. Also, some ISPs do not yet support the IPv6 protocol.
Anyway, if you think this is a good plan to start with you can always upgrade to a larger Vultr plan that has the IPv4 protocol or attach an IPv4 address for an additional cost.
Vultr $2.50 plan: The Summary
Vultr is a great company among the web host companies out there. In fact, it's always recommended by our side. However, that doesn't mean that all the products they produce are great as well.
The Vultr $2.50 plan is a solution for web hosting in the end, for those who know how to work with it.
But in general, we don't recommend it for all people, if you want to create an affordable server on Vultr, try the $5 VPS plan.
Read also:
Vultr Review.
Install WordPress on Vultr.
Install PHP Script on Vultr.
Digitalocean vs Linode vs Vultr.