Do you want to install and run a WordPress website on a Vultr cloud computing instance? Well, it's a matter of minutes to deploy WordPress on a Vultr VPS server and get all the features that Vultr provides with the little money they charge for the server.
So, By the end of this tutorial, you will be able to:
Create a server on Vultr.
Install your preferred operating system and WordPress.
Point your domain name to the server.
Install a free SSL certificate.
But first, what is Vultr?
Vultr is a global cloud computing solution that provides reliable and high-performance cloud instances (servers).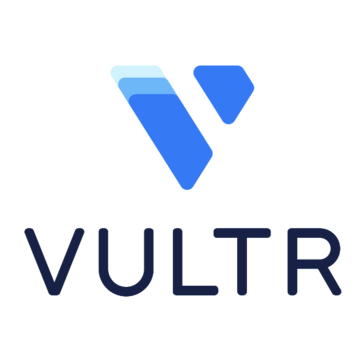 With 28 data centers, it offers the largest worldwide network, enabling you to easily deploy VPS infrastructure solutions no matter where you or your customers are.
Step One: Register a Domain Name
The domain name is the name that visitors use to reach your website instead of your IP address.
You have to have a domain name to create a website.
You can register a domain name from NameCheap, a company that is most known for registering and hosting domain names.
Try to make your domain name easy to pronounce, memorize, and write. Also, try to make it short and catchy. And don't forget, try to make it tell the story that your website will narrate.
Now that we've completed step one, let's proceed to step two of how we can install WordPress on Vultr cloud host.
Step Two: Sign up For Vultr
To sign up for Vultr web host go to Vultr.com, and you can use this link to get $100 free credit for 14 days. the credit will be applied to your account once you sign up.
When you go to the Vultr dashboard, in the middle of the page in the empty fields, enter your email address and enter a new strong password and click Create account.
This click will take you to the billing page, where you should add a payment method in order for Vultr to verify your account.
Don't forget to verify your email address. Go to your email inbox, open the Vultr verification email, then click Verify Your E-mail.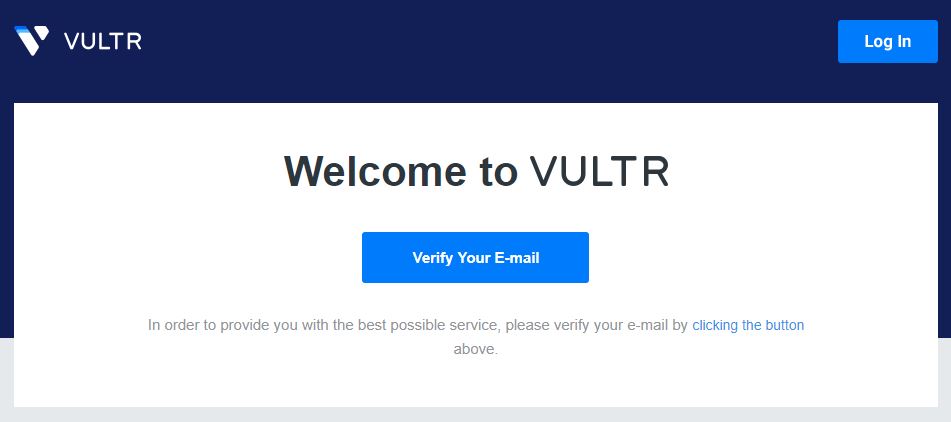 By going back to the billing page, you will notice that you have three payment options.
There is a Credit Card option, Paypal option, Crypto option, and Alipay option.
The Crypto payment option is not eligible for a first-time user. Other payment options must fund the account before making a Bitcoin deposit.
To ensure that your payment method is eligible for future payment, Vultr deducts at least $10 from your account and deposits it into your Vultr account for future use.
Once you choose the suitable payment method, agree to Vultr Terms of Service and process the checkout.

After you verify your payment, you will see on your billing page that a $100 free credit has been deposited to your Vultr account along with the $10 that you paid for verification purpose.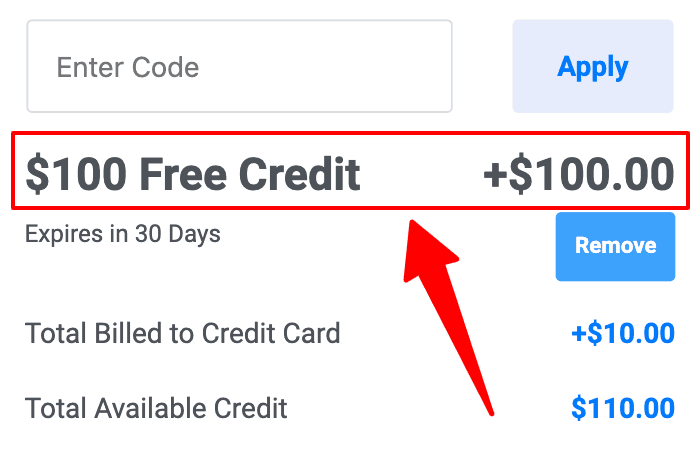 Now you are one of Vultr's customers, let's move on to step three of how to create and install a WordPress website on Vultr cloud compute.
Step Three: Deploy an Instance and Install WordPress
To install WordPress on Vultr you need first to create a server or "Instance" as Vulur calls it.
To deploy an instance on Vultr go to Products – Instance – Deploy Instance. Or hover over the (+) sign on the right side and select Deploy New Server.
Then, you will be redirected to the Deploy page.
Here are the steps for deploying a new server and installing WordPress on the Vultr instance:
1- Choose The Server:
You can choose what suits you best from the four different types of servers that Vultr provides. This includes Cloud Compute, Optimized Cloud Compute, Cloud GPU, and Bare Metal servers.
Cloud Compute: is the standard cloud computing of Vultr, typically a cloud VPS server, sharing the same physical CPU environment with dedicated resources such as RAMs, Cores, Bandwidth, and Storage space.
Optimized Cloud Compute: Virtual machines for more demanding business apps such as production websites, CI/CD, video transcoding, or larger databases.
Cloud GPU: Virtual machines with fractional NVIDIA GPUs for AI, machine learning, data analytics, scientific computing, and HPC. Powered by Vultr Talon.
Bare Metal Server: In this type of server you will get a single-tenant non-virtualized server machine. you will grant direct access to the physical servers (hardware).
2- Choose The Server Type:
You will probably need to use a VPS server which is represented by the Cloud Compute server.
In the Cloud Compute choice, you will find four types of cloud VPS servers, these are AMD High Performance, intel High Performance, Intel High Frequency, and Regular Performance.
The Regular Performance type is a pretty great choice, but if you need a more powerful server with the new Vultr technology, go with the High Frequency or the High-Performance options.
You will only pay an extra 20% of the standard cloud server plans. A plan costs $5 on Standard, the same plan costs $6 on High Frequency and High Performance.

3- Choose The Server Location:
From 25 data centers around the world, choose the closest location to your potential customer.
The closer your website is stored, the faster your server can receive and fetch data and content to your website visitors.
If you are targeting Singapore residents, then choose the Singapore server location. And if you want to target Atlanta residents, then choose the server that is inside Atlanta city.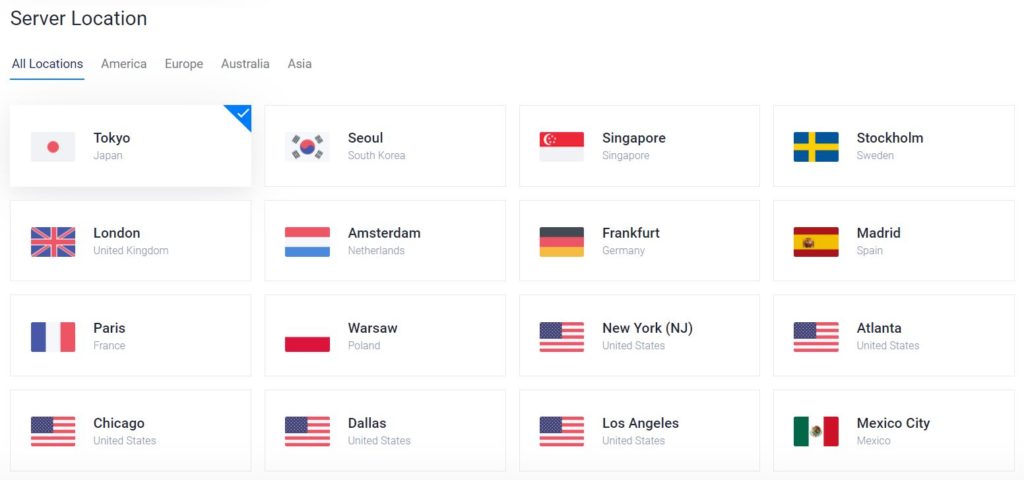 4- Choose The Server Image and Application (WordPress):
In order to install WordPress on a Vultr server, you have to choose the WordPress application from the Vultr marketplace.
Under Server Image go to Marketplace Apps, you will see right away that WordPress is on top of Vultr applications.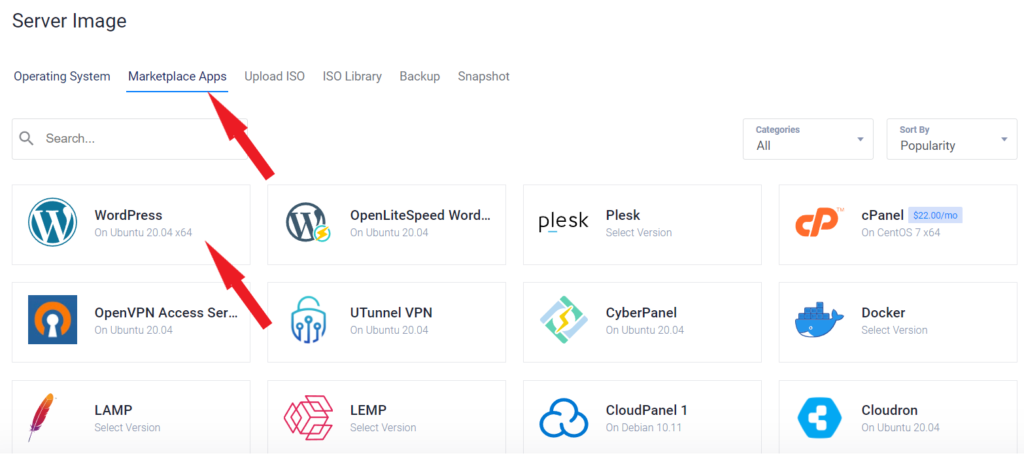 If it's not, you can search for it from the search box.
Select WordPress On Ubunto and head down to the next option.
5- Choose The Server Size:
From the many web host plans and sizes that Vultr provides, choose the one that fits your needs.


The $5/month plan provides 25 GB SSD storage and 1 TB bandwidth, which is quite enough to run a small WordPress blog.
6- Additional Features:
Just under the Server Size, you will see Additional Features options. The most important among them is the Server Auto Backup.
Backup is an essential feature, it is what ensures the safety and restoration of your website.
Without server backup, you put all the effort you put into your website at risk.
The automated backup feature on Vultr costs 20% of the server plan. A $10/month plan costs $2 backup.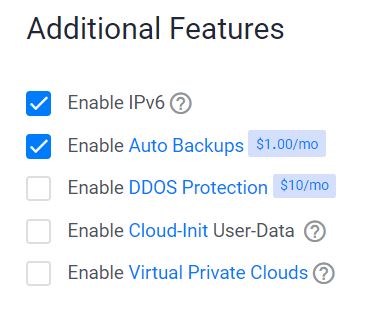 7- Add Server Name & Label:
If you are familiar with SSH keys you can add one right now or add it later. And if you don't know what the SSH key is, don't worry about that right now.
Next, enter a name for your server to recognize it later between other servers. you can use your website name.

Once you do all that, it's time for deploying the server. At the last of the page, you will see a summary of your server cost.
At last, click Deploy Now.
That is pretty much all the settings on how to deploy a server on Vultr and install WordPress on top of it.
Step Four: Know Server Dashboard
You will find the servers that have been created in the instances tab. just like the one I did create in this tutorial.
When you click the server name, it will take you to the server dashboard. This is where you control your servers and application.
Vultr Server Overview
On the overview tab, you will find all the important information about the server.
In the first section of the overview tab, you will find the Bandwidth usage, CPU usage, and the current charges of that server.
Under this statistics tab, you will find the server credentials, like IP address, username, and password. Also, you will find the server size and the operating system.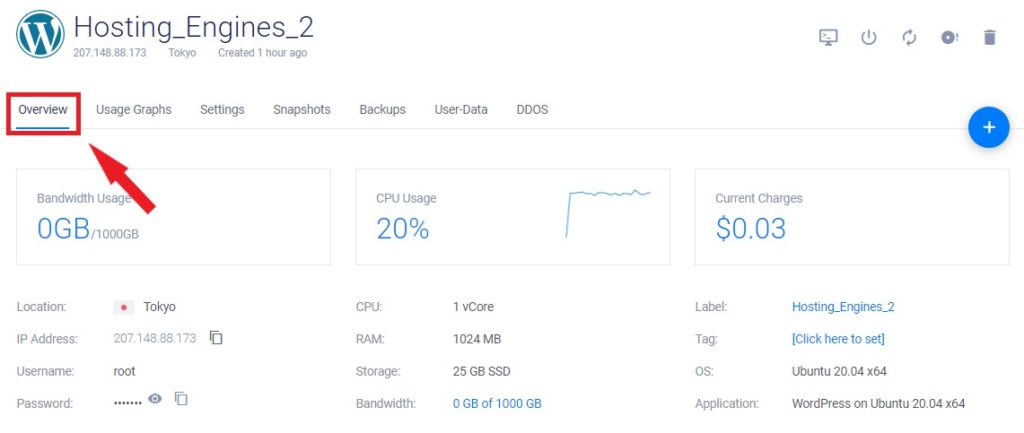 Just beneath these tabs, you will find more application information like WordPress credentials, PHPMyAdmin Details, and more details.
Now that we installed WordPress on a Vultr instance, let's complete the installation of WordPress.
Step Five: Complete WordPress Installation
To complete your WordPress installation, you need to log in to your WordPress admin panel.
To log in to your WordPress admin dashboard enter (http://your server IP address/wp-admin/) in your browser just like this one: (http://207.148.88.173/wp-admin/).
You can copy your server IP address from the server overview.
Or click the link that Vultr provides in the server overview under WordPress server details.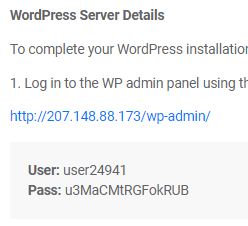 Once you do that, it will redirect you to your WordPress installation where you have to enter the username and password.
Copy the username and password that Vultr randomly created for your WordPress beneath the WordPress server Details and paste it into the empty fields on the WordPress installation page and click Sign in.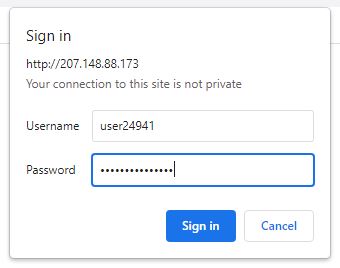 Next, WordPress will ask you to choose your WordPress language.
Next, WordPress will ask you to enter new credentials for your WordPress website site title, username, new password, and your emails.
fill in your information and click Install WordPress.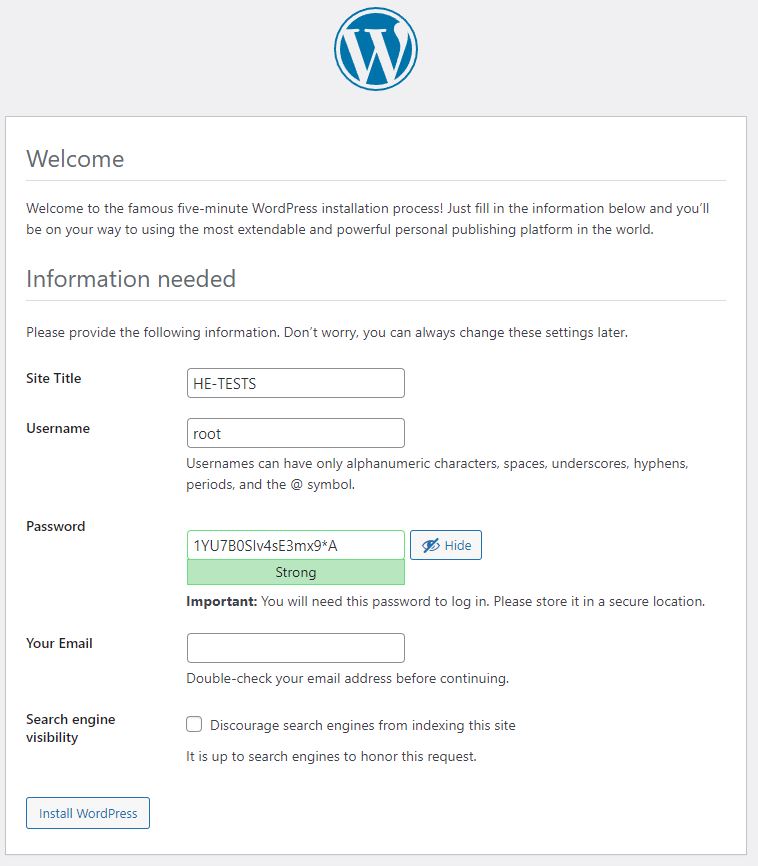 After that, you will see a window that says that WordPress has been installed successfully.
To access your WordPress admin panel click login and enter the username and password that you just created then click log in.
Now your WordPress website has been completely installed.
Step Six: Point Your Domain Name to Your Vultr Server
Now you need to point your domain name to your WordPress website so that whenever someone types in your domain name, he will be redirected to your website.
To point your domain name to your website you need to accomplish two things. First:
First: Add an "A" record:
The "A" record maps a domain name to the IP address.
So whenever someone clicks on your domain name, he will be directed to your website.
Go to where your domain name is hosted, go to your domain name, and manage the domain.
Go to the DNS settings or the advanced settings or whatever your domain name registrar calls it.

Click add a record, and select the A record.
In the Host field, add the "@" sign. This represents the origin domain.
Copy the IP address of your server and paste it into the value field.

However, if there's a new record that already exists, edit its value. Cause you can't add a new one while another one exists.
Once you do that click save changes. and now your domain name is pointing to your server.
Second: Associate Your Domain Name With WordPress:
Enter your domain name in "WordPress Address (URL)" and "Site Address (URL)" in your WordPress dashboard.
From your WordPress Admin main panel go to Settings, General.
Instead of your server IP address enter your domain name in both the WordPress Address and Site Address fields.
Next, scroll down to the bottom and click save changes.

Step Seven: Install Free SSL Certificate On Vultr Server
Your website by now should run perfectly, but it's not secured yet. So, we want to install an SSL certificate to secure your website for user impression.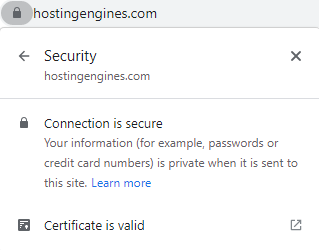 Before we go on with the SSL Certificate installation, verify that DNS has finished propagation, and the domain name is visible throughout the internet.
Next, open your server overview and click on the View Console icon.

You can use a third-party SSH terminal like Putty.
Use the root login from the Server Information screen. the username and password.
After you log in to your server root, copy this line below and paste it into the SSH terminal, and hit enter.
sudo certbot –nginx
Next, enter an email address to notify you when the SSL certificate expires and hit enter.
after that, agree to the terms of service, type in "Y" for yes, and press enter.
The following step asks you if you are willing to share your email address, enter "Y" for yes and "N" for no, and then press enter.
At last, type your domain name and hit enter. you should see a message that tells you that an SSL certificate has been successfully deployed.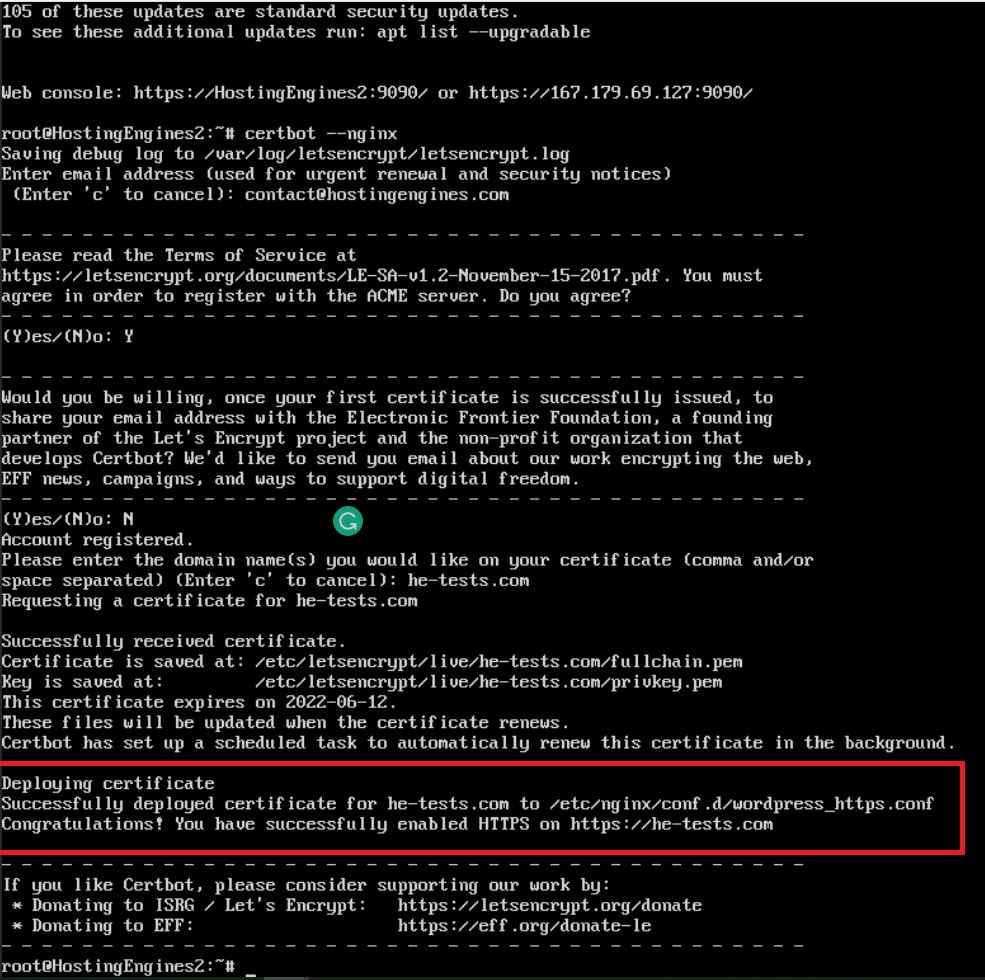 By now you should have a WordPress website installed on Vultr cloud compute and it's secured with an SSL certificate.
Install WordPress On Vultr: The Conclusion
Installing WordPress on a Vultr server is an easy task to do. In fact, Vultr made it very simple for anyone to install WordPress on their servers.
Following these steps lets you create your own WordPress website on Vultr without any help.
Read also: install WordPress on DigitalOcean
Have any issues? leave a comment.
Install WordPress On Vultr FAQs
What is Vultr used for?
Vultr is a cloud hosting company that provides hosting solutions to websites apps data and more. It's used to store data and run servers in all types and shapes.
How do I resize the Vultr server?
To resize or upgrade any Vultr server go to Products, Instances, click on the server that you want to resize, then click the Settings tab, and then click on Choose Plan. From the dropdown menu, select the plan you want and then click Upgrade.
How do I cancel my Vultr account?
To cancel and close your account on Vultr first destroy all apps and services you run on Vultr. Next, go to the Vultr support tab and submit a ticket requesting close your account.
Is Vultr better than DigitalOcean and Linode?
It depends on what you need in particular, is it the uptime guarantee, the speed, the cost, or the technology they use. Read the Vultr vs DigitalOcean vs Linode comparison.
Does Vultr cost money?
Yes, in exchange for the services that Vultr provides, it costs money. But you can use this link to get a $100 free credit on Vultr.