In this DigitalOcean review, we will cover everything you might want to know about DigitalOcean cloud computing so you get a better idea of whether DigitalOcean might be a suitable choice for you.
What Is DigitalOcean?
DigitalOcean is a leading cloud computing company located in the United States that provides cloud web and application hosting infrastructure.
It is one of the best and most famous cloud hosting providers around the globe. It provides many features products including Droplets, which are cloud servers where you can create VPS websites.
DigitalOcean focuses on providing developer-friendly platforms. However, it provides an easy interface so beginners can manage it.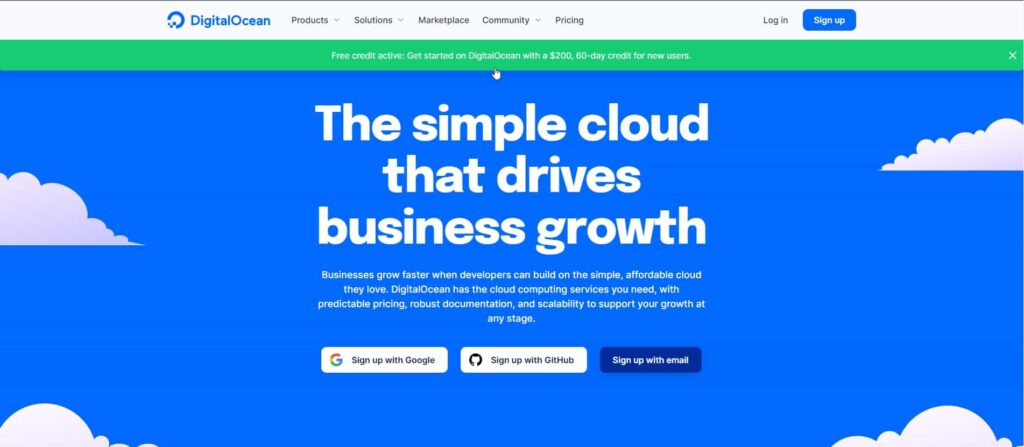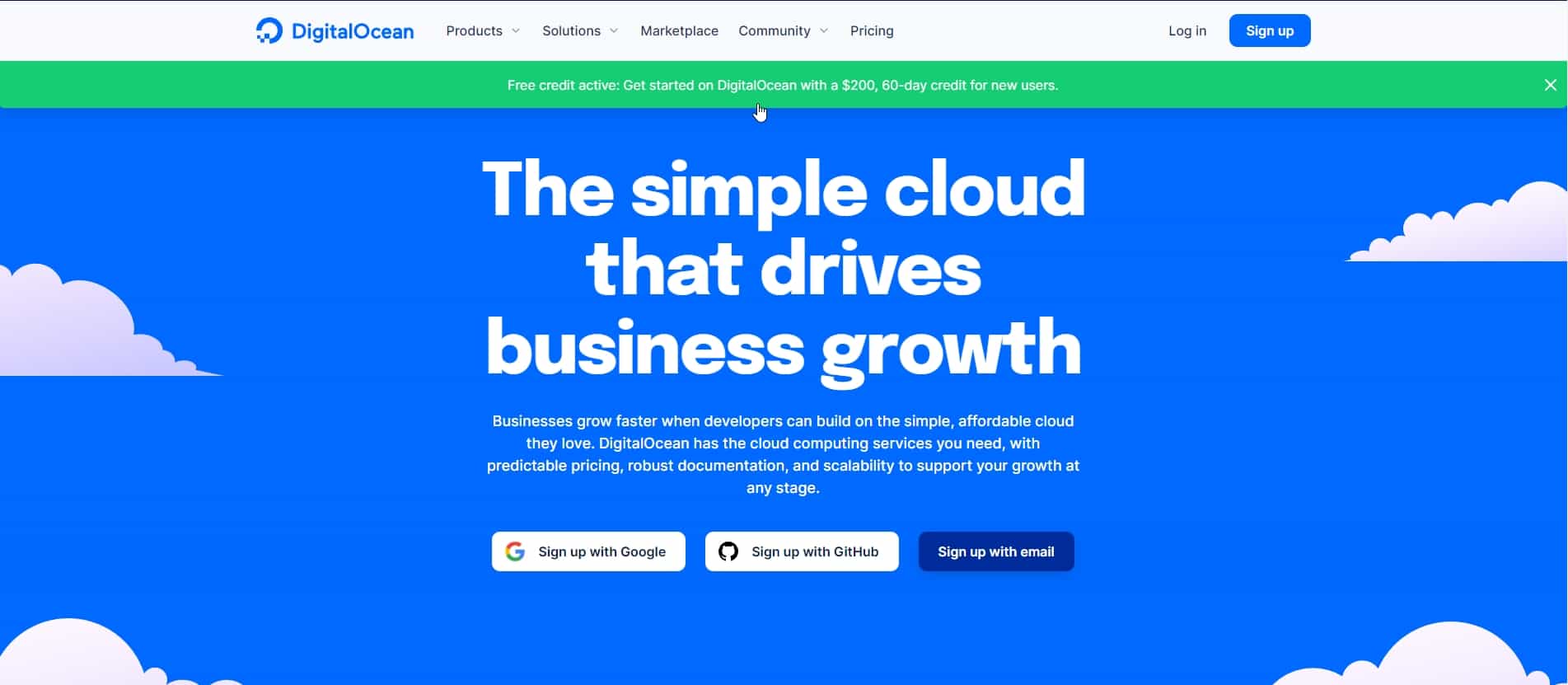 Who is DigitalOcean Best For?
DigitalOcean offers cloud computing services for developers, startups, and small and medium-sized businesses.
DigitalOcean is an unmanaged cloud hosting provider, this means you do all the server setup and configuration by yourself.
However, if you want reliable and fast cloud hosting for your website on a small budget, it's totally worth it. Read how to create a WordPress website on DigitalOcean step by step.
Pros and Cons
Pricing
DigitalOcean provides many products including Droplets, App Platform, Spaces Object Storage, Volumes, and more.
Those who want to create s websites on cloud hosting will choose Droplets or VPS (Virtual Machines).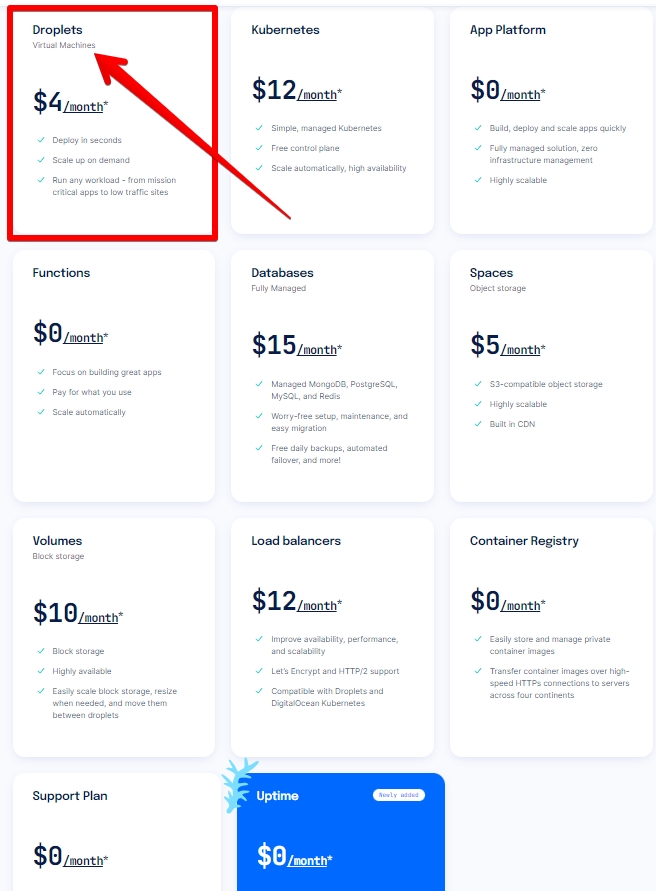 For a regular droplet that costs $6 per month on DigitalOcean, you will get a server size of 1 GiB RAM, 1 CPU processor, 25 GiB SSD storage space, and 1 TiB bandwidth. And this is quite enough for a new or a small website.
You can use our affiliate link below to get a $200 credit instead of $100.
DigitalOcean Droplets Plans:
DigitalOcean Droplets or VPS has three different plans,m these are Regular, Premium Intel, and Premium AMD.
Regular Droplets host your applications on a standard CPU and regular SSD disk, which is good enough to load your applications quite fast.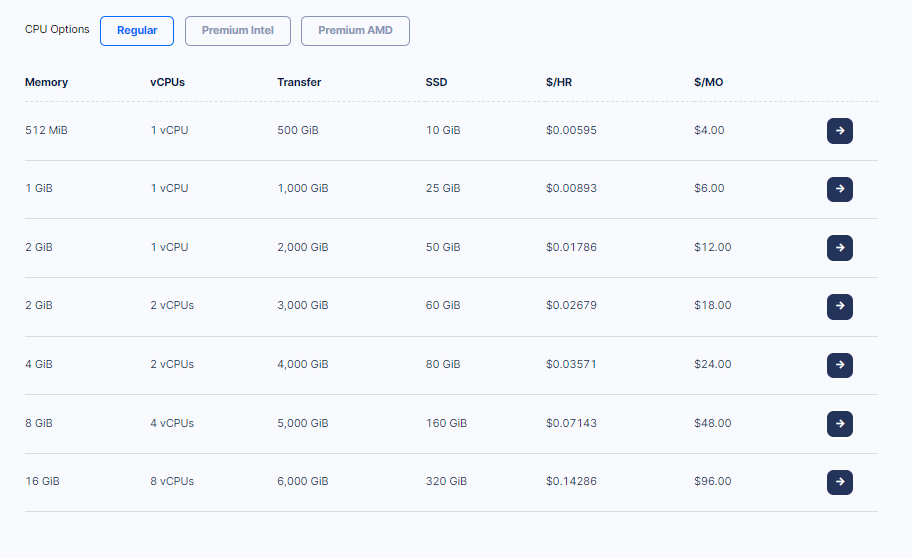 Premium Intel Droplets are powered by the new Intel CPUs technology and the faster NVMe SSD disk storage but cost 20% more than the Regular servers.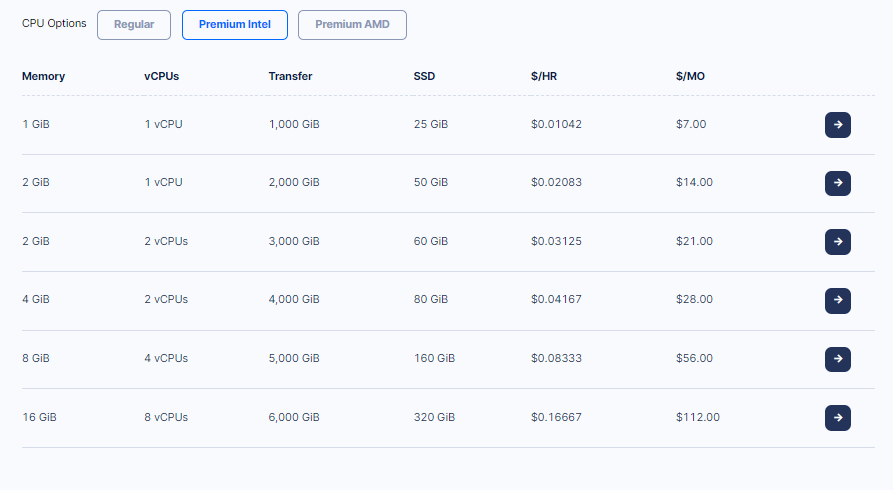 Premium AMD Droplets are powered by the new AMD CPUs technology and the faster NVMe SSD disk storage and they also cost 20% more than the Regular servers.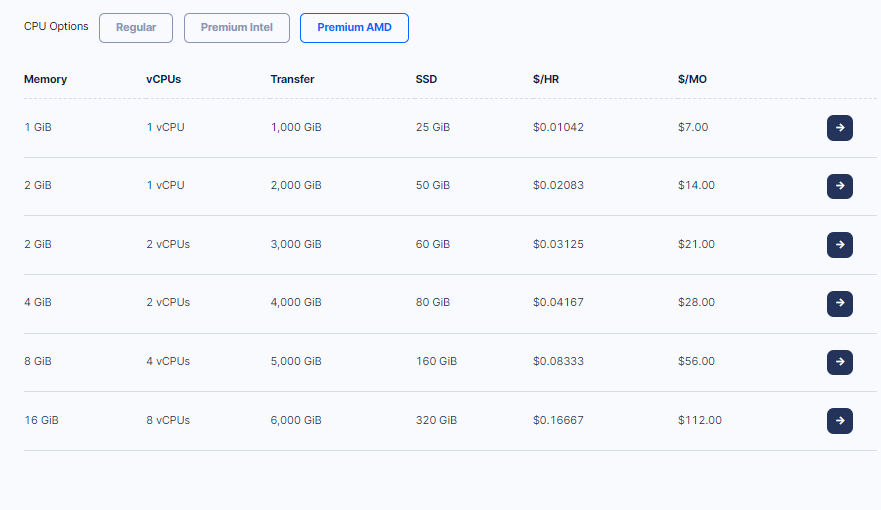 Pay-as-You-Go payment system:
Most shared web hosting services charge you 1 year or 3 years plan. Sometimes monthly but at a high cost. With the DigitalOcean Pay-as-You-Go payment system, you only pay for the resources you consume.
If you created a server on DigitalOcean for one day and then removed it, you will only be charged for that particular day.
For instance, if you created a $5 droplet for 6 days and then you destroyed the droplet, you will only be charged $1. and the billing will be on the last of the month.
Performance
Your website should perform very well. Otherwise, it will be harder for you to compete with other business websites on the internet.
The performance of the website is what makes a websites rise up or kill it. And search engines such as Google demand great uptime and fast-loading web page websites to rank them on high search results.
Therefore, It's very important to have a website that performs very great.
DigitalOcean Uptime:
Application uptime is essential, it's one of the main factors that should you look at when you sign up for a web host. With a poor uptime server, your website will go down and the visitors can't access it. This issue will affect your website user experience, as well as your ranking on search results.
DigitalOcean provides 100% network uptime and 99.9% general cloud uptime. And a 99.99% uptime SLA for both Droplets and block storage.
DigitalOcean Loading Speed:
The loading speed of a website is a major factor for SEO and search engines. When visitors visit your website and find that it takes a while to open a page, chances are; they will leave and won't come back. Users are quick to drop sites with slow page load times.
Faster websites tend to rank higher on search results than slower websites. Therefore, we put DigitalOcean droplets into tests. We created a WordPress website on DigitalOcean droplet and did our tests.
Although the website we created for the tests is not that big, yet still the results are significant compared to other web hosting companies.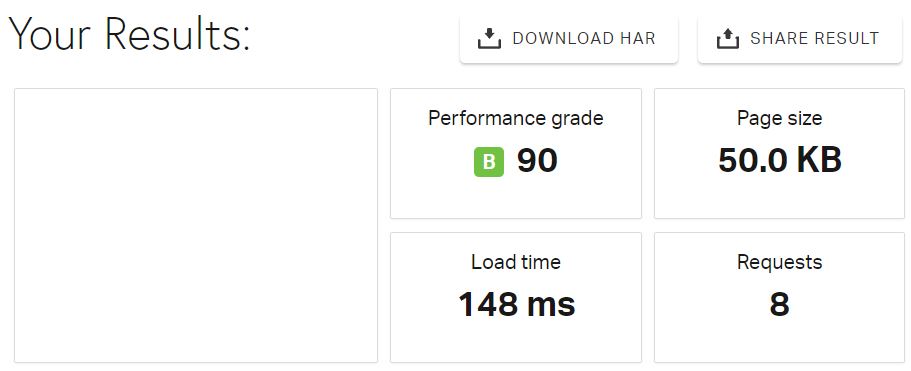 Google speed insights mobile result: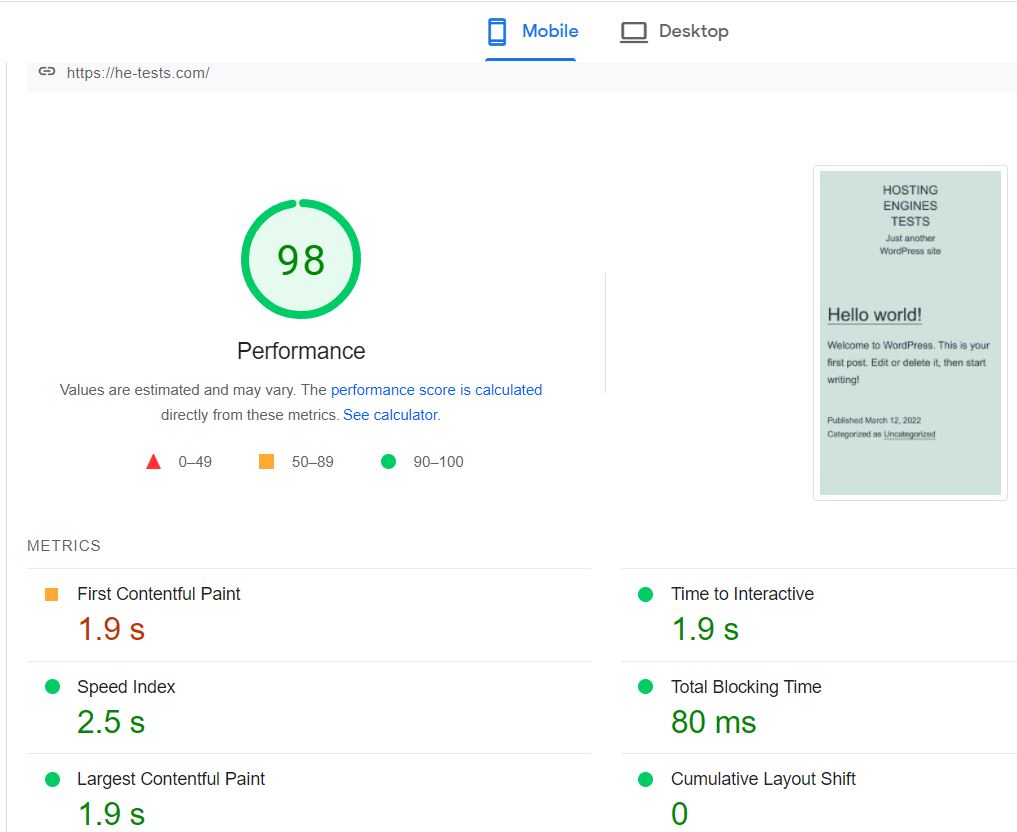 Google speed insights desktop result: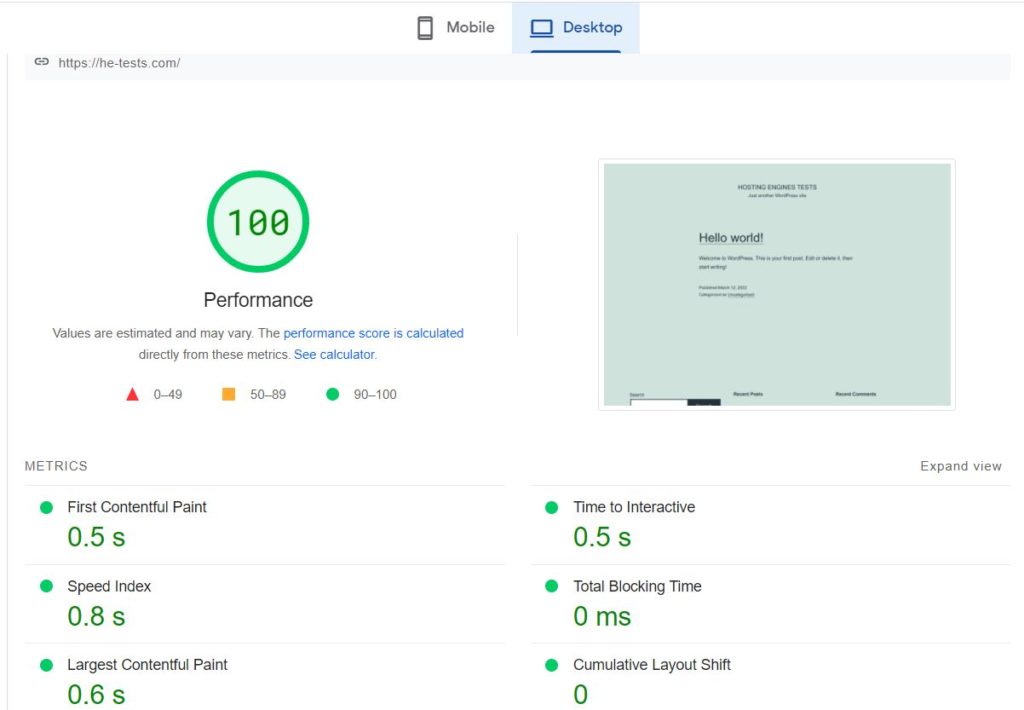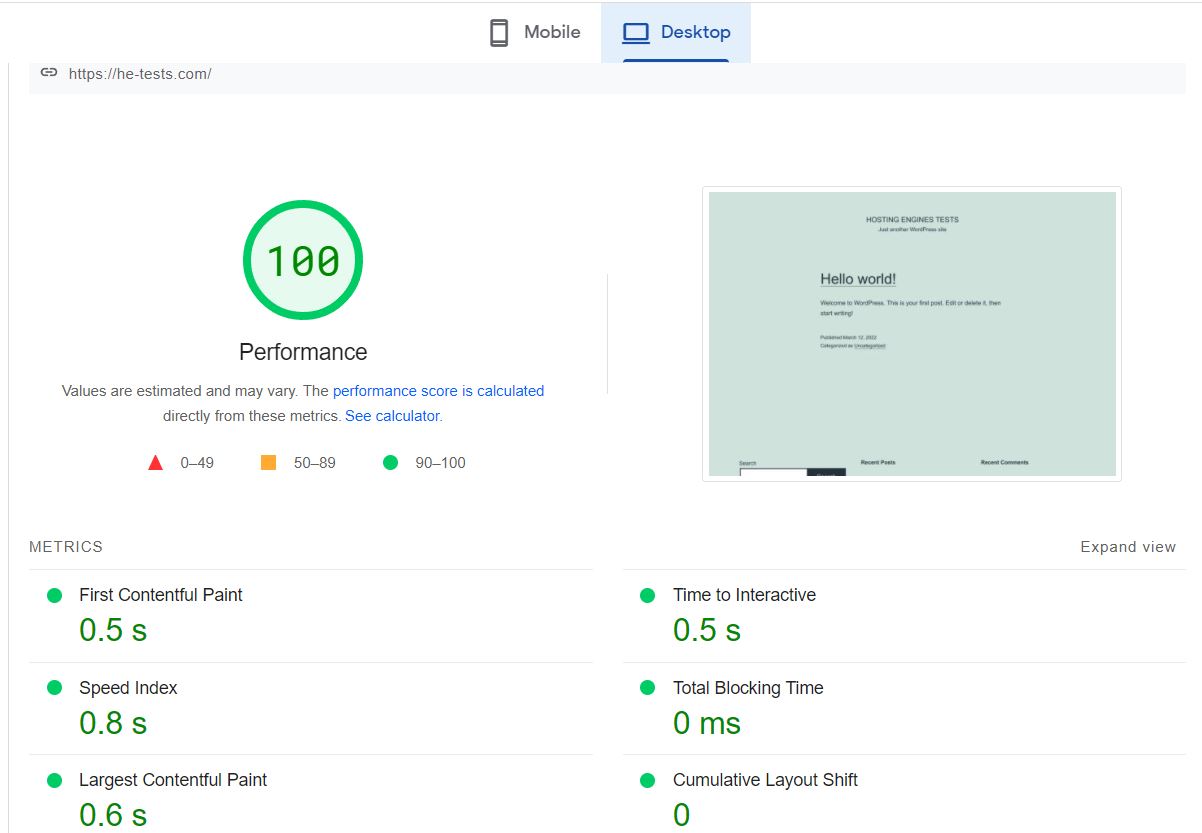 DigitalOcean Data Centers:
The location of the data center has an impact on the quality of service it can provide to your customers. In addition to price, scalability, uptime, and reliability, server location is arguably a key consideration when choosing a technology partner.
Data takes time to travel. The far your data center is from your visitors, the more time your server needs to deliver a request. Therefore, you should choose the closest data center to your targeted audience.
DigitalOcean has 13 data centers in 7 different countries:
New York City, United States: Three data centers.
San Francisco, United States: Three data centers.
Amsterdam, the Netherlands: Two data centers.
Singapore: One data center.
London, United Kingdom: One data center.
Frankfurt, Germany: One data center.
Toronto, Canada: One data center.
Bangalore, India: One data center.
Support
Because DigitalOcean focuses on providing a platform that is developer-friendly and is a self-managed service. You will not get the support you want if you are an absolute beginner.
They claim to have 24/7 customer support, but it's only with email tickets. No chat support or phone calls. And even with the Emails support, they are not responsible for configuring your droplets or fixing your servers' issues.
Nonetheless, DigitalOcean has a huge knowledge base, tutorials, and a big community that covers almost everything you may need to know. If you like reading, your issues will be solved.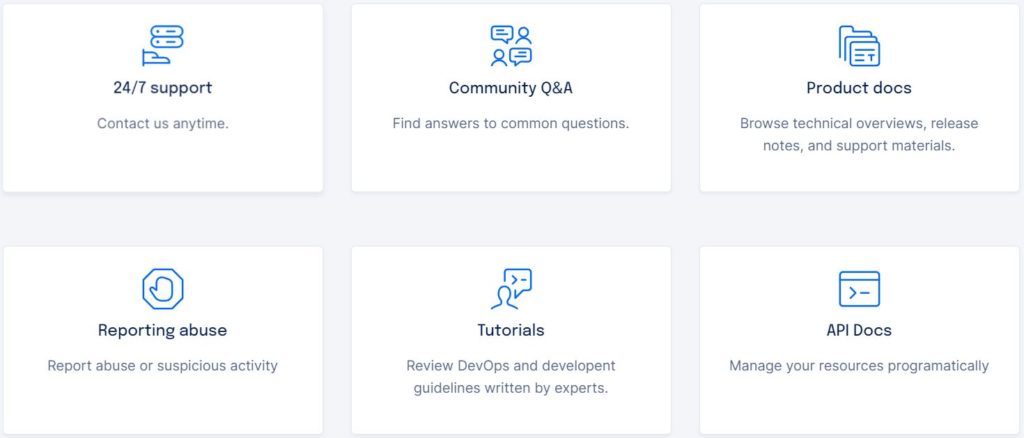 WordPress Integration
Over 43% of the whole websites on the internet use the WordPress CMS website builder to build their websites. It is the simplest most popular beginner-friendly website builder tool.
DigitalOcean provides the WordPress application on their marketplace. So, installing it on a DigitalOcean VPS server is an easy task to do.
All you have to do is to create a droplet and install WordPress on it, then configure WordPress to add the domain name, username and password, and the SSL certificate.
Read how to install WordPress on DigitalOcean.

Backups
Backups on DigitalOcean are automatically created by creating disk images of Droplets. And they are taken once per week, and each backup is retained for four weeks.
Enabling backups for droplets enables the system to create backups on a weekly basis, which provides a way to revert to an older state or create new Droplets.
Enabling backups for a Droplet adds 20% extra cost to the cost of the Droplet. If your server costs $6/month, with backup enabled, it'll cost you $7.2 per month.

Block Storage (Volumes)
DigitalOcean Block Storage or volumes are network-based block devices that provide additional data storage for Droplets.
You add a Volume to your server when you need more storage space but you are not in need of extra CPU, Memory, and Bandwidth such as websites that host large files and data.
Volumes cost $0.10 GiB per month and range from 1 GiB to 16 TiB (16,384 GiB). Charges accrue hourly for as long as the volume exists. That means that you can easily scale block storage from 1GB up to 16TB, resize them if you need more space, and move them between Droplets.
Volumes are independent resources, so you can move them between Droplets, but in the same data center.

Snapshots
Snapshots are on-demand disk images of DigitalOcean Droplets and volumes saved to your account. They are basically a clone of a droplet or volume, they provide a full copy of a DigitalOcean Droplet or volume.
You can use Snapshots to create new droplets and volumes with the same files and data. So when you want to clone a website from a droplet or a volume, make a snapshot of that Droplet or volume and convert the snapshot to a new droplet.
Snapshots are charged at $0.05 GB per month for Droplets and $0.05 GiB per month for volumes.
Marketplace (Applications)
The DigitalOcean Marketplace is a stack of 1-Click applications that are pre-built Droplet images with software, features, and configuration details already set up for you.
1-Click applications save you time by automating common setup steps like package installation, firewall rules, load balancer provisioning, and software configuration.
Instead of dealing with manual server administration, you can focus on getting your application off the ground quickly.
DigitalOcean offers over 230 application solutions for developers and non-developers including WordPress.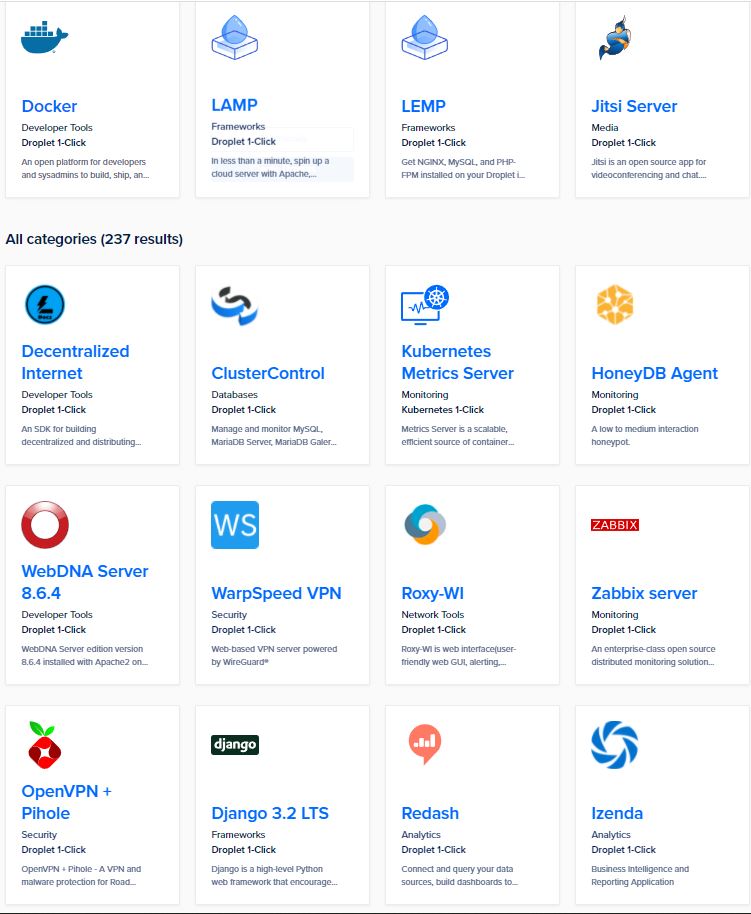 DigitalOcean Alternatives
There are these two cloud computing raise up whenever DigitalOcean is mentioned, Vultr and Linode.
Vultr is a global cloud hosting solution that provides reliable and high-performance cloud servers. Read Vultr review.
Linode is a cloud hosting company based in the United States that provides virtual private servers. Read Linode review.
Read the full comparison between DigitalOcean, Vultr, and Linode.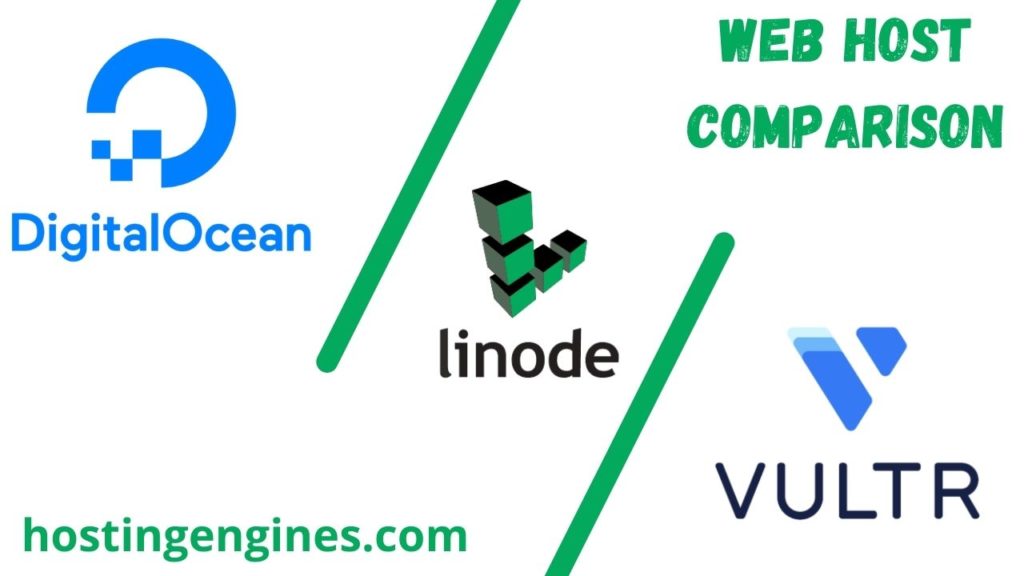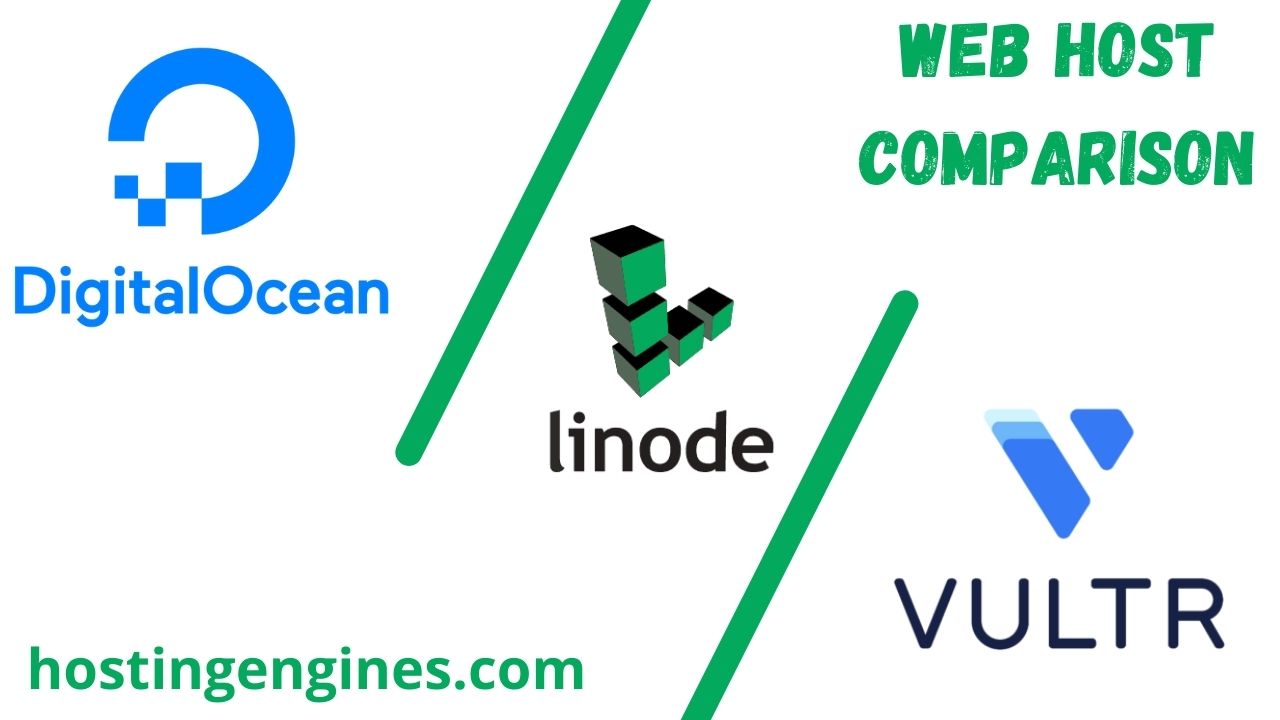 DigitalOcean Review: The Conclusion
DigitalOcean is one of the best cloud computing services with many features and products that you can use from.
We recommend DigitalOcean for all website owners as it provides reasonable prices for a great and reliable web hosting solution. See how you can sign up and create your first droplet on DigitalOcean.
Frequently Asked Questions
Here are some of the most asked questions by users of DigitalOcean reviews.
Does DigitalOcean offer a free SSL certificate?
Yes. DigitalOcean offers a free Let's Encrypt SSL certificate. SSL certificates increase the security of your Droplet and your users by enabling encrypted connections to your server.
You can upload or create certificates during the setup of the application. You can also upload, create, and remove certificates at any time.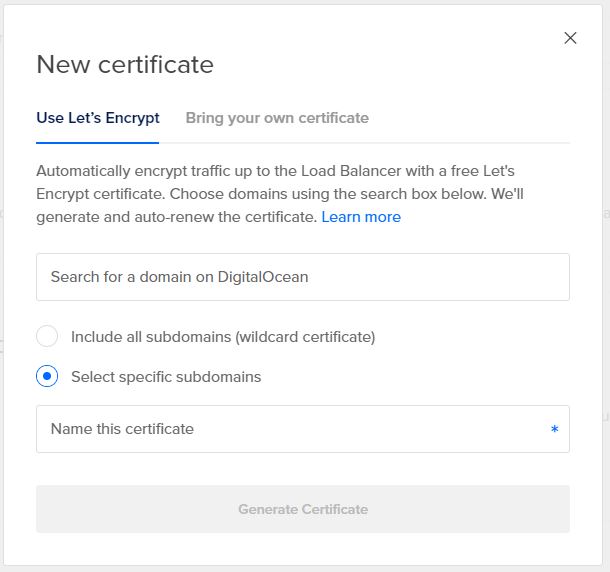 Is the free $100 credit available for already registered users on DigitalOcean?
Unfortunately, the free $100 is only available for new users. use this link to claim it. Also, you can use our link to get a $200 instead.
How do I replace my credit card on DigitalOcean?
To replace a credit card on DigitalOcean you have to add a new card as the default one, then you will be able to delete your old card as it will no longer be the default one.
Where can I find the root password of my droplet on DigitalOcean?
The root password is set when you create your Droplet. There is no way for you to know it. However, you can reset it from your control panel.
How can I reset the root password of my droplet on DigitalOcean?
To reset the root password of your droplet on DigitalOcean navigate to the control panel. From the main navigation's Droplets page, locate the Droplet.
Click the Droplet's name to open its detail page, then select Access in the left navigation.
Click Reset Root Password to reset the Droplet's password. You will receive an email containing the Droplet's temporary password.
How can I connect my droplet on DigitalOcean with the SFTP client?
You can make an SFTP connection using the root user.
But before you can make an SFTP connection you will first need to change your temporary droplet password.
To do that log in via SSH or the Console in the control panel (Droplet->Access->Open Console) as you will be prompted to change your temporary password.
Once this is done you can make an SFTP connection on port 22 using the username root and the password you set.