When you want to create a website, you need to rent space on the internet from a web hosting provider, who in turn charges money for offering this service.
While web hosts often appear simple with a set of monthly or annual fees, some hosting providers have hidden or additional costs that you should be aware of before you make any decision.
These hidden costs can add extra fees to the total charges over time. Knowing them and how to avoid them will give you a clear insight into what to look for in a web host.
What is Web Hosting?
Web Hosting is where your website's files and data are stored, so people can see and engage with your site online. Think of it like a house for your website on the internet, when someone types in your website's address, they're directed to this "house" to view your content.
There are many types of web hosting that you can pick from the right type for your website needs, such as Shared hosting, VPS hosting, Cloud hosting, and Dedicated hosting.
Web hosting offers additional services along with website hosting like security, customer support, maintenance, multiple data centers, backups, and more. Some of these services may come at a cost added to the hosting package cost.
Hidden Costs of Website Hosting
1. Plan Renewal Fees:
When you go to see the pricing of a hosting plan, you will meet incredibly affordable pricing options. But this pricing will not last forever.

Some providers offer hosting plans at $2-3/month for the first year and then bump the price to $8-10/month or more upon renewal. They offer lucrative deals for the first year, but the renewal rates are higher.
Some web hosts don't even include the actual renewal fees on their pricing plans page, they just show (XX% off). This means that when you renew your hosting service, you will be charged the full amount of cost with no discounts.
How to Avoid Increases in Renewal Fees?
Read the web host terms and conditions to understand the renewal rates. Normally, you would find a link to this page in the footer section.
Calculate the increased costs to see if you can afford it when you renew.
Ask the support team of the hosting provider directly.
Check if the promotional price is for the first year only, or if it will last for more years to come.
Consider that you have the option to move your website to another hosting provider before the renewal time comes.
2. Monthly vs. Annual Fees:
Almost all shared hosting plans and other hosting types offer these affordable plans with long-term commitments.
When you navigate to a hosting provider's pricing page, you will see a cheap hosting package costs between $2 per month.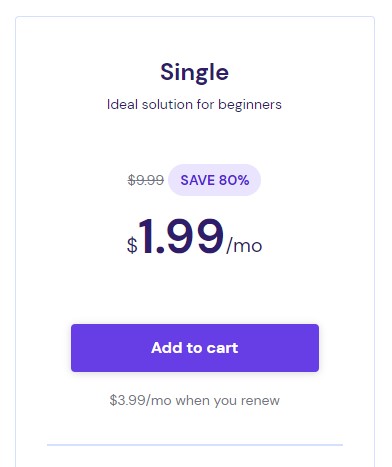 However, upon reaching the checkout page, you'll notice that the discounted rate is only applicable for long-term commitments, like one or two years. Opting for the one-month plan will show a high increase in price.

How to Avoid Increases in Renewal Fees?
Check the actual cost for different durations – monthly, annually, and other terms.
Often, paying annually might save you money in the long run. Consider this offer even if the upfront cost seems high.
3. Website Migration Fees:
When you want to migrate your website to another web hosting service and you are not an expert on that, you need someone to handle this task for you.
Some web hosts offer free migrations for all websites to their platform and others offer limited transfer numbers. This is to encourage you to sign up for their hosting service and migrate your websites with them.
However, some providers charge you for doing the migration process, and the pricing varies not only between web hosts but also depending on the website's CMS.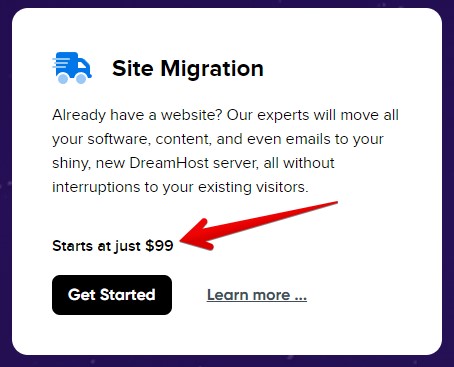 Web Host Migration Examples:
Hostinger: Offers free Migration if your website is built with an open-source CMS, such as WordPress.org, Joomla, etc.
Cloudways: The first migration is for free. WordPress migration costs $25/month, and other CMS costs more.
DreamHost: Move all your software, content, and emails for ($99 for small websites) or ($199 for larger, more complicated websites).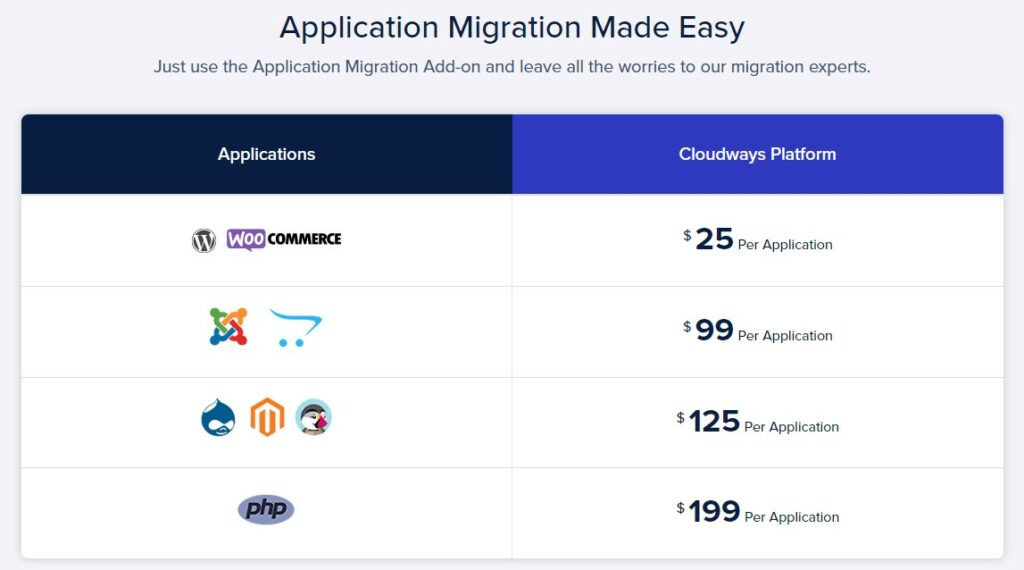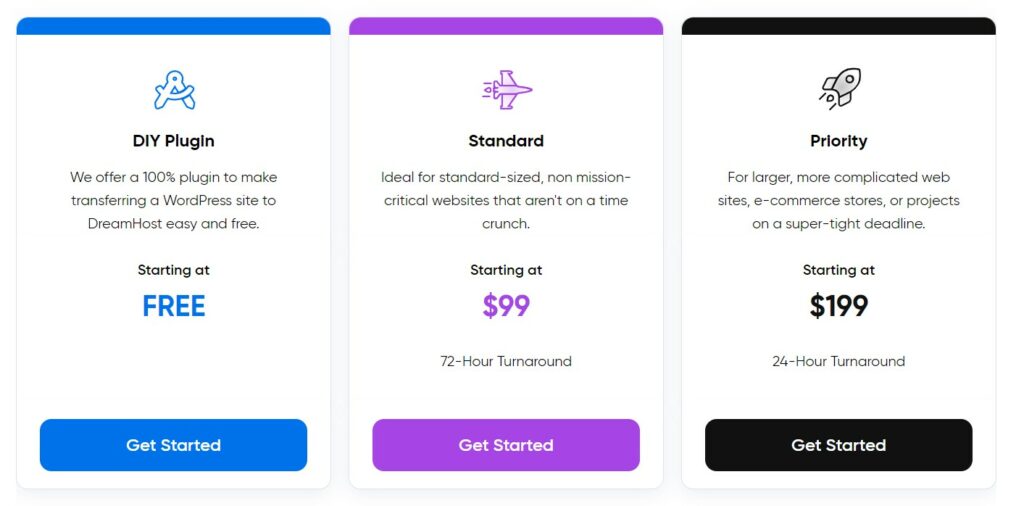 How to Avoid Website Migration Fees?
Before you sign up for a web hosting service check if the provider offers free migrations. Search for that in their knowledge base, footer section, on Google, or contact them directly. If not, there are alternatives.
If you're considering a web host that charges for site migration, you can use free a WordPress migration plugin that doesn't require extensive knowledge and is easy to learn and make this task such as All in One WP Migration.
4. Regular Website Backup:
Frequent backing up your website is essential to prevent data loss due to accidental deletions, hacks, or other unforeseen events. If anything goes wrong with your site, you can revert to an older backup to get everything as it was.
While many hosting providers offer daily or weekly backups as part of their basic service, others might charge extra for this feature or for restoring your website from a backup.
Example 1: Complete Backup Cost:
Un-managed hosting such as DigitalOcean charges 20% of the hosting plan price for the backup. If the hosting plan costs $6.00/month, when enabling weekly backups, the total cost will be $7.20/month.

Example 2: Free Backups With Expensive Plans Only:
On BlueHost shared plans, you are not eligible for Daily Website Backups on the BASIC, cheapest plan, you will get this feature with a larger hosting plan, and for the first year only. After the 1st year, you will have to pay for Backups.

On A2 Hosting, backups are not an option when signing up for the STARTUP plan, you will have to pick a more expensive plan to get this feature or pay extra for it.

Example 3: More Frequent Backups With Expensive Plans Only:
Hostinger does offer weekly backups stored for 7 weeks for all plans, but if you want more frequent backups like daily, the option available is to join a more expensive plan.

Example 4: Completely Free Backups:
Cloudways offers multiple backup options all for free:
Schedule backup Time: Select the time of day you'd like Cloudways to perform the backup.
Backup Frequency: Specify the desired time between each backup (from 1 hour up to 7 days.
Backup Retention: How long a backup should last before deletion (from 1 week up to 4 weeks).
Local Backups: When you enable this option, Cloudways will store a copy of your website on your local server storage, and you can download it whenever you want.
On-Demand Backup: You can perform an on-demand backup of your server whenever you want with one click.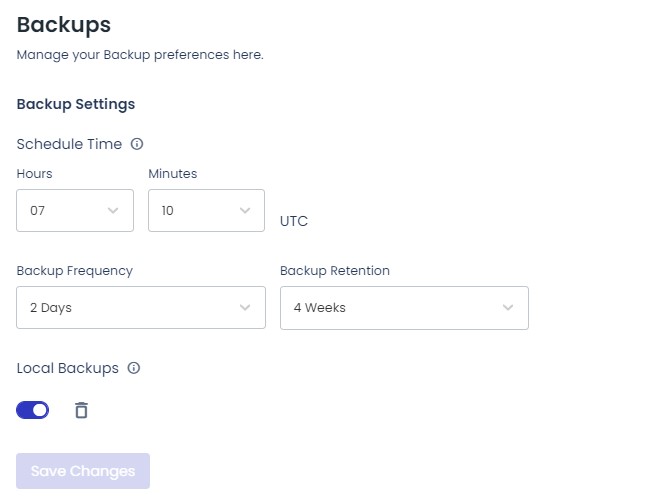 How to Avoid Backup Fees?
The best option is to look for hosts that offer free regular backups and restores. Always check if backups are included in your hosting plan.
Alternatively, if your host charges for this, learn how to do it yourself to save costs. Use free plugins or tools to backup your website, such as Duplicator and UpdraftPlus. However, free plans come with some limitations.
Another option is to download backups manually to your local PC or Google Drive whenever you make big changes on your site using a plugin like All in One WP Migration or using an SFTP client.
5. Email Hosting:
If your business, website, or even blog requires you to contact people or reply to an email, "it probably does" then you have to own a professional email address linked to their domain to appear more legit.
While some hosting plans include business emails and mailboxes, others may charge extra or not offer it at all. This will cost you extra money.
How to Avoid Email Hosting Fees?
Check if the hosting package includes email services. If not, search for their competitors.
If you like a web host for any reason, consider using third-party email providers like Google Workspace for mailboxes.
SSL (Secure Sockets Layer) certificates provide secure, encrypted communications between a website and an internet browser.
Many hosting providers include the free Let's Encrypt SSL certificate in their plans. But other web hosts don't include it on all plans or limit its duration to be free for a specific time, a year for example.
Also, the Free SSL certificate is often basic. If you plan to build a website that hosts important or sensitive user information, such as mobile numbers, credit cards, etc, you will have to go for a PRO SSL certificate.
According to Hostinger:
On average, a Secure Sockets Layer (SSL) certificate costs around $60/year. However, the price can vary from $8 to $1000/year, depending on various factors, such as the number of domains one can protect, the validation process, the warranty, or the certificate authority itself.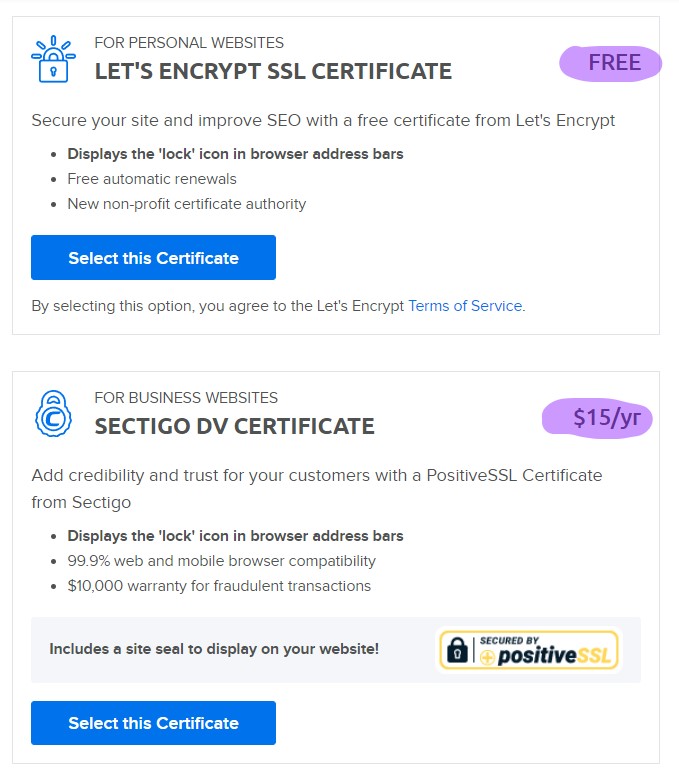 How to Avoid SSL Certificate Fees?
Almost all web hosts offer the FREE SSL. Choose a hosting plan that offers a free SSL certificate.
If you require a premium certificate, compare prices from different providers to see the best price choice for you.
7. Need For CDN:
Content Delivery Network (CDN) improves website speed by caching content in multiple locations around the world, so that website visitors receive the content from the nearest server.
Website speed is one of the Core Web Vitals metrics, and CWV is one of Google's ranking factors. Making sure that your website is loading smoothly and fast will surely improve your rankings. that's why CDN is essential.
Not all hosting providers offer CDNs for clients, some do as part of their basic packages, and others include it a more expensive hosting plan or charge extra for this feature.

How to Avoid CDN Fees?
Consider if a CDN is truly necessary for your website based on your audience location. If you host your website on a server very close to your targeted audience, then there's no need for CDN.
Check if the hosting plan you want includes a free CDN. If not, there are alternatives that offer this service for free.
Alternatively, you can use Cloudflare's free CDN service or another free CDN provider.
Read Best Free CDN Services.
8. Need for Pro Website Security:
Website security is vital for all crucial, especially for eCommerce and business sites. This is to protect user and customer information and to uphold the business's reputation. You don't need a hacker or a scammer to spread spam on your website, therefore you might need solid security features.
Many hosts offer basic security features such as SSL, malware plugins, and backups. This might be good for general sites, but not sites that need to be well protected. However, PRO security features might cost extra cash.
For example, Cloudways offers many free security features such as Bot Protection, Bot Notification, Whitelist IP, and Blacklist IPs.
However, they also offer premium security features from Cloudflare like WAF and DDOS Protection, and they are important for protecting your site, but they come at a cost.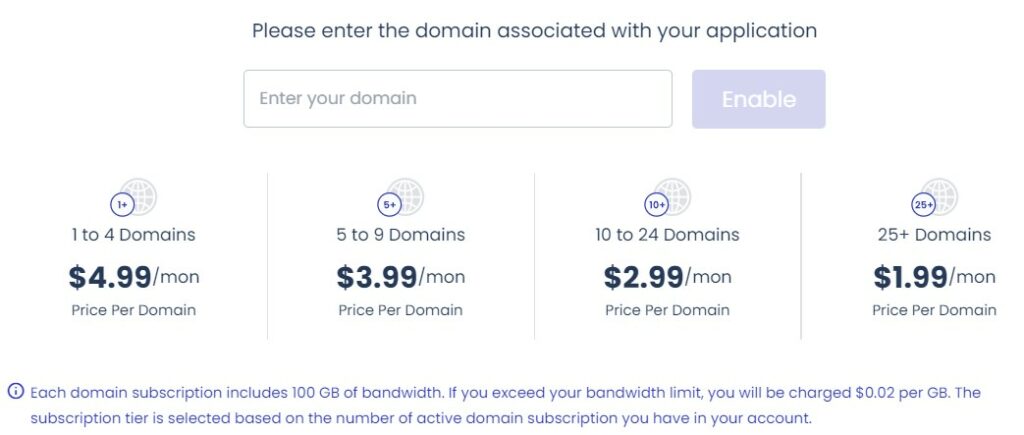 How to Avoid Website Security Fees?
Check if your hosting provider offers free security measures like firewalls, malware scans, and DDoS protection. If not, Try Cloudflare.
You can use Cloudflare for many security approaches such as WAF, DDoS Protection, Page Shield, captcha challenges, and more.
Use security plugins to protect your WP site like Wordfence and Sucuri.
Conclusion
While some web hosting plans may look cheap at first, there are often extra costs that can pop up later. These can be things like fees to keep your website safe or costs that rise after a year.
To escape additional costs of your website hosting go over the above hidden costs and read how to avoid them. Check all the details, compare prices, and ask questions before deciding. This way, you won't get surprised by extra charges later on.
Read also:
How to Choose the Best Web Hosting Provider?
What to Look For in a Web Hosting Service?
Pros and Cons of Free Web Hosting
How Much Does Website Hosting Cost?
Why Do You Have to Pay for Web Hosting?