Do you want to create a WordPress website on Cloudways managed cloud web hosting platform for cheap prices and great performance?
Well, Cloudways provides exactly this type of service on a friendly platform where everyone –even non-developers– can make his own website.
In this article, I'll walk you step by step through the process of creating a WordPress website on Cloudways cloud hosting Platform.
Also, I will show you how you can host multiple WordPress sites on a single server.
Furthermore, I'll show you how you can migrate your website from your old web hosting provider to a new WordPress website on Cloudways server.
Why you may want to create a WordPress website on Cloudways instead of the many out there?
What makes Cloudways stand out from all web hosting providers around the world?
There are several reasons behind that. For now, let's count some of them…
Read also: Cloudways Review
Cloudways Is Easy To Use:
If you want to host your website on AWS or any other self-managed web hosting provider, you gotta be a web developer or hire one.
In such web hosting companies, it needs high web development skills to run servers on it.
Cloudways do all the hard work for you and deliver a user-friendly interface that has all the settings you might need.
Cloudways Offers Reasonable Pricing:
A cloud server on Cloudways with 1 GB RAM, 1 Core Possessor, 25 GB SSD storage, and 1 TB bandwidth, costs $10 per month.
Other managed web hosting companies like Kinsta charge from $60 up to $100 every month for such server with such resources.
Cloudways is a Pay-as-You-Go service, you only pay for the resources you consume.
If you launched a server for one hour and then deleted it, you will only be charged for that hour.
Host Many Websites On One Server:
Unlike many other managed web hosting platforms, on one server on Cloudways, you can host multiple websites.
You can create as many websites as you want as long as your server can handle them.
Cloudways Performance Is Great:
Because Cloudways partnered with such great web hosting companies. Its uptime and loading speed gotta be significant.
Cloudways claims to load WordPress in less than 1 second. In fact, I tested it myself and found it to be true.
As a matter of fact, we host this website (Hosting Engines) on Cloudways and this is its performance.

Cloudways Partners And Apps:
Cloudways offers to host your website on five of the best Cloud hosting providers such as Amazon Web Services and Google Cloud Platform.
So you have the ability to have lots of servers, from different providers, depending on the need, in one place.
Also, Cloudways supports a variety of CMS, E-commerce, and other PHP web applications such as WordPress, Magento, PHP, OpenCart, Drupal, Joomla, and more.
Read more about Cloudways features.
That being said, let's dive into the steps of how to start a website with Cloudways?
Step 1: Signup to Cloudways
To register to Cloudways go to Cloudways Platform, right away you will see that Cloudways is protected by Cloudflare.
Then it will take you to a page like this image below which is the home page of Cloudways
On that home page, click on login if you already have an account associated with Cloudways.
Or click on start here to sign up and make a new account if you don't have one.
It'll immediately take you to the next page to fill in your account information. See the picture below.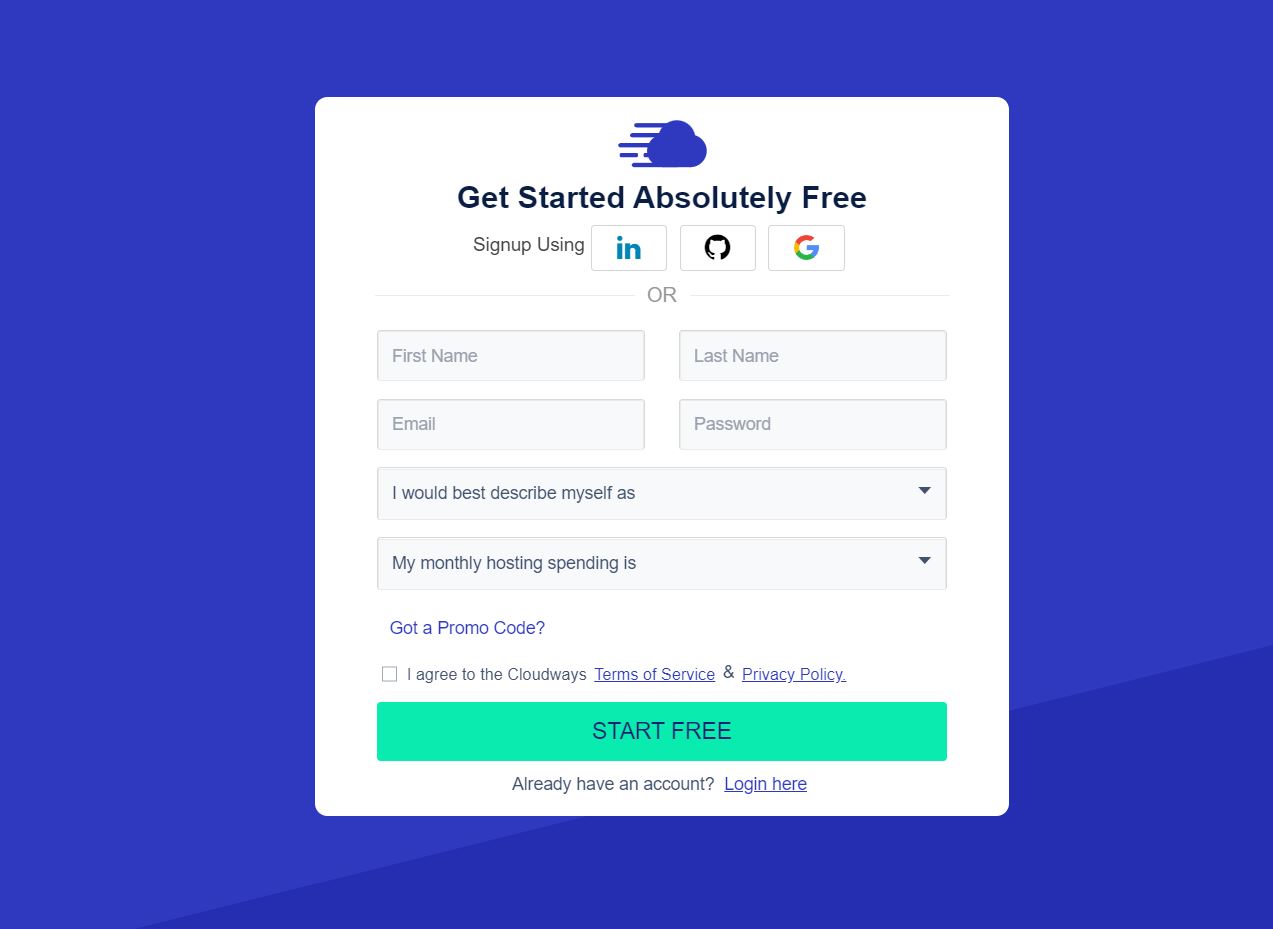 To signup for Cloudways, you will need to fill in the empty fields and create a new account.
Or continue with the easiest way that Cloudways offers as an option to signup: Google, Linkedin, or Github.
After submitting all the required data, you will receive an account confirmation message on the email you registered with on Cloudways.
You will have to verify your account through it. Also, you need to add and verify your phone number.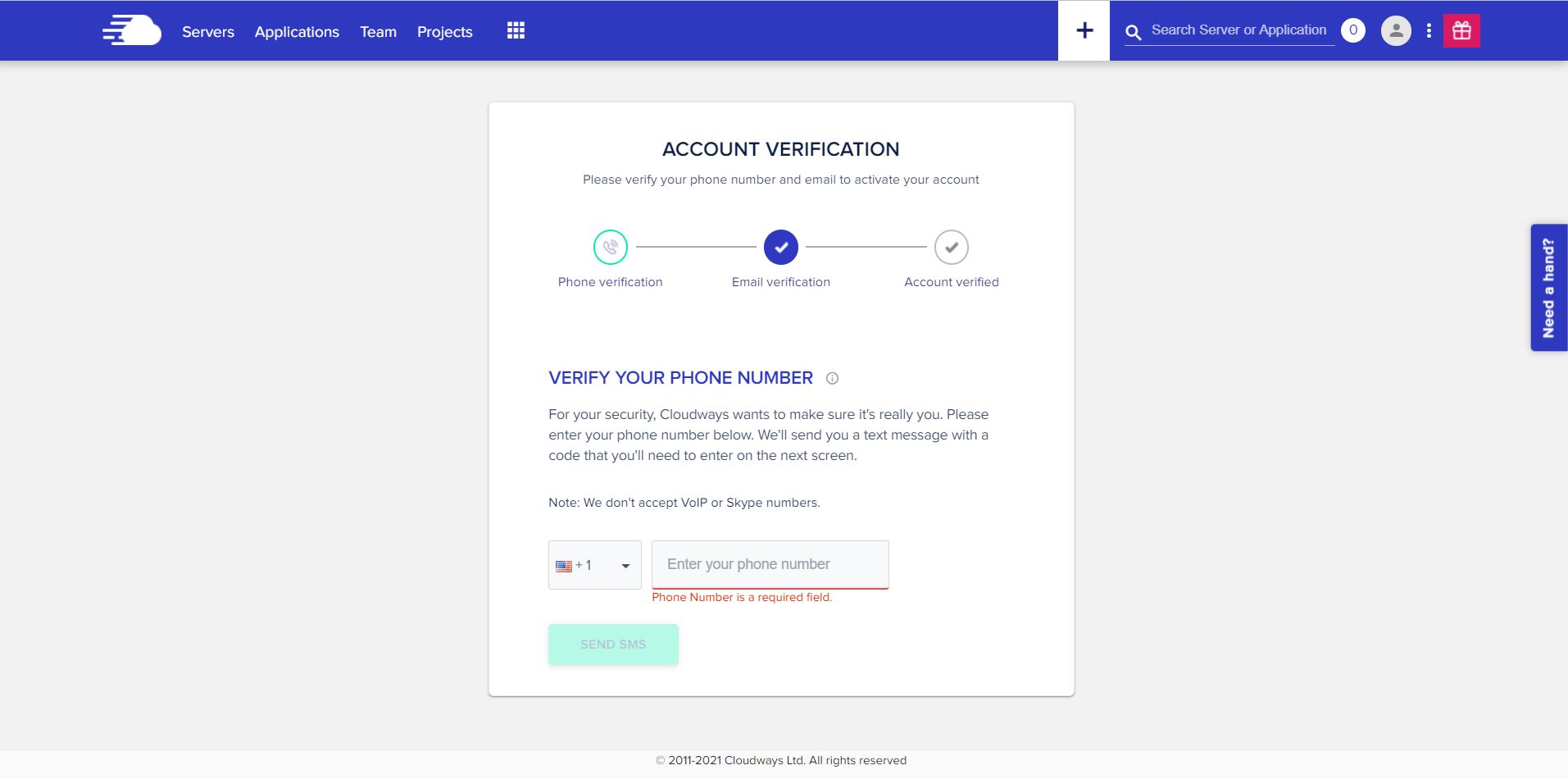 Step 2: Deploy Server And Add Application
As you may know that Cloudways offers hosting on five of the best-managed web hosting services on the internet.
It allows you to choose any of them to host your site on and gives you 3 days free trial for each with no credit card required.
These 3 days should be enough to test Cloudways hosting services before upgrading to premium.
After the end of the free trial, you will have to upgrade your account, otherwise, you will be unable to access your servers.
Choose One Of Cloudways Iaas Partners:
First of all, you will choose the cloud provider with which you want to deploy your first server.
You can make as many servers as you want, also you can change your server to another one later on.
You can do that by deploying a new server and migrating your websites to the new one.
The five of them leading technology companies but the prices differ from one to another. So, how much does each cost on Cloudways?
How Much Does Cloudways Cost?
On DigitalOcean -the first option- you can start with a small server for $10/month. Vultr comes after with a little difference in money.
Anyway, for the sake of this tutorial, I'll select DigitalOcean.
DigitalOcean is already been selected as you can see in the image above, and now I need to set the server size.
the least resources you can start your server size with on DigitalOcean is 1GB:
1GB RAM, 25GB SSD Disk Storage, 1 Core Processor, and 1TB traffic transfer which is pretty good to start with.
This server size costs $10 per month or $0.0139 hourly pay-as-you-go plan.
You will notice that as long as you increase the server size on the indicator, the amount of money that you will be charged will be increased.
You will not be charged during the trial period, but after the end of the 3 days, you should upgrade your account to premium in order to use their services.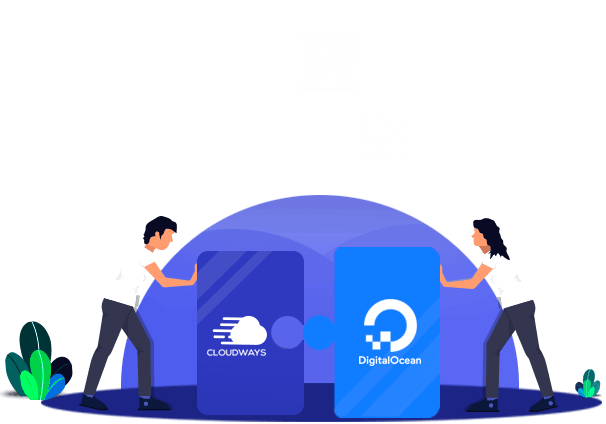 Read also: how to install WordPress on DigitalOcean
Choose The Server Data Center
The next step of creating a WordPress website on Cloudways is to set the server place. The server should be close to your site's visitors to increase the speed and performance of the sites
Since the website that I'm creating right now is targeting New York citizens, I'll select New York.
Fill in The Server Details
The last thing you need to do is to set up your server details and your first application details.
Your first application (website) will be created along with your server creation.
That means that your server will contain one website you can use and modify to match your desired website.
Go to the top under APPLICATION & SERVER DETAILS, if it's set to WordPress by default do nothing.
But if it's not and you want a WordPress website on Cloudways, click on the app and choose one of the options that Cloudways provides.
Fill in The Application Details
Next up, is the name of your application. you can name it the same name of your website that you want to create like (Hosting Engines).
Or you could just name it the name you want it.
After that, the name of the server, for instance (First Server, Second Server,).
Or any name you want to recognize and differentiate between them if you plan to host many servers on Cloudways, you can change that later on.
Finally, from the right bottom of the same page click on LAUNCH NOW to launch your first server.
Wait a few minutes and your server will be ready with the first website and to host your other sites.
Once Your server has finally been launched, you can now start managing your server.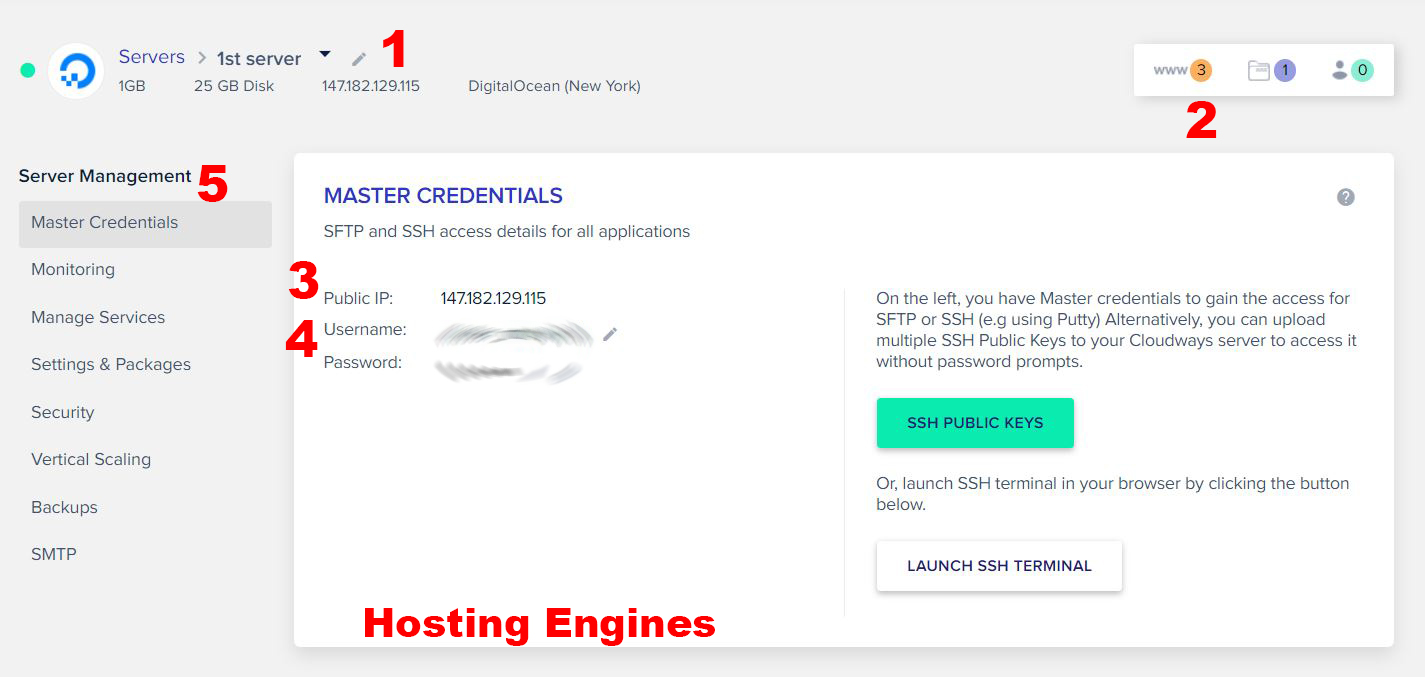 Cloudways Server Master Credentials
Look at the image above, this is what the server interface on Cloudways looks like.
First, you will notice the server size the one I referred to as number (1) which is (1GB RAM and 25 GB Disk Space) right now.
I can increase these numbers or decrease them at any time depending on the website's needs that I host on this server.
the (www) sign the one I referred to as number (2) refers to the number of applications (websites) I currently have.
In my server case, there are three websites.
Number 3 refers to the public IP address (Internet Protocol address) to this server.
(IP address) is a numerical label that is connected to a computer network that uses the Internet Protocol for communication.
It's a network address for your computer so the Internet knows where to send you emails, data, and pictures.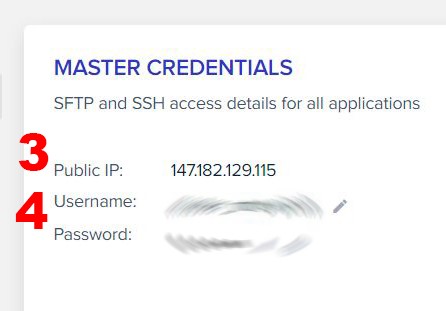 Then we've got the username and password of the server.
They are used to logging in to the server using SSH and FTP clients.
There is Server Management, where you manage, monitor, scale, and backup your server.
We've already talked about the first one ( Master Credentials), Now let's talk about the next one (Monitoring).
Cloudways Server Monitoring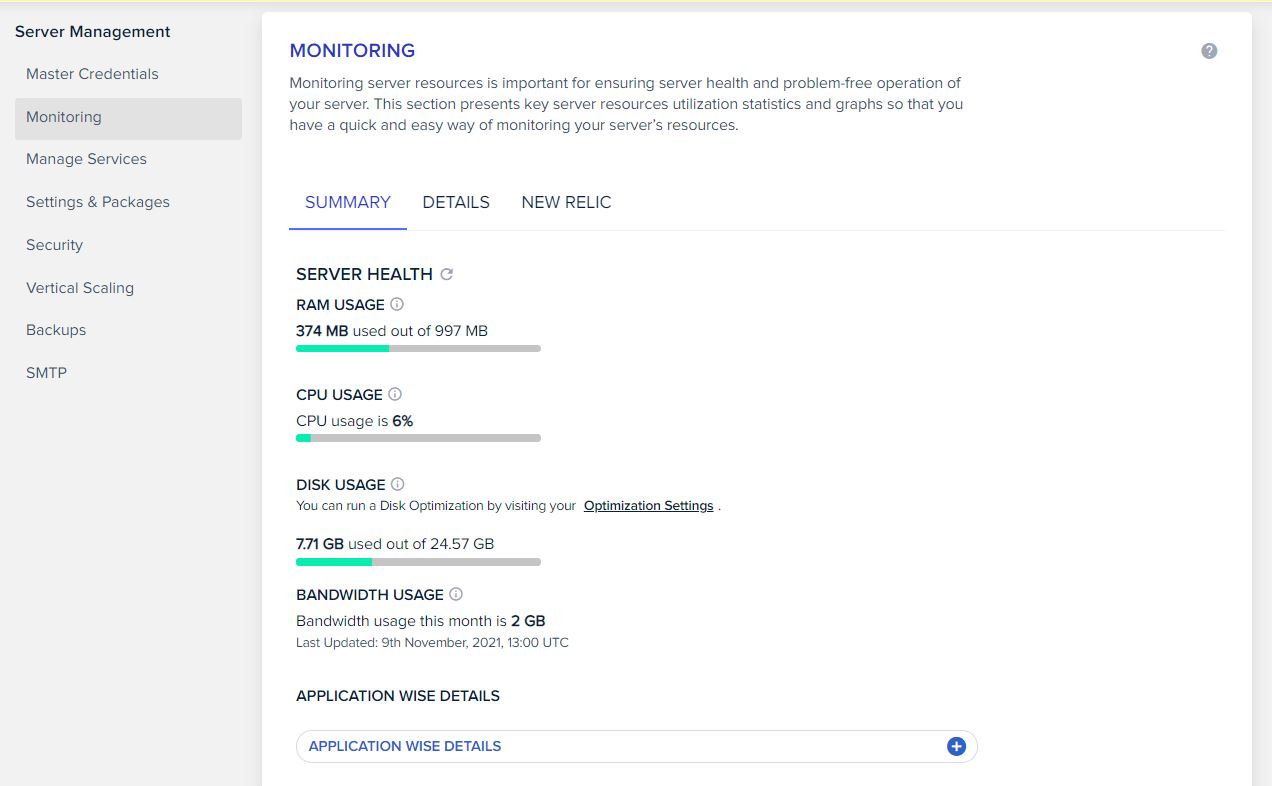 From the monitoring dashboard, you can see and determine the usage of your server resources such as CPU usage and disk usage.
Monitoring server resources is important for ensuring server health and problems.
This section presents key server resources utilization statistics and graphs so that you have a quick and easy way of monitoring your server's resources.
You can see the summary of your server usage for all types of resources.
You can see the disk usage of an individual server from the bottom of the summary tap click on APPLICATION WISE DETAILS.
From the Details tab, you can monitor an individual resource such as the CPUs for a specific time starting from the last hour.
Monitor important aspects of your server to decide if you need to scale your server.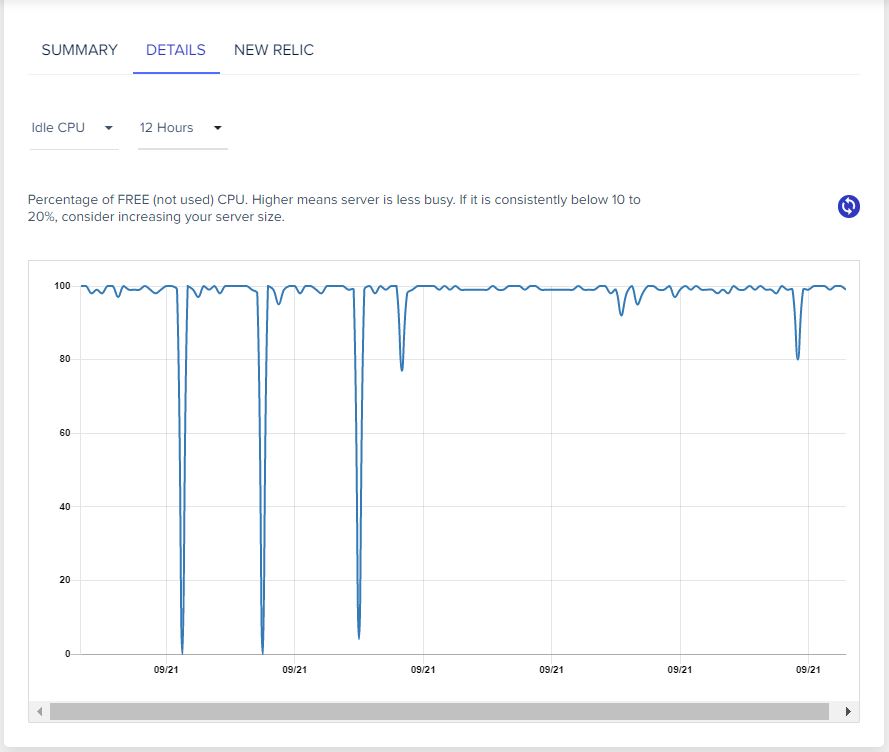 Cloudways Server Vertical Scaling
When Your website grows and you feel that you have to scale up your site resources to match the needs of your website
You can go to the Vertical Scaling tab on the server management as I show you in the image below.
From there you can increase the server size as much as you want.
While you are increasing it, you will see the amount of money that you will be charged hourly or monthly.
It'll take approximately 2 minutes to scale up your server.
by following the steps above, a WordPress website will be created along with the server you created, but not yet pointed to your Domain name.
Read more about Cloudways Server Management.
How To Create Multiple WordPress websites on Cloudways?
Let's assume that you want to create multiple WordPress websites on the same server.
You will go through this process every time you want to create a new WordPress website.
Add WordPress Application:
Go to the plus sign on the upper part of the page of your Cloudways interface and click on it.
From there, select Add Application, You will see a pop-up window that tells you to choose the server that you want to deploy this application on it.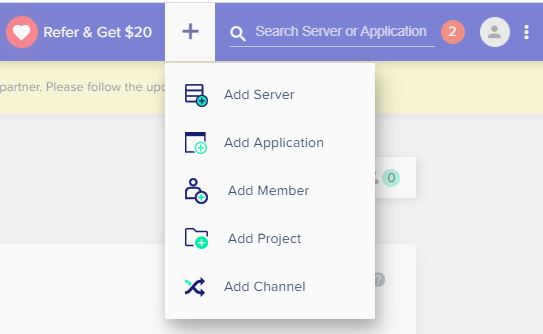 Since this is your first server, you will have to choose it. After that, then click on add application.
From Five types of applications, choose WordPress. Then name your new application (website).
You can name it the same name as the website that you want to deploy to make it easier for you to navigate between your sites.
Then select your project. Projects are for organizing your applications.
Once you complete these required fields click on ADD APPLICATION.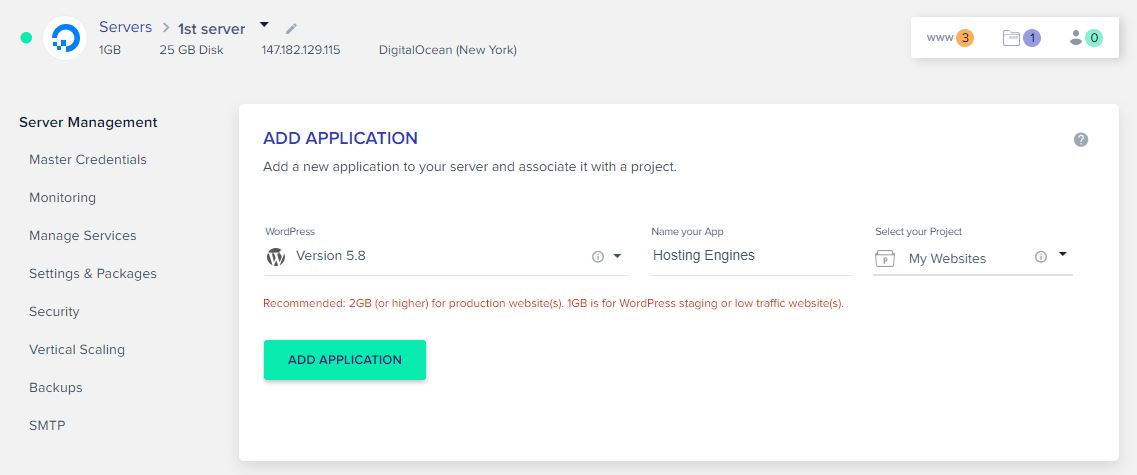 Read more about how to create multiple websites on one server on Cloudways.
To go to your brand new website click on the (www) sign to navigate to your applications.
From there choose your new website name then this below window will show up.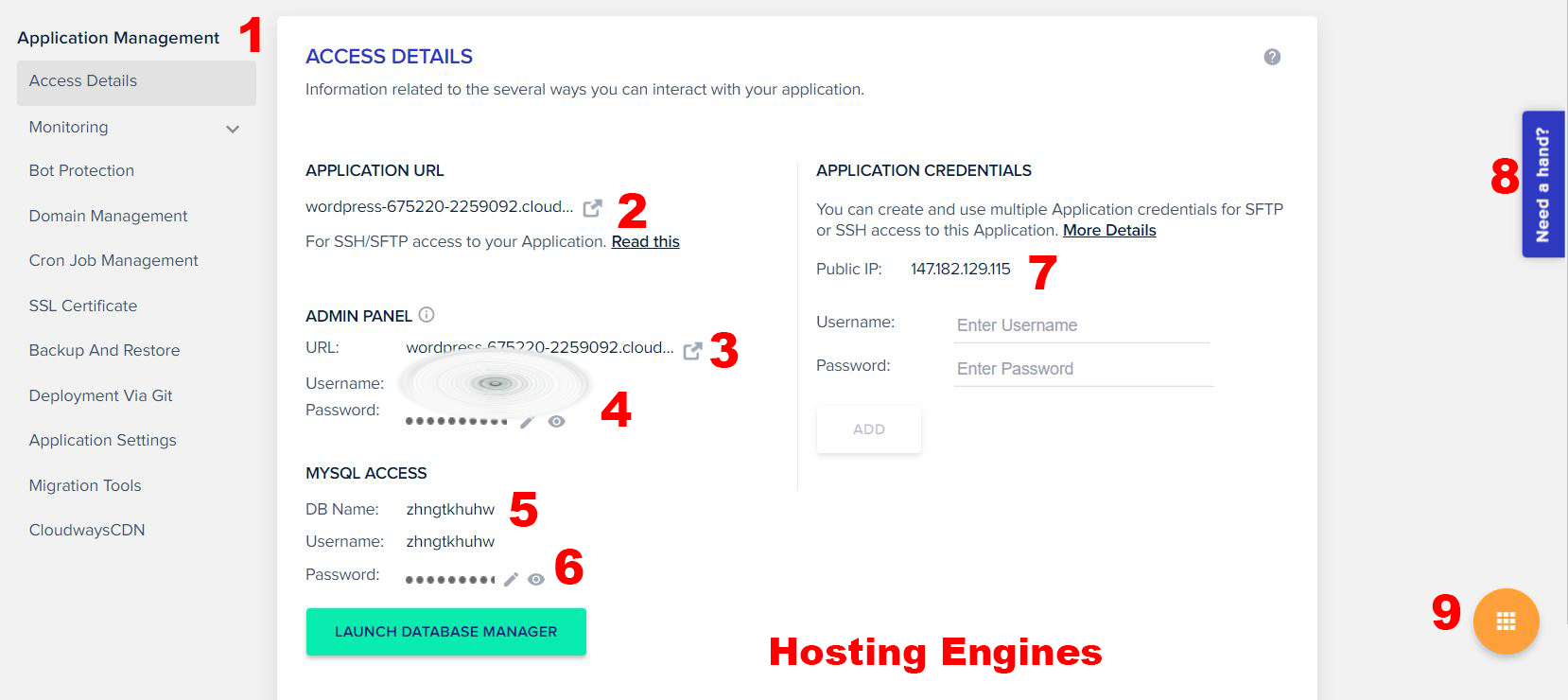 Application Management:
1. Application Management section, this section is for managing your application (website), we will talk about it later in this article.
2. APPLICATION URL, this is your WordPress website URL before you establish and set up your domain name.
If you click on the small arrow at the end of the URL line, it will take you immediately to your WordPress website.
I'll tell you how to set up and point your domain name to your WordPress website later on in this article.
3. ADMIN PANEL, if you want to go to your WordPress website panel you can click on the small arrow at the end of the URL line.
this URL is for your WordPress Admin Panel, you need to enter your username or email and password in order to log in to the WordPress Admin Panel.
4. WordPress Username & Password, these are the username and password of your WordPress website.
you will need them to access your WordPress admin dashboard.
You can go to your WordPress admin dashboard through the URL of your ADMIN PANEL or you can type in (yourdomainname.com/wp-admin).
After you log in you can adjust and edit your WordPress website as you want, choose a theme, install a plugin, etc.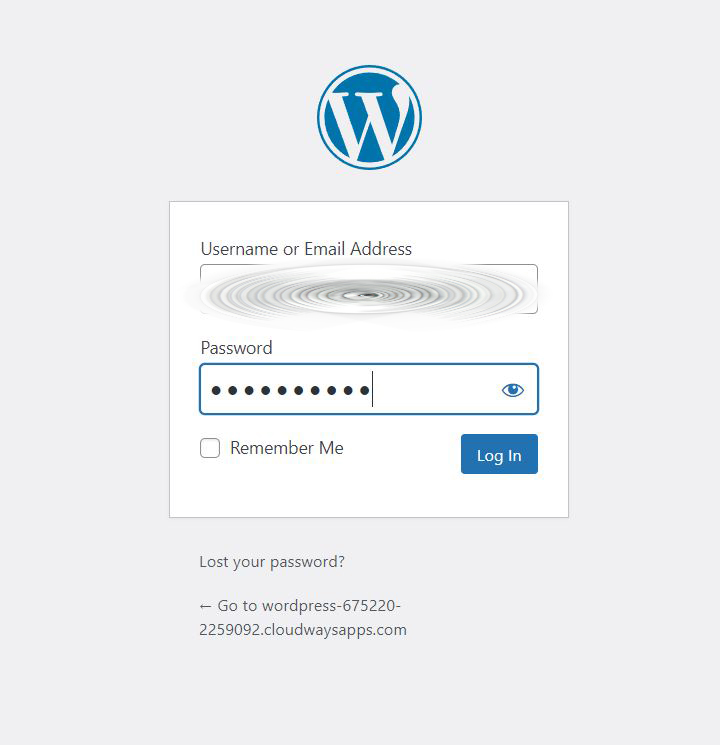 5. Database Name, this is the name of your database on the Cloudways server.
It's important when you want to use a third-party client to access your server files.
6. Database Username & Password.
7. Public IP address.
8. Support, when you face a problem or need help click on need a hand to talk to Cloudways support.
9. Delete the Application from there you wish to delete an application you have on your server.
To do that hover over this menu sign and you will see three choices for the specific application, delete app, clone app, and add app (website).
Select delete app, enter DELETE in capital then delete the app.
Step 3: Point Your Domain Name To Your Cloudways Application
When you finish creating your WordPress website, you need to point your domain name to your Cloudways application.
Register a Domain Name
Because Cloudways doesn't offer domain name registration, you will have to register a domain name in another platform like NameCheap.
You can use a domain name generator tool to help you find your desired domain name.
After that go to application management of the application you want to point the domain name to and copy the IP address.
just hover over the IP of your server or your application and click to copy the IP address.
After that go to the company that you used to host your domain name on it.
If you bought your domain name from Namecheap for instance, you would go to the Namecheap website.
But if you bought it from Namecheap but you used Cloudflare name servers you need to add the IP address on the Cloudflare website.
Add Records To Your Domain DNS
After you go to the website, you need to go to the domain name and configure the DNS settings of that domain name.
Point your website domain (i.e. mysite.com) by adding an 'A' Record at your domain hosting registrar or edit the existing one.
Change the old IP address to the Cloudways IP address. And do the same for (CNAME Record).

Step 4:Add Your Domain Name to Your Cloudways Application
Go back to the application management section again, this time select the Domain Management tab.
From here you can add your domain name and sub-domains.
Write down your domain name, the one that you have changed its IP address into the section of the Primary Domain, and click save changes.

Wait a few seconds and your domain name will be installed and pointing to your new WordPress website.
Now when you go back to the access details of your application, you will see that your WordPress website and the Admin Panel URLs have been changed to the new domain that you added.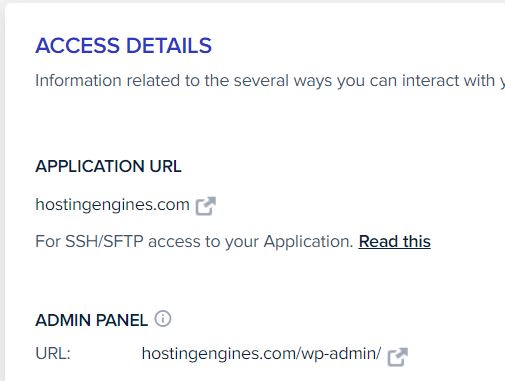 Step 5: Add Free SSL Certificate To Your Cloudways Application
The SSL certificate is the lock next to your domain name encrypting the connection between the user and server.
Therefore whenever visitors visit your site and see this little icon they know that your site is secure.
So it's an important feature to include within your website.
Adding and installing an SSL certificate to your website is quite easy on Cloudways.
All you have to do is to select the SSL Certificate in the Application Management section.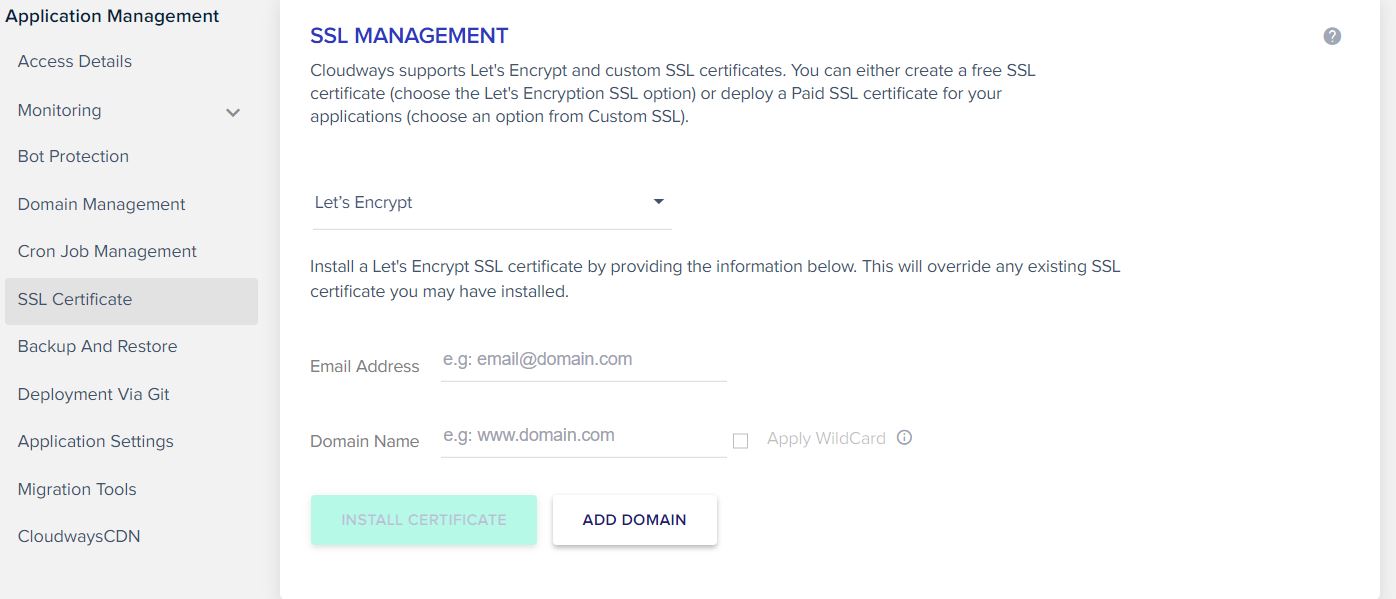 Add your email address, your Gmail, your business Email, then add your domain. Then Click Install Certificate.
This is the process of how you can create a WordPress website on Cloudways.
Step 6: Migrate Your WordPress Website To Cloudways
This is the final step for those who have a website performing badly and want to transfer it to the Cloudways server.
So if you already have another website and you want to migrate it to Cloudways, follow the steps below.
How to Install Cloudways WordPress Migrator Plugin?
Go to your old WordPress website dashboard, hover over Plugins, and click on add new.
In the search plugin bar right down (Cloudways WordPress Migrator), install and activate the plugin.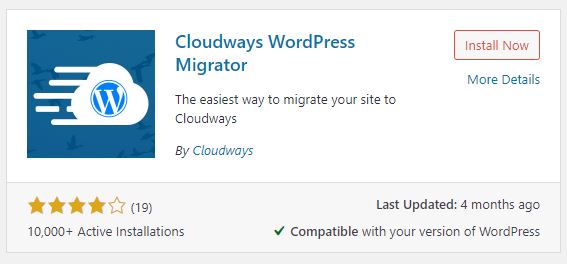 Click on Cloudways migrate tab at the bottom of your WordPress website dashboard.
A window that requires typing your e-mail address will show up.
You need to fill in the field with your email address then click on the check box that says agree to the terms and conditions, and privacy policy, and then click migrate.
After you do that, you will see a page that requires information about your new WordPress website.
Enter The Cloudways Application Credentials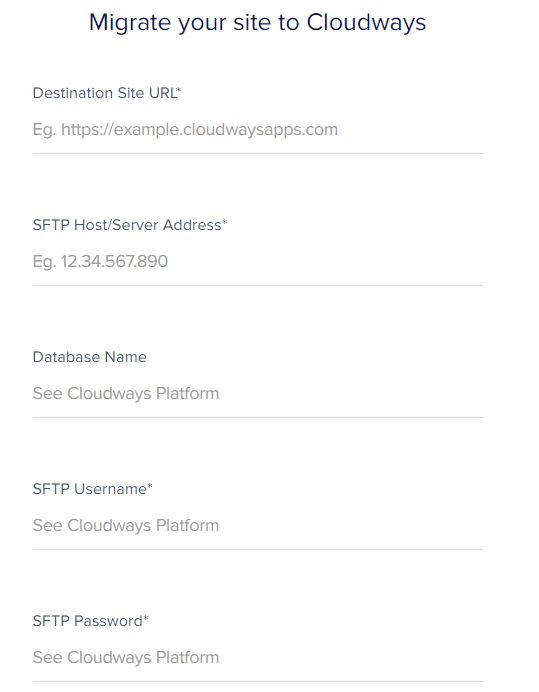 Now head back to the Cloudway application management section of your application that you want to transfer your website to.
From there you will find all the information you need in order to fill in the information that the Cloudways Migrator plugin requires.
Destination Site URL: This is the URL of your website that you want to transfer your old site to. I referred to it as the number 2.
SFTP Host/Server Address: It's your public IP address. I referred to it as the number 7.
Database Name: the name of your database. I referred to it as the number 5.
SFTP Username and SFTP Password I referred to them as the number 6.
Then head down and click migrate, and the migration will start.
After you finish the migration of your website, check if everything is in the right place.
You can let Cloudways do the migration process instead of you doing it by yourself, just call upon that.
There are other ways to migrate your website from one host to another, but we found that this method is the best choice, especially for big-size websites.
WordPress Website On Cloudways: Honest Opinion
We have tested many web hosting services, Shared, Managed, VPS, Cloud, and Dedicated servers.
We found that Cloudways is the best choice for all website owners.
If you are a beginner, Cloudways provides managed web hosting solutions.
If you are a pro, Cloudways saves your time managing the servers by yourself.
And if are obsessed with page performance and loading speed, Cloudways is the best choice for you.
Read also: Cloudways Review