Since this is our main niche, we test know much about web hosting and web hosts. And one of these web hosts is Cloudways
We have been using Cloudways for a while and know almost everything about it. In fact, our main websites are hosted on Cloudways including this site.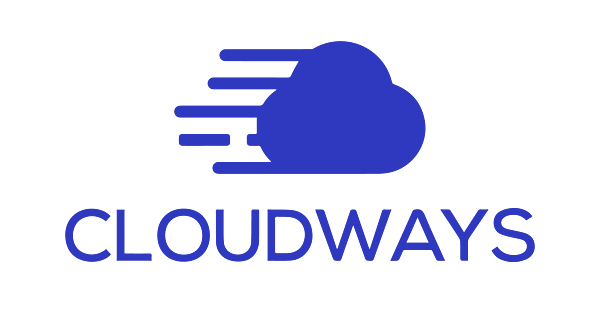 We believe that Cloudways is one of the best web hosting providers -if not the best- in the internet world-at least for now- when comparing all the web hosting aspects that matter the most.
And in this article, I will show you 12 reasons why you might consider using Cloudways services instead of your old slow web hosting service.
N.B. this article is not sponsored by Cloudways.
The Triangle Perspective:
To fully understand what we are going to discuss, let's look at Cloudways from the Users, Google, and Website Visitors' perspectives.
Web hosting users look for low-cost and reliable hosting services, they wanted a web host that has great performance but offers their services at a reasonable price. Also, customer support is an essential feature for non-developers.
Google loves websites that perform very well, it indicates fast-loading web pages and websites that are running smoothly and stably are from their ranking factors. Google wants to satisfy its visitors.
Website visitors are more likely to leave your website if your website is facing a serious issue with uptime or slow-loading pages. Or they may even decide not to come back and visit your website again. So you may not get the traffic you aimed at all.
That being said, here are the 12 reasons why Cloudways might be your best web host choice.
1- Cloudways Makes Everything So Easy
If you don't want to spend time configuring servers or other stuff, or you want to deliver the work quickly to customers, Cloudways is the best for making things easy and quick.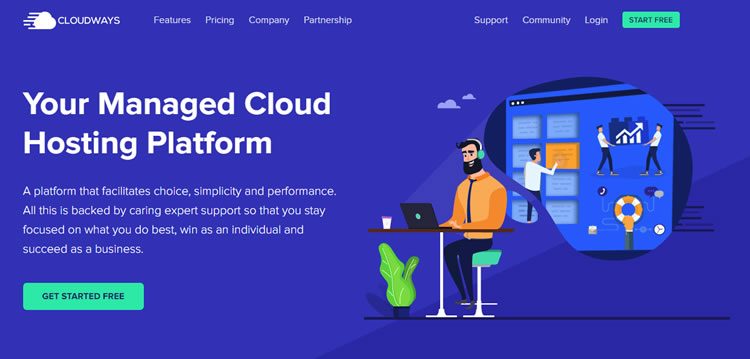 Everything on Cloudways is organized to help you do it smoothly and quickly. Want to create a server? Choose your server size and click deploy.
Want to create a WordPress website? Choose on which server you want to deploy the WordPress website, choose the WordPress app and name your new WordPress website, and then click deploy.
Want to install the SSL certificate for your all domain names? Enter your domain name and your email address and then click install certificate. Want SMTP, Mailbox, or Business Email, go to addons and install what you want.
If you want to change the main directory of your website to point your domain name to the subdirectory "the root folder" no need to login to your server via SSH, just go to the Application Settings and change the web root to the subdirectory.
If you want to upgrade your PHP version or MySQL or create cronjobs, all that can be done from the Cloudways dashboard.
There is no need for server configuration in Cloudways. That's why Cloudways is the best when it comes to ease of use. Read Cloudways review.
2- Clean Interface and Built-in Control Panel
A lot of web hosting companies "especially shared hosting" are using the cPanel control panel, and some of them have made their own control panel like the sPanel in the Scala Hosting situation.
Cloudways, in turn, has created its own built-in control panel.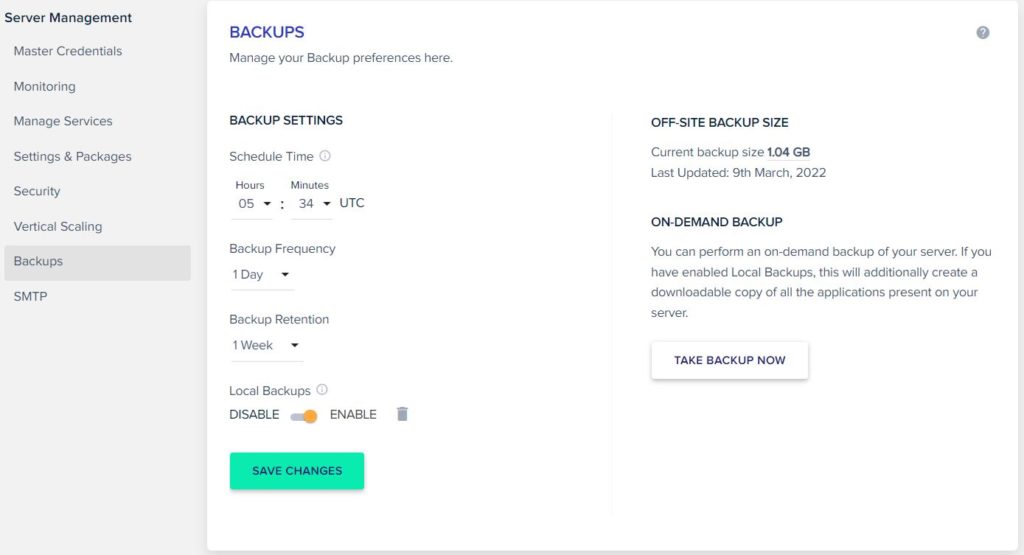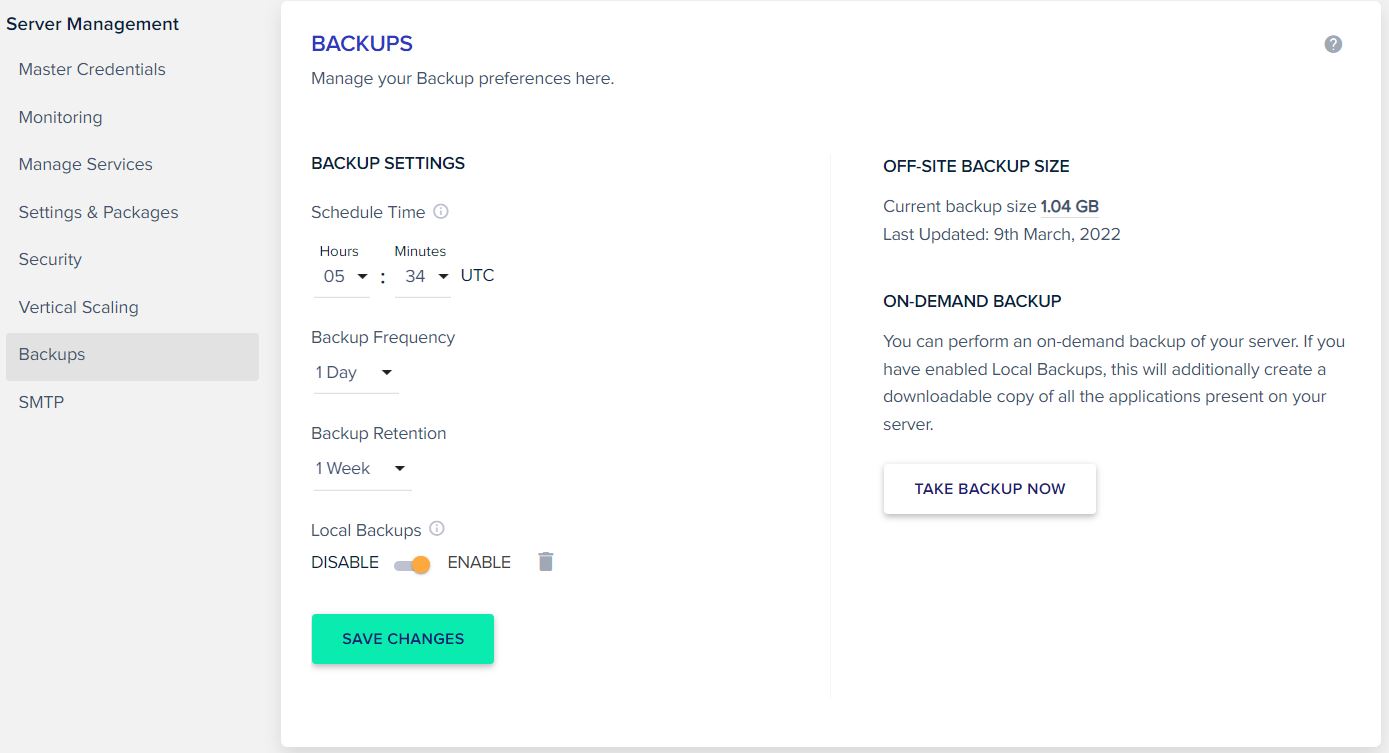 The dashboard management on Cloudways is the best control panel I have ever worked with. That is due to its functionality and clarity.
Everything is arranged, designed, and functioning in a way that makes it very simple and easy to navigate and configure your servers and websites even if you are a beginner.
Cloudways offers two built-in control panels, one for managing the servers called Server Management, and the other one for managing the applications and websites called Application Management.
From these two control panels, you can find and adjust almost everything you need to do without accessing the server files or spending time running some commands and codes even if you are a developer.
Unless you want to change major things on your server or application, you don't need to log into your server root. So, Cloudways is the best when considering the beauty and functionality of the control panels.
3- Host Unlimited Websites on a Single Server
When you first sign up for Cloudways, you will have to create your first server and your first application "website", and then you can create as many servers and websites as you want.
On any server you create on Cloudways, you can create as many websites as you want with ease, as many as your server resources can handle. And no additional fees, only the server cost.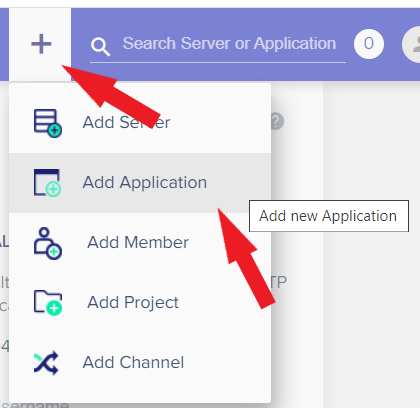 If we take for example the smallest server size on Cloudways that offers 25 SSD or NVMe storage space and ignore the other server resources, and every website you will create will take 2 GB from the server disk storage, this is 12 websites.
Also, creating these websites and applications doesn't require knowledge or coding, all you have to do is to go to create, create an application, choose the application type (WordPress, PHP, Magento) and that's it.
In addition, the Cloudways multisite feature lets you control and manage many sites from one dashboard at the same time.
So, creating multiple websites and managing them on Cloudways is doable, easy to achieve, and charges you no more fees, that's why we consider Cloudways to be the best in this aspect.
4- Cheap Prices Compared to Services
Cloudways doesn't really has its own data centers or hardware server machines. Instead, it creates servers from leading cloud hosting providers and supports and manages them through their platform with the addition of many features from their side.
Cloudways partnered with five leading companies, they are DigitalOcean, Linode, Vultr, Amazon Web Services, and Google Cloud Platform.
If you like DigitalOcean and you don't want to spend time configuring your server each time, then create a DigitalOcean server on Cloudways.
When you sign up for Cloudways, you will be eligible to create servers on any of those five cloud VPS services. Every one of these companies has different plans with different pricing.
After what we have discussed about Cloudways in this article, Cloudways must be one of the most expensive web hosting providers.
But in reality, for an $11 plan, you get a server on DigitalOcean with 1 CPU, 1 GB RAM, 1 TB Bandwidth, and 25 GB SSD storage space.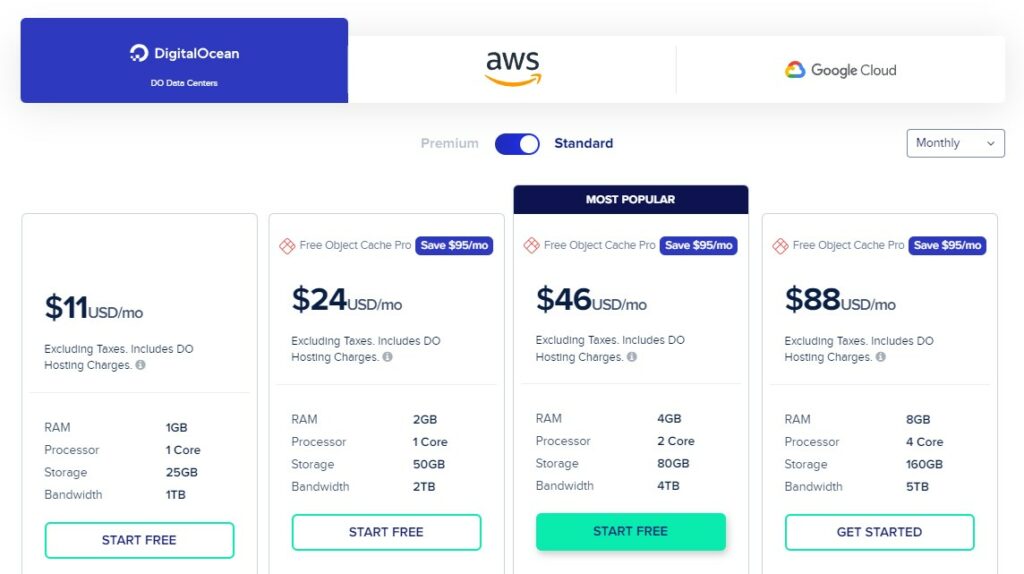 With the addition of $1 for the Rackspace Email addon and $0.10/1K/mo Elastic Email addon, it brings the total to $12.10. With this amount of money monthly, you can start multiple businesses on Cloudways.
And when you grow up your businesses, you can scale up at any time by either increasing the server resources or creating other servers and migrating your applications to them.
Cloudways pricing compared to competitors:
When we say Cloudways competitors, we deferentially mean WP Engine and Kinsta. They are the alternatives to Cloudways. But the big question here is what are the major differences between them.
Cloudways, Kinsta, and WP Engine provide managed hosting solutions. all three web hosts are great when it comes to hosting a managed WordPress website. But still, there are some major differences.
| | | | |
| --- | --- | --- | --- |
| Comparison | Cloudways | WP Engine | Kinsta |
| Cheapest Plan | 1 GB DigitalOcean | Managed WordPress | Starter |
| No. of Websites | Unlimited | 1 website | 1 website |
| Storage | 25 GB | 10 GB | 10 GB |
| Bandwidth | 1 TB | 50 GB | 25,000 |
| Max visits | Unlimited | 25,000/mo | 25,000/mo |
| Money back | Pay as you go | 60 days | 30 days |
| Pricing | $11/mo | $20/mo | $30/mo |
Cloudways' cheapest plan compared to Kinsta and WP Engine
As you can see, there is a huge difference between Cloudways on one side and WP Engine and Kinsta on the other side. Even for a plan that is nearly three times less, Cloudways offers much more resources on its server sizes.
5- Pay as you Go
When you first sign up for Cloudways, Cloudways will give you a 3-day free trial to test their services. After the end of the three days, you will have to attach a payment method to your account.
However, you will only be invoiced when and for the services and resources you consume and at the beginning of the next month.
For instance, if you launched a server that costs $10 per month, and then deleted it after 15 days of creating it, you will only be charged for the 15 days which is $5, and yes, at the beginning of the next month.
That makes the payment process on Cloudways very flexible and enthusiastic, as you won't pay upfront or think about their refund policy.
Almost all shared hosting companies charge you upfront, and if you don't like what they offer and want to migrate to another web hosting company, you will have to go through a refund process.
And when you exceed the refund time, you won't be able to make a refund. So, Cloudways is one of the best when it comes to the payments process.
6- Performance is Fascinating
Website performance is considered one of the most important criteria you should think about when it comes to user experience and SEO.
The performance of any business website plays a major role in business success. Hence, the Performance of any web host plays a major role to determine if a certain web hosting provider a good or not.
Uptime:
With poor uptime, your website will face many times downtime, so your visitor won't be able to access your website, and Google will notice that shortly.
You need to pick a web host that has the height uptime so that it won't happen so often.
Cloudways claims to provide a 99.999% uptime guarantee, which is nearly 100% uptime.
The image below is an uptime stats for one of our websites on Cloudways showing that the website faced 13 minutes of downtime in the last 6 months. That is 99.995% uptime.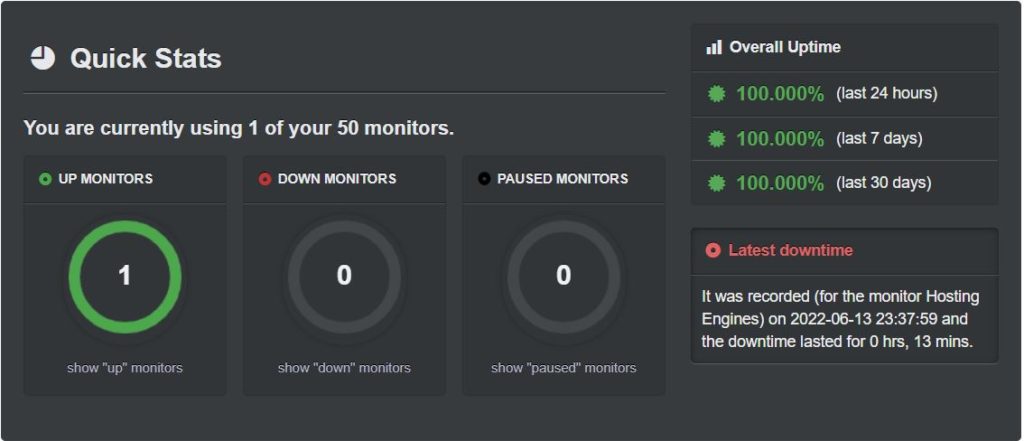 Loading speed:
Page speed is a measurement of how fast the content on your page loads and has a tremendous impact on visitors' satisfaction and your conversion. Also, Google has indicated site page speed as a ranking factor.
Cloudways claims to load WordPress in less than 1 second, they guarantee that they will make your website faster two times faster than your old web hosting provider does. To be precise, Cloudways claims to load WordPress in 37 MS.
Our website tests on GTmetrix show that it loads in 513 ms, that's less than 1 second.

Server locations (data centers):
Web hosting data centers play a crucial role in website loading speed. The physical location of the data center can affect the loading speed of a website.
Data centers that are located closer to the majority of a website's visitors will generally result in faster loading speeds for those visitors. This is because the data has less distance to travel, which reduces latency.
Cloudways has over 40 server locations around the world from the five hosting providers they partnered with.
Therefore, you get a better chance of choosing a closer data center for your customers.
7- Cloudways is a Cloud Hosting
The Cloud hosting solution is considered the best solution for web hosting for many reasons including the uptime it offers, the low prices, and more. (Cloud hosting = Great performance)
Here are some of the reasons why Cloud computing is a better web hosting option than most of the hosting options available now:
Low cost: Unlike other types of web hosting, you pay only for the cloud services you use "Pay as you Go". Also, the cloud hosting solution eliminates the expenditures of the resources needed to run and manage your own infrastructure.
Fast servers: Cloud computing services provide self-service and on-demand, which reduces the pressure on the applications. And that's what makes it even faster.
Reliability: Cloud hosting hosts, your websites on many of their servers, so that when any server fails to deliver your content, another server will do the job.
Scalability: On cloud servers, you can easily upgrade or downgrade your resources to the number of resources you need.
Security: Cloud companies provide many security features and technologies for customers to keep their data and applications safe.
That being said, Cloudways' uptime is stunning and it provides fast servers that will help your website to load fast. Eventually, this will affect the User and Google satisfaction.
8- Cloudways Security is a Top-notch
Web hosting security is the process of ensuring that a website is not attacked.
Web hosting security is a very important topic for all webmasters, website owners, and bloggers. It is not enough to just have a domain and a website, because you need to protect it.
This includes:
Keeping the web hosting provider safe from attacks and malware.
Keeping the website files safe from unauthorized access and modification.
Keeping the data center safe from physical intrusion.
That being said, Cloudways take the security of your website seriously, they developed multiple security layers to make sure that your servers and applications are safe.
SSL certificate:
This is a feature that you can find on most web hosting providers. However, it is important that it be present in all your applications.
Cloudways lets you install both premium SSL certificates and the free Let's Encrypt SSL certificate. And you can install each for unlimited domains, as many times as you want.
Installing an SSL certificate on Cloudways is easy, all you have to do is to go to SSL Certificate from the Application Management. Next, then enter the domain name and your emails, and then click Install.
If you have another domain you want to install an SSL certificate on it, point the domain name to the IP server, add in the Domain Management, go to SSL Certificate, enter the domain name and your emails, and then click Install.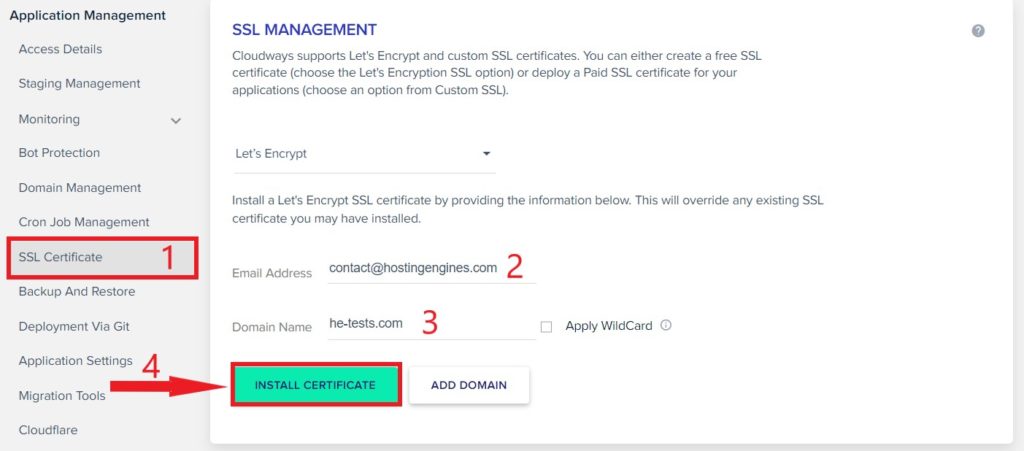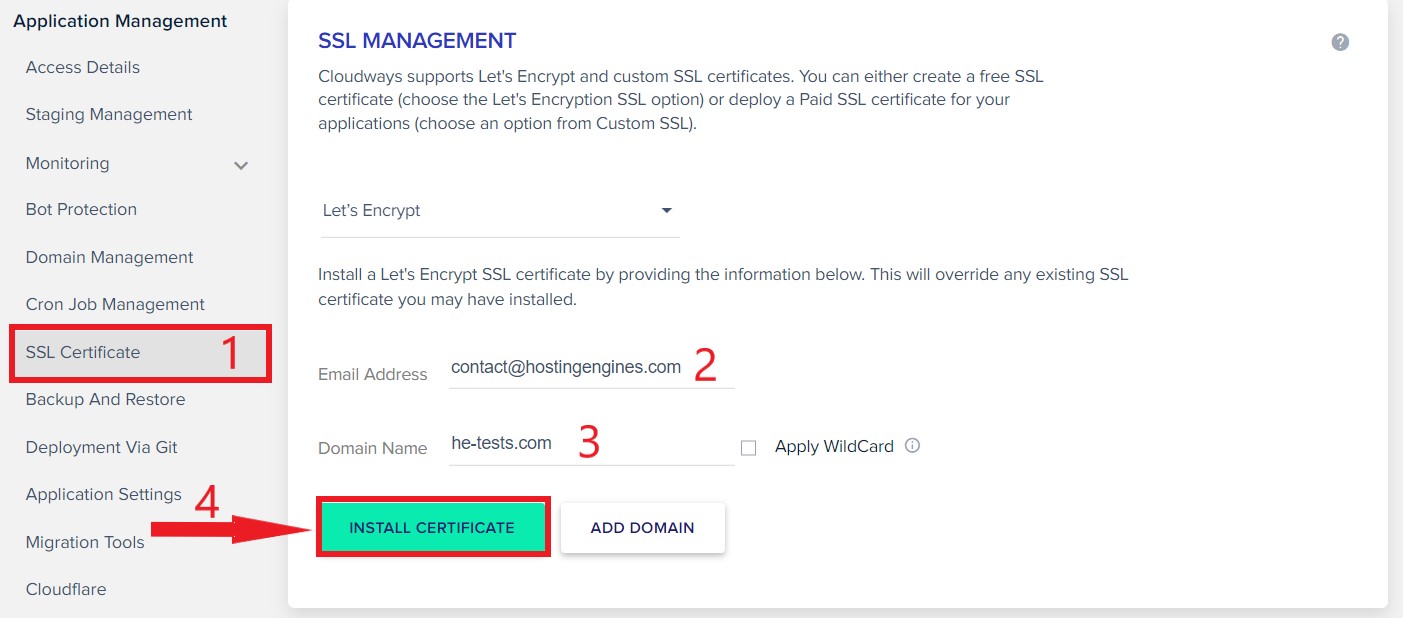 SSH access control:
By default, no one can access your servers and applications through an SSH terminal, even you yourself.
But if you want to, you must activate SSH ACCESS from the application settings.
The best part of this feature on Cloudways is that if you have multiple websites on your server and you want to work with one website on that server, you can give SSH access only to that particular website.
IP Whitelist:
Cloudways IP Whitelist is a security feature that blocks all traffic from IP addresses that are not whitelisted. It helps to prevent unauthorized access to your account.
On Cloudways servers, remote connections to MySQL are not allowed because -as they say- of the inherent security risks to the servers and applications.
CloudwaysBot Protection:
Bots are targeting websites to acquire possession of it, gather information, or cause some damage.
Bot Protection aims to identify and block malicious traffic and protect from attacks like Dictionary attacks, Web Scraping, XMLRPC attacks, and Brute Force attacks.
It also helps to reduce server resource usage for WordPress applications.
Bot Protection monitors all these activities and proactively blocks them upon detection.
CloudwaysBot Notification:
CloudwaysBot Notification is a way for Cloudways customers to get notifications about their servers, applications, billing, performance, and security.
It is an AI-powered chatbot that can be used by anyone with a Cloudways account. The chatbot will send alerts and messages in the form of push notifications to the users.
This is one of the cool features that Cloudways offers to its customers to notify them when there are any changes in their account status.
Regular Security Patching:
Cloudways Regular Security Patching is a module that will help you to keep your server up-to-date with the latest security patches and make sure that your server is safe from any malware or virus.
This Cloudways module will automatically check for updates and apply them on a regular basis.
Auto Healing:
Cloudways offers a feature called Cloudways Auto Healing, which automatically monitors the servers that you have on Cloudways and detects any issues before they happen.
The system is designed to identify any issue that might occur in the future and fix it. It checks for potential issues and fixes them before they happen.
9- Powerful Real-time Monitoring
Monitoring your servers and applications is very necessary for your business, it can help you to ensure that your systems are running smoothly and efficiently.
Since Cloudways offer to create as many websites and applications as you want per one server, it's essential to have an eye on the server and the applications inside it.
Every server has a limited amount of resources -as you chose- you don't need your server to run out of resources and you do not know that.
Let's say that you have four websites on your server, one of them has got loads of traffic suddenly due to black Friday or anything like that.
If those websites consumed all the RAMs and the Bandwidth, it will affect the other websites for sure. So, you need to either scale up your server or create another server for that particular website.
Here comes the Cloudways real-time Server and Application monitoring feature benefit, it provides you with real-time monitoring of your servers and applications. So you know exactly what's going on at the moment or the time that has passed.
This feature offers three types; Summary Monitoring, Details Monitoring, and New Relic.
Summary monitoring:
The Summary Monitoring shows the general server health, it shows you the RAM usage, the CPU usage, the DISK usage, and the Bandwidth usage.
Also, the APPLICATION WISE DETAILS tab shows you all the applications you have on that server and the percentage and amount of the RAM, the CPU, and the Disk space consumption for each.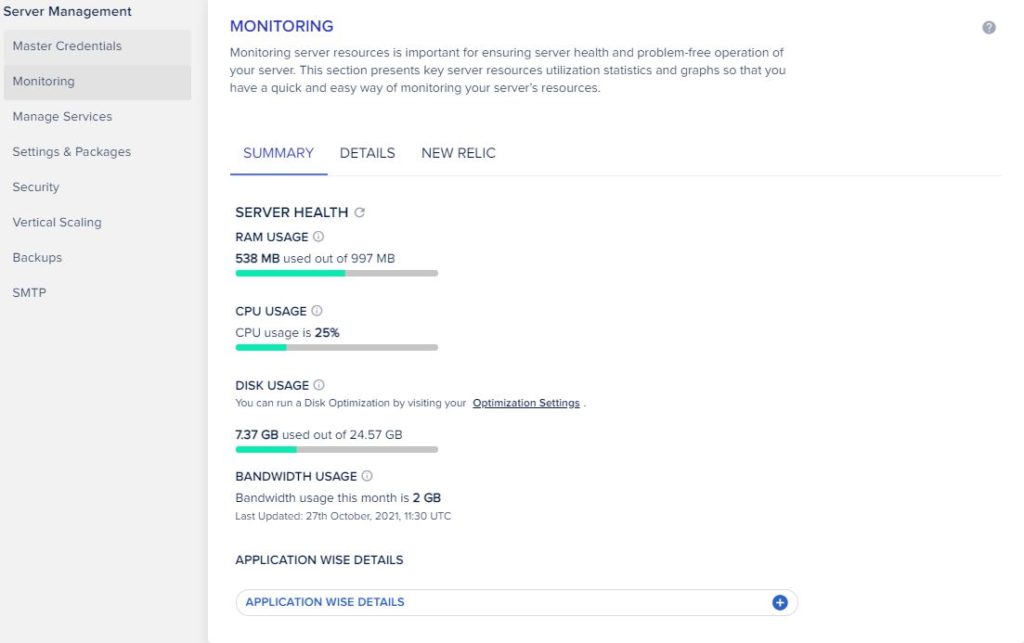 Details monitoring:
The Details Monitoring shows more advanced real-time monitoring, it shows you each aspect of your server at a time, at the time you choose.
With the Details Monitoring feature, you can monitor -e.g. RAMs- and how it works anytime from 1 hour ago to 6 months ago.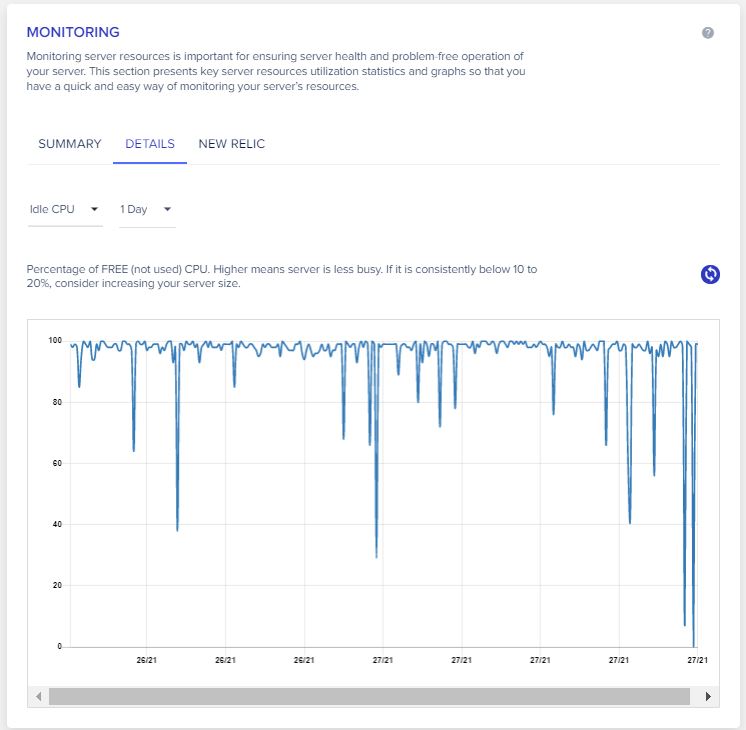 IF we take the CPU as an example, to monitor the CPU of the server select the CPU from the dropdown menu and select the time from 1 hour ago to 6 months ago.
This way, this tool will generate results of how your server CPU was doing from the time you chose until now. So then, you can decide what is the next move you should do to improve it.
New Relic monitoring:
New Relic is an application performance management (APM) tool used for application insights. It offers real-time monitoring of your application's performance and reliability.
Setting up New Relic APM on a server will activate monitoring of all your applications available on that server.
To use the New Relic monitoring system with Cloudways you need to create an account with them and then get your license so you can integrate it with the Cloudways system.
With all the monitoring abilities that Cloudways offer, Cloudways is one of the best web hosting providers in the market.
10- 40+ Datacenters
Cloudways doesn't own the servers that they provide, they set up the server for you from a different LaaS provider and manage it through their platform.
These LaaS providers are Linode, Vultr, DigitalOcean, Amazon Web Services, and Google Cloud Platform.
When you want to create a server you will have to choose one of these leading companies to rent the server from their data centers and manage it completely through the Cloudways platform.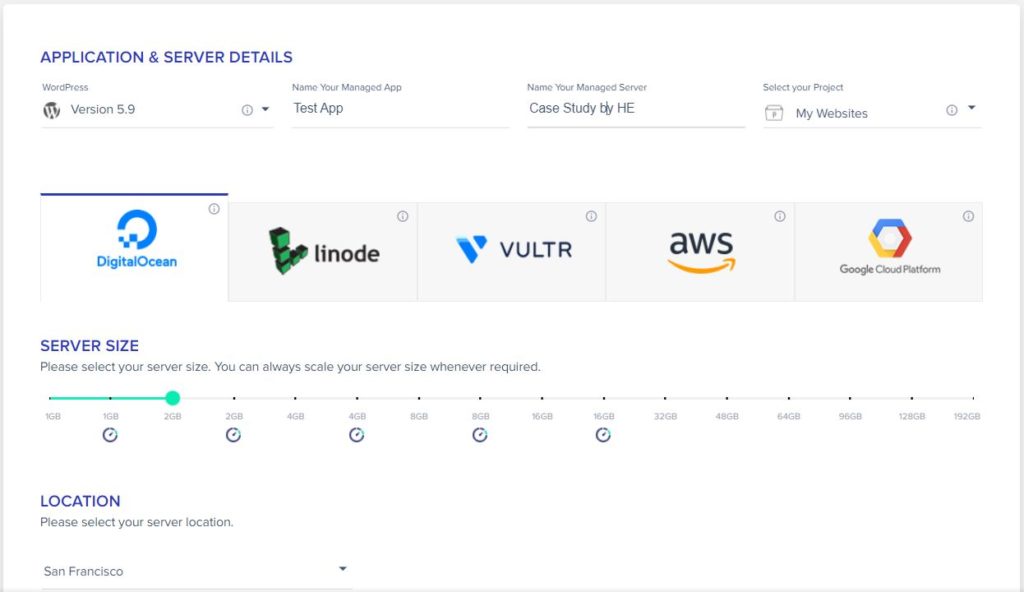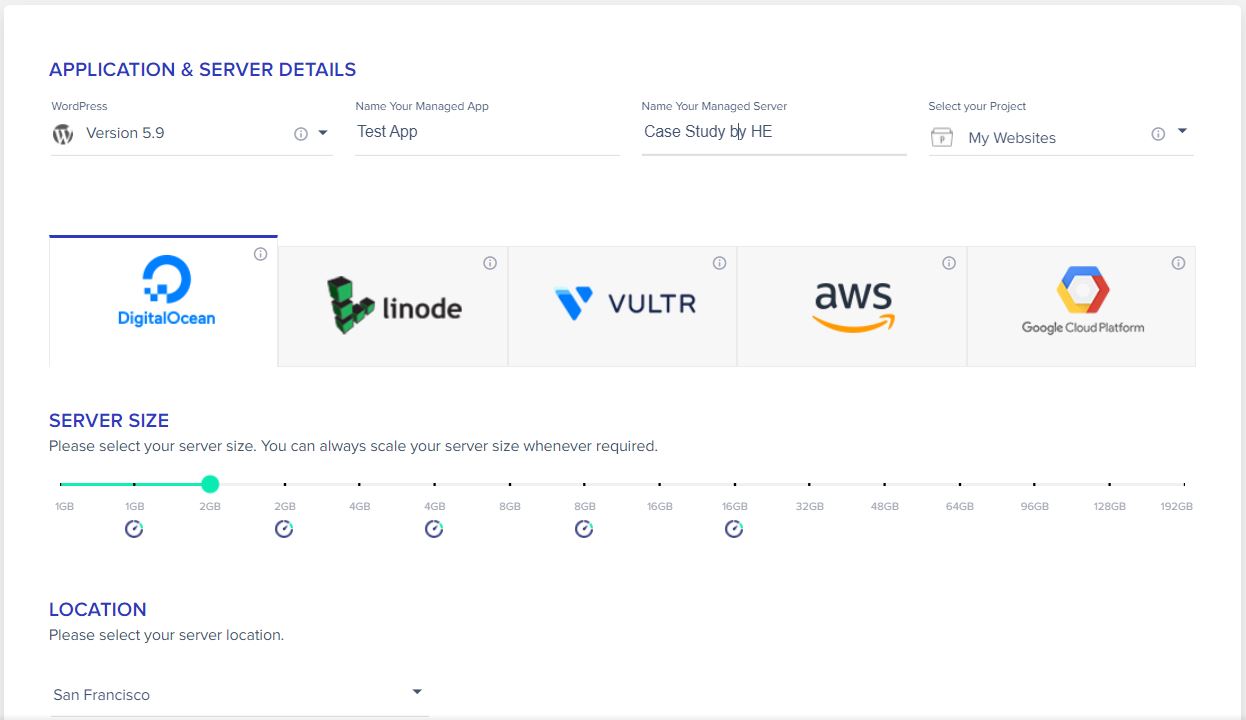 Taking this into consideration, on Cloudways you get a large variety of plans and pricing from these different providers, therefore, a large variety of data centers to choose from.
And that's a good reason to consider Cloudways as one of the best web hosting providers on the internet.
11- Many Features and Add-ons
Cloudways offers a wide range of features and add-ons designed to make managing and optimizing your website easy and efficient.
From its cloud-based infrastructure to its user-friendly interface and security, Cloudways has a lot to offer users looking for a reliable and flexible web hosting solution.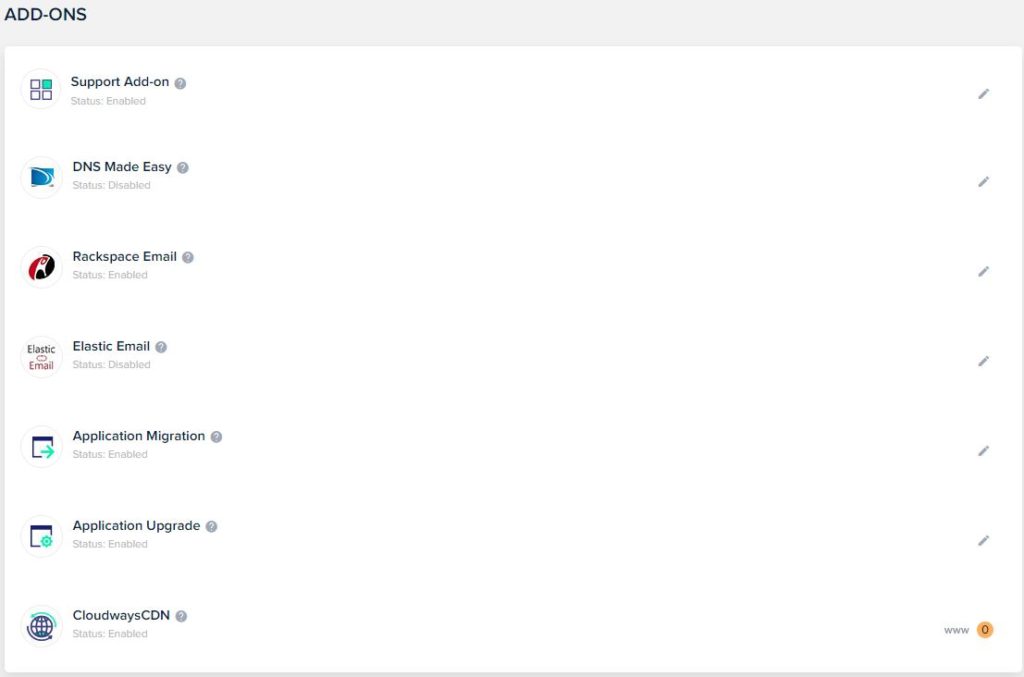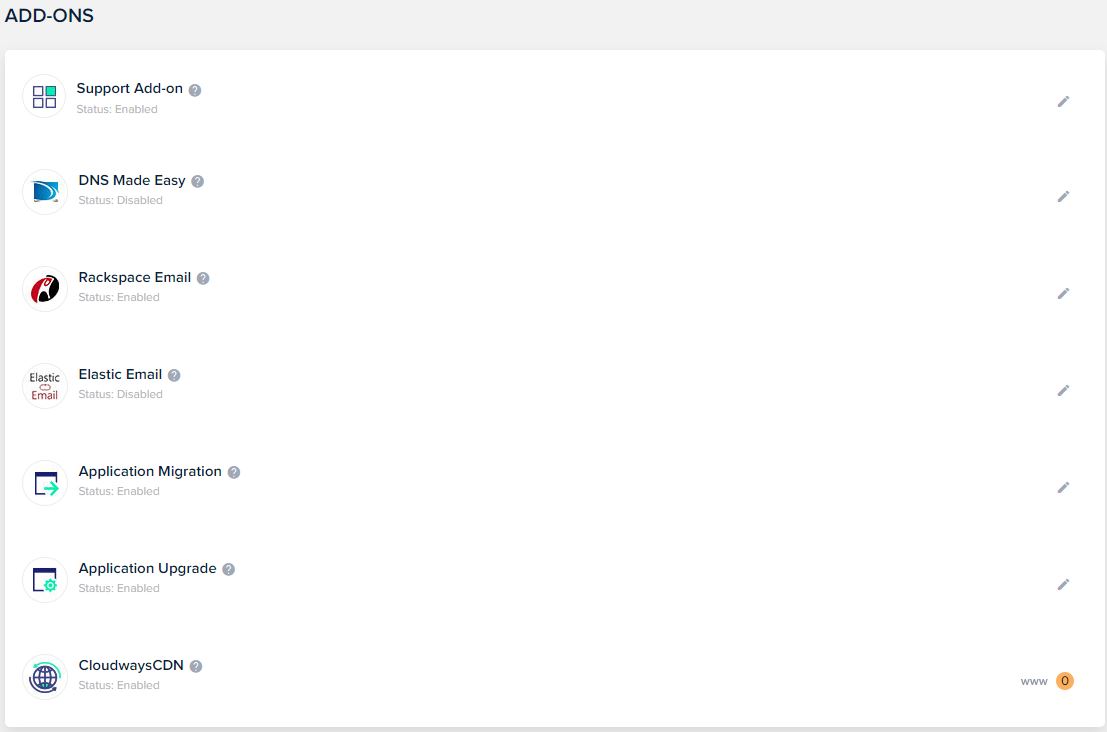 Rackspace Email addon:
Cloudways offers a Rackspace Email addon which is a cloud-based email service that lets you use your own domain name with the Rackspace Cloud.
This addon allows you to create a professional business email "e.g. [email protected]" with a mailbox to send and receive emails.
Cloudways users can use this feature and setup it up in a couple of minutes. And you can create as many aliases as you want for only $1 a month.
Elastic Email add-on:
Cloudways offers Elastic Email addon which is an email marketing tool that allows you to send outgoing emails to your customers and application users.
If you have a website, SaaS service, or any service that requires users to sign up, you definitely want this add-on.
For outgoing emails such as verification emails, password recovery emails, and webhooks you need a service to deliver the outgoing emails to your users.
The Cloudways Elastic Email add-on can be integrated with multiple servers at the same time and for only $0.10/1K emails per month.
More Cloudways features:
Here are some of these features, but you can see them all on the Cloudways Features and Addons page.
Cloud-based infrastructure: Cloudways uses cloud-based infrastructure, which allows for greater scalability and flexibility than traditional web hosting. This means that users can easily adjust their resources as their website's traffic and needs change.
User-friendly interface: Cloudways has a user-friendly interface that makes it easy for users to manage their websites and servers, even if they have little to no technical experience.
One-click installations: Cloudways offers one-click installations for popular CMS such as WordPress, Magento, and others, making it easy to get a website up and running quickly.
Optimized servers: Cloudways servers are optimized for performance, security, and speed, which helps to ensure that websites load quickly and perform well.
24/7 customer support: Cloudways offers 24/7 customer email and live chat support, so users can get help whenever they need it.
Add-ons: Cloudways also offers a number of add-ons, such as CloudwaysCDN, Cloudways Backup, and CloudwaysBot, that can help users to improve the performance, security, and functionality of their websites.
Advanced security: Cloudways offers advanced security features such as two-factor authentication, IP whitelisting, and regular security patches to keep your website safe and secure.
Automated backups: Cloudways provides automated backups to ensure that your website data is safe and secure and that you can easily recover it in case of any disaster.
Performance optimization: Cloudways offers a range of performance optimization features such as server caching, CloudwaysCDN, and an in-house caching plugin to help speed up website load times.
12- Many Applications
Do you want to create a WordPress website on your Cloudways server? No problem, click add an application and choose the WordPress application.
You want to create another website but this time it's a PHP script, choose the PHP application and proceed with the deploy button.
It also offers many other applications such as wooCommerce, Magento, and more.
Cloudways is a better choice than shared hosting because it lets you choose the app you want to install with a one-click installation. No server configuration is required.
Cloudways compared to other services
To summarize all the information we have mentioned today and much more we will do comparison tables to see all information together in one place.
The comparison will be between Cloudways and its competitor's "managed to host providers" and between Cloudways and shared hosting and unmanaged cloud hosting providers.
Cloudways vs Cloud hosting vs Shared hosting:
| | | | |
| --- | --- | --- | --- |
| Comparison | Shared | Cloud VPS | Cloudways |
| Resources | Shared | Dedicated | Dedicated |
| Price | Cheap | Cheap | Reasonable |
| Billing system | Upfront | Pay as you go | Pay as you go |
| Performance | Good | Excellent | Excellent |
| Support | Yes | No | Yes |
| Security | Good | Excellent | Excellent |
| Reliability | Good | Excellent | Excellent |
| Scalability | Yes-limited | Yes | Yes |
| Server Config. | No | Yes | No |
| Customization | No | Yes | Yes |
| Speed | Good | Fast | Fast |
| Applications | Limited | Yes | Yes |
| Features | Yes | No | Yes |
| Best for | Beginners | Advanced | Both |
Cloudways vs Competitors (WP Engine and Kinsta):
| | | | | |
| --- | --- | --- | --- | --- |
| | Comparison | Cloudways | WP Engine | Kinsta |
| | Ease of use | Yes | Yes | Yes |
| | Cheapest plan | $11/mo | $20/mo | $35/mo |
| | Cheapest storage | 25 GB | 10 GB | 10 GB |
| | Cheapest Bandwidth | 1 TB | 50 GB | – |
| | Cheapest Visits | Unlimited | 25,000/mo | 25,000/mo |
| | Multisites | Free | Additional cost | Higher plans |
| | Unlimited websites | Yes | No | No |
| | Real-time monitoring | Yes | No | Yes |
| | Uptime | 99.99% | 99.90% | 99.90% |
| | Premium Uptime | – | 99.95% | – |
| | Speed | Fast | Fast | Fast |
| | Data centers | 44 | 11 | 34 |
| | Support | Very good | Excellent | Excellent |
| | Chat support | Yes | Yes | Yes |
| | Ticket support | Yes | Yes | Yes |
| | Phone call support | Additional cost | When Upgrade | No |
| | Vertical scaling | Yes | Yes | Yes |
| | Automated migration | Yes | Yes | Yes |
| | Migration plugin | Yes | Yes | Yes |
| | Security | Excellent | Excellent | Excellent |
| | Security features | Excellent | Very good | Very good |
| | Automated backups | Yes | Yes | Yes |
| | On-demand backups | Yes | Yes | – |
| | Domain registration | No | No | No |
| | Staging | Yes | Yes | Yes |
| | Money-back guarantee | Pay as you go | 60 days | 30 days |
| | SSL certificate | Yes | Yes | Yes |
| | CDN | Yes | Yes | Yes |
Cloudways vs WP Engine vs Kinsta
Final Thoughts
Cloudways is a cloud hosting provider that offers managed cloud hosting and provides customers with the flexibility of choosing the type of server they want to use on their website.
From the day they have been found "in 2011" until now, they kept improving their services, that's the reason why they get famous quickly.
We tried Cloudways for quite a time and trust them and their support and services, and now many of our businesses are hosted on their platforms.
We recommend Cloudways for all types of websites, also we recommend it for beginners and Pros as they combine the ease of use for beginners and the customization for advanced developers.
Read also:
Cloudways review.
Install WordPress on Cloudways.
Install PHP on Cloudways.
Migrate WordPress website to Cloudways.