Do you want to know more about Cloudways? This article shows 25 best Cloudways features and addons you definitely don't know them all.
Cloudways is a cloud web hosting company that provides a reliable managed cloud hosting service, and here are its most important features and add-ons.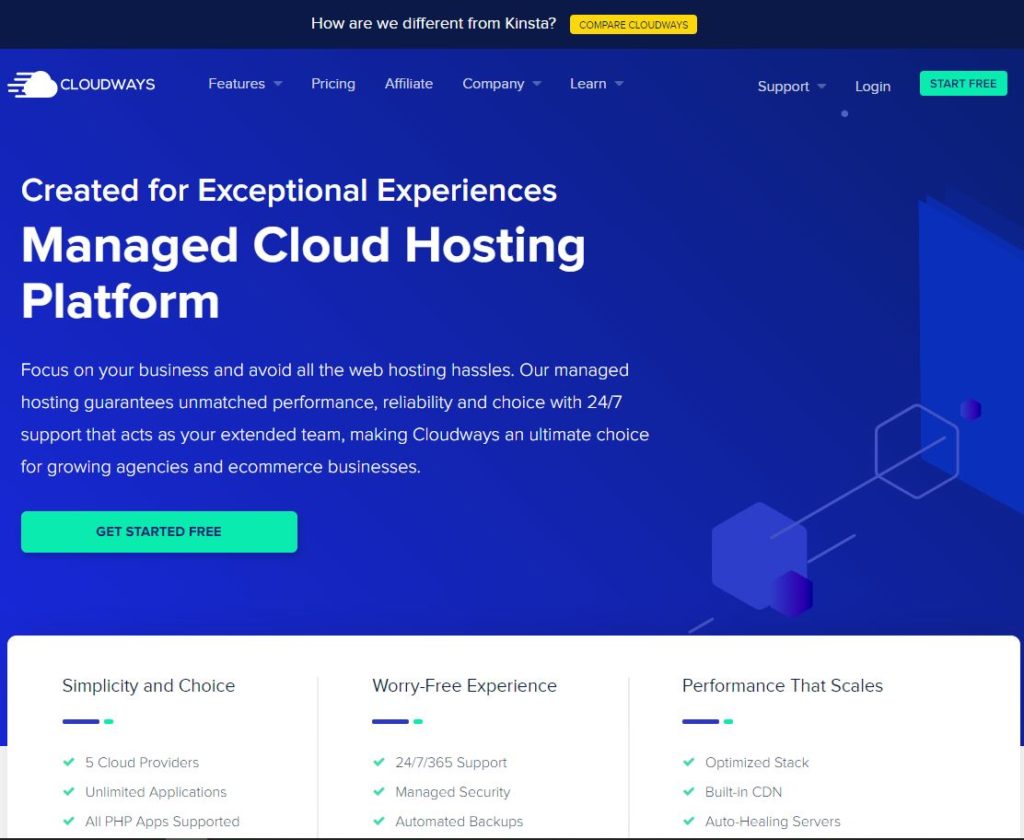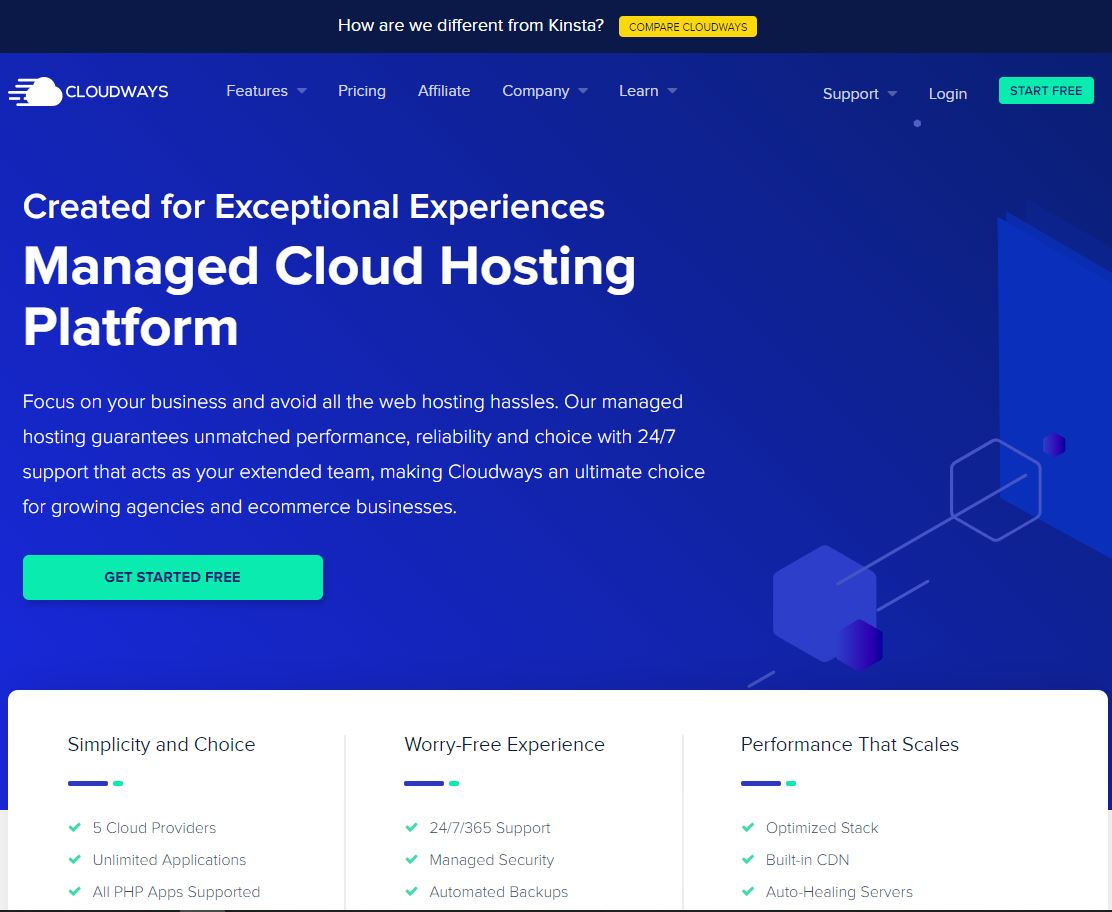 1. Cloudways is a Cloud Hosting
Cloud computing is the delivery of computing services over the internet. Including servers, storage, databases, networking, and so on.
Cloudways is a cloud hosting solution, and cloud hosting tends to perform better than the other web hosting types. But why?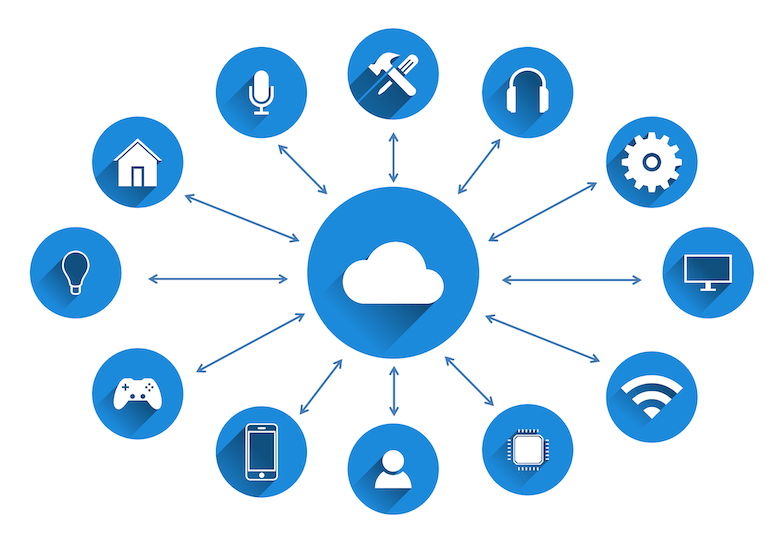 Cloud hosting costs less than other web hosting types because you pay only for the cloud services you use, and it eliminates the expenditures of the resources needed to run and manage the server.
Cloudways hosting is fast because it reduces the pressure on the applications.
Reliable, it hosts your websites on many a cluster server, so your website will suffer no downtime.
On cloud servers, you can easily upgrade or downgrade your resources to the number of resources you need.
Cloud computing is more secure than other types of web hosting, it provides layers of security to keep your data safe.
2. Partnered with Leading Companies
Cloudways offers to host your website on five of the best leading Cloud hosting providers on earth. They are DigitalOcean, Vultr, Linode, Amazon Web Services, and Google Cloud Platform.
These companies provide unmanaged cloud hosting, and Cloudways do all the management and support commitments and deliver a nice and clean management platform to you.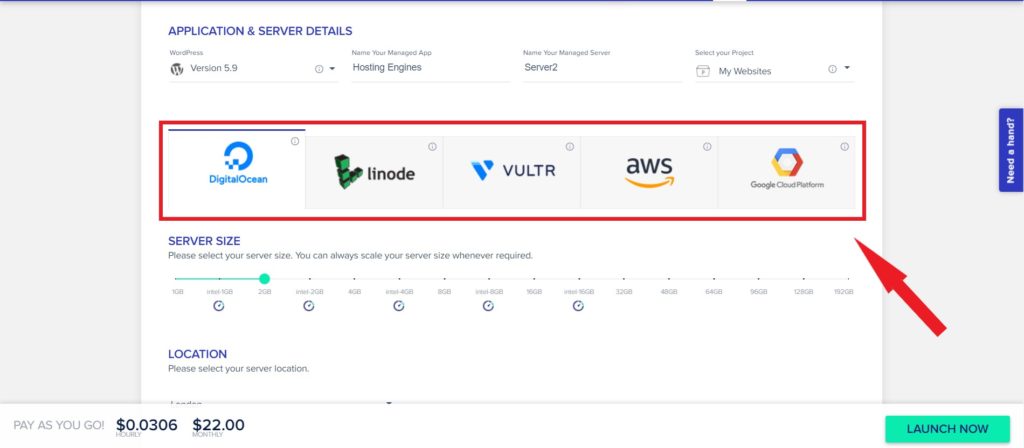 3. Pay-as-You-Go Payment System
Cloudways is a Pay-as-You-Go service, you only pay for the resources you consume. You will be invoiced for the services used in any given month at the start of the following month.
If you launched a server on Cloudways for one day, you will only be charged for that given day.
4. 24/7 Real-time Billing
Cloudways doesn't charge you in front. Instead, your invoices will be billed after the end of the month. Therefore, Cloudways offers a 24/7 real-time billing feature. This Cloudways feature will give you an indication of your server usage for a specific month.
From real-time billing, you can view your current charges along with an estimated cost for your next invoice with real-time billing. So you know how much money you consumed every time and what servers and add-ons consume that money.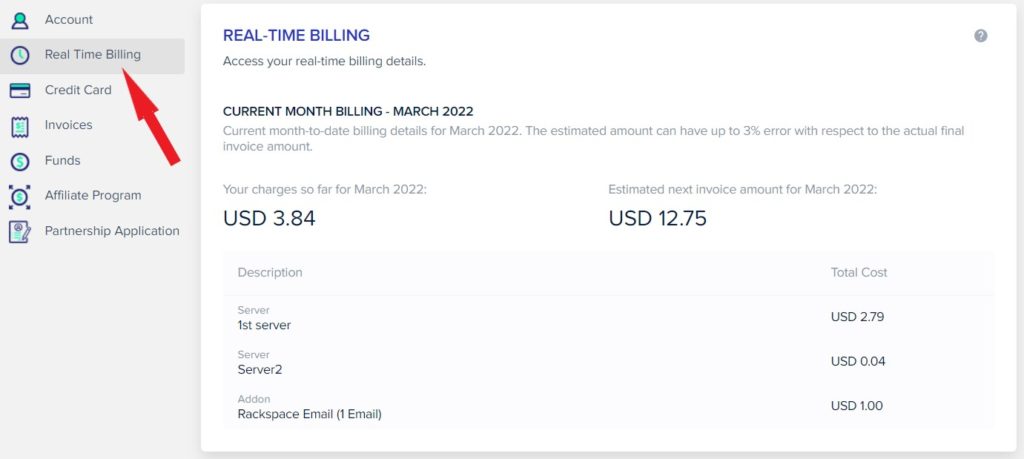 5. 24/7 Real-time Server Monitoring
Monitoring server resources is important to ensure server health and problem-free operation of your server.
Cloudways 24/7 real-time monitoring built-in feature makes sure to keep an eye on your server resources to avoid any inconvenience. You can monitor your server and server resources in real-time.
From there you will see your Server resources usage instantly such as CPU usage, RAMs usage, and Storage usage. Therefore, Whenever your websites on that server need attention like adding additional resources, you can see that in real-time server monitoring.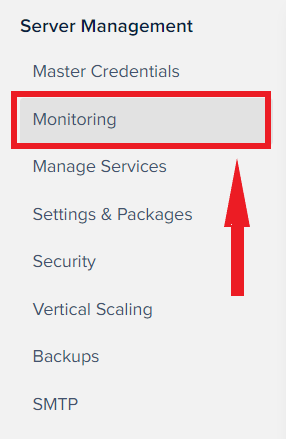 You can find the server monitoring in the Server Management panel. You will see three tabs, Summary, Details, and New Relic.
First: Summary monitoring:
In this tab, you can view a quick summary of your server resource utilization such as the RAM usage, CPU usage, disk usage, and bandwidth usage.
You will see a clear consumption of your server resources so you will know exactly what your server is doing.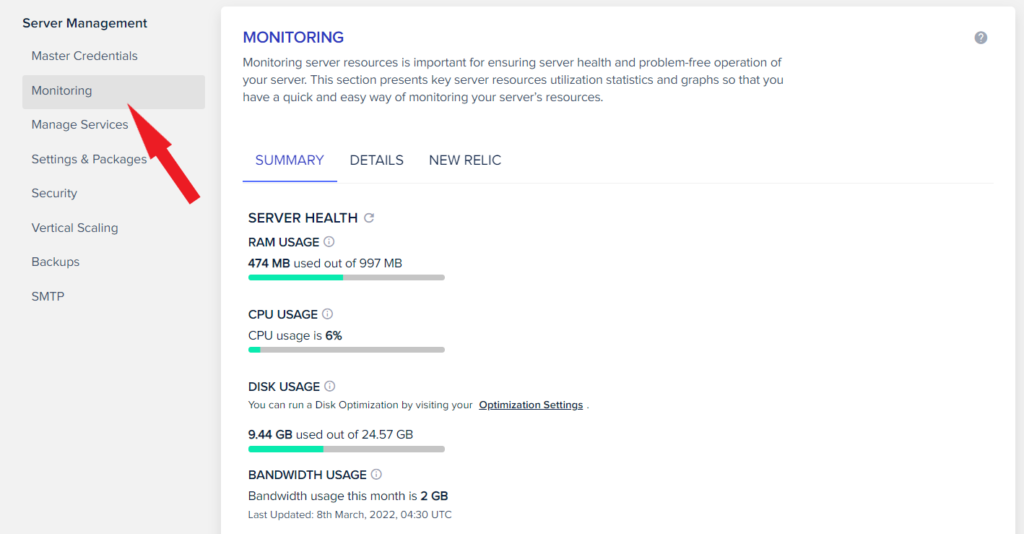 In addition, just under the BANDWIDTH USAGE, you will see the APPLICATION WISE DETAILS. This shows the consumption of resources for each application on the server.
You can see the SPU, RAM, and Disk usage of all the websites you host on that server. This will help you determine which and how much a particular website is consuming your server resources.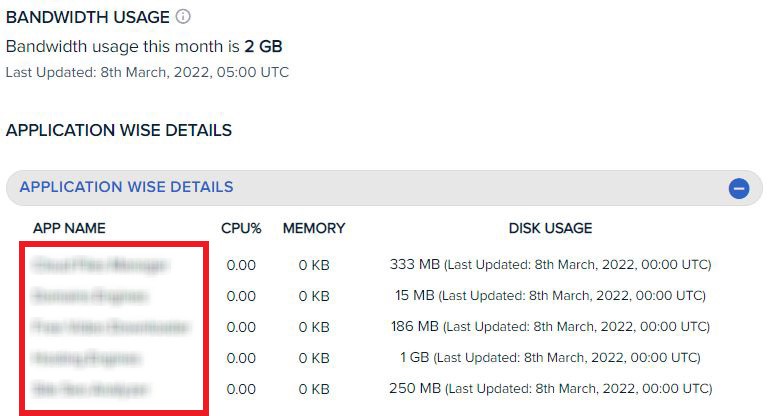 Second: Details monitoring:
The Details monitoring monitors important aspects of your server to decide if you need to scale up your server in particular situations. From there you can monitor a specific server resource at a specific period of time.
You can monitor your CPU performance, free Memory, Free Disk Space, reads per second, and writes per second.
For example, if you want to monitor the RAMs of your server, select the Free Memory option and choose the time. The time is any period between an hour and six months.
Once you do that, the graph shows you exactly what your server was performing.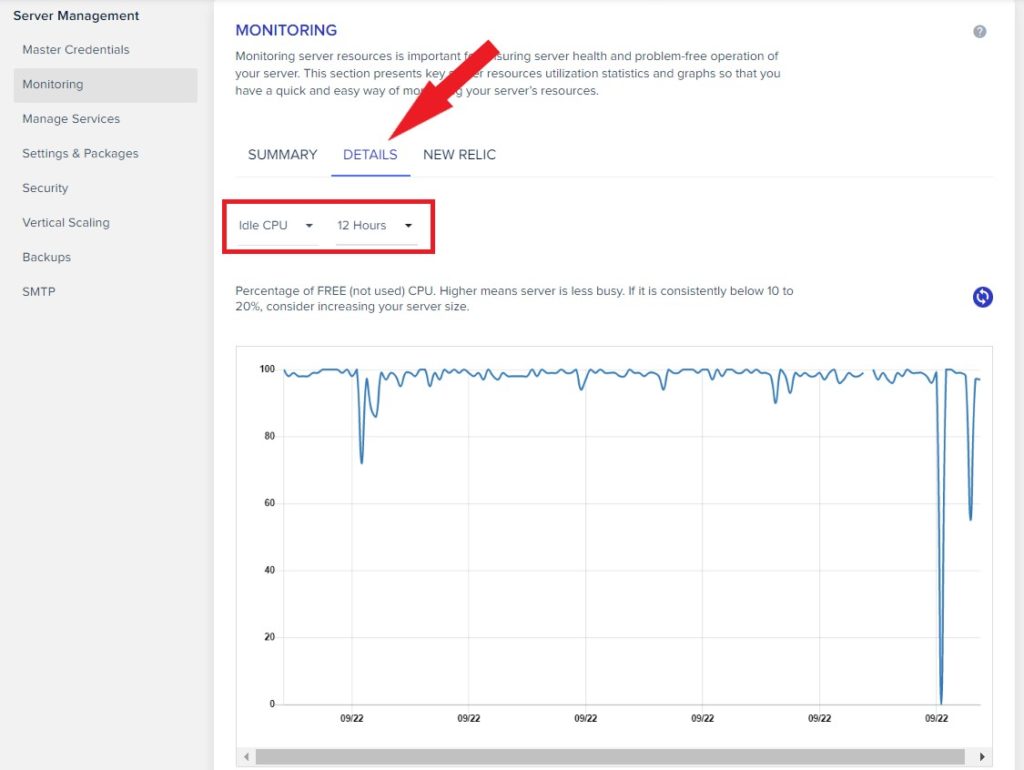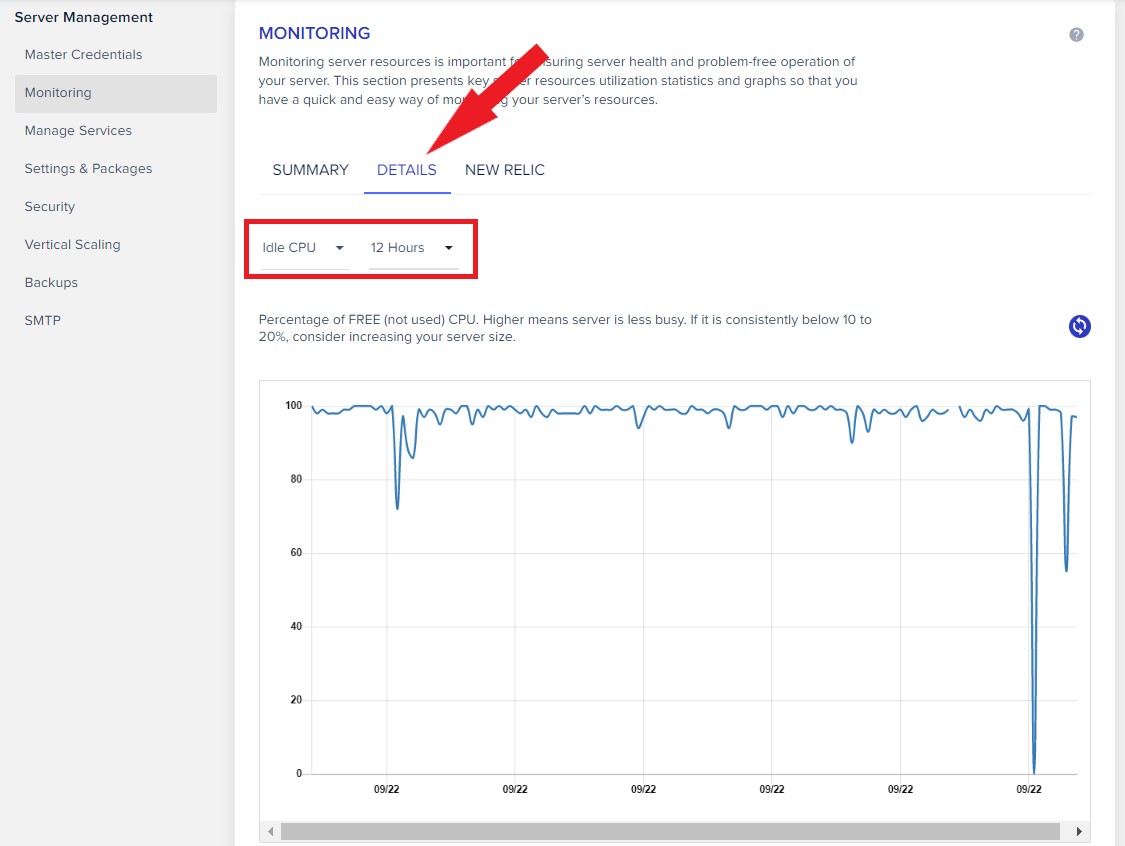 Third: New Relic built-in Monitoring:
New Relic is an application performance management (APM) tool used for application monitoring. It offers real-time insights into your application's performance and reliability. So you can monitor all your applications inside the server on the New Relic platform.
Setting up New Relic APM on a server will activate monitoring of all your applications available on that server.
To get a New Relic license key you need to signup for New Relic. Click here to know how to get a license key from New Relic. Once you get your license key, paste it into its field on the server monitoring. Next, hit Save Changes.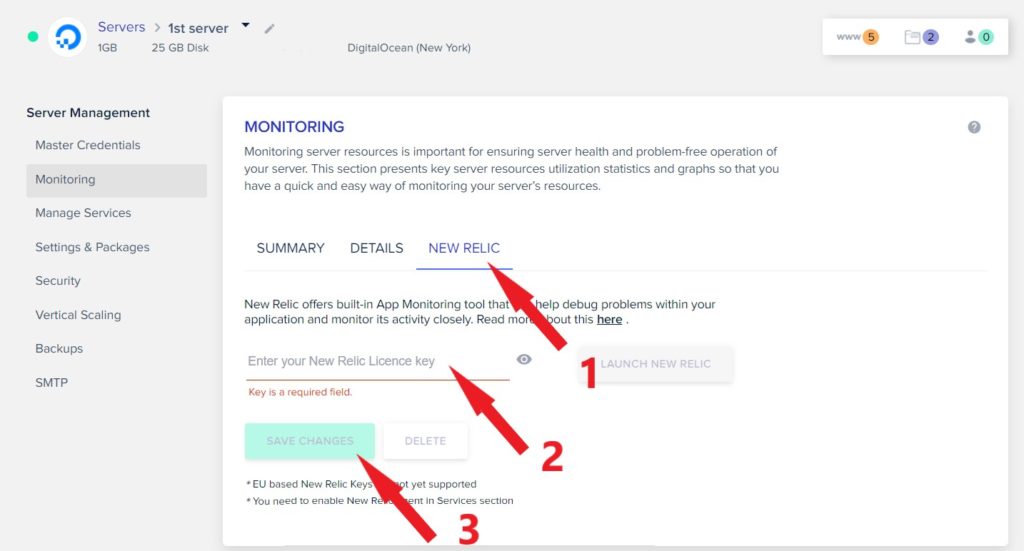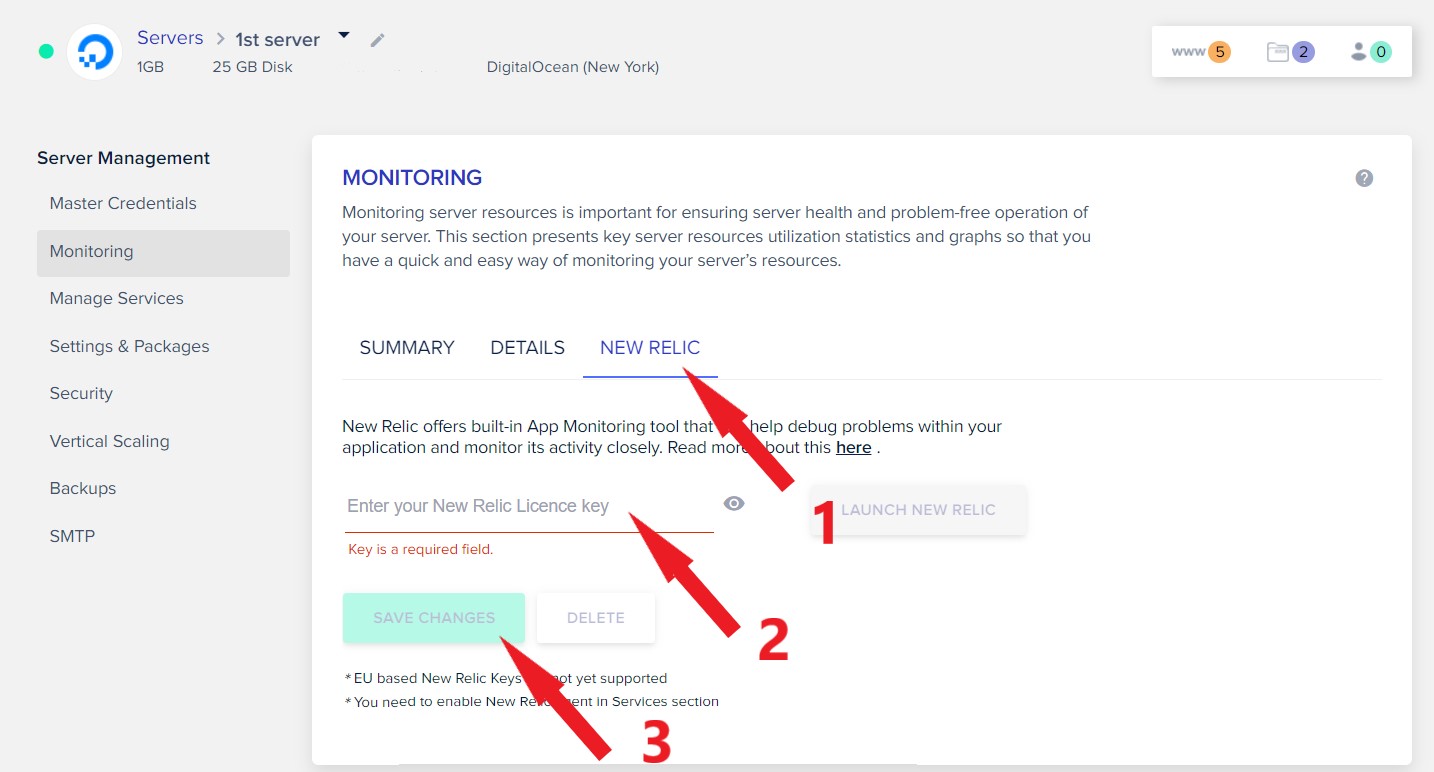 6. Application Monitoring
Same as Server Monitoring, there's Application Monitoring where you will get more features and options to monitor your websites from all aspects.
You can find this Cloudways feature on the Application Management panel of your websites. Click Monitoring to roll down all monitoring options. There are Analytics Monitoring and Logs Monitoring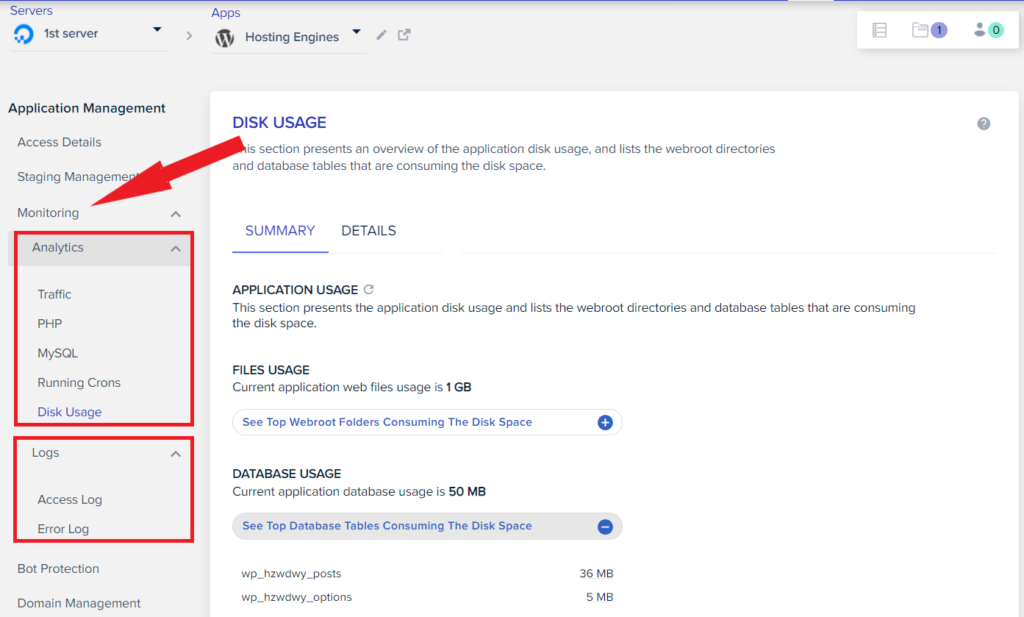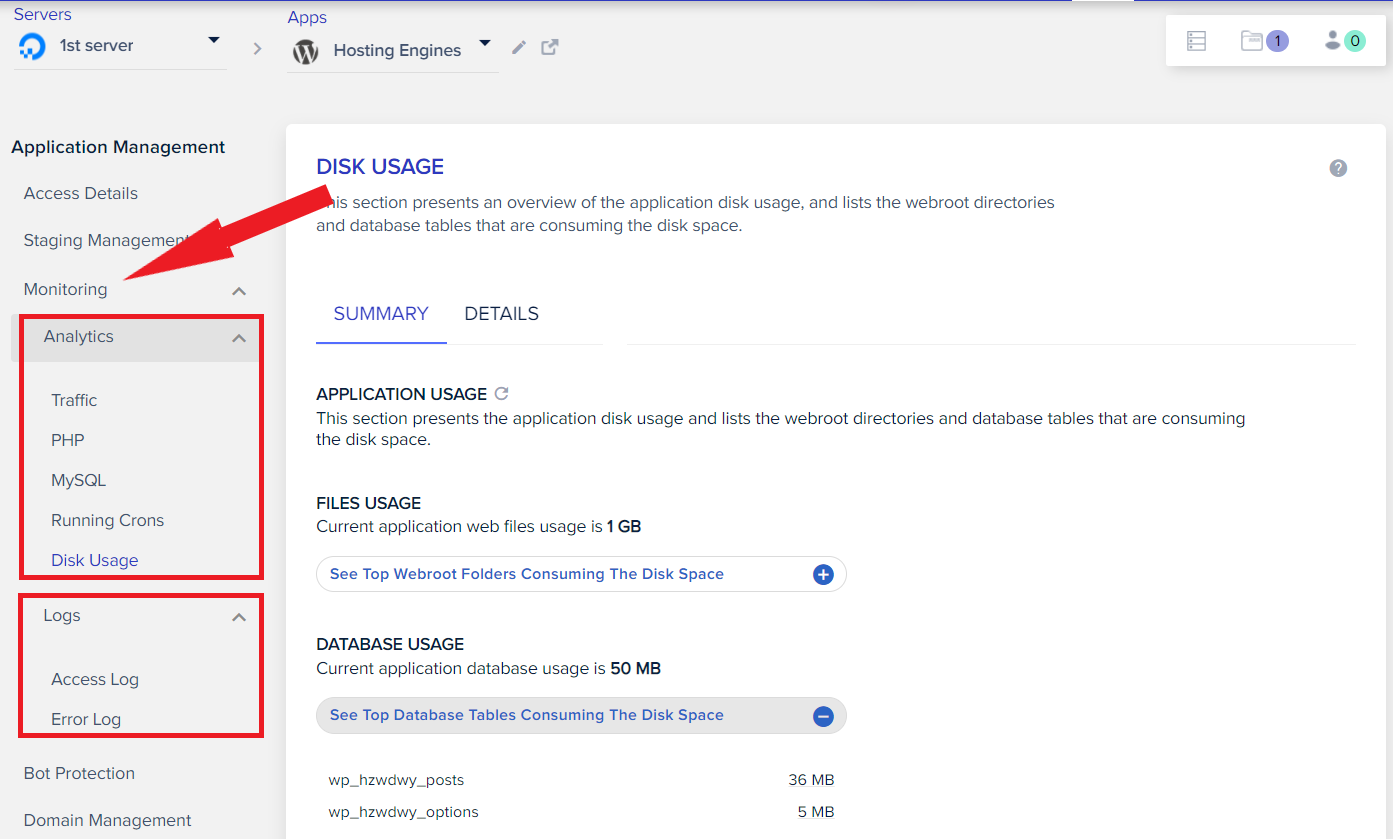 Analytics monitoring:
When you click Analytics Monitoring, you will see a bunch of monitor options. They are Traffic, PHP, MySQL, Running Crons, and Disk Usage.
Traffic monitoring:
Monitoring traffic statistics is essential in ensuring the success of your website.
This section presents key statistics (IP Requests, Bot Traffic, URL Requests, and Status Code) allowing you to easily monitor and analyze your website's traffic and health.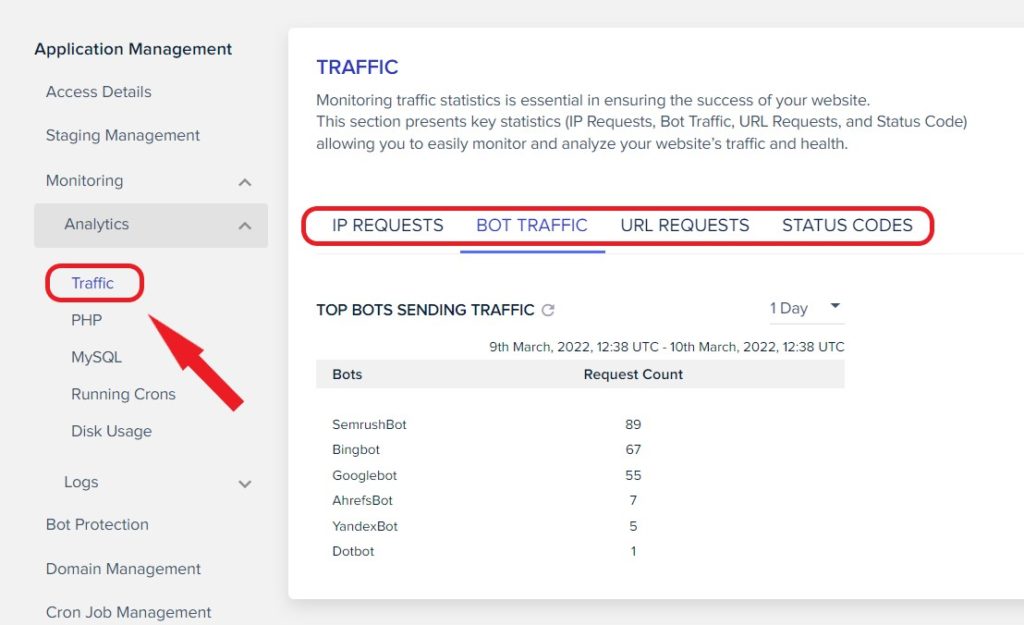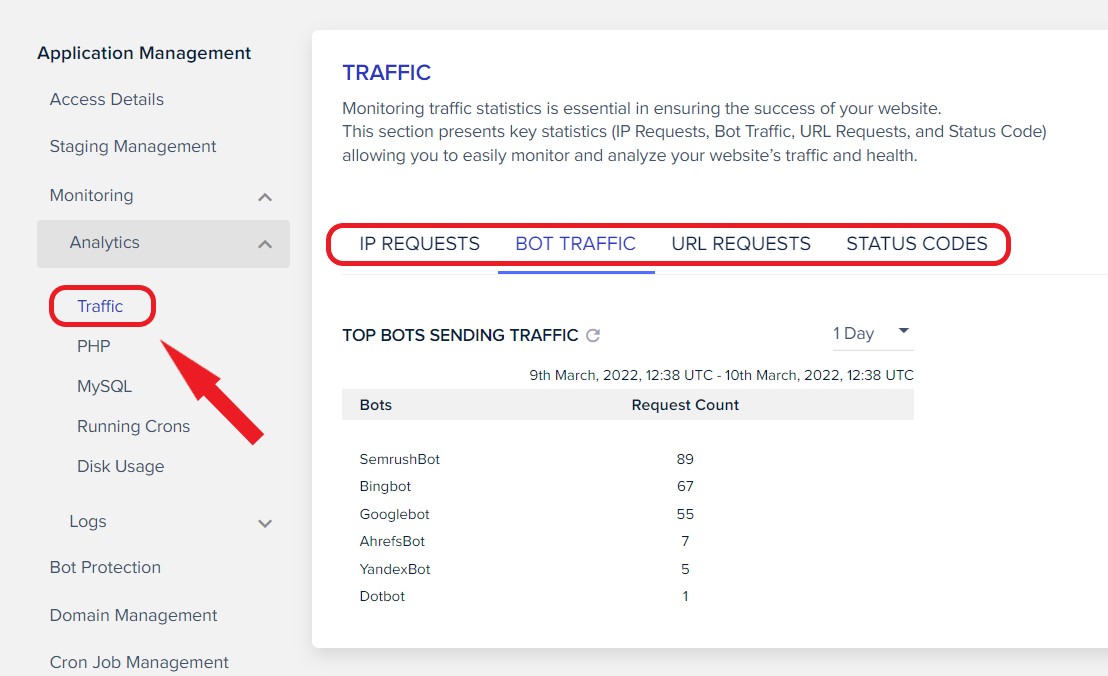 PHP monitoring:
Monitoring PHP performance is essential in ensuring a consistent quality experience for your website.
This section presents important PHP-related statistics including top Requested Pages, currently Running Processes, and Slow Pages, allowing you to quickly analyze and track PHP performance.
MySQL monitoring:
Monitoring MySQL presents database-level statistics including active connections, currently-running queries, and queries that are taking too long to execute.
Running Crons:
RUNNING CRONS presents cron jobs that are currently running on your application.
Disk usage monitoring:
DISK USAGE presents an overview of the application disk usage and lists the webroot directories and database tables that are consuming the disk space.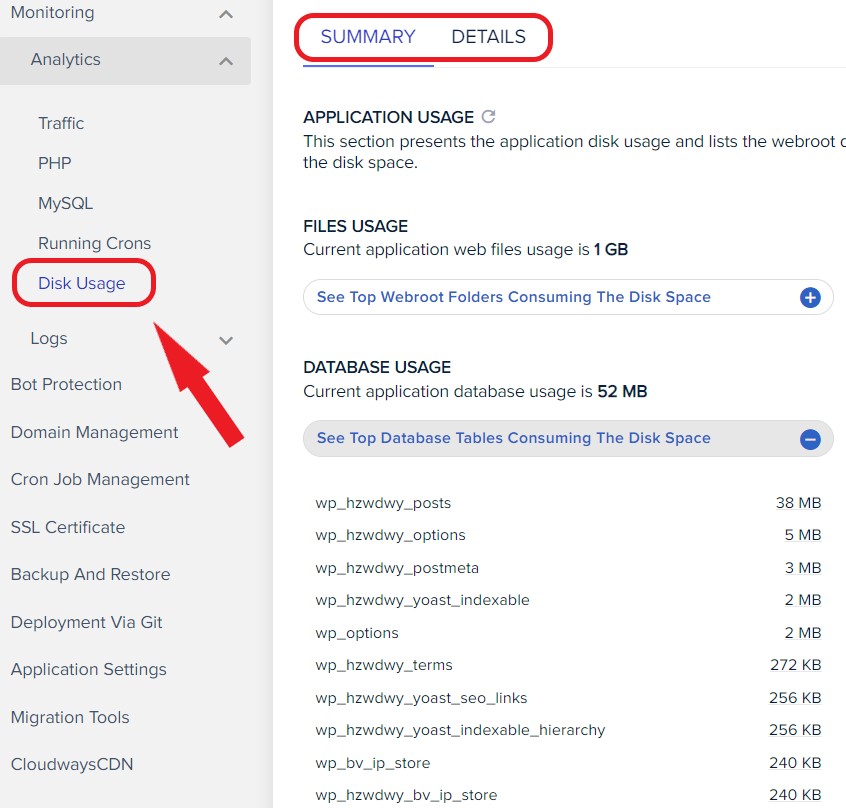 Logs Monitoring:
When you click Logs Monitoring, you will see two monitor options. They are Access Log and Error Log.
Access log monitoring:
Analyzing logs is essential to understand web requests, the status of requests, visitors' IP, viewed pages and user agents, etc. All the logs are displayed in the UTC, while your current system time zone is +03 (GMT +3).
This section presents logs of Apache (for dynamic requests such as PHP requests), NGINX (for static assets such as images/JS/CSS), and PHP. Detailed PHP process information such as files/routes, CPU, and memory consumption.
Error log monitoring:
Apache error log contains information about the issues the application encounters. This may contain details of errors and warnings that indicate potential problems with an event or application configuration.
Error logs are displayed in the UTC, while your current system time zone is +03 (GMT +3). There is a 3 hours difference between both time zones.
7. Host Multiple Websites On One Server
Instead of creating a server for each website, Cloudways allows users to host multiple websites on one server. As long as your server can handle them, you can create unlimited websites for as much as $11/month.
All you need to do is to create a server on Cloudways, then add an application, choose the server, and enter the application details. Repeat the whole process every time you want to create an application.
Read how to host multiple websites on one server on Cloudways
8. Seamless Vertical Scaling
If your website starts to perform really badly due to loads of traffic or while growing your audience, you need to scale up your server resources.
Server vertical Scaling means adding more resources to the server such as Disk space, Ram, and CPU. Upgrading your server on Cloudways is not a big deal. You can scale up your server at a glance.
There are two types of upgrading the servers on Cloudways, upgrading the whole server and scaling up the storage space (add block storage).
How to scale up a Cloudways server?
To scale up your server on Cloudways go to the control panel of the server that you want to upgrade. On the Server Management Panel, click Vertical Scaling.
Once you do that, the Vertical Scaling window will appear. From there, drag the slider bar to the right side to increase the server resources.
Hover over the RAM size under the slider bar to know what resources you will get after you upgrade to a certain size.
Notice that while you scale up the server, the monthly cost of the server increases.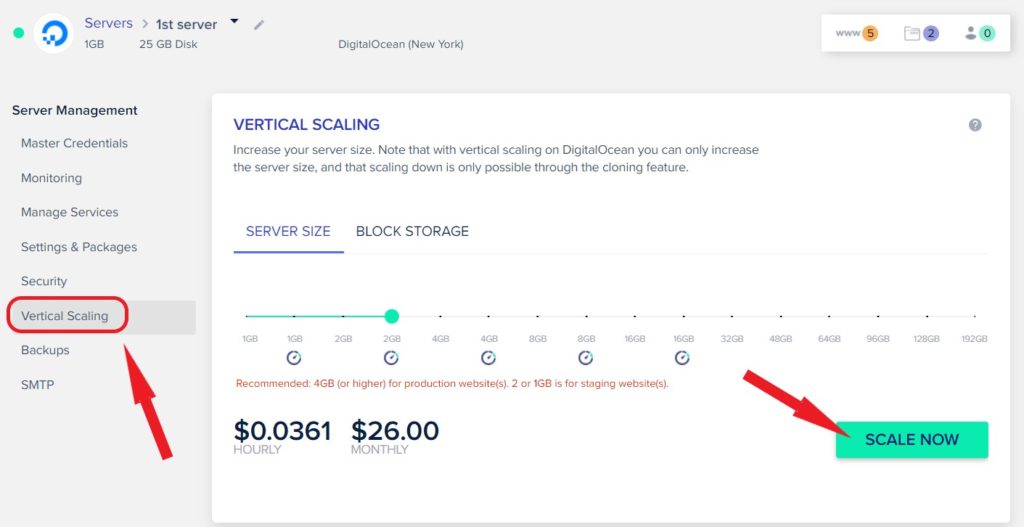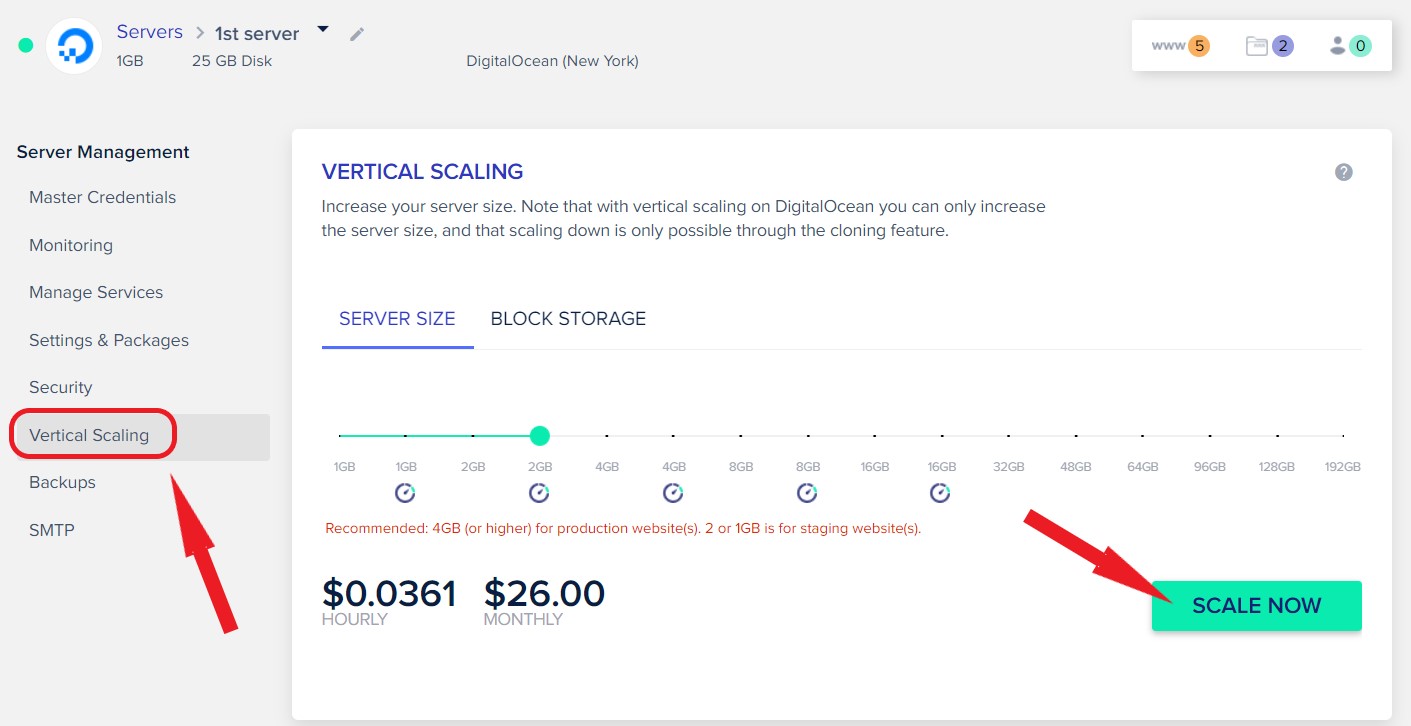 9. Block Storage (Volumes)
Block Storage is a cost-effective way of increasing the available disk space of your server and not all the server resources. So you will only pay for the added storage space.
If your website hosts large-size files, you may need to attach additional storage space. instead of increasing the whole server, you can add block storage (volume) to the server.
That means more storage on the same server. And you can add up to 1 TB of storage per block storage for $1 per 10 GB.
How to add block storage on Cloudways?
To attach block storage navigate to your Servers and click on the targeted server to go to its Server Management.
Click on Vertical Scaling from the left navigation bar, then select the Block Storage tab. Next, tick the Attach Block Storage.
Now, either drag the slider bar or enter your desired Block Storage volume in GiBs. And finally, click Attach Now.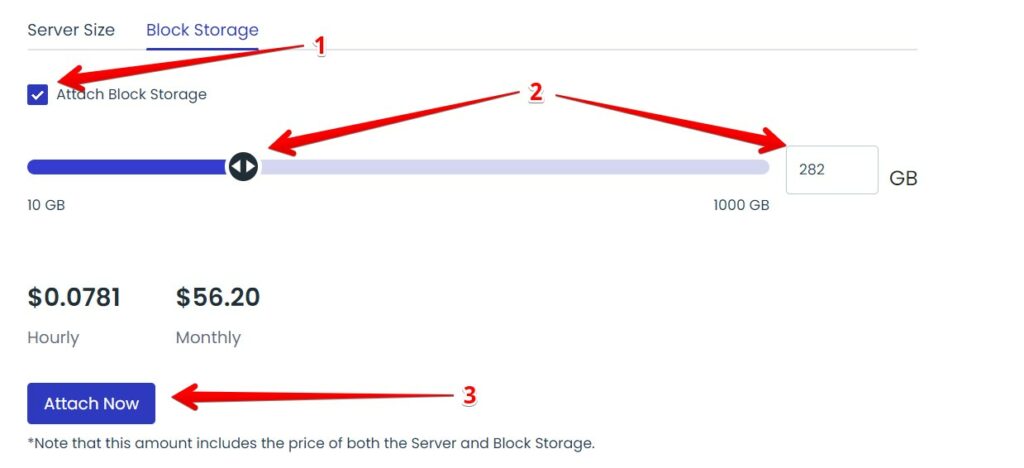 Once you do that, a warning pop-up window will show up, click Proceed to create the block storage. It may take up to 10 minutes.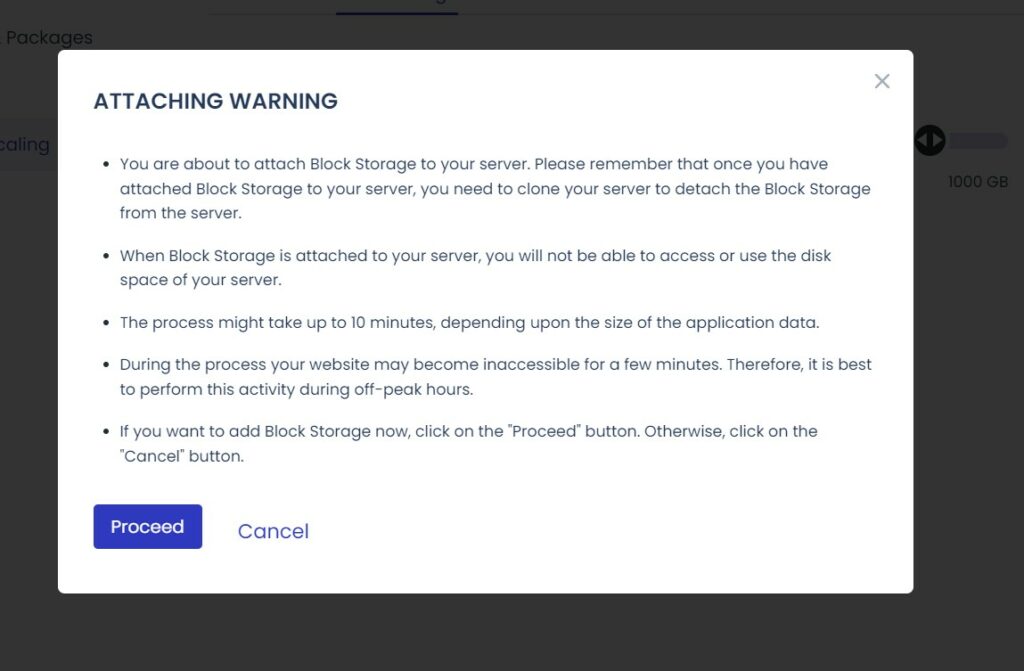 When volume is attached, all the application data is moved from the server disk to the Block Storage.
Cloudways Block Storage is now available only for DigitalOcean servers. Read more about how to add block storage to a Cloudways server.
10. 1-Click Local And Automated Backup & Restore
Cloudways powerful backup allows you to backup the whole server and the applications individually. It also allows provides automated backup –Cloudways daily backup– and local back –downloading your website files and data manually.
Server backups:
Cloudways backs up your website files on Amazon on a time basis that you specify. From the Server Management tab, go to Backups. Configure the settings and click Save Changes.
You can back up your website manually by downloading the ZIP copy of your website from your server root using an SFTP client such as Filezilla.
This on-demand Backup feature will take place when you enable it from the Local Backup toggle.
The local backup will be stored on your server. So, it'll take some of your server disk space. Unless you delete it after you download it.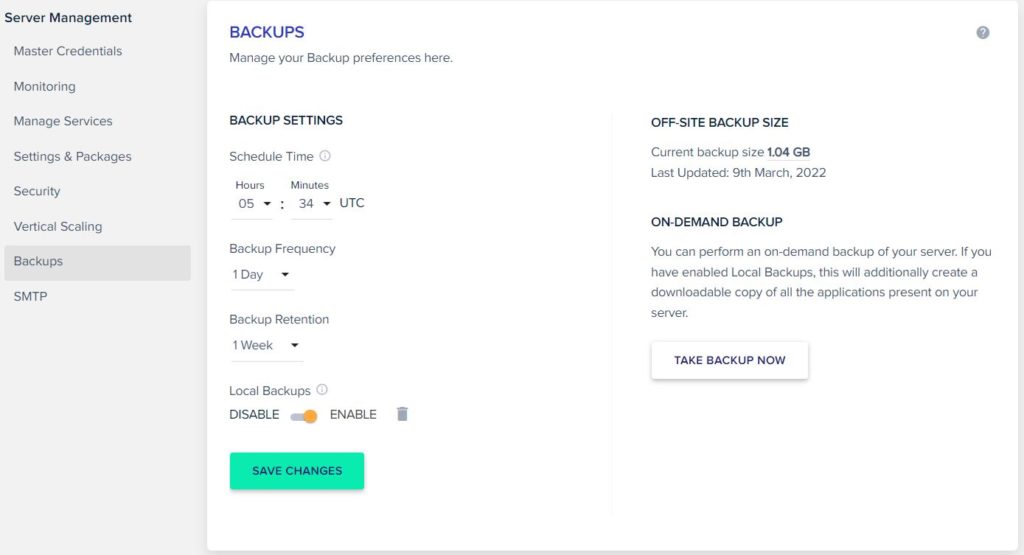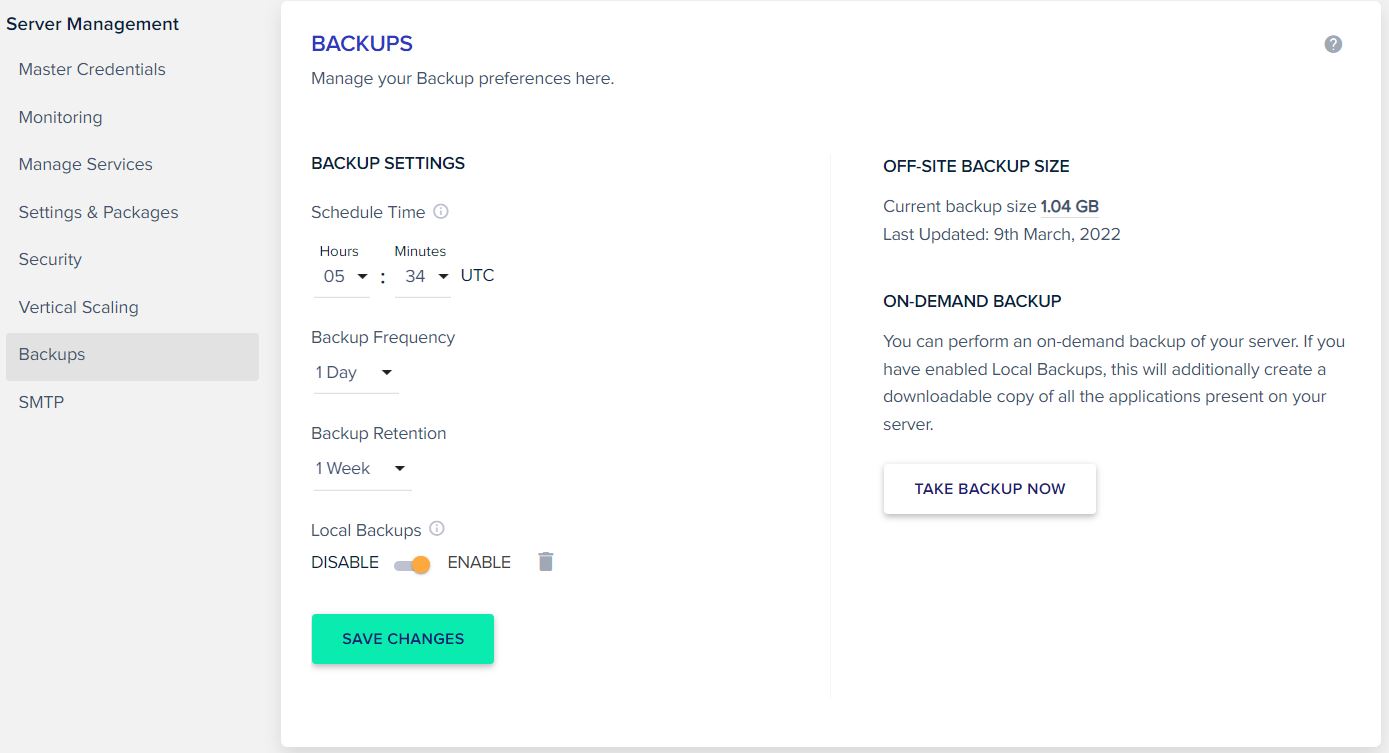 Application backups:
This Cloudways feature allows you to back up and restore application data (files and database) individually.
You can also create multiple on-demand backups for each application and you can find this Cloudways feature on the Application Management tab of your applications.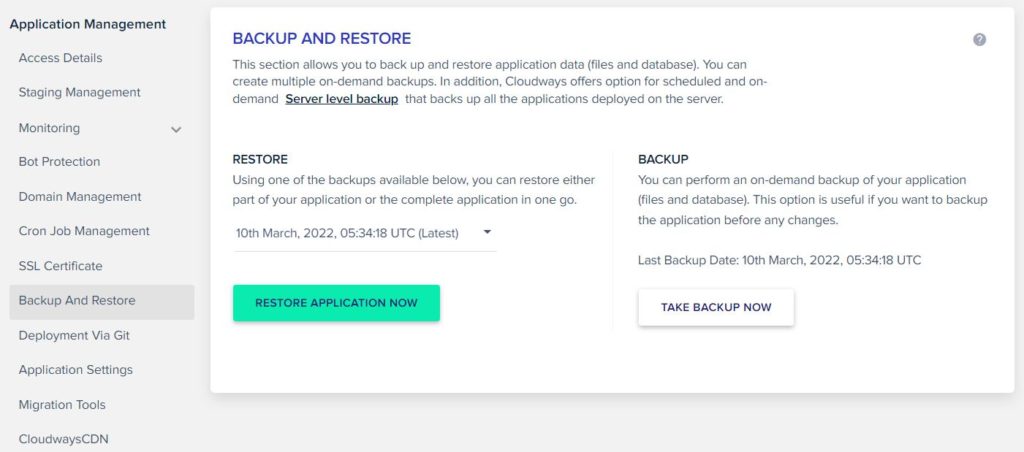 Application Restore:
If anything goes wrong and lost your website's data, you can restore them safely after 14 days. As Cloudways creates 14 copies of your application every day.
Using one of the backups available on your Cloudways backup system, you can restore either part of your application or the complete application in one go.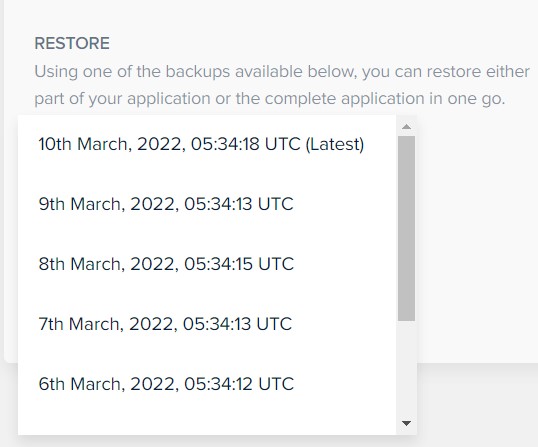 11. SMTP Add-on
The SMTP addon adds the capability to deliver your newsletters (Emails) using an SMTP service. Basically this Cloudways addon setup outgoing email delivery on your Server.
Cloudways gives you the choice of integrating your own third-party SMTP account or using the built-in Elastic Emails.
You can configure Elastic Email SMTP Add-on to send transactional emails (or, outgoing emails) in bulk from your server, starting from as low as 0.10$ per month for 1000 outgoing emails.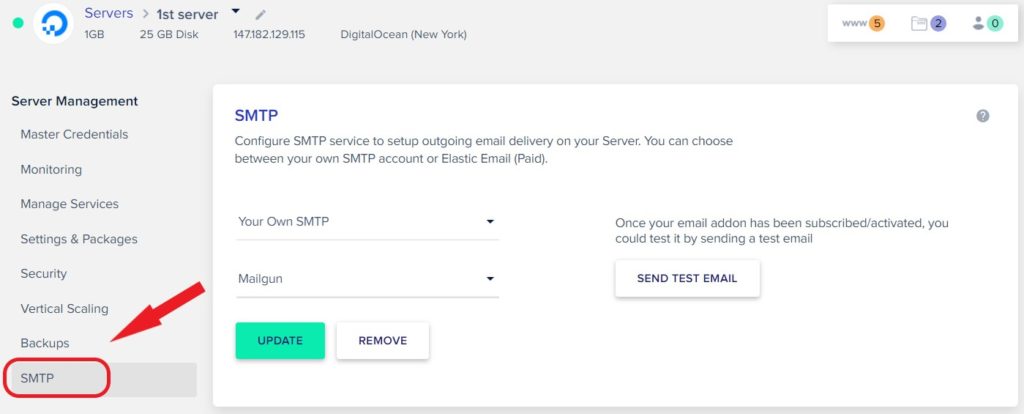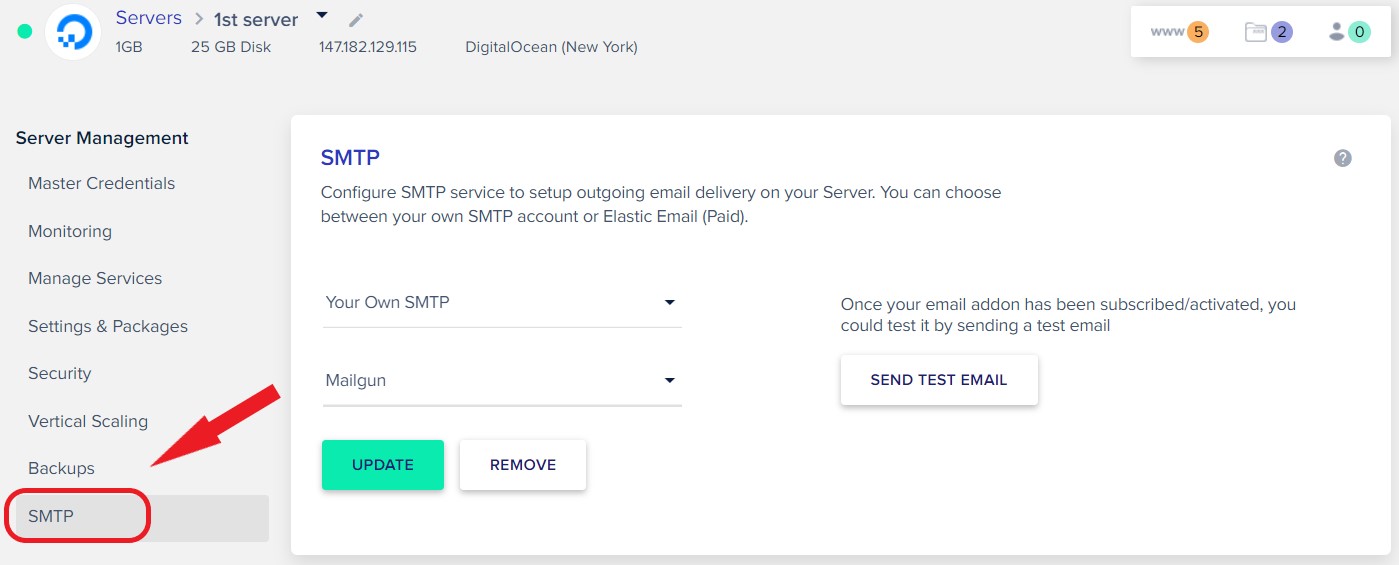 12. Rackspace Email Add-on
Rackspace Email is a business-class email hosting solution. With Cloudway's partnered with them, you can manage it through the Cloudways platform.
With the Rackspace add-on on Cloudways, you can make business emails like ([email protected]) send and receive emails.
For just $1/month, you will get a 25GB mailbox, Secure IMAP (Outlook & Mobile), domain aliases, Web-based, and anywhere access.

Read how to setup Rackspace email on Cloudways
13. CloudwaysBot Protection
Bots are targeting websites to acquire possession of it, gather information, or cause some damage. And Bot Protection monitors all these activities and proactively blocks them upon detection.
CloudwaysBot Protection aims to identify and block malicious traffic and protect from attacks like Dictionary attacks, Web Scraping, XMLRPC attacks, and Brute Force attacks.
It also helps to reduce server resource usage for WordPress applications.
What does CloudeaysBot protection do?
No setup or installation; toggle Bot Protection 'On', and let it do its job.
Login Page protection.
Filtering of Bad Bots and Rouge Traffic.
Independent dashboard for monitoring.
Included in all Server Plans.
No impact on site performance.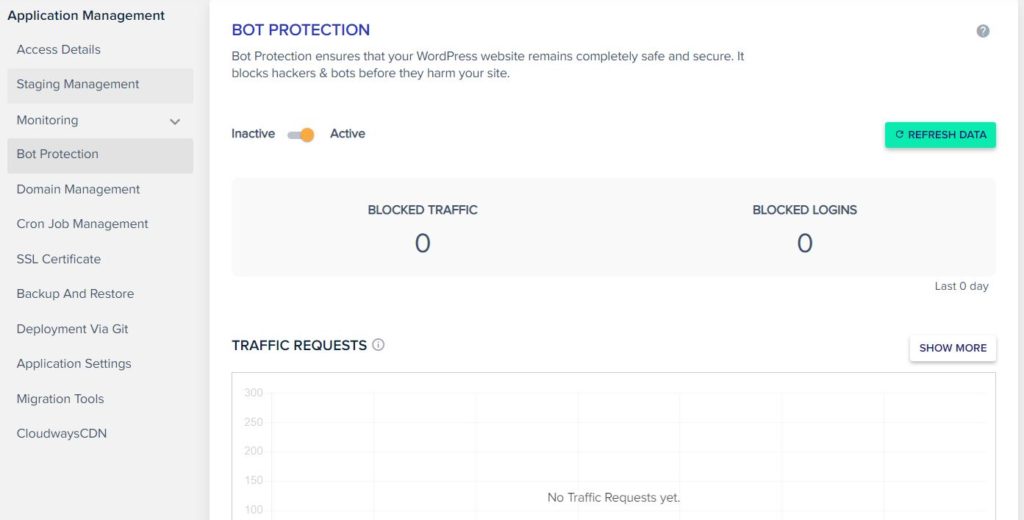 14. CloudwaysBot Notifications And Channels
The AI-based smart assistant sends real-time performance insights to help optimize servers and apps and integrates with Slack, emails, etc.
This is one of the Cloudways features designed to keep a close eye on your Cloudways account. It will notify you about alerts for your Servers, Applications, Security, Billing, and overall performance.
Along with that, it will also be sending you different recommendations, tips, and tricks on how to improve the performance of the server.


CloudwaysBot Channels allows you to create channels to receive real-time CloudwaysBot notifications on your favorite channels like Slack, Email, etc.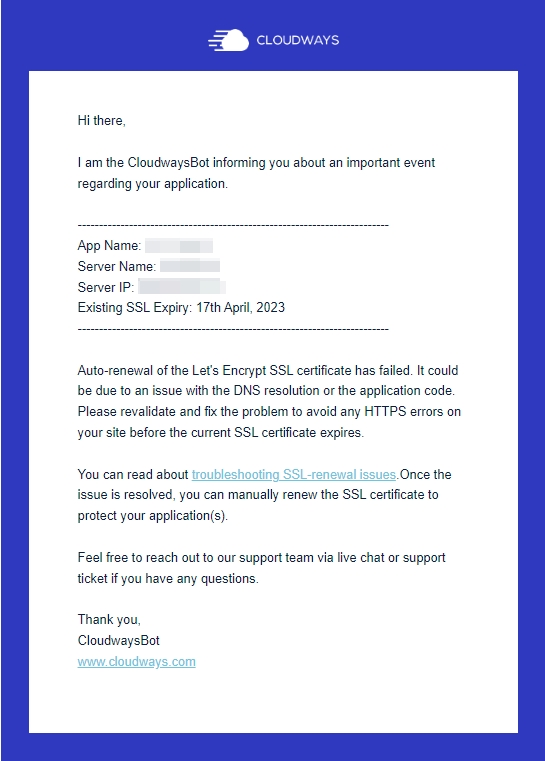 15. Regular Security Patching
One of the Cloudways features is that Cloudways perform regular OS patches on your server.
This Cloudways feature is to ensure a secure managed cloud server and avoids vulnerabilities.
16. SSH and SFTP Access
Secure Socket Shell (SSH) is a network protocol that gives users a secure way to access a computer or a server over an unsecured network.
Secure File Transfer Protocol (SFTP) is a network protocol that uses SSH and provides a secure way to transfer files between computers or servers.
Cloudways offers users to access their servers and applications via both SSH and SFTP.
That access will grant you more than just one method to edit and manage your servers and applications.
17. Applications Marketplace
Cloudways supports a variety of CMS, E-commerce, and other PHP web applications. There are main applications you can host on Cloudways available as 1-click installations including:
WordPress (including WooCommerce and WordPress Multisite)
Magento
PHP (including Laravel framework)
Besides these inbuilt 1-click install applications, you can install several other applications and frameworks on your Cloudways servers and applications through the PHP stack. These are:
OpenCart
Drupal
Joomla!
PrestaShop
Yii
Yii 2
osCommerce
Symfony 3
Codeigniter
CakePHP
ProcessWire
Zen Cart
X-Cart
18. Automated Migration Add-on
If you don't want to go through the website migration by yourself, you can use this Cloudways migration add-on to request an application migration.
When you use the Cloudways migration add-on, the Cloudways support team does the heavy lifting of your website.
You get one free managed migration with your Cloudways account. When you use the free one, you will be charged next time.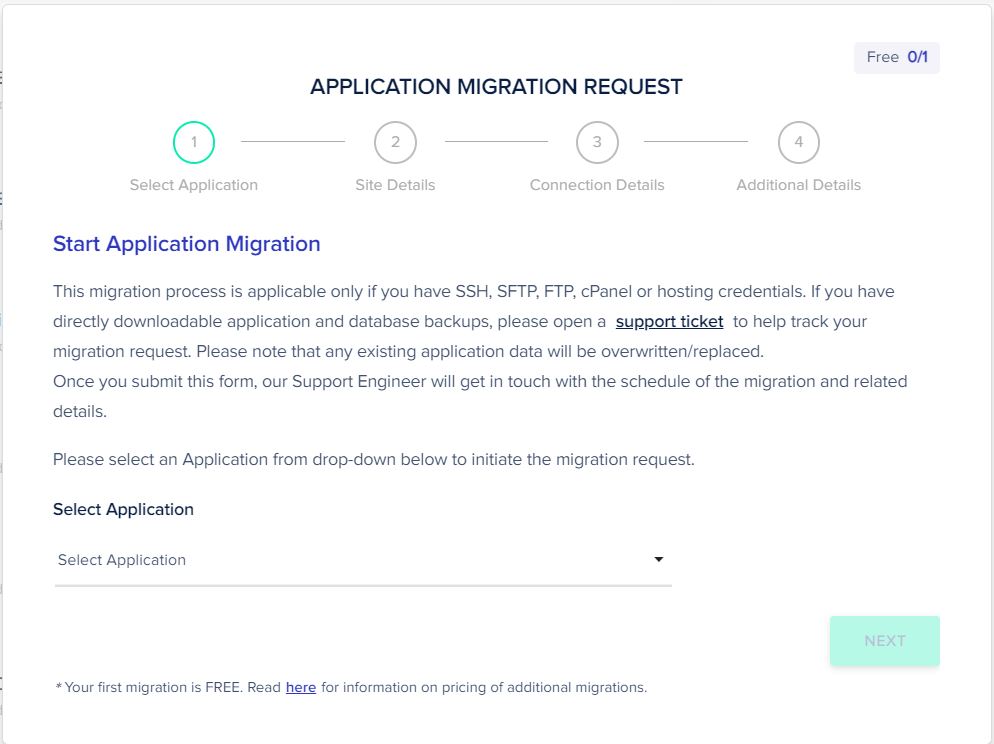 19. WP Migrator Plugin
Migrating your WordPress website from your current hosting provider to Cloudways is super easy with the WordPress Migration Plugin.
To migrate your WordPress website to Cloudways you should have an active Cloudways account and admin access to your current WordPress website. Read how to migrate a WordPress website to Cloduways.

20. HTTP/2 Supported Servers
Cloudways servers are HTTP/2 enabled which significantly increases the speed of communication between the web servers and clients.
The HTTP/2 loads the web page elements together, instead of loading them individually.
21. Auto-Healing Managed Cloud Servers
You don't have to worry about your website crashing. Most of the issues within the server are resolved with auto-healing restarts.
22. Application & Server Cloning
Cloning involves creating a fully operational copy or replica of your server, including all its applications. The cloning process only creates an identical copy of all your sites and their contents (data).
By doing so, you can:
Change your cloud provider.
Change the server region.
Move onto a new server or a different server type.
Swapping your server with a smaller server size
Load testing.


23. Transfer Server Ownership
This Cloudways feature allows you to completely move one server from your account to another Cloudways account.
This feature is ideal for agencies and developers creating applications in their own Cloudways account and then moving them to another account.


24. Premium Support
Cloudways has three levels of support. Standard support, Advanced support, and Premium support.
First: Standard support:
For most Cloudways customers, Standard support is more than enough. It's free and includes 24/7/365 access to Live Chat and email tickets.
Second: Advanced support:
If you've grown beyond a regular support relationship, there is Advanced Support. This add-on speeds up response times and opens up a wider range of Cloudways expertise.
You get expert answers, deeper application troubleshooting, customization support, proactive monitoring, etc.
Third: Premium support:
If your business runs mission-critical sites where every second matters, then this addon offers an even closer partnership with Cloudways.
Get all of the Advanced Support with even quicker response times, a dedicated Account Manager, a private Slack channel, and direct phone support.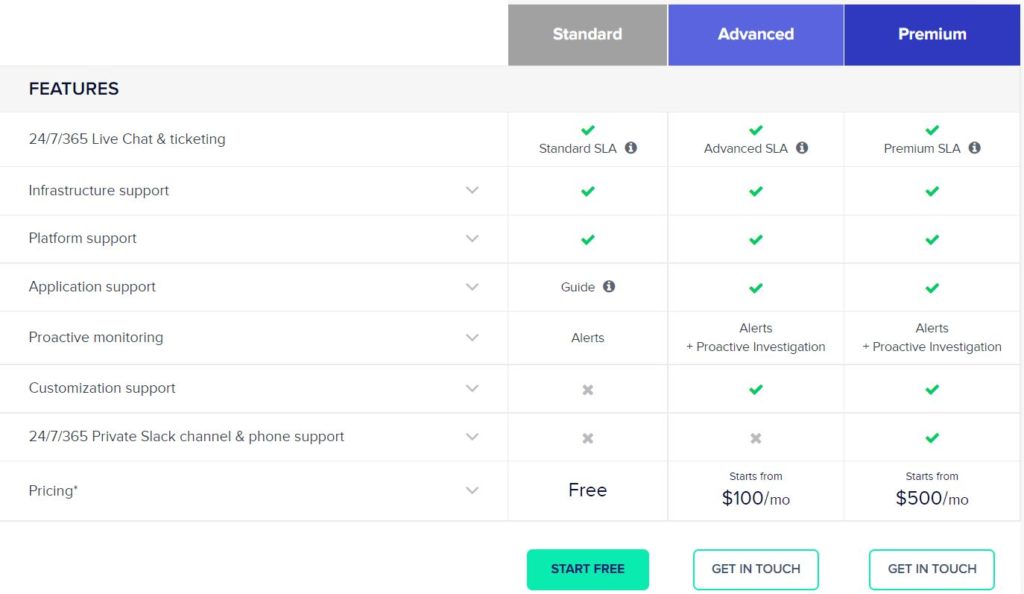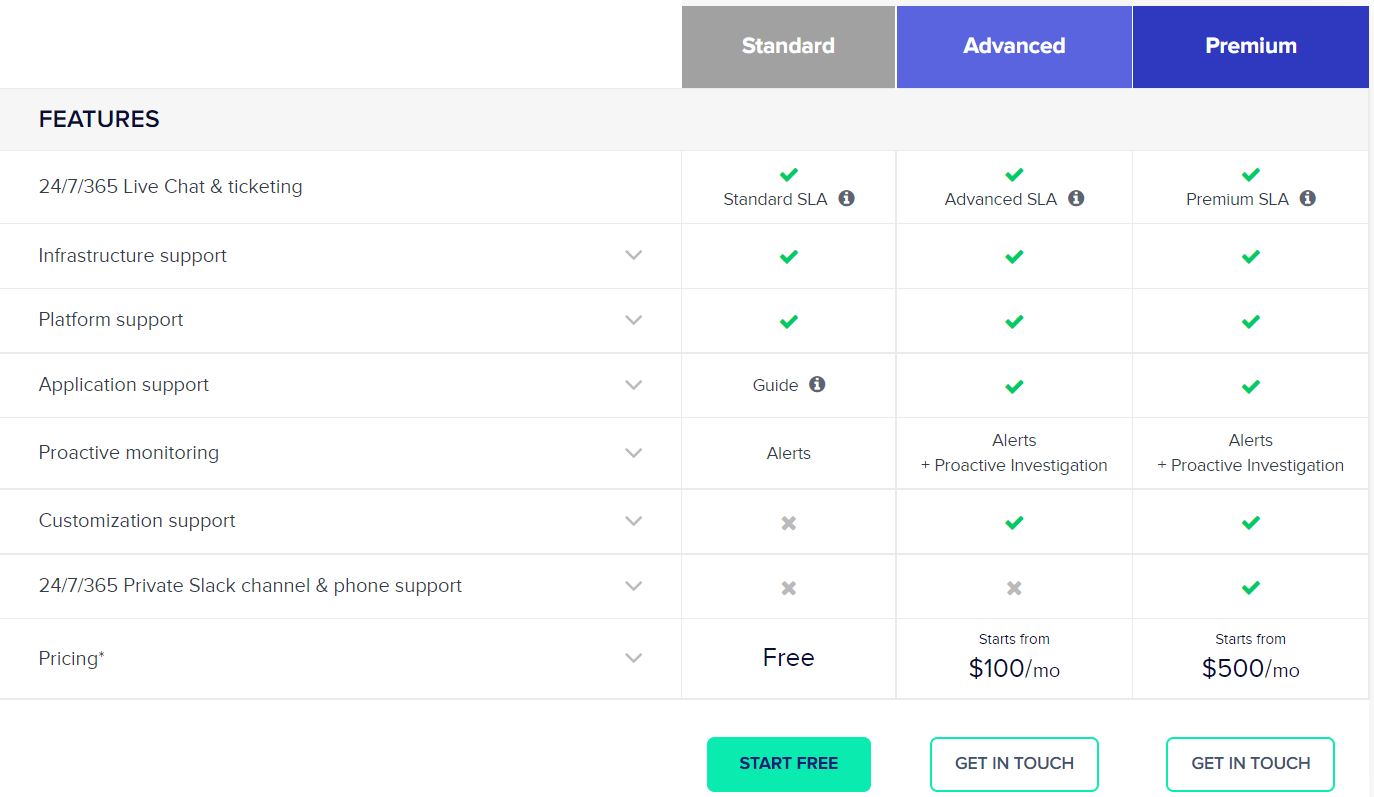 25. Team Members
There are two ways to get people to collaborate with you. One is if you simply need to give SFTP access to an external party to one of your applications.
And another is if you want to give external party access to the Cloudways Platform (including servers and applications) with a much more fine-grained level of control.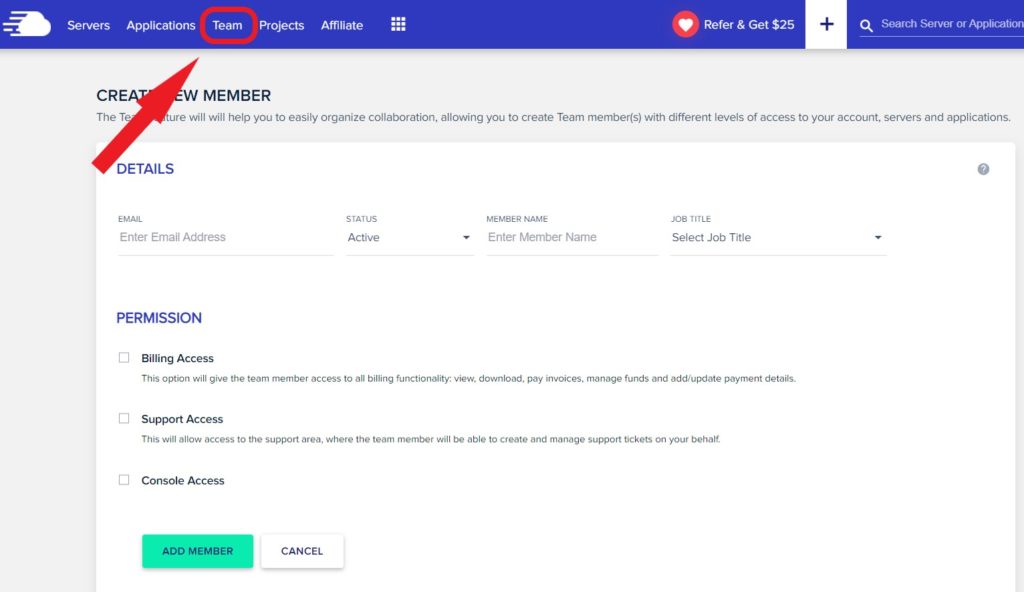 Read also:
Cloudways Review
Create Multiple websites on Cloudways
Pint domain to Cloudways