Do you wanna host multiple websites on Cloudways on one server? Are you planning to install many WordPress sites on premium cloud hosting but at a reasonable price?
Sometimes one website is not enough, so today I will show you exactly how you can host multiple websites on one server on Cloudways, as many as that server can handle.
By the end of this tutorial, you will be able to create and host multiple websites on Cloudways on one server.
Cloudways is a cloud-managed web hosting company that provides reliable, fast, and cheap web hosting services.
Cloudways itself has no hardware servers, instead, it rents you the servers from unmanaged web hosting companies.
These companies are Amazon Web Services, Google Cloud Platform, DigitalOcean, Vultr, and Linode.

Instead of you going by yourself and doing all the hard work or hiring a developer to set up the servers for you.
Cloudways manages the server for you and gives you a nice and clean backend dashboard to control the server from it.
Apart from this, Cloudways provides great customer support to rely on whenever something wrong happened to your applications.
So, if you thought about you launching a server on AWS, Cloudways can do that for you.
Read How To Install WordPress On DigitalOcean
Why Cloudways?
There are several reasons why we see that Cloudways is one of the best web hosting services.
In fact, this website (Hosting Engines) is hosted on one of Cloudways servers.


Here are some reasons why you may want to use Cloudways web hosting services
Cloudways is a cloud service, which means your website always performing better, as your website will be stored on cloud servers.
Cloudways is a reliable web hosting service with flexible cloud hosting plans
The performance and speed of Cloudways are great. It is reasonable because provide its servers from the best companies.
For a cloud hosting server and dedicated resources, Cloudways prices start at $10/month, which is far cheap than its alternatives like Kinst and WP Engine.
On Cloudways, you can host as many applications (websites) as you want. As many as your server can handle.
Cloudways save hours of server configurations and error fixing. You can focus on your website building while Cloudways do that for you.
Now that we learned a little about Cloudways let's see how we can host multiple websites on Cloudways on one server.
Read How To Create a WordPress Website On Cloudways
Step One: Sign up To Cloudways
To do so go to "cloudways.com" and click on start here to sign up for Cloudways.
Enter the required information to sign up and then click Start Free. Or sign up with Google, Linkedin, or GitHub accounts.
For first users, Cloudways offers a free 3-day trial to test their services before upgrading to premium.
After you sign up, you need to verify your email address. Also, verify your phone number after you add it.
Once you do all that, you are ready to deploy the server and host multiple websites on Cloudways.
Step Two: Create a Server On Cloudways
To host multiple websites on Cloudways you need to have a server hosted on any of Cloudway's partners.
Let's divide this process into four sections. The first one is to enter the Application and Server Details
First: Add application and server details:
Since WordPress is an application, and we want to create WordPress websites, we may refer to websites as applications.
Also, Cloudways supports a variety of CMS, E-commerce, and other PHP web applications such as WordPress, Magento, PHP, OpenCart, Drupal, and Joomla.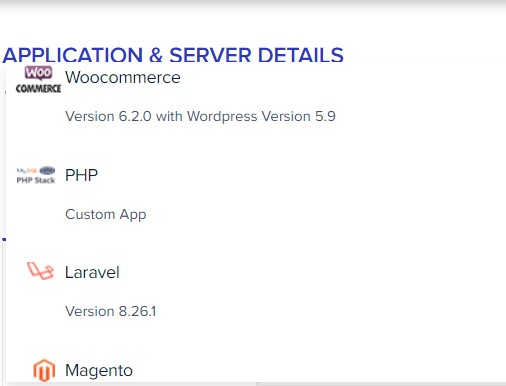 When you want to deploy your server for the first time, Cloudways requires you to create your first application along with the server.
That's why you need to enter the server details and the application details as well.
The first thing you need to do under the Application and Server Details is to choose the type of application you want.
Click the small arrow to see all the applications available on Cloudways.
If you want to host a WordPress website, choose WordPress from the list.
Next, under "Name Your Managed App" add a name to your website so that you can recognize it later on when you host multiple websites on Cloudways.
After that, under "Name Your Managed Server" name the server that you want to create.
At last, add the project name. The Projects are just for categorizing your application.
You can change any of these names later on.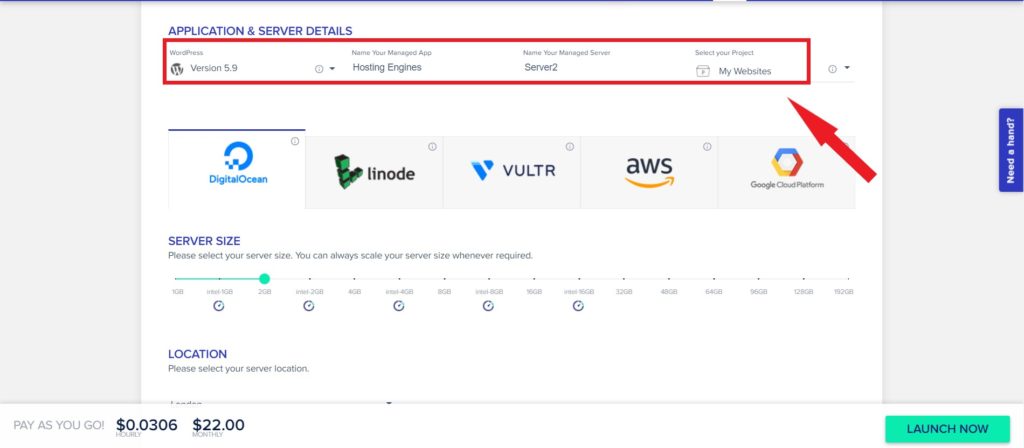 Second: Choose Cloudways Partner:
Cloudways have partnered with cloud-leading Technology Providers to host your websites on their servers
these companies are DigitalOcean, Linode, Vultr, Amazon Web Services, And Google Cloud Platform.
These companies provide un-manged web hosting technology. Cloudways work as a third party with them to deliver managed cloud hosting for you.
You will notice that the price differs from one to another when you move between them.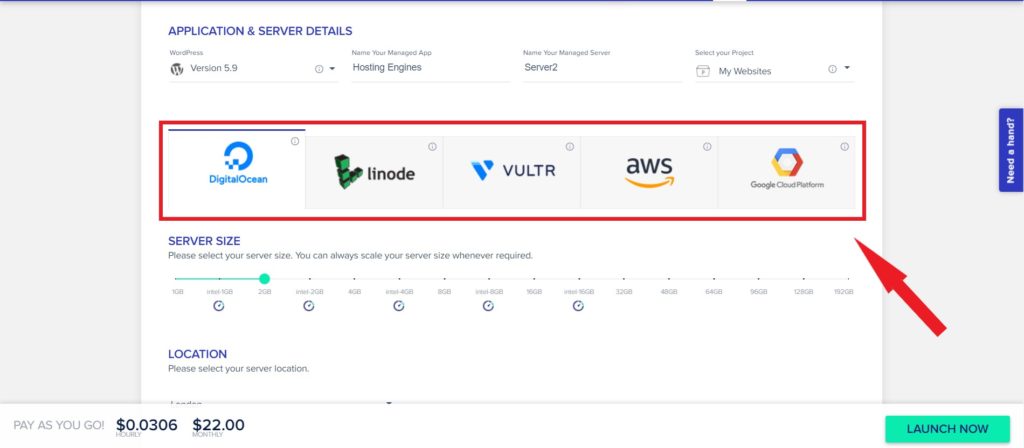 Choose any of them as your server place and proceed to the next step. The server size.
Third: Define The Server Size:
From there you can determine the size and resources of the server you want to create.
Each one of these companies has its own plans with different resources and prices.
The resources of the server are RAMs, CPUs, Networks, Storage, etc.
When you increase the server size, the server price per month increases.
The cheapest plan $10/month is quite enough for new and small websites.
Also, You can always scale your server size whenever your websites need more resources.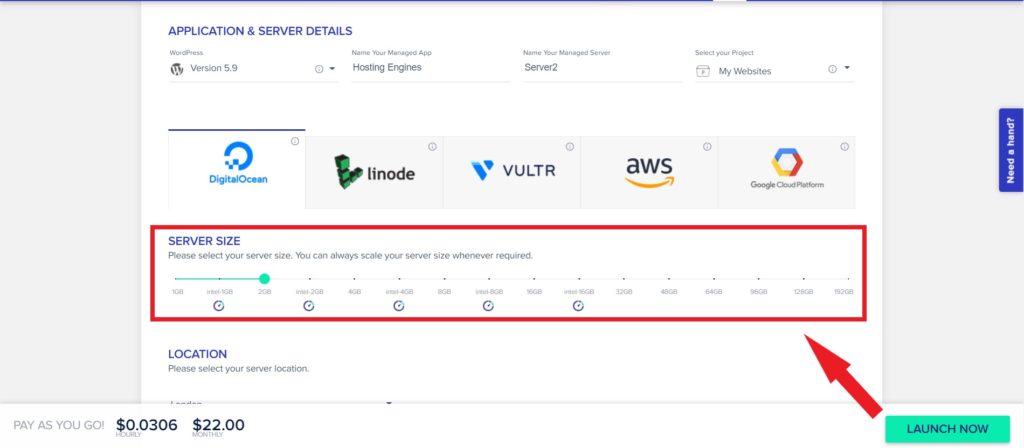 Last: Select The Server Location:
The last thing to do before launching the server is to select your server location.
Each web hosting provider of the five has different data centers in different countries.
Select the closest server location for your visitors and client, this will impact the performance of your websites.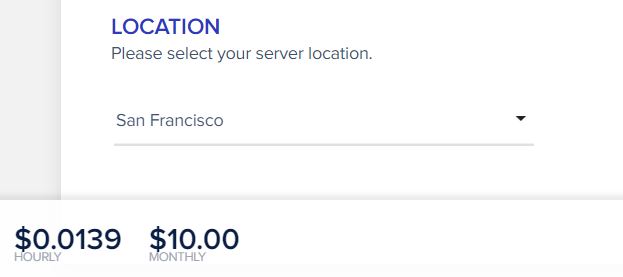 After you choose the server location, click on Launch Now to deploy your server.
Once you do that wait 7 minutes and the server will be deployed and ready to host multiple websites on Cloudways.
Step Three: Create Multiple Websites On Cloudways Server
Now the server has been created. But, where's the website I created along with the server?
To see the websites the server hosts, click the toggle on the upper left side to switch between the servers and applications.
Or click the "www" to see all applications (websites) hosted on that server.


The image below shows the application we create, let's have a quick look at its dashboard.
On the left side is Application Management, where you can find all the settings you want to configure your application
In the middle are the Access Details, access details to your application, and access details to your application admin panel.
On the right side are the Application Credentials, the application IP address, and the SSH and FTP credentials.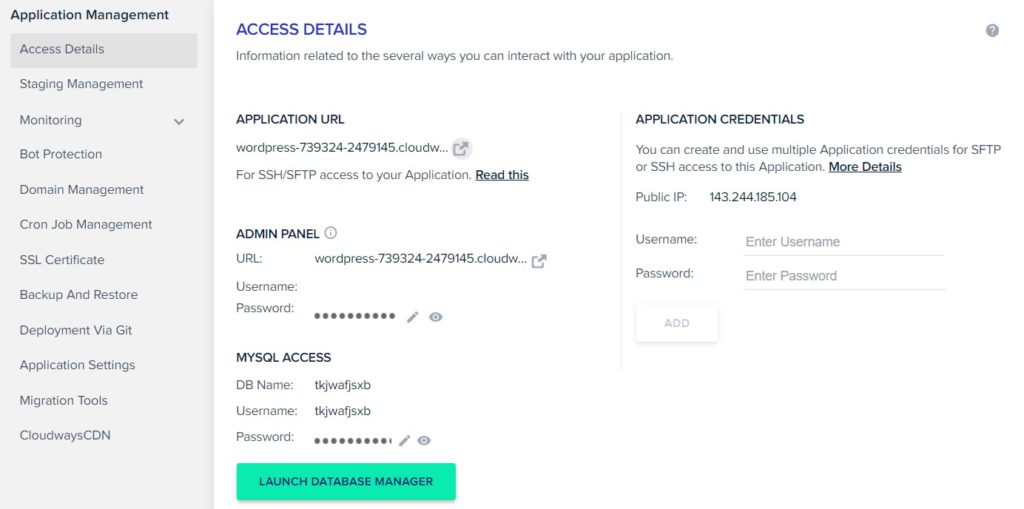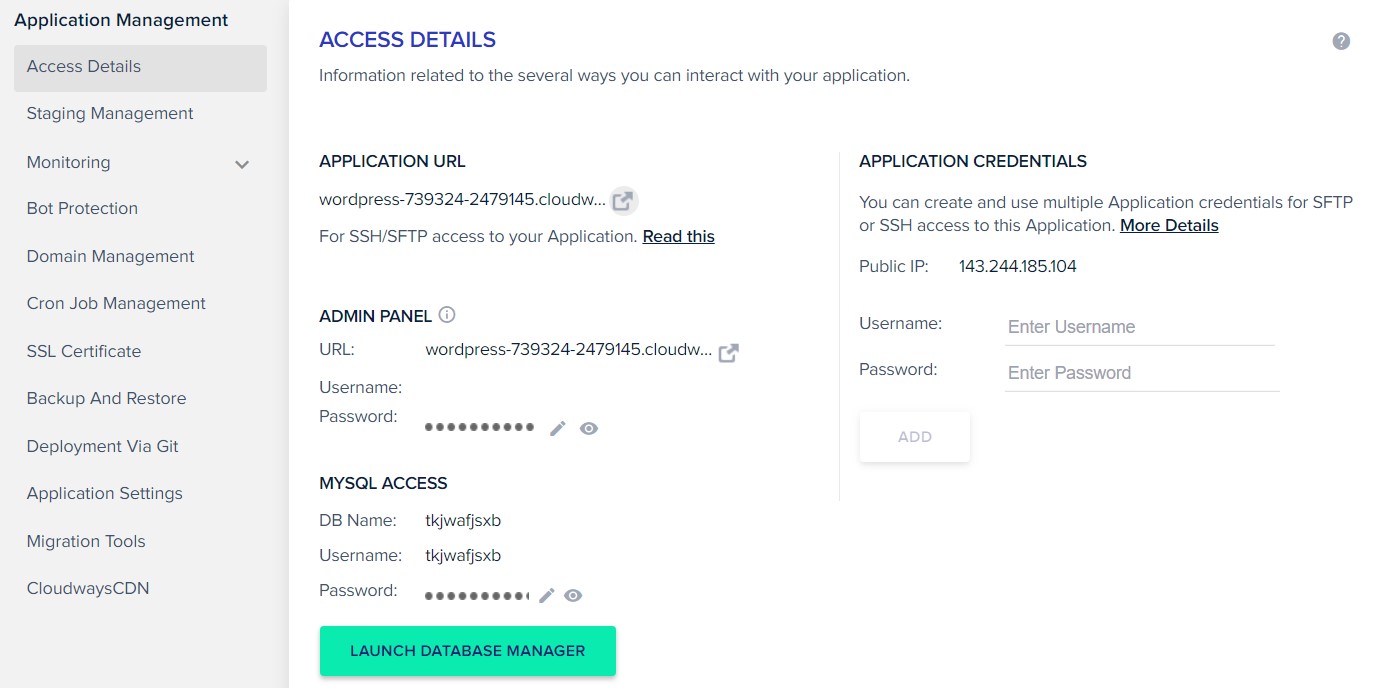 To read more about the application control panel click here.
To connect your domain name with the Cloudways application click here.
That being said, here are the steps of how to host multiple websites on Cloudways on one server.
First: Add the application:
There are several applications you can use from Cloudways applications like PHP and Magento. Like WordPress itself.
To do that click on the plus sign on the upper part of the dashboard. This will open a small window where you can add a server, app, or member.
From there click add Application.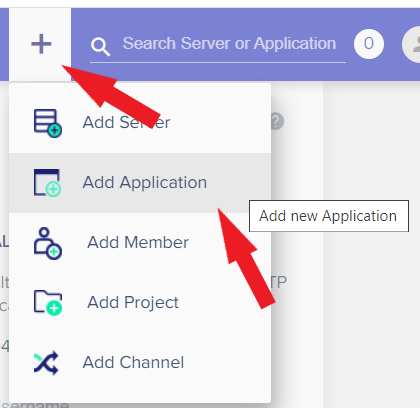 Second: Select a Server:
A window that tells you to select a server to which you want to add a new application will pop up.
Choose the server that you want to create your website on and click Add Application.

Third: Add Application Details:
The next step is to add your application details, and first, choose the application type.
In my case I chose WordPress, but you can choose any application Cloudways provides.
Then name the application you want to create and click Add Application.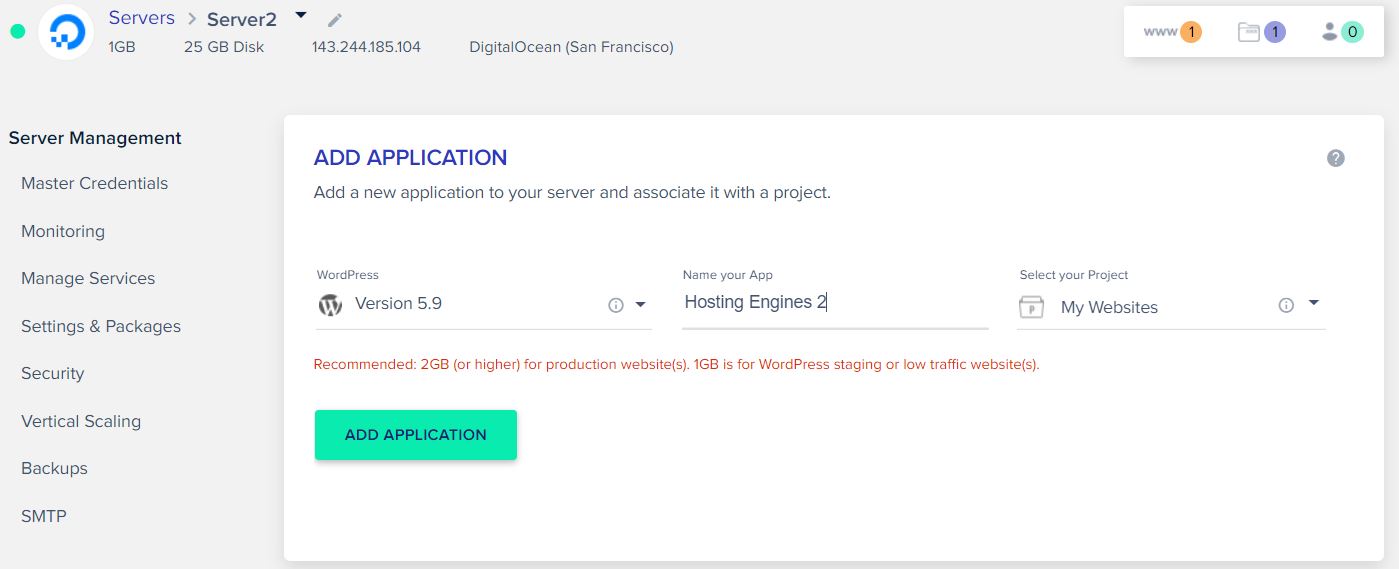 It may take up to 2 minutes in order for your application to be created.
Once you create your application, you can navigate to its control panel and start editing and configuring.
To create a new website again, use the same method we used to create a website.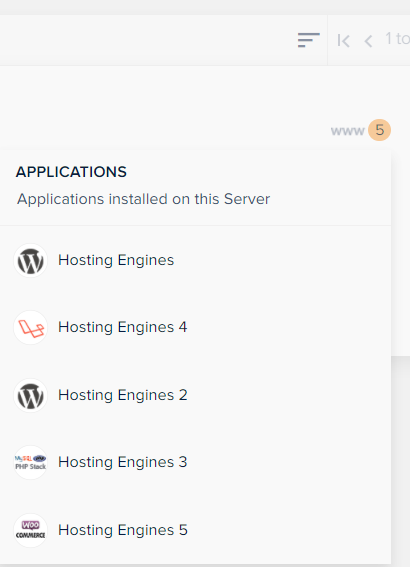 The Conclusion: Host Multiple Websites On Cloudways On One Server
Cloudways is one of the best cloud computing providers. It is cheap, reliable, and user-friendly.
You can host multiple websites on Cloudways on one server. A server costs $10 per month.
If you want really a great web hosting service with great support and features to host your websites. Cloudways is the best choice for you.
Read more about Cloudways: Cloudways review.