An SSL certificate provides a secure connection between websites and website visitors in order to protect the user's information in the first place. But does that really impact your website's SEO?
If your website is not SSL secured and has the HTTPS version, most browsers such as Google Chrome and Safari warn users before accessing the website that its website is not secured. So, not having an SSL certificate on your website will surely impact the user experience.
But, this is not the case in this article. The big question here is whether having an SSL certificate installed on your website can make any difference in search engine results, especially Google.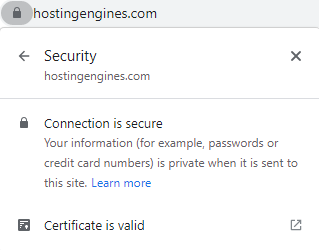 Secure Sockets Layer or "SSL" is a type of certificate that is used to supply a secure path between two devices that are utilized over the internet or any other kind of internal network.
SSL is the most extensively employed encryption protocol. It is used for and is the main course of communication between web browsers or servers into HTTPS.
HTTP is susceptible and is unarmed to assaults because all of the information transmitted from the web browser to the server or linking to any other points is transferred in standard readable text. HTTPS where "the S stands for security", which is secure against attacks.
Types of SSL Certificates
There are three different types of SSL certificates validation, there are:
Domain validation: which is the least level of validation and the cheapest.
Organization validation: it is a more hands-on process and is more trustworthy.
Extended validation: which requires a full background check
The difference between them is clearly the level of authentication before the certificate is implemented and the amount of money you have to pay for each validation.
Is SSL Certificate Important for Website Ranking?
Search Engine Optimization also known as SEO is basically a strategy that uses keywords, content, page speed, HTML, etc. that will enable websites to be positioned better in search engine result pages also known as SERP.
The main intention is to be placed on the first page in google search results because when searching for anything online most people click on the first result or link that appears.
So, it is extremely essential to do everything within your power to enhance your website for search engines to at least appear on the first page.
The first step in enhancing your website will be obtaining an SSL certificate to secure your website either for the customer's end or for the SEO intention.
Early on, Google disclosed that HTTPS will be its signal stating that security is its greatest significance. They stated that SSL certificates will only be a trivial signal.
As they mentioned "HTTPS as a ranking signal. For now, it's only a very lightweight signal—affecting fewer than 1% of global queries, and carrying less weight than other signals such as high-quality content —while we give webmasters time to switch to HTTPS"
However, in the future, they may choose to strengthen this signal and are therefore motivating all businesses with websites to switch from HTTP to HTTPS (where HTTPS is HTTP over SSL).
That means that websites use HTTPS and in hindsight have an SSL certificate Google will make a faint ranking boost towards them, which in turn will also increase their SEO in general. As John Mueller said.
Is the Free Let's Encrypt SSL certificate Good for SEO?
Google declared that the amount of money spent on an SSL certificate and the amount of verification before it was implemented is not of importance to them, the only thing they require is the actual availability of an SSL certificate on a website.
Therefore, having a free or paid SSL certificate is not really the case. And the free Let's Encrypt SSL certificate or the free Cloudflare SSL certificate will do just fine.
SSL and SEO: The Conclusion
The availability of an SSL certificate on a website converts HTTP to HTTPS (HTTP over SSL) which implies that the website is secure against any third parties trying to intercept data.
And because of Google's renewed system which states that the security of websites is significant to them and that HTTPS gives you a slight ranking boost, an SSL certificate on your website will increase your SEO ranking.
Using a free or premium SSL certificate doesn't reflect any difference. You just need any type of SSL certificate and you are good to go.
At last, you can monitor your SSL certificate and uptime using a service such as Uptime Robot.
Read Also: