Creating a WordPress website becomes an easy thing to do for all even if you are a noobie in this field.
You don't have to learn how to write code lines or how to configure servers in order to create a WordPress website.
thanks to WordPress, all you need to create a website is to choose a theme install some plugins and you are done.
In this in-depth article, you will learn how to make a WordPress website from the very beginning till you publish it and get traffic.
The steps that you will follow to create a website as we explain them in this article will be arranged according to the order that you should follow to create a website.
First, you will register a domain name if you don't have one already, then you will sign up for a web hosting provider according to what type of website you need.
Along with you will create a website using WordPress on a server of your web host, finally, you will adjust and configure your website in order to look professional and clean.
Step One: Register A Domain Name
A domain name is a text pointing to a numeric IP address, it's what people type into their browser to get to a specific website.
IP address stands for Internet Protocol, the set of rules that makes it possible for devices to communicate over the Internet. A domain name is important to create a website.
It's essential to pick a domain that both represents your brand and makes it easy for people to find you.
For instance, (Hostingengines.com) is the domain name of this site. It represents what we do obviously and it's easy for people to remember it.
You can choose to name your website domain by your own name (yourname.com) or you can pick a domain name that represents specifically your brand.
Or you could just use a domain name generator tool to help you pick a domain name for your website.


Tips Will Help You To Choose The Right Domain Name:
These are several tips that will help you to choose the right domain name for your niche, try to implement as many as you can from them.
Keep It Short: The longer the domain names the harder to remember, keep your domain name short.
Make it easy to remember: If a customer reads your domain name and finds it easy to remember, he's more likely to come back when he wants to know more about you and your business. Try to make it easy to remember.
Make it easy to pronounce: The domain name that is easy to pronounce is easier for visitors to share by word-of-mouth if they like what they would find on your website.
Make it easy to type: Surely you don't want visitors and potential customers to mistype your domain name when they decide to visit your website again. So keep in mind the importance of that.
Search for a unique domain: Try to get a unique domain name for your website or blog, so that when any visitor visits your site, the domain name of your site sticks in their minds. such as Google, Yahoo, Facebook, and Bing.
Avoid double letters, hyphens, and numbers: Try your best to avoid domains that have hyphens, numbers, and double letters, cause they make it harder to pronounce and spell, and more likely to forget them. Besides, they may make visitors feel that this is a spammy website.
Consider using a keyword: Using a keyword in your domain name that describes the services you provide on your website will play a major role on make your website rank high on search results and improving your SEO just like (Hosting Engines).
Of course, there are several things to rank on search results, but using a keyword on your website domain name will surely help you out.
(.com, .net, and .org) endings are the most famous and the most used: Even though it may not be easy to get a (domain.com) quickly, it's important to do so. Domain names with familiar endings will let visitors feel comfortable with the website they visit. According to research from Domain Name Stat, 37% of all domains have the ".com" extension.
Leave room for future expansion: Don't confine your site to a narrow angle. Yes, you need to narrow down your niche, but you also don't want to limit it too much.
Research: Before you register a domain name, give yourself some time to search and know more about domain names. Use a domain name generator like the ones we mentioned before and make sure that this domain name is not been taken.
Best Domain name registrar: Many web hosting providers offers free year domain name registration included with their hosting plans.
Nevertheless, if your web hosting company doesn't offer such a service or you want to manage multiple domain names, the best domain name provider from our perspective is Namecheap.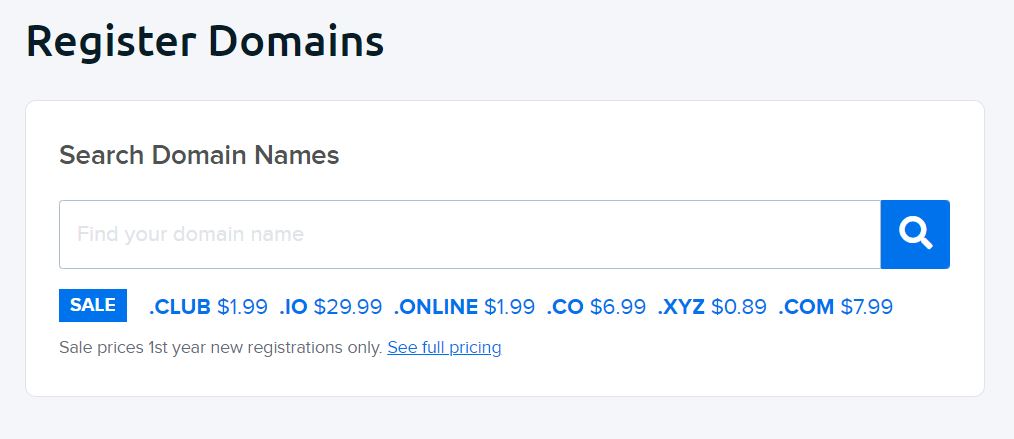 How To Register A Domain Name:
After you have chosen your domain name and made sure it is available, it's time to register it on the WHOIS using a company that provides this service.
You can register your domain name with a web hosting company that offers one free domain registration for one year when you sign up for a hosting plan.
Otherwise, you will pay the annual cost for registering your domain name, the price range for registering a domain name is between $8 to $15.
But before you sign up for a web hosting plan make sure it's the right web host for your website needs. Anyway, we see that the Dreamhost shared hosting provider is the best choice for beginners and small sites.
As well as that, if you plan to host many domain names on the same company or your favorite web hosting provider doesn't provide such a service. The best platform from what we have known is Namecheap.
Namecheap is one of the top domain name registrars with affordable and reliable domain and hosting. 
Step Two: Choose The Right Web Hosting
Web Hosting is an online service that allows you to publish your website files onto the internet. So people can access and visit your website through their internet browsers.
In order to create a website, you need to sign up for a web host. Web hosting companies provide servers to store your website data and files on it.
Choosing the right web hosting company is crucial. In fact, it's the most important thing that you should think twice about.
The performance and speed of your website depend on the performance of the web hosting company itself.
If your web hosting provider is poor in terms of speed and uptime, this may affect the websites that you host in it.
We've come across bad, good, and great web hosting providers, and now we will tell you exactly which hosting provider is suitable for your website based on several factors. The most important of which are the needs of your website.
Types Of Web Hosting:
There are four main hosting types you can use to create a website, shared web hosting, VPS web hosting, cloud web hosting, and dedicated servers web hosting. Each of them is suitable for certain websites.
There are other hosting types such as Shared WordPress, VPS WordPress, and Reseller WordPress, but this is not the case, They are part of the main hosting plans.
Read Also: How To Choose The Right Web Host
Shared hosting is not the best choice for a business website, a small blog doesn't need a dedicated server to give the best performance. Let's talk about them in detail and see what suits you best.
Shared Hosting:
Shared web hosting is hosting multiple websites on one server, the resources of that server such as disk space, CPU, and memory are shared, and costs are split between all the users on that server.
Shared hosting is the best choice for beginners who are on a budget, Shared hosting is the cheapest web hosting type.
Shared hosting is also the best choice for small websites, portfolio websites, new websites or blogs, and small businesses.
The price of shared hosting is pretty low compared to other web hosting types, you can start building your website with a shared hosting provider such as Dreamhost for $2.59/month. Read Dreamhost review.
If you are wondering when your website is getting a lot of traffic in the future, you can change your website hosting type from shared to any other hosting type easily.
The advantages of shared hosting are:
user-friendly and easy to set up and configure for non-developers.
affordable prices cause one server to be hosting many websites so they split the resources as well as the prices between them.
Also shared web hosting doesn't require a big effort from your side, the hosting company provides all the necessary stuff for you with a click.
the disadvantages of shared hosting are:
Resources are limited, so if your website is getting more and more visitors or other sites are consuming resources, you will notice that your website is getting slower.
Low search engine traffic, since search engines such as Google website have good performance and fast loading speed, your website may impact the traffic you might get from search engines.
lack of security, security can be an issue with shared hosting because every website on the server shares the same directory.
Dreamhost Shared Hosting Plans & Pricing: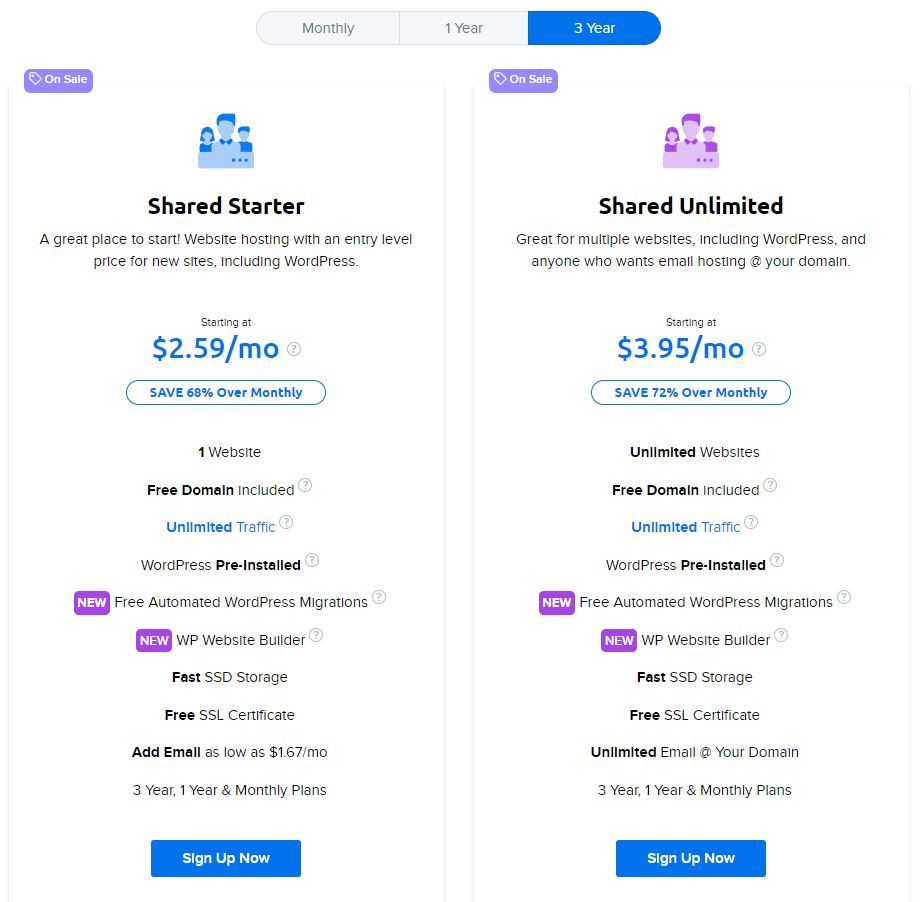 Virtual Private Server (VPS):
VPS hosting is a hosting service that provides you with dedicated resources such as disk space, CPU, and memory on a server with multiple users.
Think about it, a computer is a server, and the partitions on that computer are VPSs.
VPS is a faster, more reliable, more secure, and more stable solution, and you have complete control over the server. In addition, a website hosted on VPS hosting performs better than a website hosted on shared hosting.
There are two types of VPS hosting, Managed VPS Hosting and Unmanaged VPS hosting.
Managed VPS is ideal for non-developers, the web hosting provider does all the hard stuff for you so you don't need to do any tech work, but, its plans are expensive compared to Unmanaged hosting.
On the other hand, Unmanaged VPS is the favorite web hosting type for developers, they only buy the server and then configure the server by themselves, its plans are cheap compared to managed web hosting plans.
VPS hosting is good to start with for eCommerce websites, grown businesses, big sites, and if you already have a website that gets a lot of visitors and wants to convert from shared hosting.
One of the best web hosting providers really great VPS servers is A2 Hosting. For managed web hosting the prices starts at $39.99 per month, and for unmanaged web hosting the prices start at $4.99 per month. Read A2 Hosting Review.
A2 Hosting VPS Managed Plans & Pricing: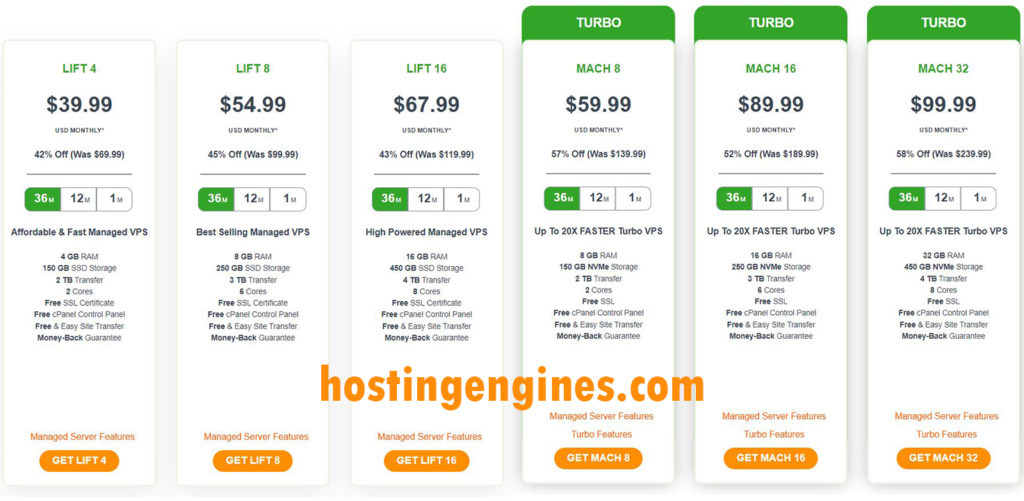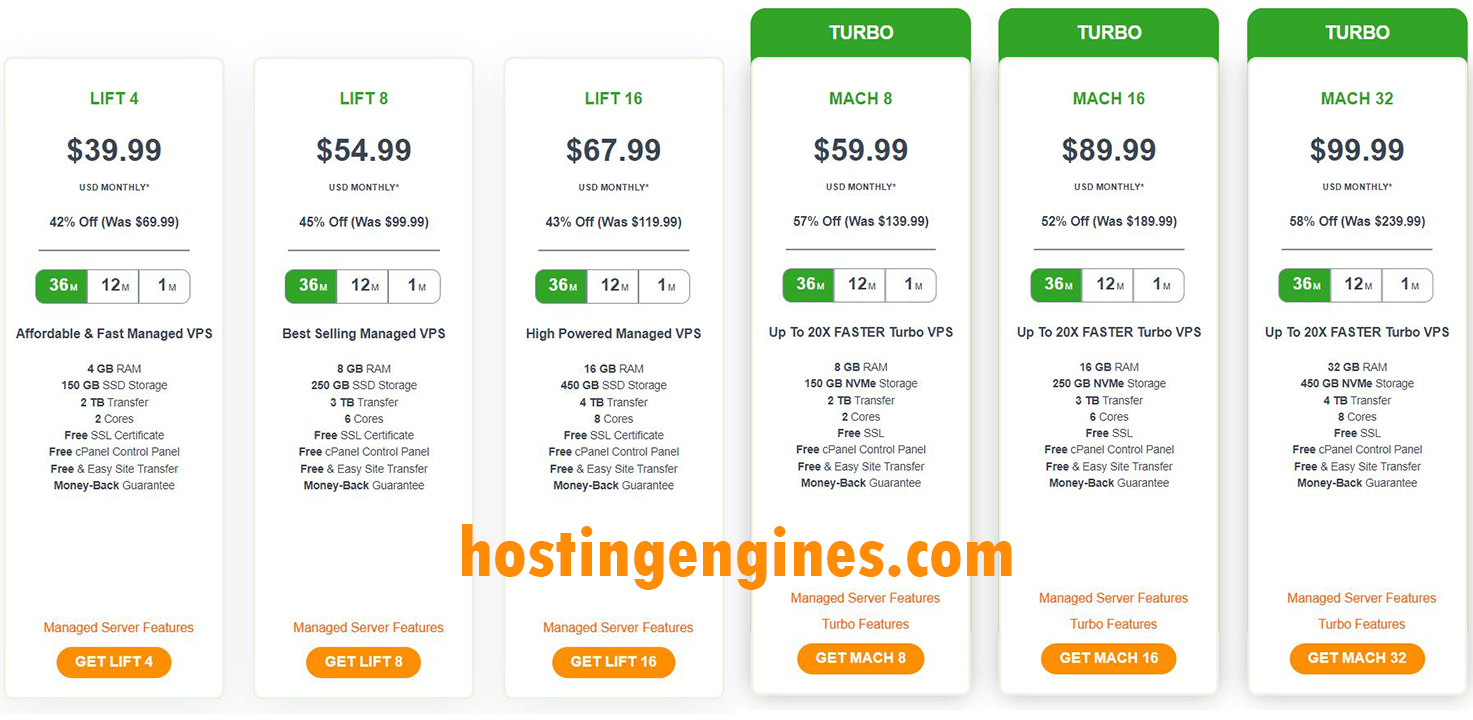 A2 Hosting VPS Managed Plans & Pricing:
Cloud Hosting:
Cloud hosting is similar to VPS, the difference between them is that in Cloud hosting you don't use a single server but rather a cluster that runs in the cloud. Each server in the cluster stores an up-to-date copy of your website.
Websites hosted on the cloud are accessible anytime, anywhere. This means that hosting resources for each website are replicated on every cloud server in the cluster.
As a result, cloud hosting comes with no downtime, as there's always a server in the cluster that can serve the requests of your website visitors. And that is the main difference between VPS and Cloud web hosting.
Cloud hosting is great for hosting a business website or a blog that gets a lot of traffic.
There are many providers for cloud hosting such as WP Engine, but the best of the best among them is Cloudways, which offers you to host your website on the biggest web hosting companies which are Amazon, Google, DigitalOcean, Vultr, and Linode.
Cloudways provides managed hosting for your site, you can host as many sites as you want on a single server for a price that starts at $10 for one month. Read Cloudways Review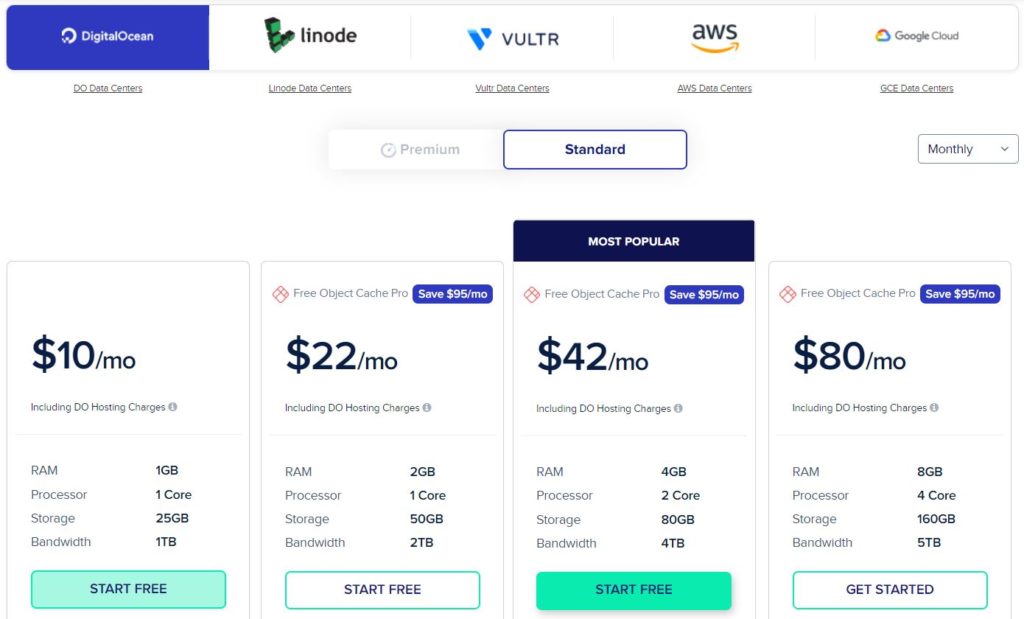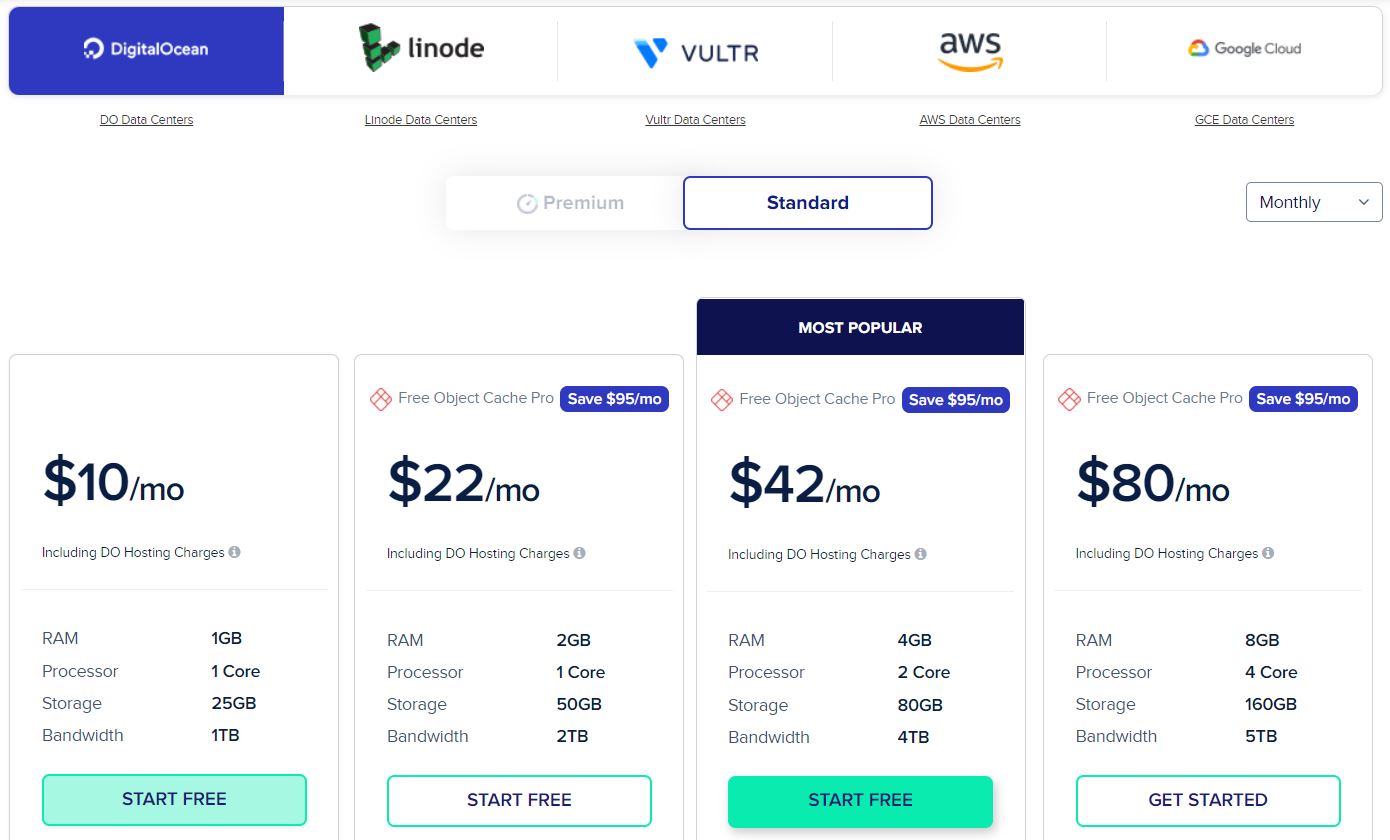 You can run your website on an unmanaged web hosting company such as DigitalOcean, Vultr, and Linode for $5 per month and manage the server by yourself. They give you a $100 free credit when you sign up for the first time.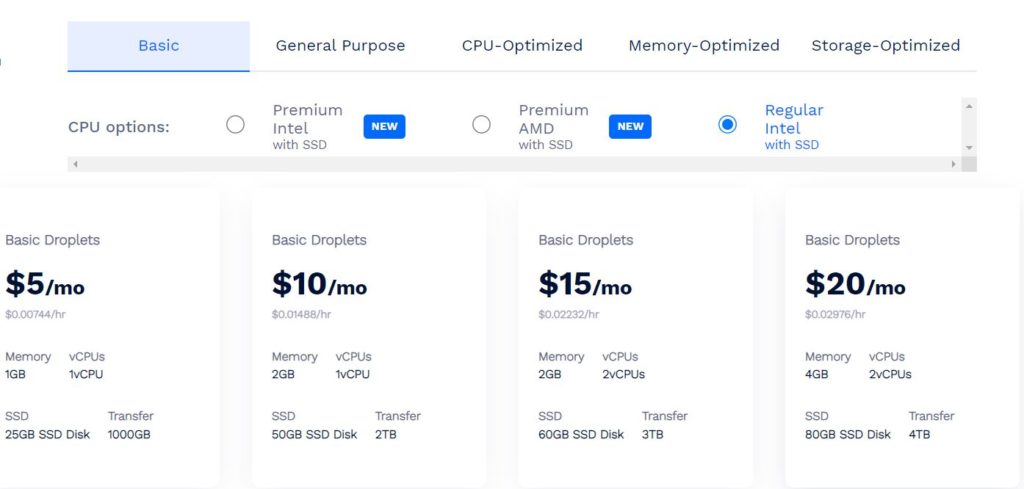 Comparison between VPS and Cloud hosting
| Comparison | VPS Hosting | Cloud Hosting |
| --- | --- | --- |
| Server Deployment and Management | Yes | Yes |
| Server Sharing Model | Private Server | Dedicated Cloud Server |
| Scalability (auto/manual) | Yes | Yes |
| Low Cost | Yes | Yes |
| Pay As You Go | No | Yes |
| Flexibility | No | Yes |
| Customization | Yes | Yes |
| Security | Yes | Yes |
| Instant Provisioning | No | Yes (in managed hosting) |
| Performance | Depends on the vendor | Fast |
| Reliability | Yes | Yes |
| Multiple Data Centers | Depends on the vendor | Yes |
Dedicated Servers:
A dedicated server is a type of remote server that is entirely dedicated to you. It offers immense power and flexibility as you get an entire server machine dedicated for you.
A dedicated server is exclusive and not shared with any other customer, service, or application.
The dedicated server requires more technical experience than Cloud and VPS, cause you will not get help, you will have to do everything by yourself.
Dedicated Servers Pros:
High uptime percentage.
Better performance.
More reliability.
Better security.
Greater flexibility.
Unlimited access.
Dedicated Servers Cons:
Increased cost.
Not recommended for small businesses or sites with low traffic.
Requires technical knowledge/experience.
Dedicated servers are meant for the biggest sites such as large eCommerce or sites that get millions of visitors every month.
DigitalOcean, Vultr, and Linode are the most known for their reliable dedicated hosting servers, and they give you $100 free credit when you sign up for the first time.
DigitalOcean is the most famous and used among them, but there are no major differences between the three of them neither in cost or performance.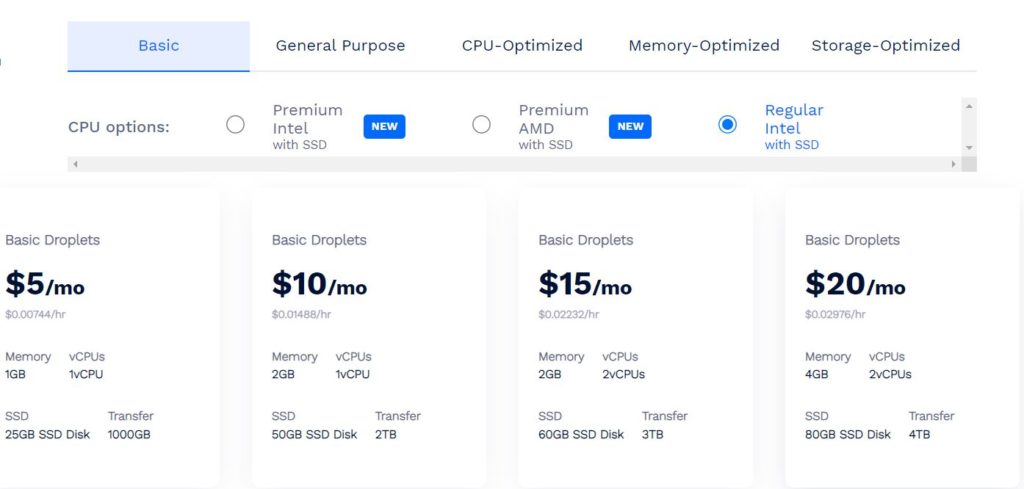 Web Hosting Summary:
There are many web hosting types you can choose from to create a website.
There is shared hosting, you can use it to host a small or brand-new website or a small service website. One of the best shared hosting providers is Dreamhost.
Almost all shared hosting providers have other hosting options such as VPS and dedicated, but it is not recommended because it is not the best option. There are other hosting companies dedicated to this type of hosting.
Cloud and VPS hosting are both great for hosting a large website or a blog that gets a lot of traffic.
The major difference between the VPS and Cloud hosting is that in Cloud hosting a copy of your website will be stored on many servers.
So whenever a server gets down, there's always another server in the cluster that can serve the requests of your website visitors.
The best VPS hosting provider is A2 Hosting. And the best Cloud managed hosting provider is Cloudways.
You can have your own machine server setup with all the required resources for you as a Dedicated Server.
Dedicated servers are more expensive but more powerful and reliable. You only use it for very big websites. DigitalOcean is the perfect place to set up a dedicated server.
| Shared Hosting | Cloud Hosting | Dedicated Hosting |
| --- | --- | --- |
| Very cheap $3/mo | Reasonable $10/mo | Expensive $80/mo |
| Shared resources | Dedicated resources | Dedicated server |
| Best for beginners | non-developers/Pros | Best for Pros |
| Low website traffic | High website traffic | Huge website traffic |
| Good Performance | Great Performance | Excellent Performance |
| Small websites | Medium websites | Large business websites |
| Low security | High security | V.High security |
| Try Dreamhost | Try Cloudways | Try DigitalOcean |
Step Three: Install WordPress
You have the domain and the type of web hosting you have chosen that fits the website you want to create. It's time to install WordPress on the server in order to create a website.
The process of installing WordPress is simple. I'm going to show you how to install WordPress on both recommended Dreamhost shared hosting and Cloudways managed cloud hosting.
You can go through the same method on almost every web hosting provider to install WordPress.
WordPress is a content management system (CMS) that allows you to host and build websites.
WordPress contains plugin architecture and a template system, so you can customize any website to fit your business, blog, portfolio, or online store.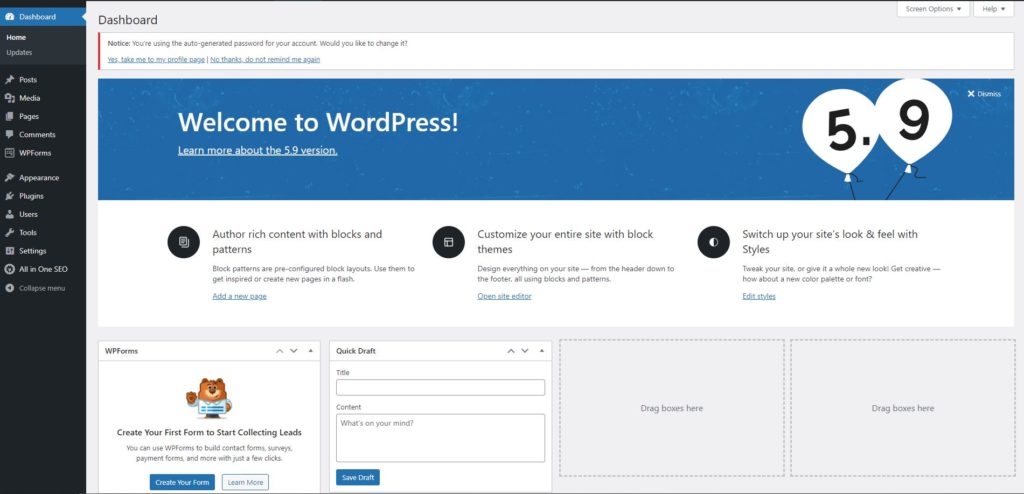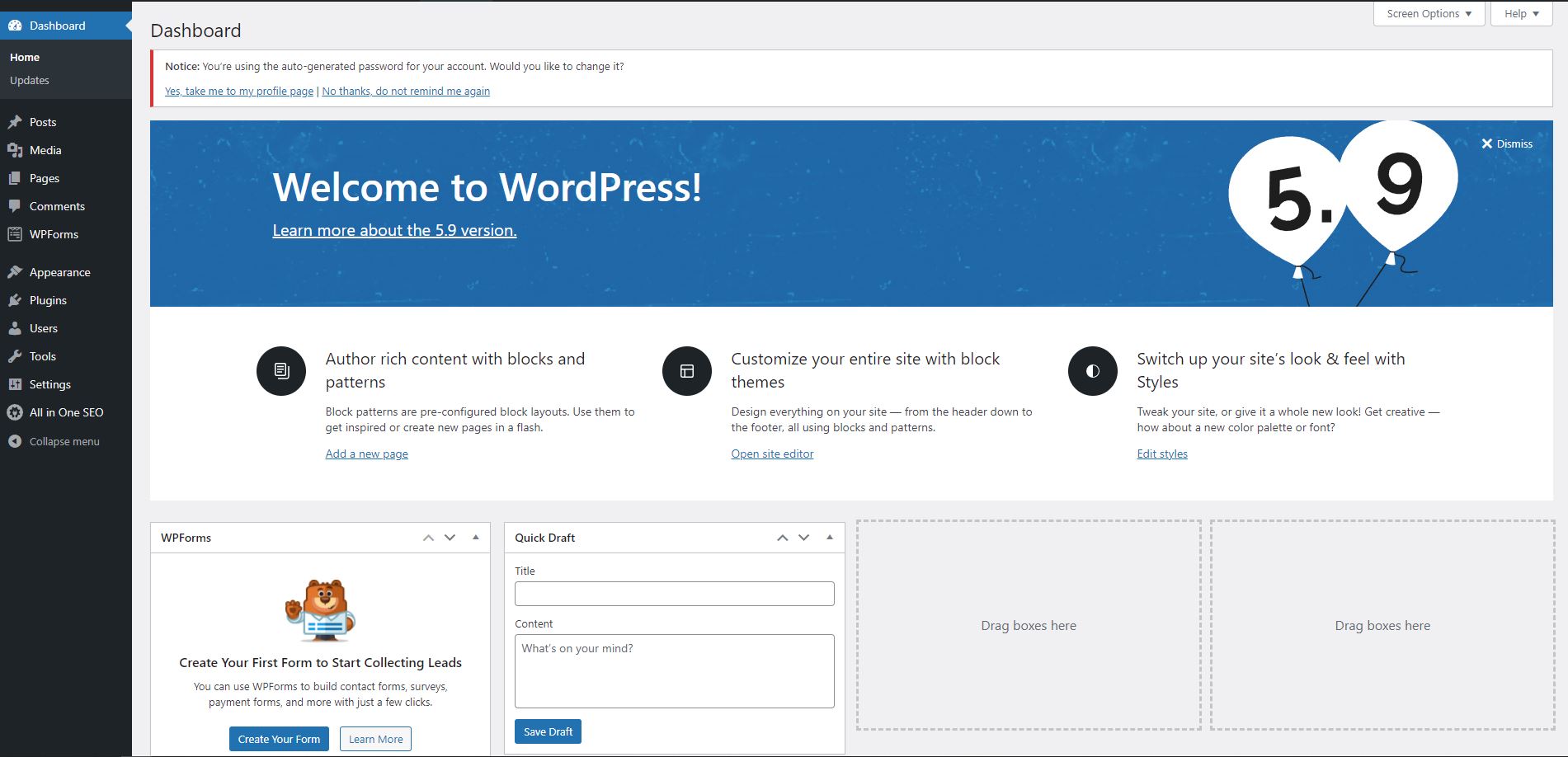 Install WordPress On Dreamhost
Let's assume that you signed up for shared hosting on Dreamhost, you need to go to Dreamhost.com, and log in to your Dreamhost account.
In the Dreamhost control panel go to websites, manage websites, then click on Add Website in the top right corner.

Once you click on Add Website, it'll take you to the first step, adding your domain name. If you already registered your domain name with Dreamhost, click on the first choice (enter a domain name).
If you don't have a domain name and want to register a new domain name on Dreamhost, click on (register a new domain).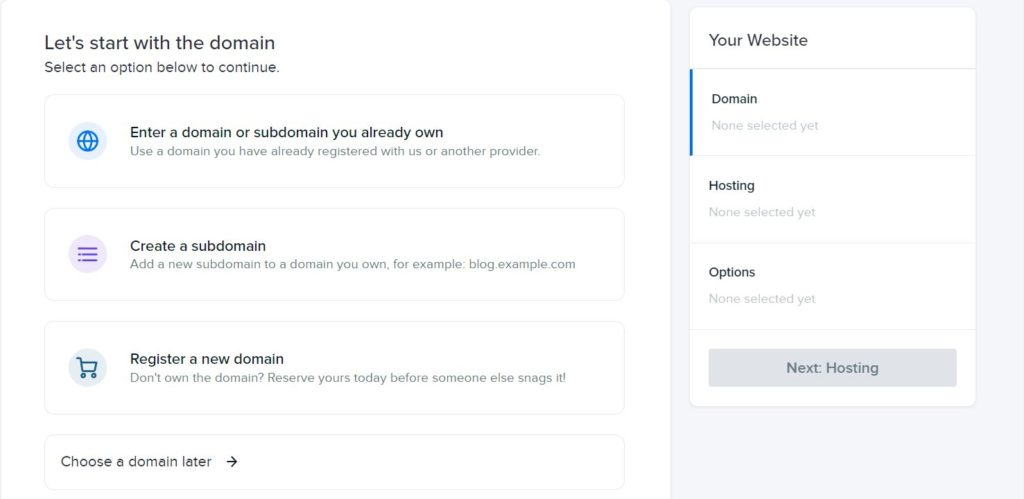 After you added the domain name you want, click on (Next: Hosting) to choose where to host your website, after you select the web hosting click on (next: options).
Now the last step is to set up WordPress. To install WordPress for free click on select and then click on (Set UP Website). Wait a few minutes, and your website will be ready and published.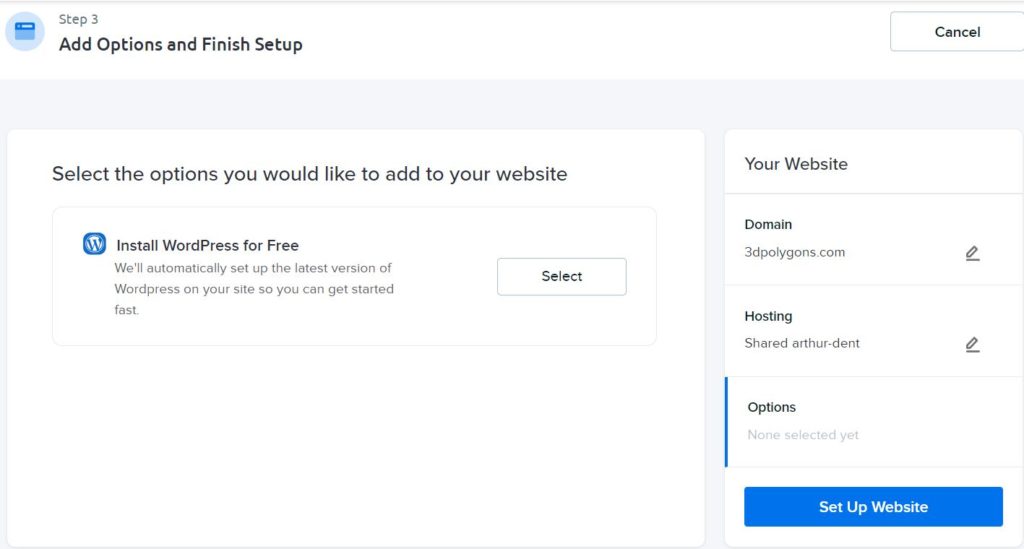 If you want a more in-depth tutorial on how to install a WordPress website on Dreamhost click here.
Install WordPress On Cloudways
Sign up for Cloudways. Go to Cloudways Platform, if you already have an account associated with Cloudways, or click on start here to sign up and make a new account if you don't have one.
It'll immediately take you to the next page to fill in your account information. see the picture below.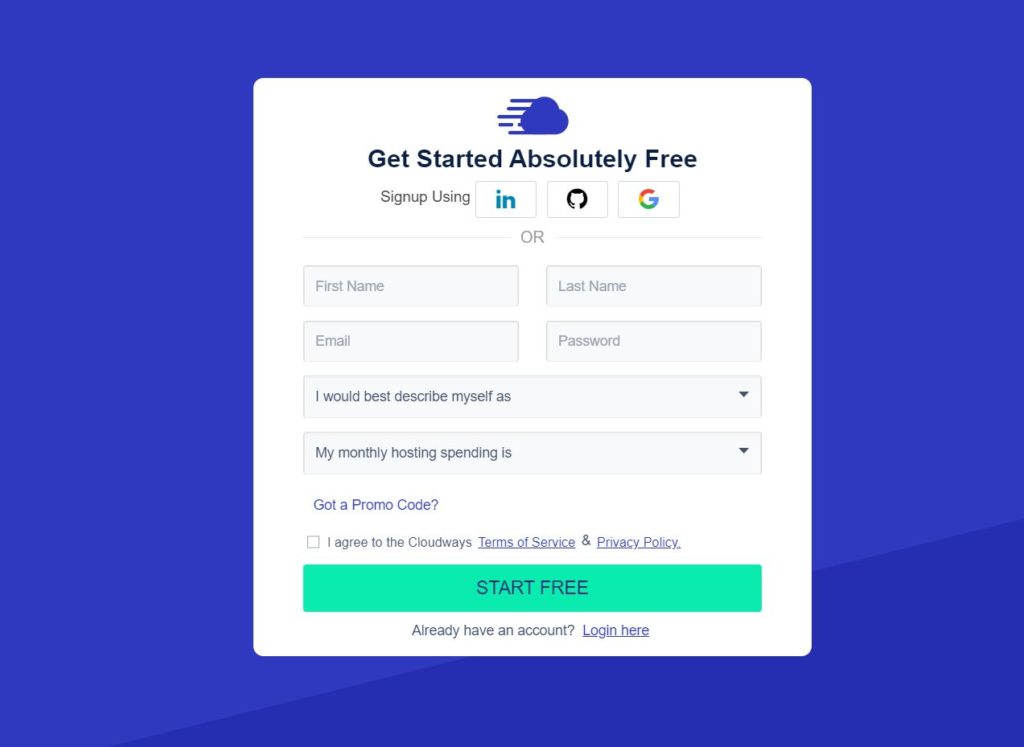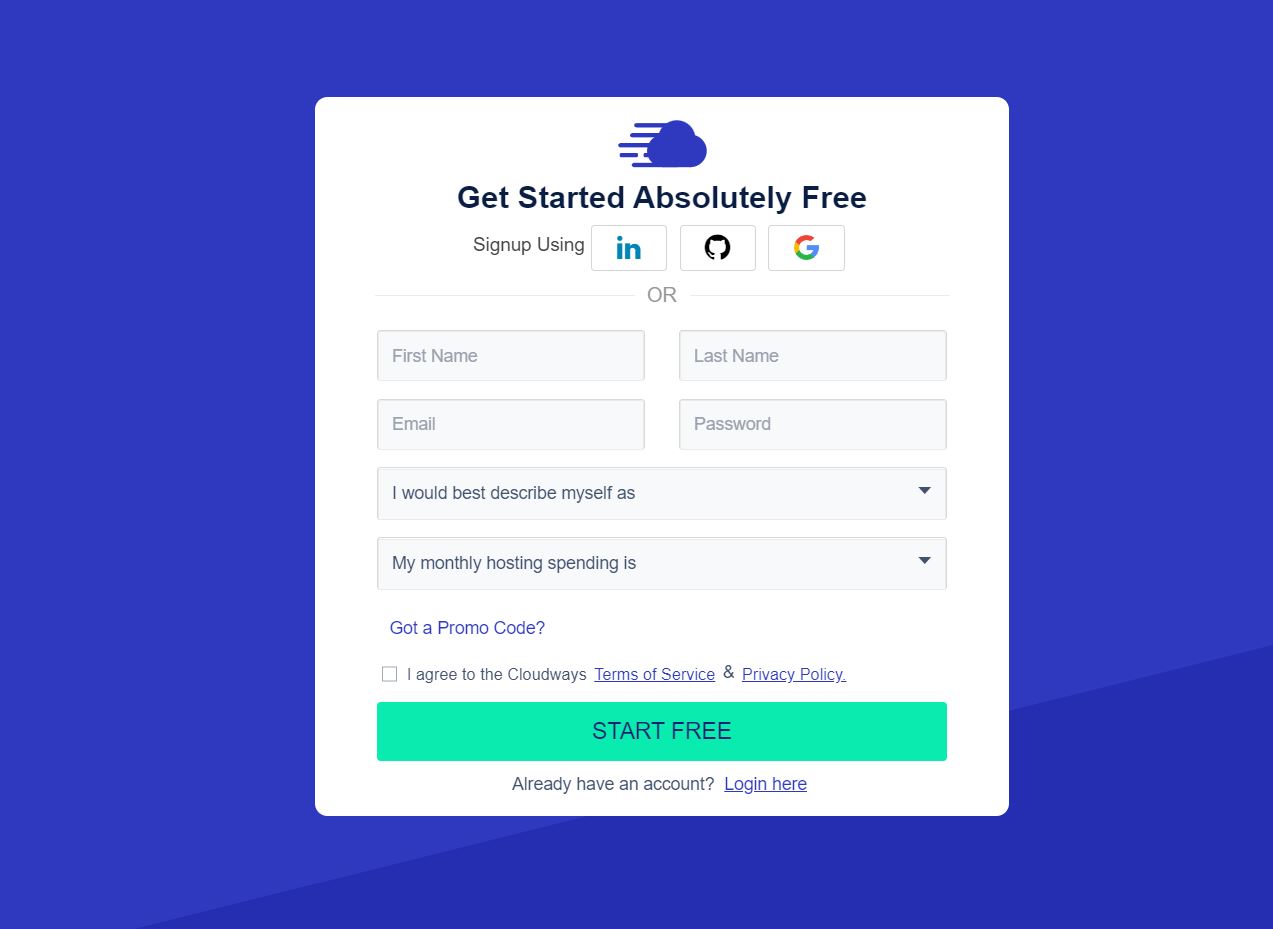 Cloudways offers hosting on five of the best-managed web hosting services.
It allows you to choose any of them to host your site on and gives you 3-day free trial for each to test their hosting services with no credit card required before upgrading to premium.
On DigitalOcean – the first one – you can start with a small server size such as RAMs and Processors, it seems to me it's the cheapest one.
Vultr comes after with a little difference in money. Anyway, for the sake of completing this article, I'm going to choose DigitalOcean.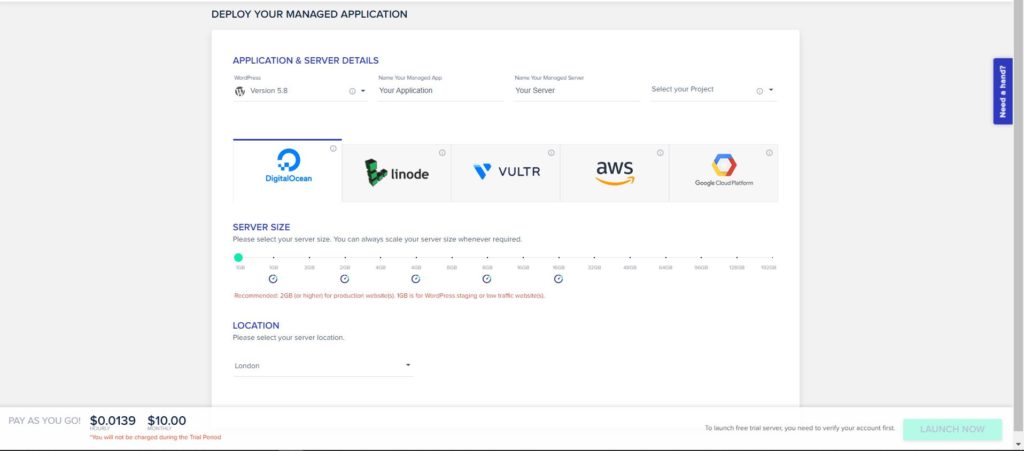 The next step is to set the server place. The server should be close to your site's visitors to increase the speed and performance of the site.
Since the website that I'm creating right now is targeting New York citizens, I'm gonna choose New York.
The last thing you need to do is to set up your server details, Go to the top under APPLICATION & SERVER DETAILS, if it's set to WordPress by default do nothing if it's not click on the app and choose one of the options that Cloudways provides.
Then name your application, you can name it the same name as your website that you want to create like (Hosting Engines) or you could just name it the name you want it.
Then name your server, for instance (First Server, Second Server,) or any name you want to recognize and differentiate between them if you plan to host many servers on Cloudways, you can change that later on.
Finally, from the right bottom of the same page click on LAUNCH NOW to launch your first server. Wait a few minutes and your server will be ready to host your sites.
Once Your server has finally been launched, you can now start managing your server.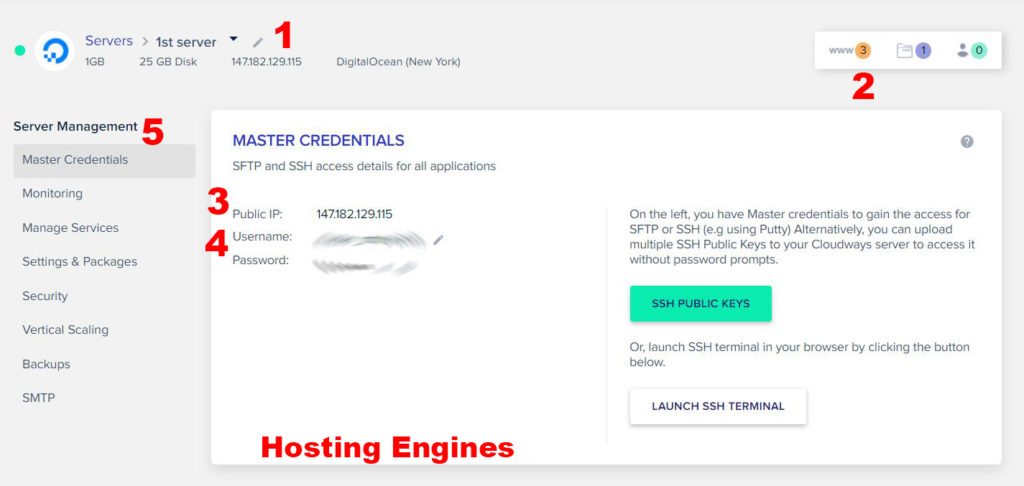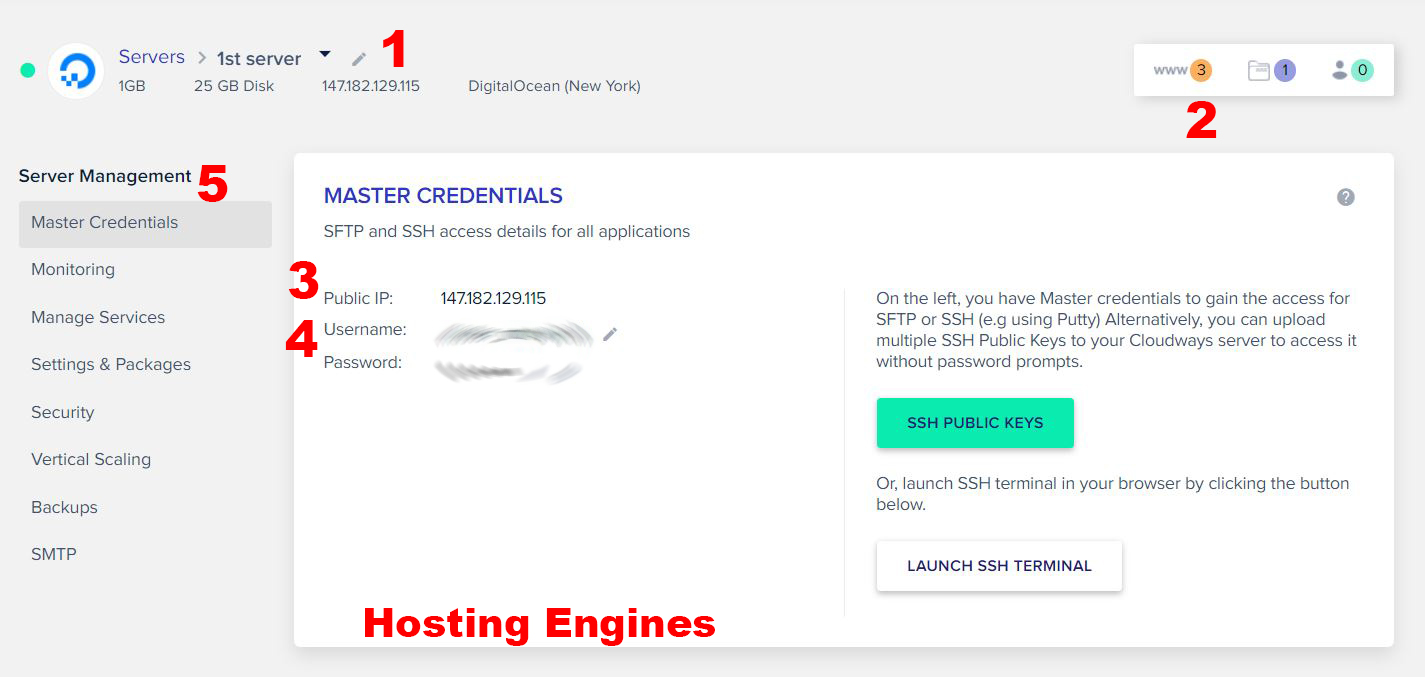 Now to go to your brand new website click on the (www) sign to navigate to your applications, from there choose your new website name then this below window will show up.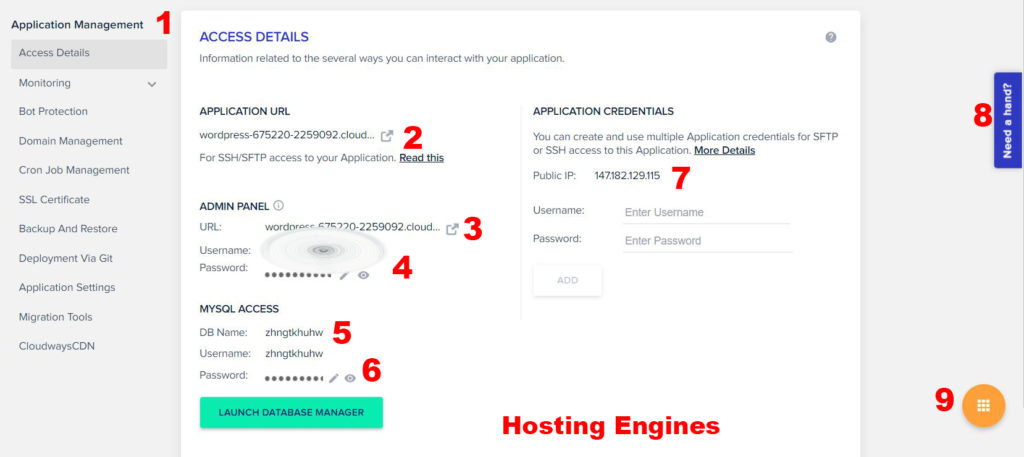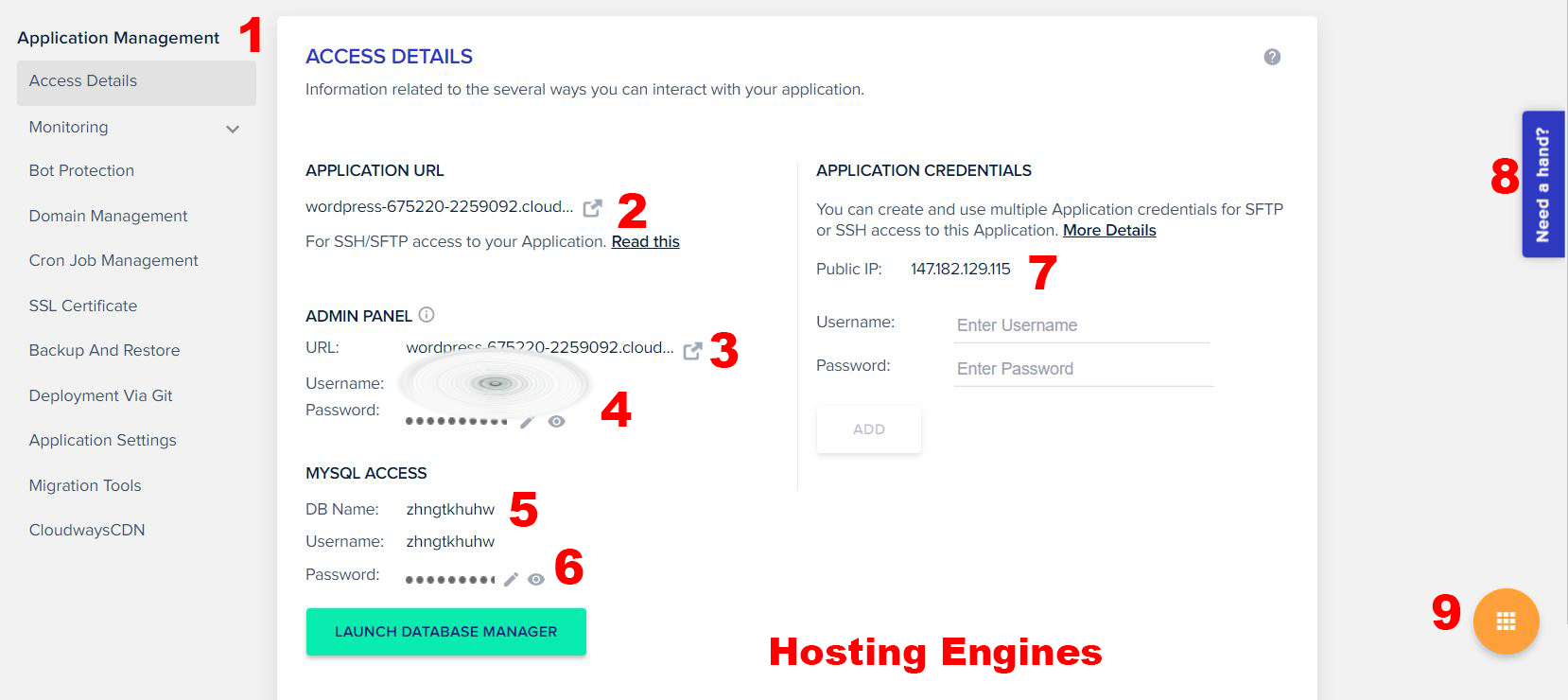 2. APPLICATION URL

, this is your WordPress website URL before you establish and set up your domain name, if you click on the small arrow, it will take you immediately to your WordPress website.
I'll tell you how to set up and point your domain name to your WordPress website when I come to talk about Application Management.
3. ADMIN PANEL, if you want to go to your WordPress website panel you can click on the small arrow.
this URL is for your WordPress Admin Panel, but when you click on it, it says you should enter your username or email and password which will lead us to
4. WORDPRESS Username & Password, these are the username and passwords of your WordPress website, you will need them to access your WordPress admin dashboard.
You can go to your WordPress admin dashboard through the URL of your ADMIN PANEL or you can type in (yourdomainname.com/WP-admin).
After you log in you can adjust your WordPress as you like, choose a theme, install a plugin, etc.
If you want to create another website go to the big plus sign on the upper part of the page of your Cloudways account, and click on it.
From there, choose Add Application, You will see a pop-up window that tells you to choose the server on that we want to deploy this application on it.
Since this is your first server, you will select it, then click on add application.
Choose WordPress, then name your new application. You can name it the same name as the website that you want to deploy to make it easier for you to navigate between your sites.
After that select your project. Projects are just for organizing your sites.
Once you complete these required fields click on ADD APPLICATION and your website will be ready in minutes.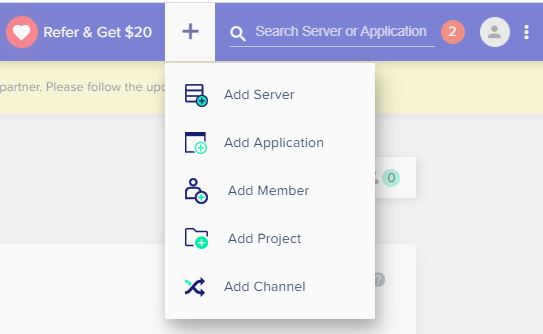 If you want a more in-depth tutorial on how to install a WordPress website on Cloudways click here.
Step Four: Point Your Domain To Your Website
If your domain name is hosted on the same web hosting that you have chosen to host your website, you don't need to point your domain name to your website as they are correctly set up by default.
But if you signed up for a hosting provider such as Cloudways, and your domain name is hosted on another platform you surely need to point your domain name to Cloudways.
Go to the platform that you used to host your domain name on it and add the IP address that Cloudways provided on the DNS of your domain name.
You need to go to the domain name and configure the DNS settings of that domain name.
Point your website domain (i.e. mysite.com) by adding an 'A' Record at your domain hosting registrar or edit the existing one.
Change the old IP address to the Cloudways IP address. And do the same for (CNAME Record).
You can add an SSL certificate for your domain on Cloudways as we explained here.
Read in detail how to point a domain to Cloudways and install an SSL certificate on Cloudways.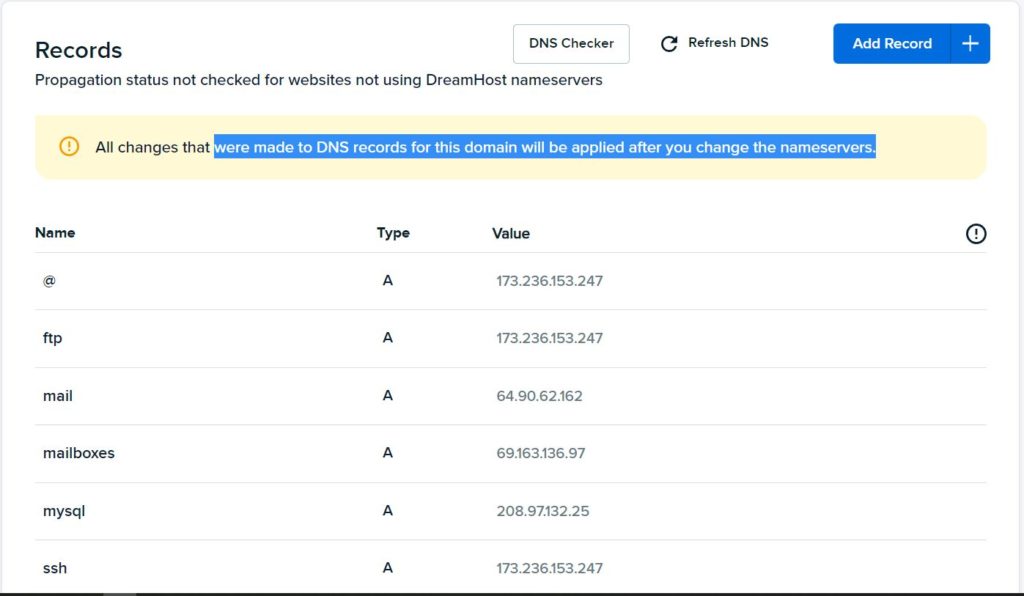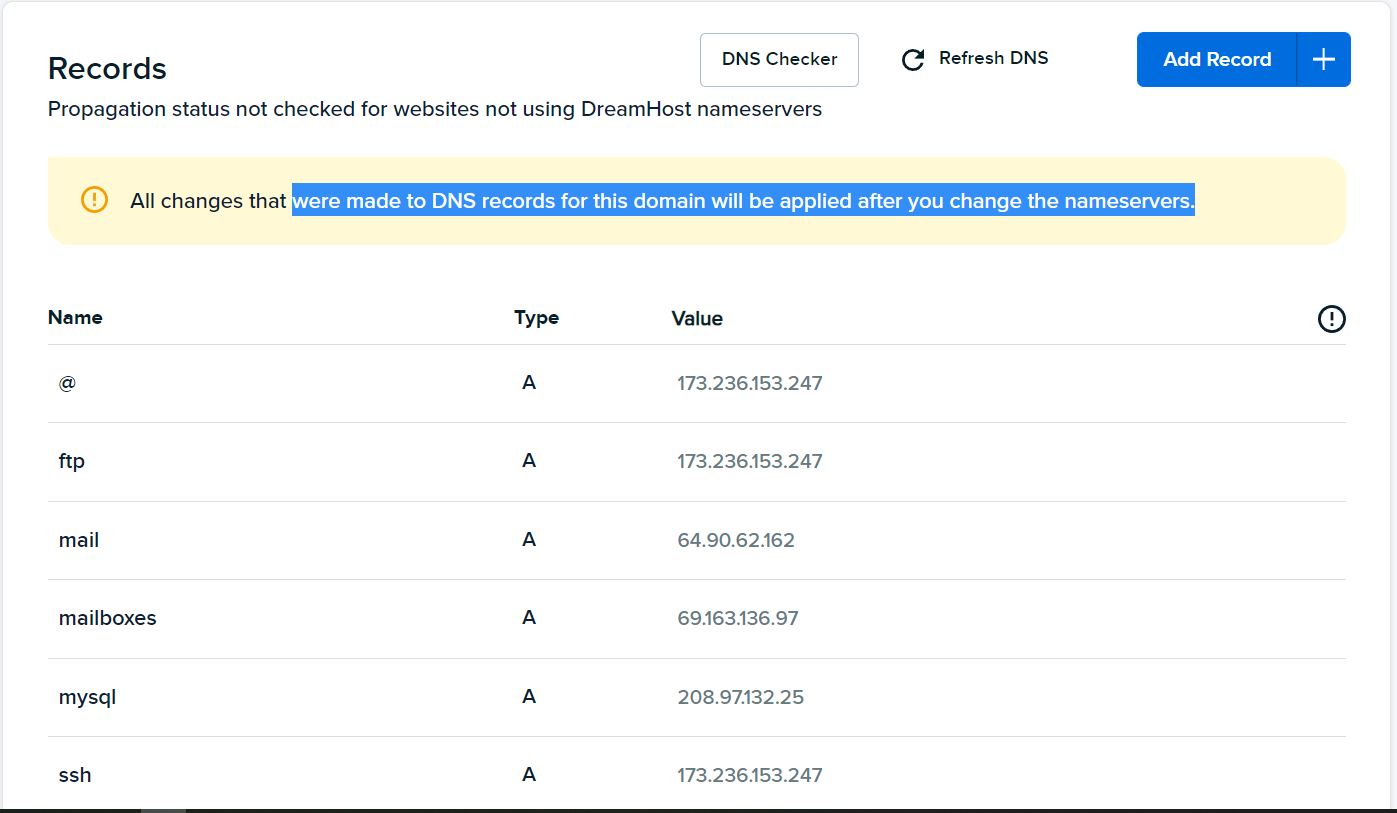 Step Five: Apply Theme And Plugins
After you do all of the above, you can easily type the domain name of your website on the browser, and your site will appear in its default form.
The next step is to apply a theme for your website to change its appearance to become a professional website, as well as apply some plugins to improve the website's performance.
Now you need to enter the WordPress dashboard of your website, you can do that using the link that the web hosting provides or just type in (yourdomianname.com/wp-admin).
Then you need to enter the username and password of your website WordPress dashboard.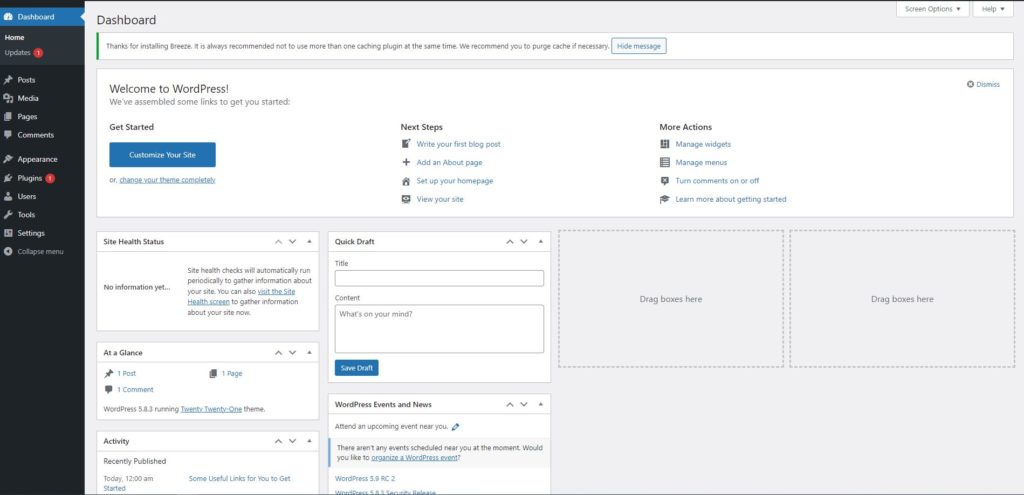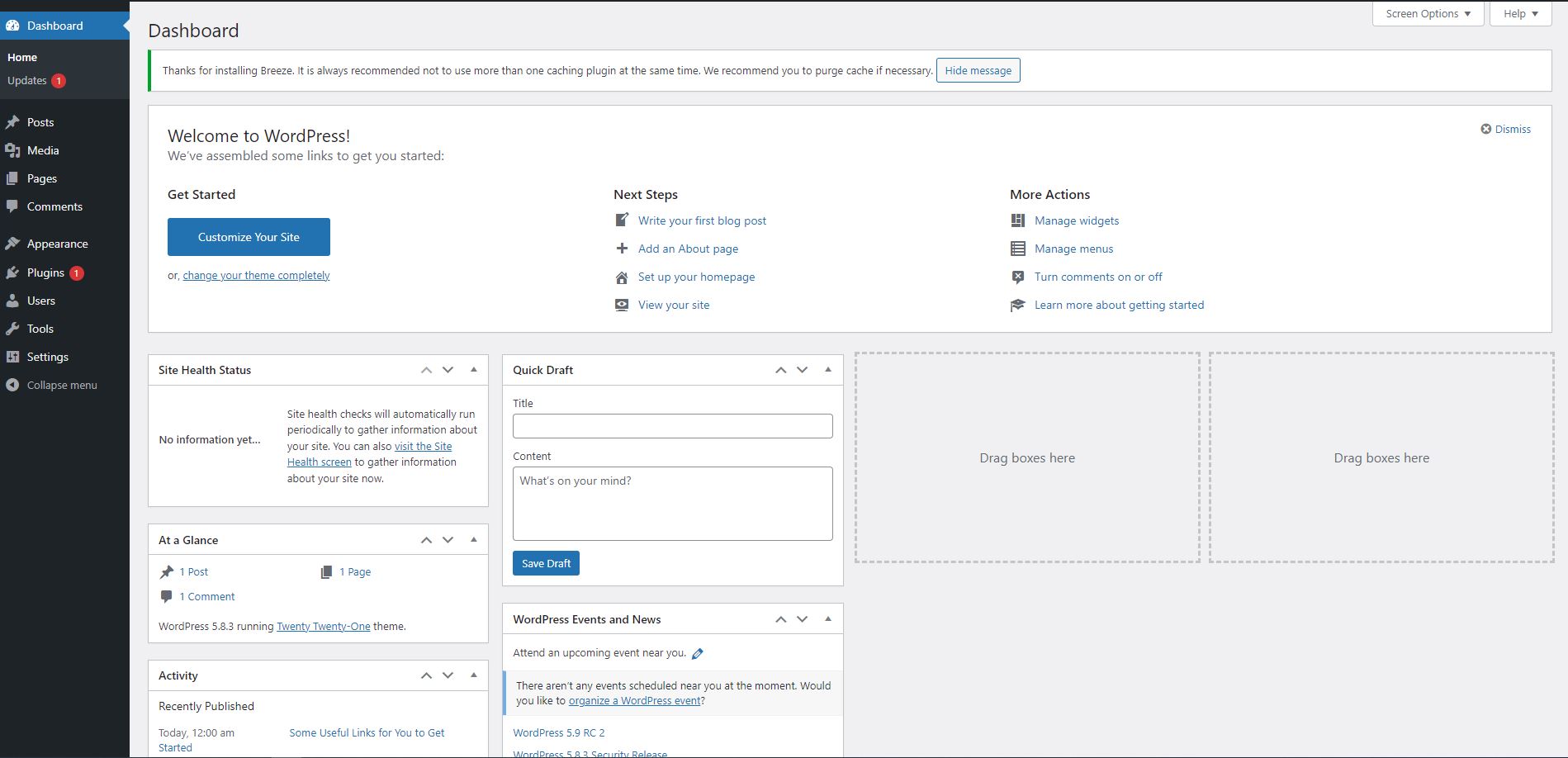 This is what your website looks like for the first time. Don't be intimidated, you will get used to it if this is your first time.
Now we are on the home page of our WordPress website dashboard. From the top right corner, you will see (Screen Options), from there you can choose what will appear and what will not appear on the home control panel.
To apply the theme to the website hover over (Appearance) on the left panel of the dashboard and click on themes, then click on add new. On search theme, type in the theme you want to apply on your website.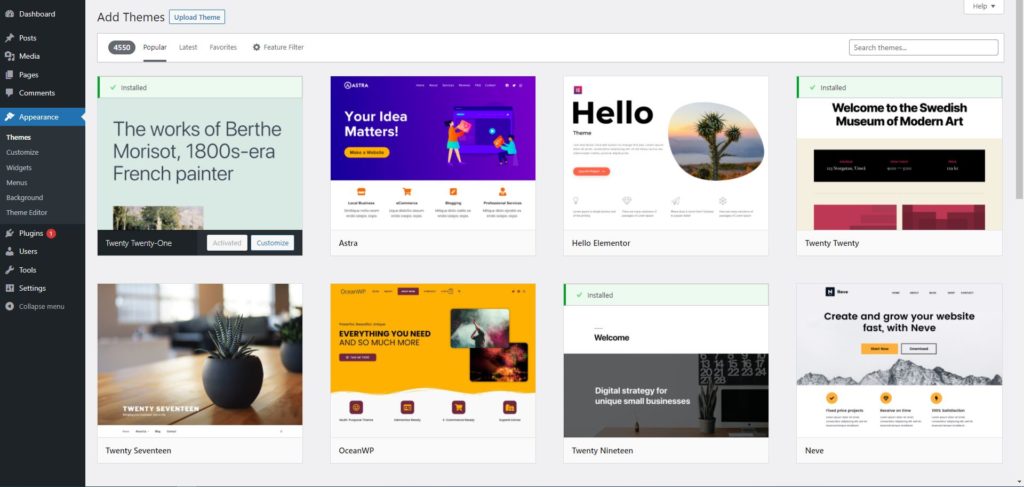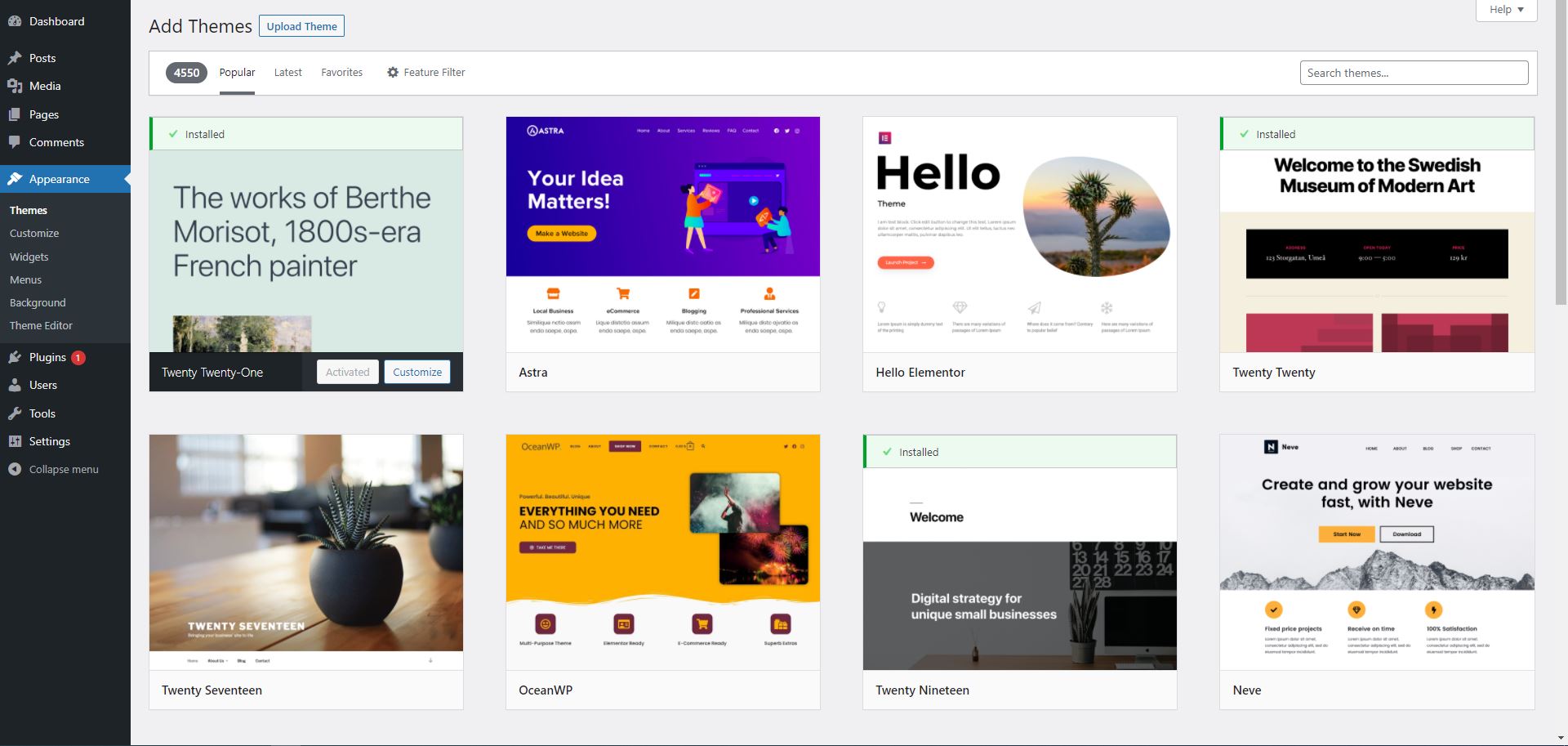 There are an enormous amount of themes for WordPress websites you can choose from. But you need to choose the theme that has many ready blocks and features to help you build your website and the fastest theme that makes your site loading speed better.
You can use the free version of any theme. Yes, not all features are available in the free version, but it will do the trick if your site is small and you can not bear to pay an additional amount of money for the theme.
There are Blocksy theme, Neve theme, Kadence theme, and Astra theme, they are the fastest themes which eventually will make your website fast and function very well. Just type in any of them, click on install, then activate and you are good to go.
After you install and activate the theme, you can shorten the time and effort you will spend on designing the website by applying a starter site on your site and modifying it.
If you installed the Neve theme for instance, on the (Appearance) section click on (Neve Options) then click on (Go To Starter Sites) install and activate the starter site plugin, and then you can use from a bunch of ready-made sites to use it on your website and then modify it.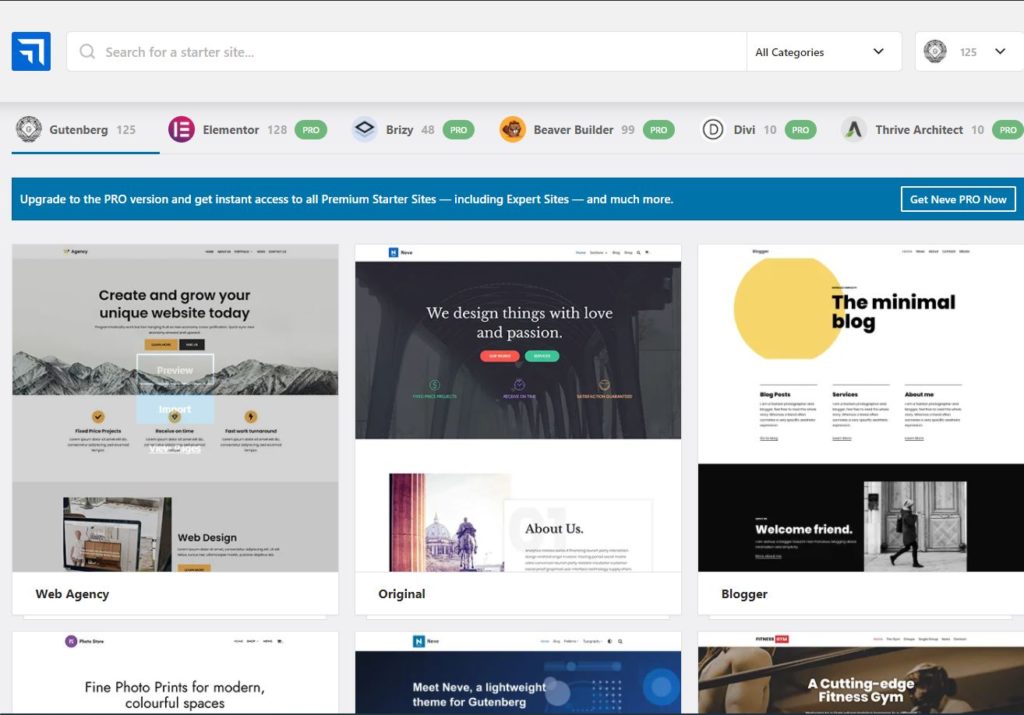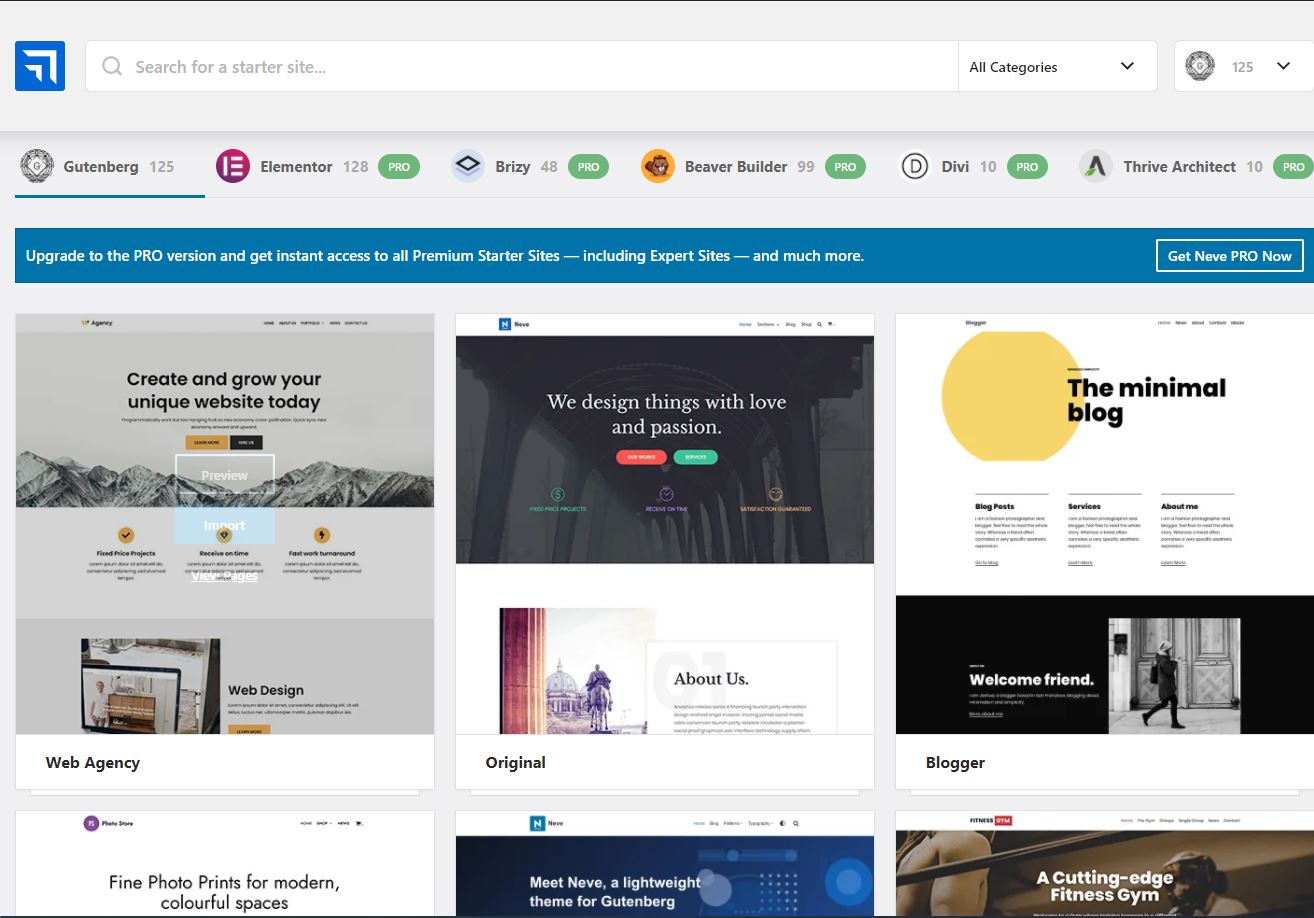 Hover over any starter site, click import, import the entire site, wait for a few seconds, and go to your website to see the differences.
Now in order to modify and adjust the theme, just click on customize on the admin toolbar at the top of your website.
At the left of the screen, you will see a bunch of settings that will help you edit and customize your website appearances such as header, footer, menus, and even the colors of the website. And more settings you will discover.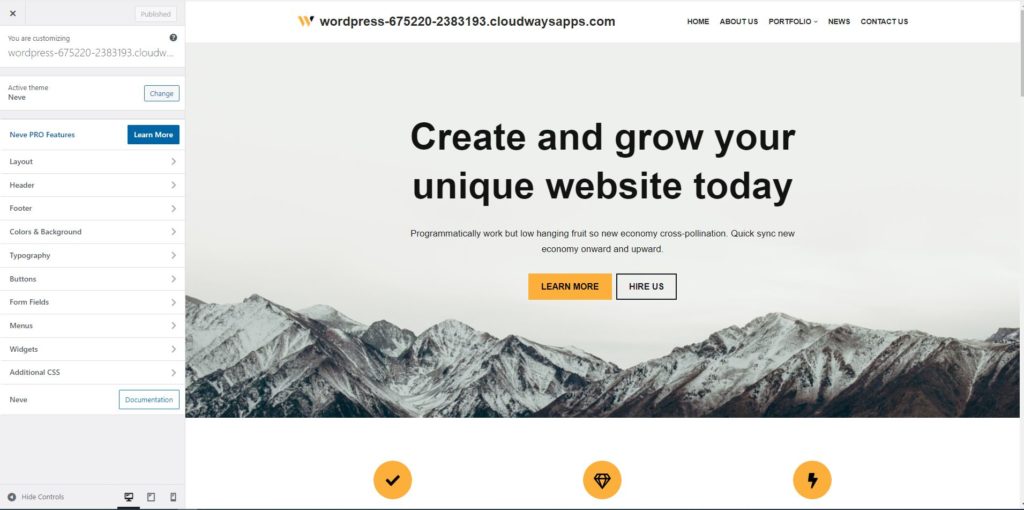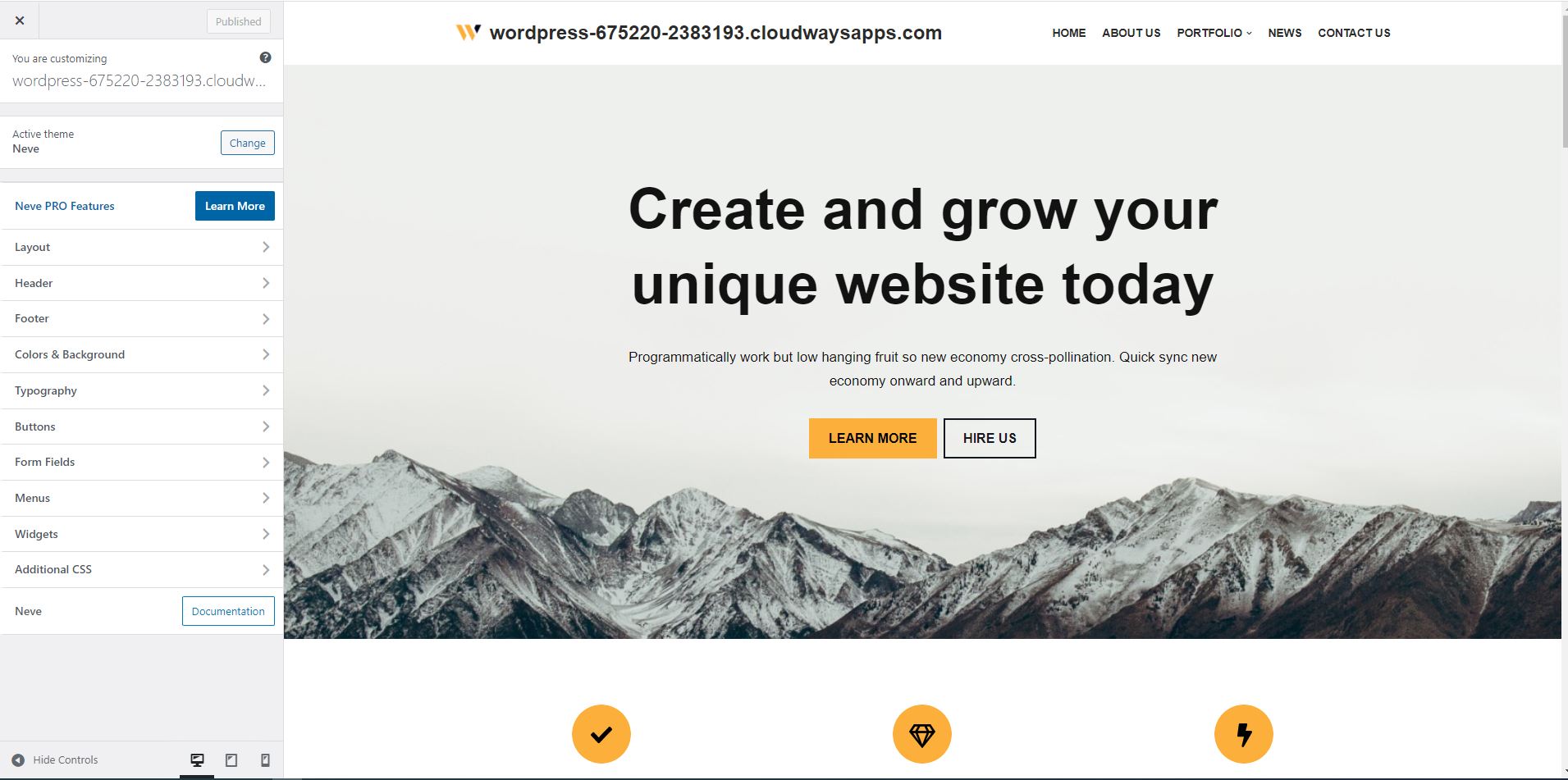 In addition to themes, you need to apply some plugins that will help your website perform better, and plugins will help you in other areas.
When you want to install a plugin, on the admin dashboard hover over (Plugins) and then click on (Add New). You will see a screen like this below.
On search Plugins type in the plugin, you want to use on your website. Click on install now then activate the plugin.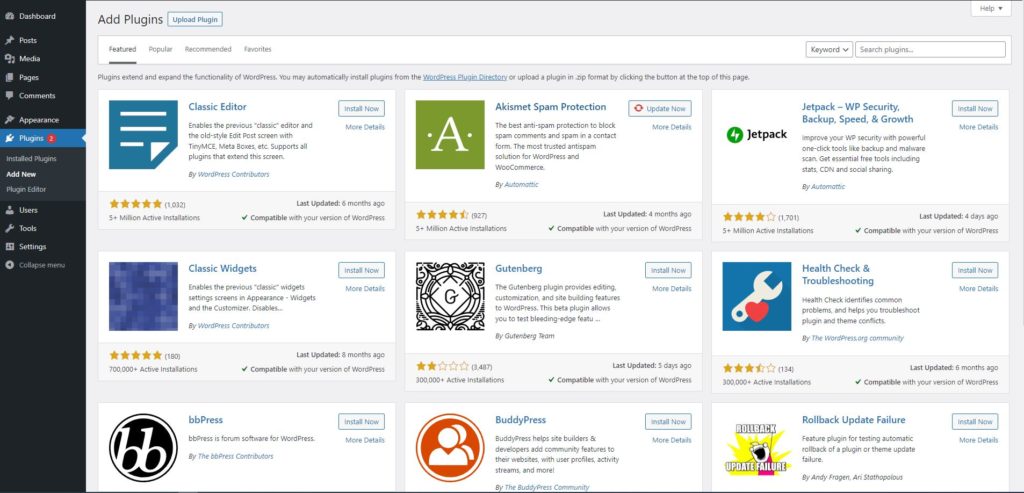 Step Six: Add Legal Pages
There are legal pages you must include on your websites to avoid any kind of lawsuits like Privacy Policies and Terms and Conditions (T&C) agreements. They are as the names imply legally binding contracts.
The two important legal pages of any simple website should have a Privacy Policy and Terms and Conditions.
Yet, depending on the services you provide on your website, you should add certain legal pages.
There are Privacy Policy, Terms and Conditions, Disclaimers, Cookies Policy, Refund Policy, General Data Protection Regulation (GDPR), and many more legal pages.
If your service includes a refund term, you have to implement the Refund Policy legal page, also if you collect data from your visitors or use affiliate links, your customers must know that when they go and read the policies pages.
Some pages exist to protect your clients such as Privacy Policy, while others protect you the owner of the website like Terms & Conditions.
If you don't know how to write these pages you can use TermsFeed services, where you can generate awesome legal pages by inserting some information about you and what your website offers.